Owned by Mrs. Hinch and the most organized homeowners, under sink organizers are one of the most underrated pieces of apparatus you can own in your kitchen.
Typically made from durable plastic or rust-free stainless steel metal, many of these clever pieces of kit are expendable so they can fit into every under-sink space. Yes, this ultimate small kitchen organizer can even be used in kitchens that are teeny tiny.
With the rise of cleanfluencers and celebs documenting their constantly-clean homes, we're bound to get a little envious at times, snapping up cult cleaning products like Minky in a millisecond. But where on earth do we store the million and one marvelous cleaning products they endorse online?

So if you're wondering how to organize a kitchen, look no further than these best under sink organizers. Some come with wheels, others spin and there are even a few exciting exclusives that have been spotted on Netflix.
The best under sink organizers to sort out your supplies
Why you can trust Real Homes Our expert reviewers spend hours testing and comparing products and services so you can choose the best for you. Find out more about how we test.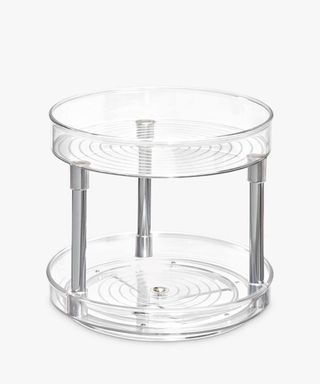 As seen on the Netflix show 'Get Organized with The Home Edit', this 2-Tier storage turntable, available exclusively from John Lewis & Partners is so chic and Instagrammable, so it's no surprise that it's being sold exclusively at none other than John Lewis & Partners.
Operating like a Lazy Susan for your supplies, this 2-tier turntable is the secret to the effortless organization in your kitchen.
There's no bulky center support, so both tiers give you unobstructed space for a range of items.
Generous dimensions make the most of cabinet and pantry shelves, accommodating taller packages. With the sheer, clear design, the contents are always easy to view and grab.
And, because it's made from plastic and stainless steel, it's extremely durable, with a clean and minimalist look that's perfect for clutter-free organization. This is a boujie, and budget-friendly tool if you are stuck on how to organize under sink storage. It sort of reminds us of THAT infamous Louis XVI Ghost chair too.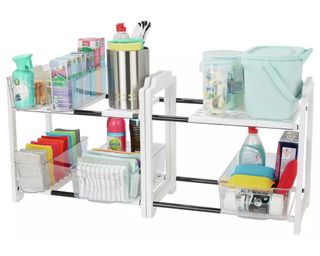 Maximize the space under your kitchen or bathroom sink with this white under sink storage unit from Addis. With two shelves, you can keep all your cleaning products neat, tidy, and visible so you won't be knocking over bleach bottles and shuffling soaps and detergents to find what you want.
With 10 adjustable shelving parts, this kitchen storage unit can be contracted and extended to fit any space. Although it's made from plastic, it has 1-year manufacturer's guarantee, so you can rest assured that should anything happen to the product, it will be covered under warranty.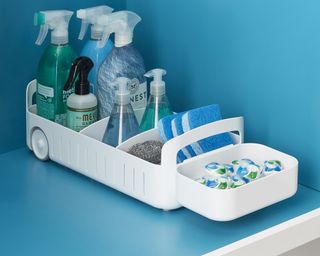 Who said under sink kitchen organizers can't have character? Roll out this cute automobile accessory to add some fun to your weekly cleaning routine. With style and substance, this adjustable YouCopia white caddy will keep items upright and tidy.
It has easy-to-grab handles for you so you don't have to cradle a bundle of cleaning agents. And don't underestimate this its small size... as it can hold up to 30lbs... that's over 13.5 kilos of laundering products.
The smooth-spinning wheels not only look adorable but actually stop you from scratching your cabinet floors.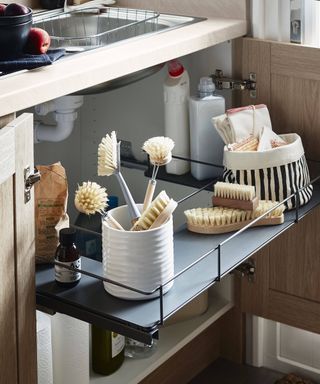 A great find from hardware gurus, B&Q, this Pebre pull-out under sink organizer is an easy-to-fit storage solution It saves you from reaching into the back of the cupboard so you can find everything you need with ease. A real lifesaver if you've got a bad back or knees in our opinion.
Made from medium-density fiberboard (MDF), plastic, and powder-coated steel, it delivers on durability and industrial-chic style. We think this would look great in a grey kitchen.
To get the best price, check out our B&Q discount codes.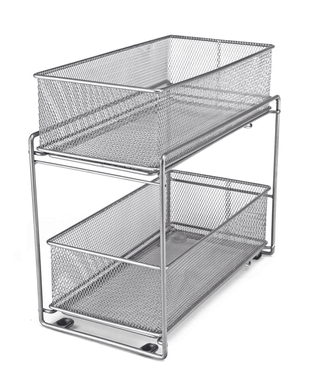 Another plastic-free option for our eco-conscious buyers. This 2-tier stackable metal mesh sliding basket under sink storage by LaCyan is made from metal which means it's got sturdiness, style, and interior versatility. Whether you have a modern kitchen or have something more traditional, this mesh stackable cabinet organizer can slide out for easy access to all your cleaning equipment.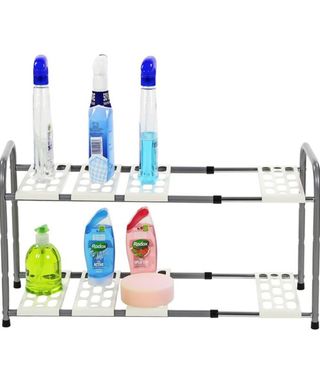 This easy-to-assemble Leilani Under Sink Storage, from Belfry Kitchen, available from Wayfair, is designed with the aim of making full use of your kitchen space and getting everything organized. With pre-assembled screws, this unit is adjustable to create more space for your different storage purpose, perfect for taking into account pipe structures under the sink and other types of under-sink challenges.
This 2-tier shelf includes ten adjustable panels, which can hold cleaning supplies such as spray bottles and canisters or be used in your bathroom to organize toiletries. The kitchen sink shelf allows sink drain pipe to pass through too – perfect for small kitchens and awkward spaces.
Whether you have a tall or shallow space, this height-adjustable under sink organizer caters to all nooks and crannies, with four holes in the sturdy frame to suit your space. And, you won't have to worry about it collapsing as it is made from powder-coated reinforced metal which has been specially tested for its load-bearing capacity.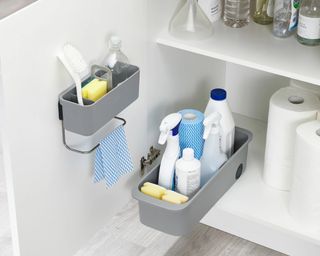 This handy caddy from Joseph and Joseph provides organized storage for your washing-up liquid and stores neatly out of sight inside your cupboard, keeping your sink uncluttered and mess-free – Magic!
This under the sink, kitchen cabinet organizer features a main compartment, divided into two, which can hold a selection of brushes, sponges, scourers, and dish soap.
Handily, it also has a carry handle making it convenient to transport to and from the sink and comes with its own bracket and screws for mounting on the inside of a cupboard door. The bracket also features a stainless-steel rail for hanging damp cloths or, if there's space below, some spray cleaner bottles.
From Zoflora to Mrs. Meyer's (and practically everything else), hang your home cleaners in chic style with this innovative and contemporary caddy design.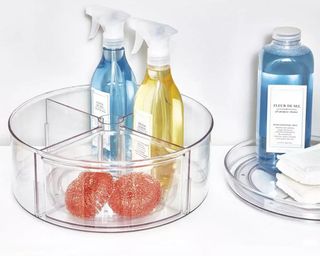 Operating in a similar rotating fashion to its taller aforementioned sibling, this short turntable container from The Home Edit & iDesign, available at John Lewis & Partners puts a new 'spin' on under sink organization – if you'll pardon the pun.
Its removable dividers let you sort and store everything from sponges, shammy clothes, detergents, and dishwasher tablets. A removable bin keeps bottles and loose items upright, so all contents are always easy to view and grab.
How do I maximize the space under my sink?
'Before you begin the organization process under your kitchen sink, the first thing I would recommend doing is discard any excess items or products that are taking up space,' says Marie Kondo, organizing consultant, author, and TV show host.
'When it comes to your kitchen, this may mean parting with old or unused cleaning products or dish towels that could be repurposed as cleaning cloths. Any remaining items should have a useful purpose in your home, but I recommend having just one or two types of cleaning products at most to keep things simple.'
'You might come across supplies you've never used and probably never will – if so, donate these to a place in need. This will help make room for items that typically sit near the sink, like dish soap or a sponge. I recommend storing these items under the sink to keep the countertop clear.'
'Next, divide the area under the kitchen sink into smaller sections to help keep items separate and uncluttered. For storing general cleaning supplies as well as specific kitchen products like dish soap, I love to use caddies like our Verso Design Handmade Wooden Tool Box to keep items tidy under the sink while also being easy and portable to pick up and use throughout the house.
'When it comes to storing dish towels and extra sponges, our The Container Store x KonMari Bamboo Drawer Organizers are great for gathering these types of items, as they are a customizable solution, suitable for a variety of sized drawers and under the sink space.'