ICYMI: The team at Real Homes is doing a deep dive into all of the organization products you need this spring, to get ur sh*t shorted. That includes drawer organizers for your kitchen because I know that your cutlery drawer is currently a mess. Mine was too — until I bought this genius $11.99 kitchen drawer organizer from Amazon. I actually added it to my basket on a whim, while ordering a few other must-haves, so I didn't really think twice about it. But it ended up becoming the star of my cooking space. My utensil drawer went from absolute chaos to being the only place in my kitchen that I actually manage to keep organized. Total game-changer.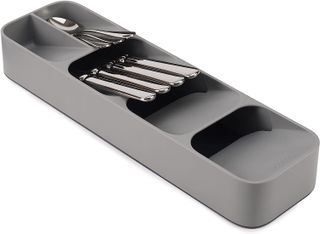 Joseph Joseph DrawerStore
Size (in.): H15.6 x W2.25 x D4.33
Made from: Plastic
This divider stores forks, knives, tablespoons, and teaspoons stacked on top of one another rather than sitting side by side. It leaves plenty of space in your drawer for things you might not want on your countertop. You can tell your unsightly serving spoons, your huge potato masher, and your hard-to-clean whisk to get in the drawer now.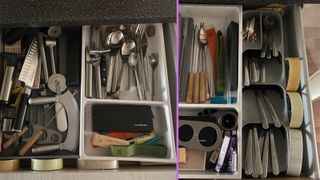 Not only does the utensil organizer make use of every inch of space in your drawer, but I found that it left tons of space for other utensils — like my six (totally necessary) lighters for candles. While it's a breeze to use, you'll want to actually follow the labels and put specific utensils in their designated spots. If you put the forks in where the knives are supposed to go, your drawer will get stuck closed. Don't do what I did or you'll end up with some bent AF cutlery. Otherwise, this is a genius design that stacks your cutlery instead of wasting precious drawer space. It makes it so easy to put your silverware away after a dishwasher cycle, too. I actually influenced my mom to buy this for her cutlery drawer, so if it's mom-approved, you know what to do...
See it in action on TikTok, below.