Can't wait for the summer to arrive and need to get those patio ideas rolling? We don't blame you. If you have a patio, you'll be looking forward to dining al fresco, with a glass of wine, and simply doing nothing on a Saturday morning, which is why it's time to start thinking about how you will transform your patio into the perfect summer lounging haven. 
Whether you're looking for patio ideas for small gardens or if you have a larger space to play with, follow this guide for more design ideas and inspiration. Then read more about garden design via our hub where you'll find help on planning and costs too. Cheers to that.
1. Create a summery vibe with a bistro set
Nothing quite suggests summer in the same way as a good-looking bistro set: these compact and lightweight patio sets come in a multitude in materials, colours, and shapes, and are one of the easiest ways to enjoy a small patio. 
We love this pretty Helsinki Bronze Bistro Set from Dunelm – its simple design and earthy tones will fit right into most patios. 
2. Go for low seating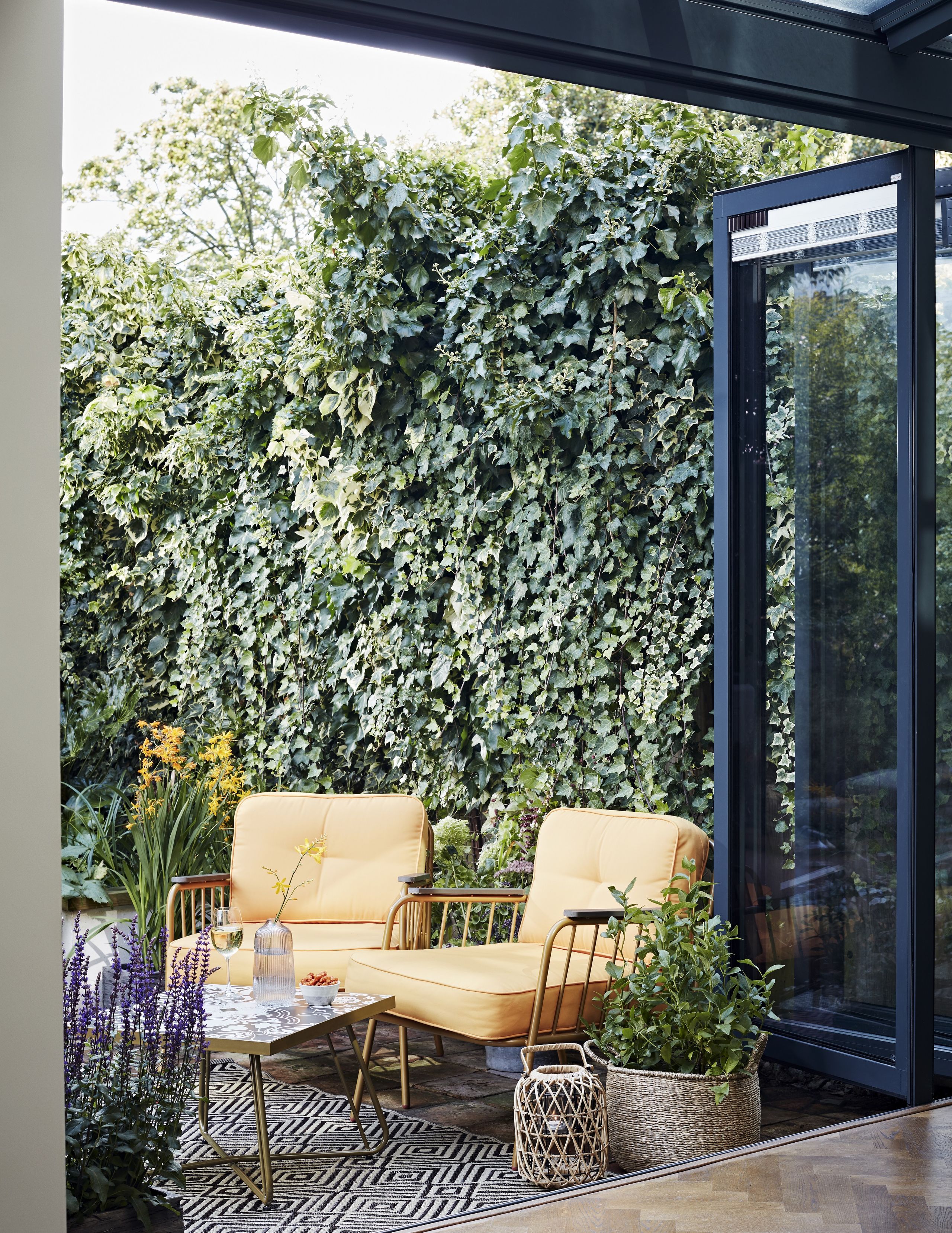 If your patio is overlooked and on the small side, low seating will not only make it feel larger (plus you'll be able to see over it from inside to the garden beyond), it will also help improve privacy in your garden. 
The Nectar Bistro Set from Dobbies has sumptuous cushioning in a pleasing apricot shade – a colourful accent perfect for a small patio. 
3. Go eco (and weather-resistant)
Buying patio furniture and accessories that you can leave out year-round is a must if you don't have the shed storage space. So, shop for teak (whether new or reclaimed), which is the most durable of all garden furniture timbers, and match it with water-resistant accessories that don't mind the odd shower or two. 
If you're clever, you might even match durability with creating an eco-friendly garden, too. Bridgman offer a wide range of teak, while the graphic, patterned rug from Dash & Albert is not only stylish, but also environmentally friendly: it's made from recycled plastic bottles. Available at Amara. 
4. Invest in a gorgeous patio furniture set
Want to sort out your patio once and for all? Go for an investment patio furniture set – think a roomy corner sofa, a table and chairs – and you're guaranteed to make the most of your outdoor space all through the summer. 
Our top pick is the gorgeous and durable Sardaigne set from Maisons du Monde. It's made from UV-resistant synthetic wicker and has the most gorgeous removable cream cushions. 
5. Need patio ideas for small gardens? Keep it simple.
You don't need a lot of stuff to create a perfect atmosphere for summer lounging. An understated, well-built set will be more than enough for most patios, especially those on the smaller side. 
Recreate the look shown here – and discover more patio ideas on a budget – at Argos.  
6. Refresh the look of a balcony patio with sleek furniture 
Balcony patios tend to be the smallest, and substantial rattan furniture sets may not be an option (think dragging heavy furniture upstairs!) Opt for a lightweight but stylish solution, such as this very affordable one from Ikea, who have plenty of brilliant small patio ideas. 
7.  Choose container-friendly plants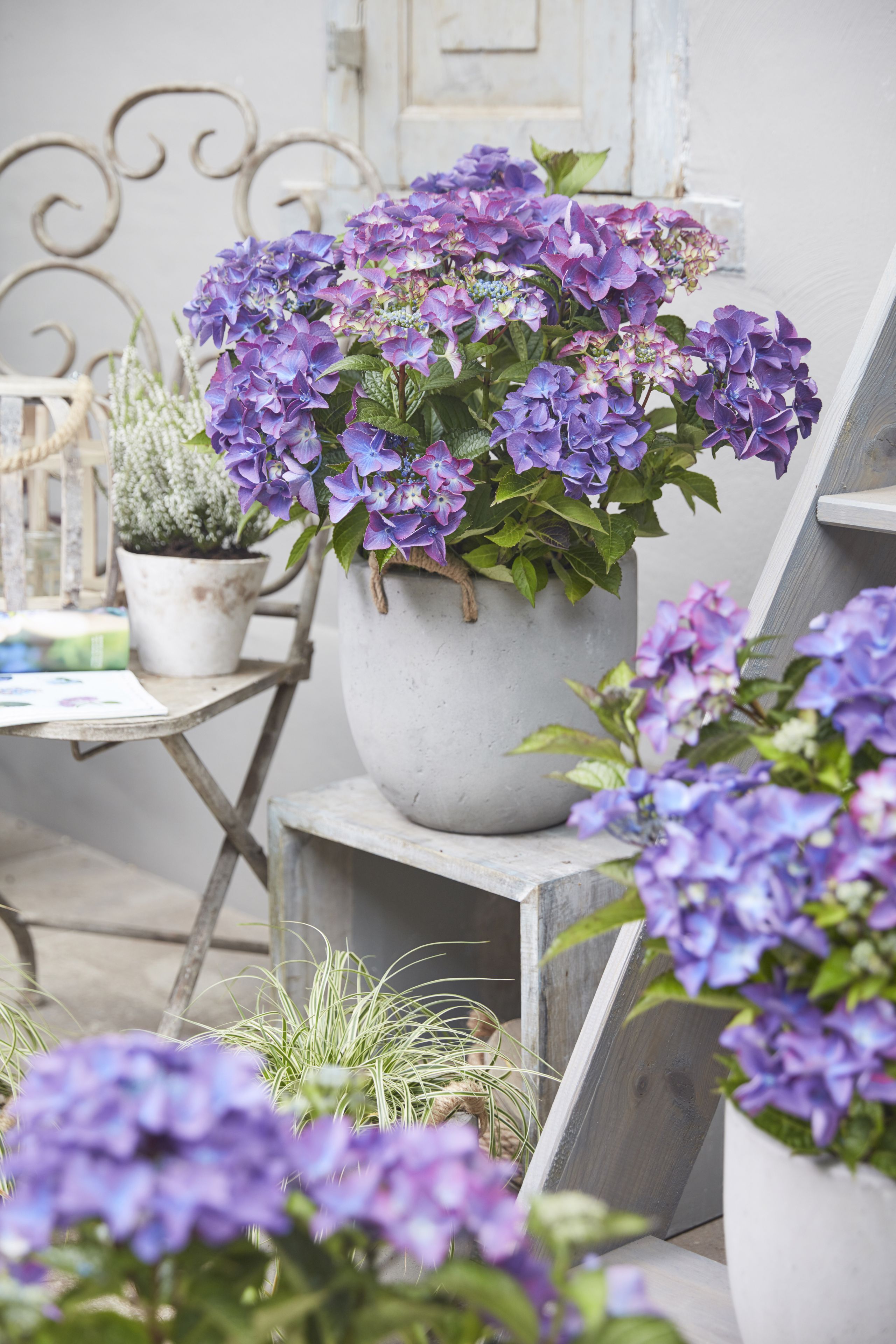 Container gardening is one of the joys that come with having a patio, and is relatively easy, requiring little more than regular watering, assuming you choose low maintenance plants. Hydrangea and geranium do well in containers and provide lots of stunning colour; or, you can choose exotic species, such as palms, citrus or olive trees, although they will have to be brought inside during cold spells.   
Citrus trees and Hydrangea 'Black Diamonds Shining Angel Blue (pictured below) are available at Thompson & Morgan; potted olive and palm trees can be purchased at The Palm Centre.
8. Accent with colourful chairs
Add an instant splash of colour, without sacrificing comfort, with a woven rattan chair. We love this multi-coloured one from Habitat: it is generously sized and ergonomically shaped, and its dazzling bright colours are guaranteed to liven up your patio. 
You can also create your own colourful garden chairs by painting them – a DIY patio idea even a beginner can tackle. 
9. Take tea in comfort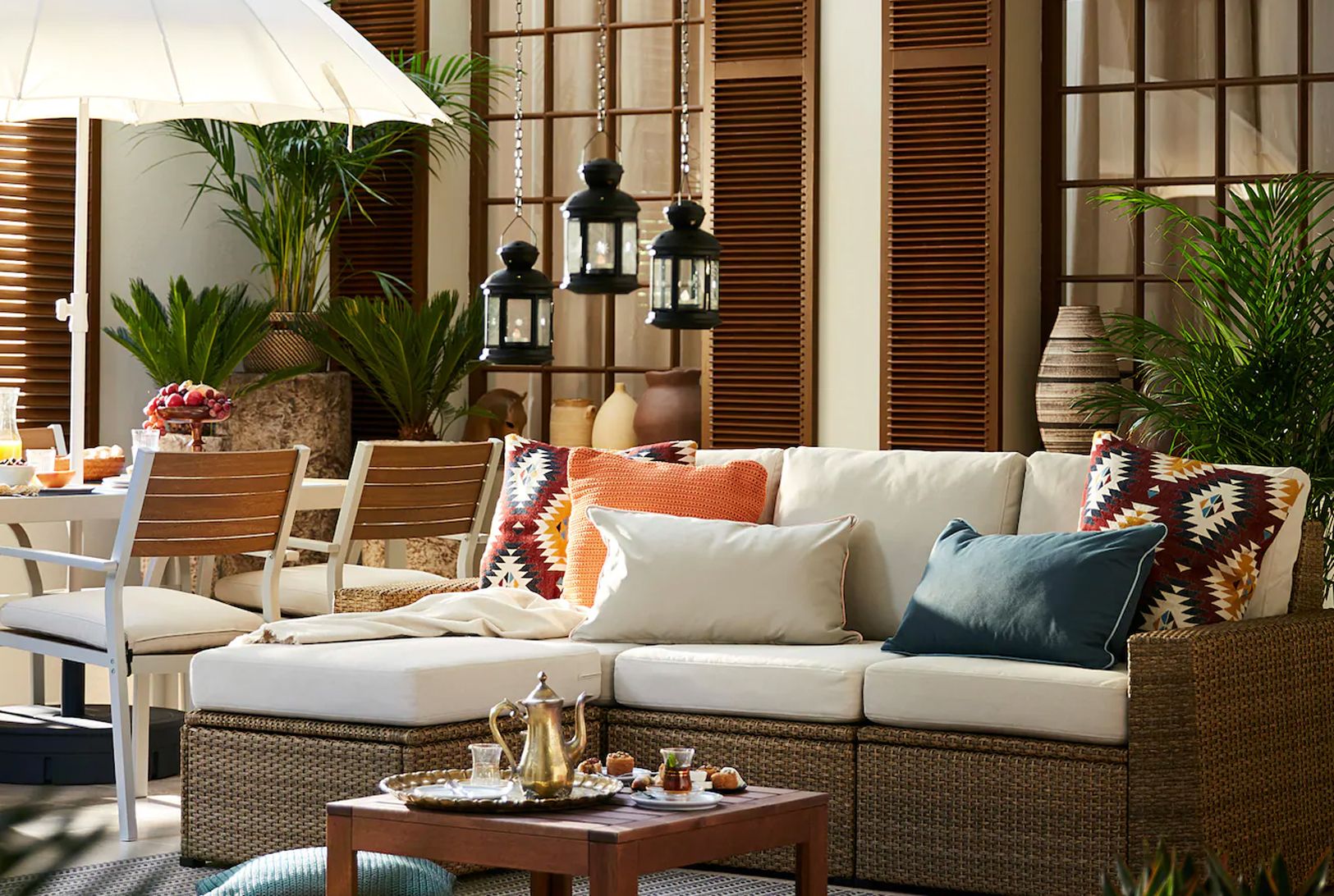 Shop tableware, garden furniture and lounging sets in durable natural or man-made materials, with steel frames (which can stand up to the weather and are light enough to move about easily), and with deep seats you can lean right back in. Cushioning is important, too: it needs to be as deep as your sofa's, but shower- and mould-resistant. 
We love the roomy and inviting Solleron range from Ikea.
10. Stay cool in the shade with a garden parasol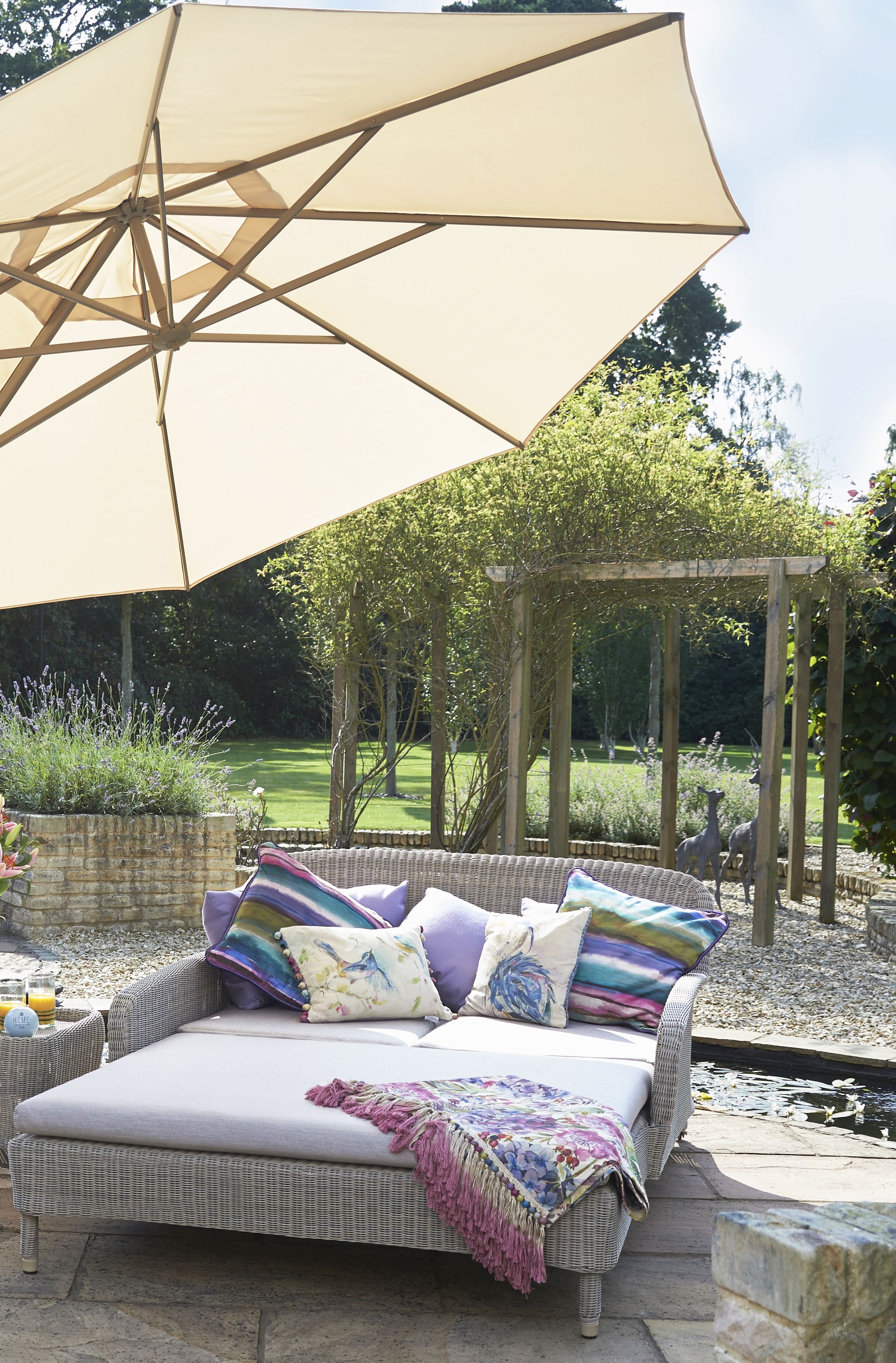 Lunchtime summer sun can get overwhelming - even in Britain! So, create a shady corner – and a splash of colour and pattern – with a stylish parasol. Got a spacious patio? A freestanding parasol will give you plenty of coverage. 
We like the Siesta Cantilever Parasol from Bridgman. 
11. Enjoy some me-time in a secluded seating area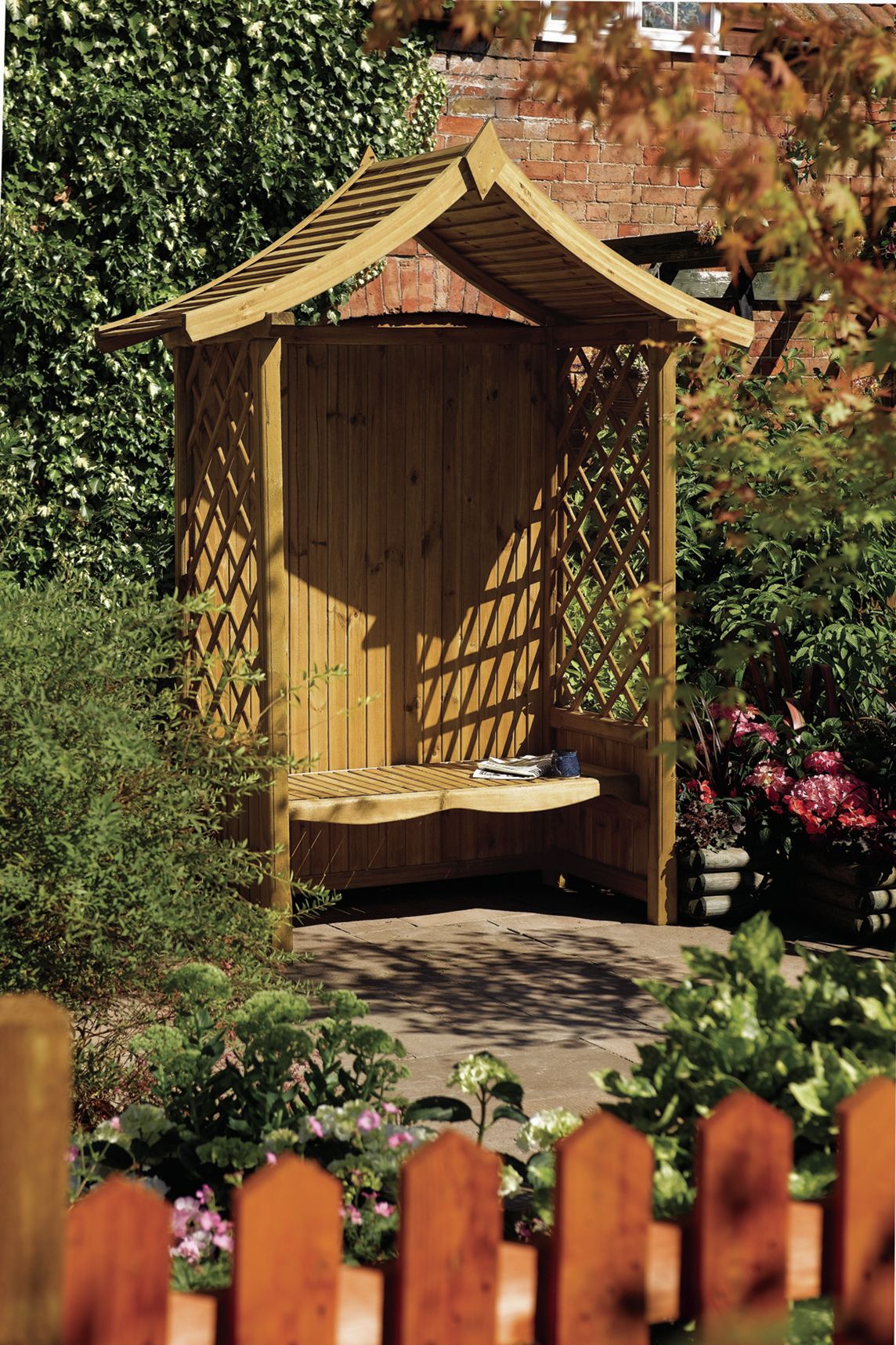 For some of us, the outdoor area is more of a retreat. For a chance to have some time all to yourself, and away from neighbours' eyes, opt for an arbour seat. We like the Rowlinson Tenbury Arbour Seat from Cuckooland. 
12. Soak up the sun on comfy loungers
If your patio has a bit of extra space – and you are a sun worshipper – why not invest in comfortable rattan loungers? 
We like the Linden Rattan Sun Lounger from Cuckooland. 
13. Warm up on evenings by the fire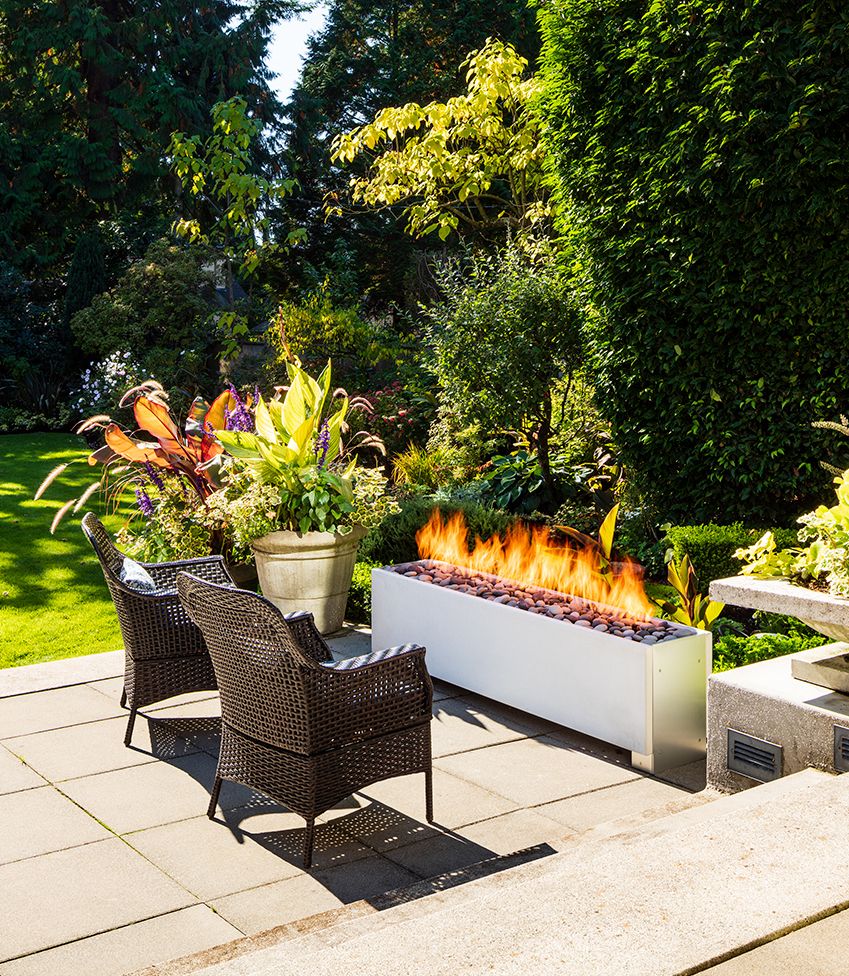 Ditch style-free patio heaters in favour of the most natural heat source there is: fire. Cheaper to run than a heater, guaranteed to keep you warm, and perfect for conjuring up a convivial atmosphere, a fire pit is a stylish companion to patio lounging on those days when summer temperatures aren't their best – or you stay out too long. 
Our pick is the very smart Linear Firepit from Solus Decor.  
14. Drift off in a hanging seat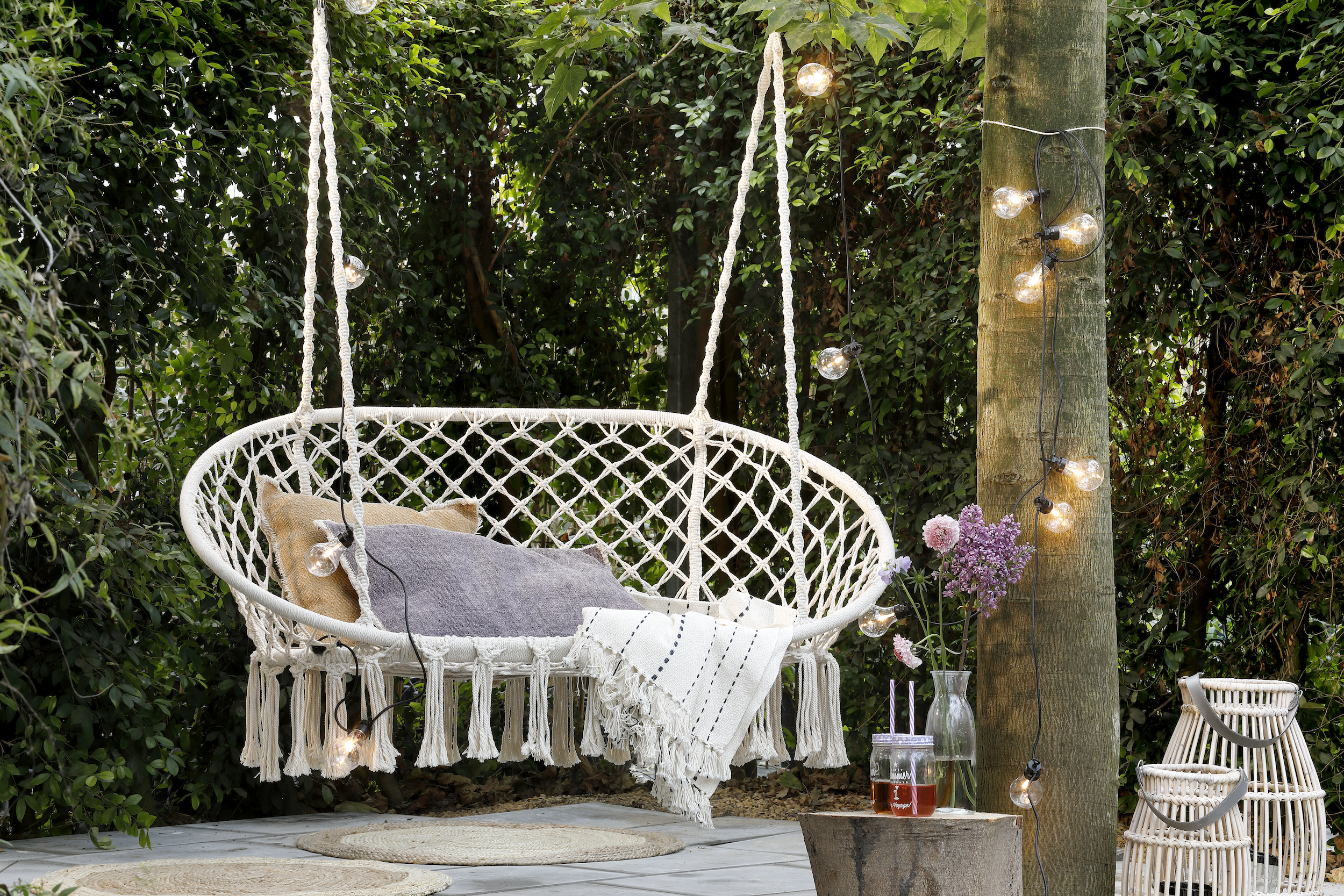 Hanging seats are the ultimate patio lounging luxury. There is something infinitely relaxing about gently swinging in a seat that is one step away from becoming a hammock. Put yours in a shady spot.
We think that the romantic Macrame Double Hanging Seat from Ella James is just perfect for a summer afternoon nap.
15. Find peace in a minimalist haven
A patio does not have to have lots of accessories to be beautiful. If you prefer a streamlined style, consider investing in sleek, elegant furniture that will give your patio a contemporary feel – just don't sacrifice looks for comfort. Metal and wood can both be unforgiving without chair cushions; man-made materials are often more comfortable. Whatever you buy, ensure its material is fade-proof as well as weather-resistant. 
Our pick is the very elegant Weave range from Point, available at Go Modern.
More garden ideas: