We often dedicate a lot of thought to the lighting for our bedrooms, living rooms and kitchens, but what about the humble hallway? Sometimes a space that is overlooked when decorating, it's easy to forget that this area gives people the first impression of your home when they walk though the door, and that by taking the time to choose functional and stylish lighting you can create a warm, welcoming atmosphere from that instant.
With the absence of space or windows in many hallway settings it's an area that doesn't always have much natural light flooding in, so it does really benefit from good hallway lights on a practical level. If you're blessed with a property that has lovely high ceilings then a stunning pendant not only keeps the hallway well-lit but also adds an eye-catching feature that would work well.
For a more compact area why not add some on-trend wall lights or even some floor or table lamps for a homely glow. We've got plenty of inspiration to help you choose the perfect piece for your home…
1. Focal point
Let the lighting do the talking with a simple design that catches the eye. A clear shade that shows off the bulbs won't look obtrusive in a small or narrow hall.
Sharp lines and black detailing on the Neptune large Browning lantern pendant, £485, are sure to make a statement and look great in modern or classic settings.
2. Mix and match
Why settle for just one light when you can have two! Make the entrance into the home even more welcoming for visitors with a pendant as well as a tabletop light like the Bobby table lamp is £195, Pooky
3. On the wall
Add a touch of sophistication with classic-style wall lights. They are a good choice when you don't have a high enough ceiling for a chandelier or pendant, but want a statement look.
We love the look of these Davey Lighting York ones which are made from opal and weathered brass, £249 from Original BTC
4. Play with pattern
Pattern is a great way of incorporating personality into a space, and there's definitely no lack of opportunity when it comes to lighting. The Waves shade, £75 for the medium size, adds a cool element without feeling overpowering. Available at Heal's
5. Pendant power
For homes with higher ceilings it's a great chance to play around with hallway pendant lights – you just need to be sure to take the time to get it at the perfect height. For a similar design try Jim Lawrence.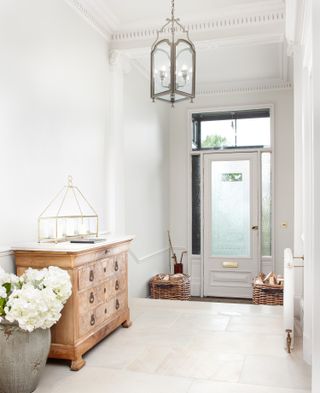 6. Colour pop
Craving colour? Why not add a creative flair with a light shade in a statement colour. Green is still huge in interiors and can complement plenty of other hues too. Stanley pendant, £66, Pooky.
7. On display
Light the way down the hall with minimalist wall lights. You could even use them as spotlights to draw attention to hanging artwork or ornaments on show. Camillo lighting, from £475, Christopher Wray.
8. Three in a row
For an effective lighting option that has a more seamless look, try a row of fitted hallway ceiling lights like these, as they offer a good level of light in a darker hallway. For something similar, try these from The Range.
9. Light show
Feel inspired by the vintage industrial look with this pendant. The caged effect and steel details makes for a striking yet no-frills design. Davey Lighting Oceanic pendant, £399, Original BTC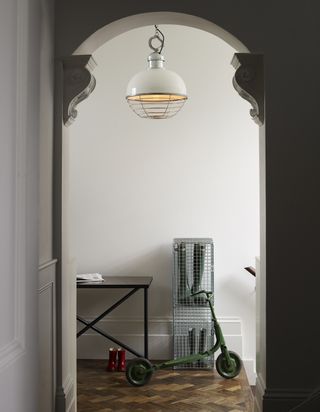 10. Soft and subtle
Subtle lighting that blends seamlessly into the interiors are just as important as those bolder pieces. We love this lamp from Cox&Cox as it features an on-trend concrete base and soft cotton shade in cooling grey. It's £100.
11. Set to sparkle
Don't do anything by halves? If you have a hallway with high ceilings and a grand staircase then you have the ideal space for some real wow-factor lighting such as a dramatic chandelier. For something similar you could try these from Wayfair.
12. Golden touch
Add a luxe touch to a dim hallway with a table lamp in a brushed brass finish. Choosing a more classic design will ensure that it complements any scheme. Dutchbone Eclipse desk lamp, £99, Houseology.
13. Design time
Lighting can be a design feature as well as a practicality, so why not step outside of the box when it comes to the hallway with an eye-catching floor lamp? The EOS large light, from £199, VITA Copenhagen, will really elevate the space.
Read more