Whether you're a costume jewellery addict or love to invest in one off sparkling pieces, your jewellery often holds high sentimental value and so should be kept safe and organised. Instead of discarding it in a dressing table drawer in your bedroom, seek out clever, good-looking storage to keep your pieces neat, so they continue to look as good as the day they were bought.
We've done the legwork for you and sought out the best jewellery storage ideas on the market. The only problem you'll have is deciding which one to choose.
1. Add a faux leather storage box to your dressing table
A faux leather jewellery storage box is a more conventional way to store your favourite jewellery. It will always look good on your dressing table and be easy to store in a drawer or wardrobe should you need to.
This beautiful pink case from Dunelm has a pink lining and several jewellery storage trays allowing you to store pieces separately, keeping your jewellery well protected and easy to access.
2. Put your earrings in a dedicated box
Sometimes specific jewellery needs a specific storage solution and your earrings are a prime example. Prevent damage to studs and statement earrings by seeking out a jewellery box specially designed for these more delicate items.
Transparent cases allow you to keep your favourites on display and help you make a choice on what to wear. A blogger from Love Chic Living has put this earring case to the test on her blog and showcases how useful a box like this can be. Similar earring boxes can be found at The Holding Company.
3. Choose a statement jewellery holder
While traditional jewellery boxes are exceptionally useful – particularly for a bigger jewellery collection – there's a new trend for more stylish, unusual and statement jewellery holders. There's no need to hide your jewellery away but instead choose beautifully designed transparent or glass holders allowing your jewellery to become a feature in the room.
Designed with a glass lid and brass finish, the two arms on the Jewellery Holder from Dunelm on this dressing table give hanging space for necklaces and bracelets, whilst the cloche cover keeps everything dust free.
4. Invest in a designer jewellery case
Beautiful jewellery deserves beautiful storage and if you feel like indulging then why not choose designer boxes that really make a statement? From stunning jewellery boxes or more unusual jewellery holders, a designer piece adds a touch of luxury to your dressing table and gives your diamonds that extra special sparkle.
Jonathan Adler has a striking pink leather jewellery case (shown below) lined in blue velvet with the signature hexagonal brass key plate, as well as the architectural mixed metal box, both the embodiment of style and luxury.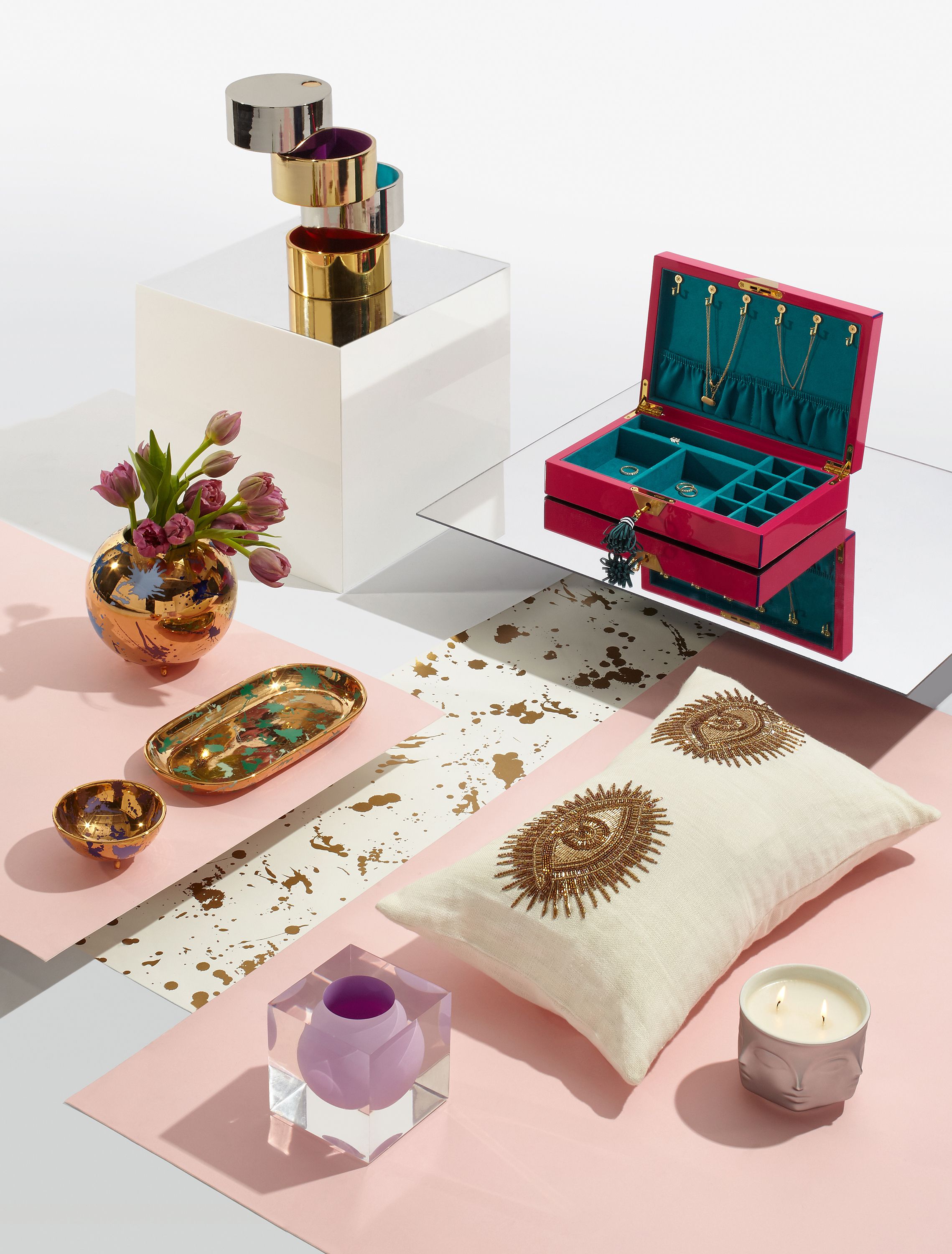 5. Keep jewellery organised in a tray
If you like to keep your bedside table clutter free, then a transparent tray for storing your watch and key pieces of jewellery overnight is perfect. It won't feel like it's taking up lots of space yet keeps all the essentials in one place, easily to hand.
The Two-tier Vanity Organiser from The Holding Company is neat and compact and won't jar with your décor or colour scheme. If you love simple and classy design this is certainly the accessory for you.
6. Add a safe to protect your valuables
When we think of storage for our jewellery we immediately turn to the traditional jewellery box in the corner of the dressing table, but if we're lucky enough to own some valuable pieces we may want something more robust to protect them. Installing a safe in a wardrobe or cupboard is surprisingly straightforward and allows you peace of mind when it comes to storing your costlier gems.
The Phoenix model from safe.co.uk starts at just £70 and has a digital keypad and carpeted floor to protect valuables.
7. Choose a classic portable option
Invest in a classic jewellery storage with mirror and you have the perfect way to keep your gems pristine, even when on the move. Choose one that has multiple layers and different compartments, finished in a plush lining.
This classic brown leather jewellery box from Life of Riley even comes complete with personalised card for your own message. It's stylish and understated, making it the perfect accessory for your dressing table.
8. Mix on-trend materials for a contemporary look
If you adore following trends and have a love for all things metallic, mixing up a copper finish with concrete boxes must be the style for you. Simple and elegant, adding a feature to any dressing table, jewellery storage in these popular materials will add a touch of contemporary design to any space.
Umbra has designed some beautiful accessories which keep your jewellery safe and organised. The copper stand has arms on three levels, a concrete dish, and looks perfect paired with the concrete boxes beneath. Both are available from Black by Design.
9. Go quirky with a head-turning ring holder
If quirky design is your thing then a standard jewellery box isn't for you. In fact, we'd recommend choosing something completely unusual on which to hang your necklaces; if your jewellery makes a statement then so should your bedroom storage.
Audenza makes quirky pieces for all over the home, and the gold 'Rock On' hand easily suits as a holder for rings, necklaces and bracelets. Pop it on your dressing table or next to your bed for the ultimate in funky accessories.
10. Store seasonal pieces on a stand
While you may want a larger jewellery box for your longer-term storage which hides away in a cupboard or wardrobe, the on-trend look for jewellery holders continues to grow. They may not be able to hold all your pieces but are ideal for keeping those items which you wear regularly, or that suit the current season.
Oliver Bonas have a great selection of jewellery stands and ring holders in beautiful materials that complement a contemporary home.
Need more storage or bedroom ideas?