If you are redesigning a traditional kitchen or starting from scratch in a new living room, how you choose to dress your windows will be an all important finishing touch.
When assessing different options, consider the look and feel you want to create, and whether you prefer to draw attention to window frames and shapes or disguise them. It is also important to address any practicalities, such as retaining privacy, reducing draughts and insulating against cold and noise. From traditional curtains and shutters, to innovative blinds and films, there is something to complement every living space.
1. Create unity with curtains and soft furnishings
Try using the colour and fabric you choose for your window treatments to help establish a colour palette for the entire room. We love how in this traditional living room the design of the curtains has been continued through to the cushions and the ottoman.
2. Add privacy with a patterned frosted window
Working with a front facing living room? Intricate frosted prints will obscure the view into your room but still allow light to flow through. If a frosted film alone feels a bit bare, team it with curtains for a more opulent window treatment. Letting the curtain fabric pool on the floor, as here, will make the look more luxurious.
Frosted windows also work perfectly in a traditional bathroom, especially if it's a smaller bathroom as you won't need to overwhelm the space with bulkier window treatments.
3. Choose a vintage print for a country feel
Designing a country kitchen? Opt for a lightweight, pretty floral blind like this vintage-inspired Roman blind, made up in Kate Forman's Cameo Rose. Roman blinds are perfect if you like the softness of a fabric window treatment but don't have space for curtains in your kitchen.
4. Bring in light with sheer curtains
Lace curtains or sheer curtains made from linen or chiffon fabric are an excellent window dressing option for rooms you want to allow plenty of light into. They work perfectly in a north facing living room, just make sure your curtains are hung so that they can be pulled right back against the wall and don't obstruct the window when open. Check out our guide on how to measure up for curtains if you need more advice.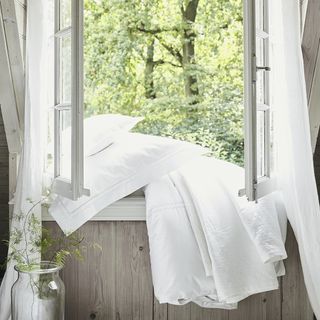 5. Save space with venetian blinds
If you are working with a small living room, a narrow hallway or just looking for a fuss free window treatment for your kitchen, a simple venetian blind would work perfectly. This style of blind will hang flat and won't take up space at the top or alongside the window nor create bulk against the wall.
6. Opt for luxurious velvet curtains
Velvet's a huge trend for sofa upholstery and we think it's just as appealing used for curtains. While roller blinds and shutters both work well in traditional space, nothing beats the luxurious look of velvet curtains with deep swags, lush fabrics and ornate pelmets.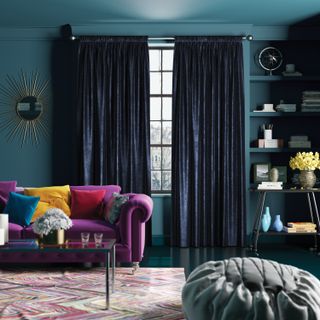 7. Inject colour with shutters
Make windows the focal point in an otherwise neutral space by choosing shutters in a bolder colour. Opt for a bold shade that you can repeat throughout the room – we can't get enough of the olive hues in this bedroom.
8. Hide fixings with a pelmet
We know pelmets may be associated with the chintzier end of traditional country house design but when they are done right they can lend style and elegance to a window. They are also a great way to hide fixtures, here a pelmet has been used to disguise a simple roller blind – a good idea if you want to add interest to a window but don't have the room for bulky treatments.
9. Dress a window with tie top curtains
Tie top curtains are a laid-back solution for dressing large windows. They are really easy to make yourself, and you can change them up whenever you fancy.
10. Use cafe curtains as a practical window treatment
A half curtain or a cafe curtain can be a great solution if you want privacy but still want to let in plenty of natural light. This kind of window treatment is also super easy to DIY. Pick out your favourite fabric and cut it to the length of your window, then hem the bottom edge and create a channel at the top to fit the rod.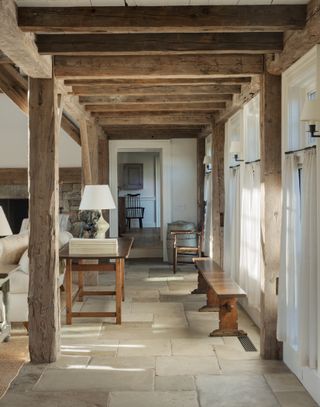 Looking for more window treatment inspiration?