Humble, compact and intrinsically bound with the of rural idyll of village life, what the cottage garden lacks in scale and splendour, it makes up for in quirk, variety and charm. A relaxed medley of untamed flowers, homegrown produce and medicinal herbs, as well as an inevitable haven for wildlife, these understated plots offer a true riot of colour and fragrance which are a feast for the senses. From haphazard borders to outdoor rooms dotted with flea market finds, be inspired by these ideas for creating a cottage garden.
1. Opt for an organic, curved layout
While the formal gardens of classical country houses favoured structured, geometric layouts, sinuous lines and curvaceous borders give a far more relaxed feel suited to smaller gardens and vernacular old houses which are anything but uniform.
2. Create an illusion of haphazard planting
Cottage gardens originally began as neat and productive kitchen gardens, but later developed to include sumptuous arrays of flowers in different shapes and sizes as the trend for floristry blossomed throughout the 19th century. Choose a mix of colours, shapes and heights to create a rich tapestry.
Although cottage gardens give the illusion of effortless charm, careful consideration must be taken with choosing plants. Create height and structure at the backs of borders with busty shrubs like philadelphus, and the elegant, lofty spires of delphiniums, lupins, foxgloves and hollyhocks. At the fore, choose pretty and fragrant perennials such as rose bushes, lavender and wild geraniums muddled in the invigorating and vibrant green of lady's mantle.
Opting for perennial plants which flower year after year will save on maintenance. Of course no cottage garden should be without pretty spring bulbs such as tulips, daffodils and crocus; plant these in October and November for guaranteed spring colour.
3. Create interest with structural features
While formal gardens use architectural elements to create structure, humble wooden pergolas, arbours and picket fences are a perfect framework for supporting whimsical rambling roses and marking boundaries in a small cottage garden.
4. Create a secluded seating spot
Well positioned seating is essential in a garden so that you can sit back and admire your handiwork and really enjoy the beautiful and peaceful surroundings. Avoid anything cumbersome, instead opt for decorative wrought iron garden furniture which looks romantic and pretty.
5. Enjoy well-structured garden paths
Walkways – simple herringbone paths and gravel paths snaking through flowerbeds – are a perfect way to be immersed in the colours and scents of the garden, but they are also practical, allowing easy access for tending to plants and garden maintenance.
6. Invest in a summerhouse
Cottage gardens are all about capturing a wild, romantic, playful and whimsical atmosphere, so what could be a better addition than a secret summerhouse or garden room hideaway? The perfect place to pen a novel or paint a masterpiece.
7. Add interest – and texture – with garden antiques
Old crates and vintage ceramics collected from flea markets add decorative interest to a forgotten corner and help bind outdoor spaces with quirky interiors of the cottage it encompasses.
8. Accessorise your shed with traditional tools
Choose vintage garden ephemera and invest in garden equipment created using heritage techniques, such as old iron watering cans and classic handmade Sussex trugs. Not only do they guarantee quality, they also make for pretty displays, and distract from the structure of the shed.
8. Go for a romantic look with climbing roses
You can't beat traditional climbing roses to inject a touch of English romanticism into a garden. The perfect foil to weathered brickwork and masonry, blowsy pops of pink and green against a cottage facade are a guaranteed way to add quintessential chocolate box charm. Find out how to grow your own rose garden.
9. Pick the best furniture for outdoor dining
There's no better way to really make the most of your lovingly tended garden than dining al fresco on a balmy summer's evening. Vintage, ornate wrought iron patio sets and curvaceous mellowed wood designs will best complement the romantic ambience.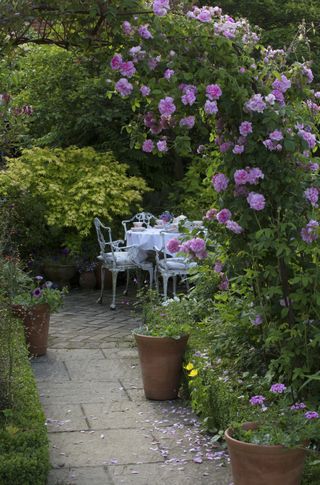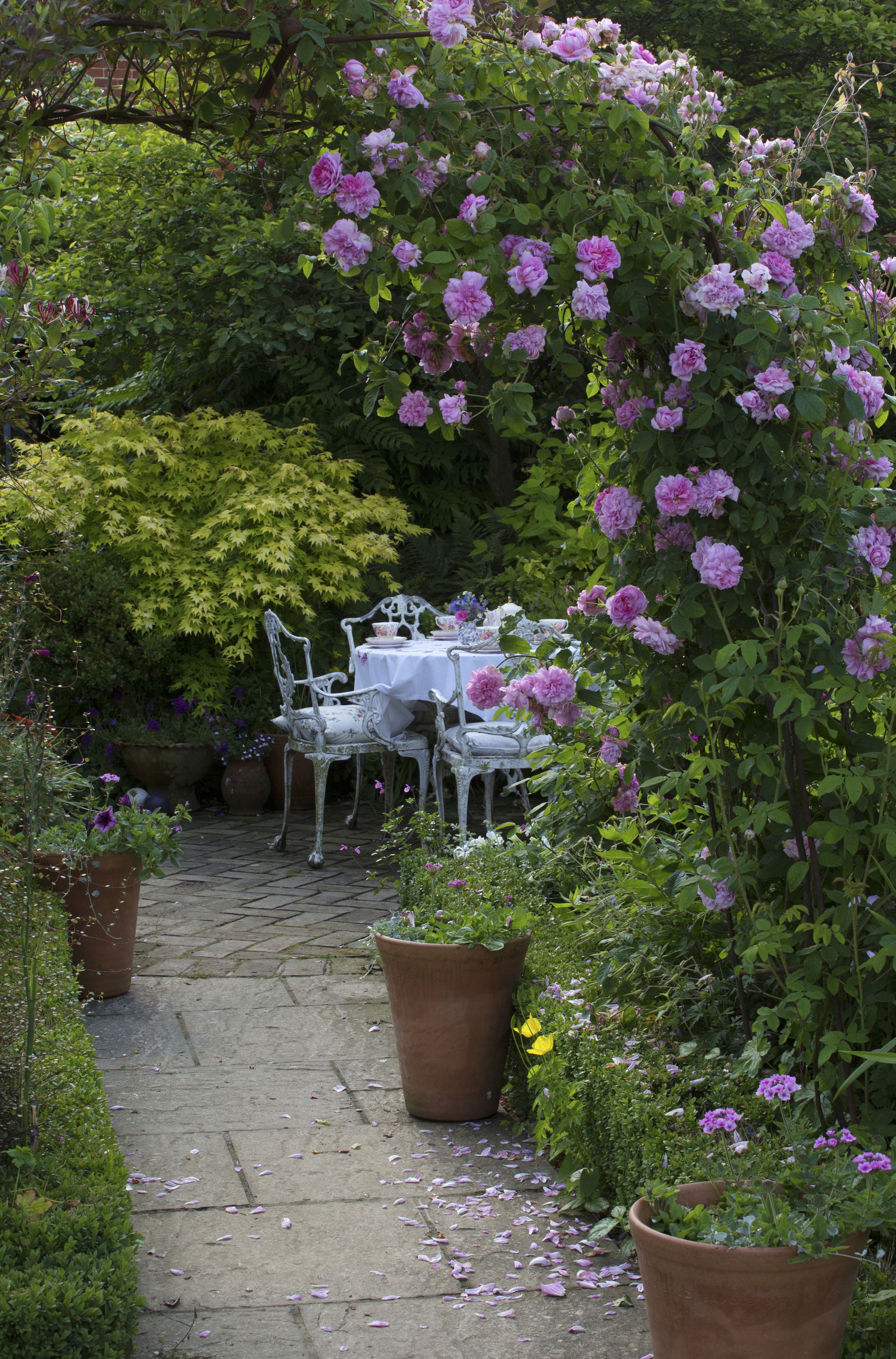 Photographs: Leigh Clapp, Jo Sheldrake, Jody Stewart
Read more: