Coffee pod storage is an absolute essential if you have a machine that accepts capsules. I'm on team #beantocup personally, but nothing winds me up more than seeing cardboard cartridges out or littered on a countertop. I'm not perfect (I've literally spilled the beans while opening a packet), but buying a good single-serve coffee maker is only half the job done in my eyes.
As a millennial who's dipping their pinky in newer social media platforms, y'all young'uns on TikTok love a bit of restocking and kitchen organization, don't you? Turn on the sound and it's ASMR heaven ripping open plastic packets and cardboard boxes.
So on a campaign to clean up your act, I've scrolled TikTok 'til my thumbs hurt to find the most iconic coffee pod storage out there. There are clear AF acrylic finds, magnetic picks that stick to your refrigerator, and even accessories that clip onto your small coffee maker. All are renter-friendly, and I promise you won't pay more than $45. In fact, the majority are under $25.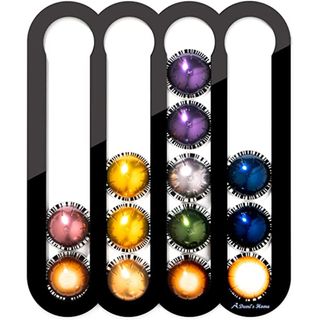 $23.95
1. Demi's Home Coffee Pod Holder
Made from: Acrylic
Size (in): L14 x W11.75

This coffee capsule holder is the same one we've seen on TikTok and you can choose whether you want a magnetic or adhesive backing. Position it on a wall next to your small coffee bar setup, inside a cupboard, or even on your refrigerator. It's great if you have the Nespresso Vertuo Pop, Next, or Plus.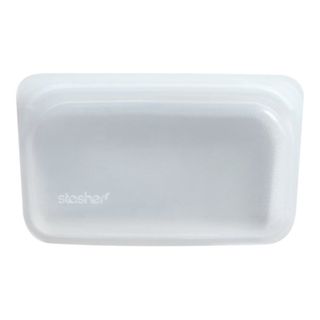 From $9.99
Made from: Silicone
Size: 9.9 fl.oz
Our ecommerce editor Louise uses these food storage containers as coffee pod storage bags. They're super portable and practical and mean you can take your favorite pods on any vacation or staycation.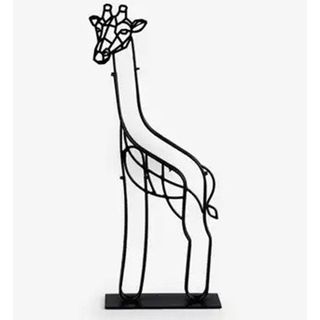 $45
3. Giraffe Pod Coffee Holder
Made from: Metal
Size: One size
How cute is this fun, novelty coffee pod storage from Next US? It's compatible with Nespresso Original capsules and looks great if you've got a global-inspired kitchen full of wooden accents, houseplants, and biophilic wall decor.
Need to restock? We know where to shop for Nespresso pods.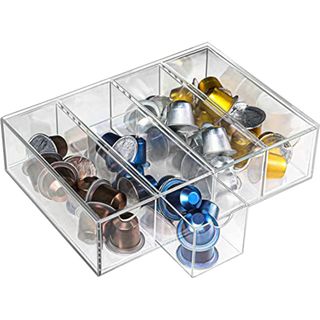 $19.99
4. Acrylic Coffee Capsule Holder
Made from: Acrylic
Size (in): H2.8 x W10 x D7
Search kitchen or fridge restock on TikTok and you'll be spoilt for choice with acrylic coffee capsule holders. We love this @kritsida-inspired choice which can be displayed horizontally or vertically to save on space.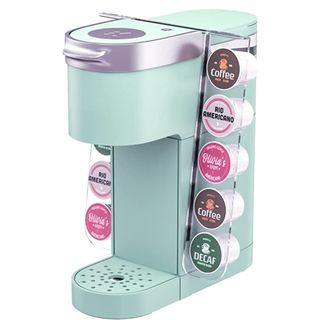 $17.99
5. Gevoli K-Cup Organizer for K-Mini and K Mini Plus
Made from: Acrylic
Chances are if you have a Keurig K-Mini space is either super tight or you live in a small household. Because of this, we love this clear acrylic organizer that holds 10 pods and clips onto your single-serve Keurig coffee maker.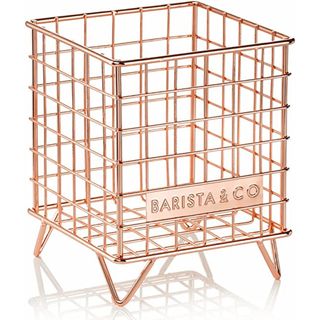 $28.78
6. Barista & Co Pod Cage Coffee Capsule Holder
Made from: Metal
Size (in): L7.87 x W7.87 x H7.87
If a holder feels a little too organized, look to this metal cage design. It's the perfect lazy girl-approved way to store your coffee pods as nothing feels too orderly. Put this in a guest room and let loved ones choose from various strengths and flavors.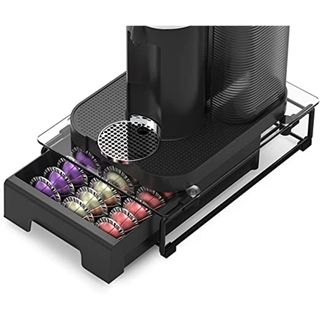 From $32.95
7. Everie Crystal Tempered Glass Organizer Drawer Holder
Made from: Plastic/metal/glass
Size (in): L15 x W11.42 x H4.61
Another great TikTok-inspired find! This coffee capsule holder can store up to 21 big or 30 small Vertuoline pods, depending on the Nespresso coffee maker you have. The tempered glass is super chic, and it's a great way to (literally) elevate your machine.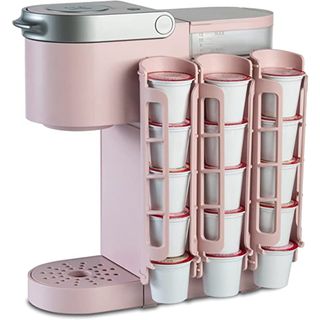 From $11.99
8. Storagenie Keurig K-Cup Holder
Made from: Plastic
K-cups typically are a little deeper than Nespresso pods, but that doesn't mean they need to jam drawers or attack you as you're opening a cupboard. This unique patent-registered design is great for keeping those Keurig caps at bay. Choose from a two- or three-row holder.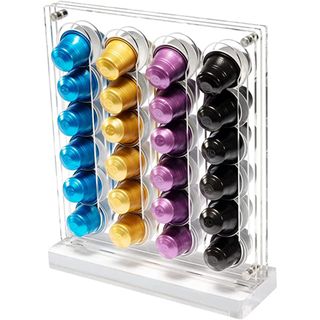 $25.99
9. DuvinDD Coffee Pod Holder for Nespresso Original Line
Made from: Acrylic
Size (in): L8.2 x W2.7 x H9.6
Play Connect 4 with this cute coffee pod holder, inspired by TikToker @dazhaneleah, below. She's got the cutest Barbiecore aesthetic with her Grind One coffee machine and the matching pods. Though it looks small, this clear cutie can hold 40 caps.
What is the best way to store coffee pods?
Why you can trust Real Homes Our expert reviewers spend hours testing and comparing products and services so you can choose the best for you. Find out more about how we test.
One rule to always follow is to read the instructions on the back of the box your coffee pods come in. These instructions will tell you how to store your pods and let you know if there's a specific way to stack them. Otherwise, it's pretty much down to convenience as some people can dedicate more countertop space to pod coffee storage than others. If it makes more sense to keep your pods in a cabinet, then do it!
Whatever you do, though, keep them close by to your machine and within easy reach.
Where to store Keurig coffee pods
I spoke with the experts at Keurig find out the best recommended way to store your coffee pods.
"While coffee corner decor is a matter of personal expression, there are certain things to remember to keep your Keurig coffee fresh," says Lindsay Fermano, senior director of brand marketing at Keurig Dr Pepper Inc.
"Most importantly, we suggest storing your K-Cup pods in a cool, dry place out of direct sunlight. It might seem intuitive to keep them in the fridge or freezer for freshness, but we would recommend against it. The reason why is simple: Your K-Cup pods will absorb the aromas from the fridge, affecting their flavor."