Considering switching to the Keurig K-Mini Single-Serve? I was, too — and after quarantine began last March, I did just that. The verdict? It's a trusty pick, with a few limitations.
Measuring in at under five-inches wide, the Keurig K-Mini Single-Serve is an everyday essential for anyone living in a smaller space or looking for a suitable solution for their work desk. It excels for anyone who's also looking for fast, quick, and easy convenience and can brew up to 12oz and fit into those travel-friendly mugs, too.
While I favored the black matte version, I loved how it also offered a variety of other shades to accommodate other's needs as well. The cord storage and removable dip tray was superior when looking to store extra K-cups, but other than that? It doesn't offer a lot of the bells & whistles of other Keurig models.
If you're living alone or with a partner or one roommate, this Keurig K-Mini Single-Serve will be a one-stop-shop for affordable convenience, but everyone else? It might not be your ideal match.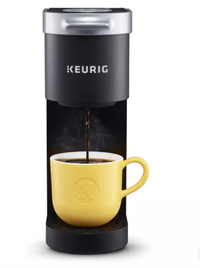 Keurig K-Mini Single-Serve K-Cup Pod Coffee Maker l Was $89.99, Now $79.99 at Target
Want a coffee maker that is compact and convenient? The Keurig K-Mini Single-Serve coffee maker will be your one-stop-shop. Just add one cup of water to the pot and press the button to enjoy a 12oz cup of coffee in a matter of seconds.
Keurig K-Mini Single-Serve K-Cup Pod Coffee Maker: Specifications
Dimensions (Overall): 14.37 Inches (H) x 5.5 Inches (W) x 13.19 Inches (D)
Weight: 6 lbs
Capacity (Volume): 12 Ounces
Cup Capacity: 1
Coffee Filter Type: No Filter Needed
Coffee Type Used: Ground Coffee, Coffee Pods, K-Cups
Wattage Output: 1425 watts
Material: Plastic
Power Source: Electric
Warranty: 1 Year
Keurig K-Mini Single-Serve K-Cup Pod Coffee Maker: features and functions
The Keurig K-Mini Single-Serve Coffee Maker's small scale is a nontraditional approach to single-serve coffee brewers. This model took into consideration that some users don't have space for a big, bulky machine on their kitchen counters.
From there, they created this version that measures in at under five inches wide and can fit anywhere with ease. This made it incredibly convenient for my New York apartment. I also love the speed of this machine. Users can enjoy a cup size between 6 to 12oz., and when using a K-cup pod, they can enjoy a cup of joe in a matter of minutes.
One standout point with this coffee maker is that it's energy-efficient. Most times, during busy mornings, we can't remember whether we did (or didn't) shut off our coffee machines, and this version offers an auto shut-off 90 seconds after your last brew to save energy and give you peace of mind.
All that said, the coffee maker completely dials in on a small-space, single-user experience. The reservoir only holds enough water for one cup of coffee, and the machine isn't programmable.
What I experienced with this coffee maker
All facts and figures aside, there were several reasons why this coffee maker is my go-to every morning, as well as a few other experiences worth mentioning too.
Easy to use
For me, the deciding factor for most kitchen appliances boils down to, "How easy is it to use and how long will it take to learn how to use it." From there, it's usually a hit-or-miss. What I liked about this coffee maker is it did not include any complicated instructions, and the setup process was as seamless as it gets.
After removing it from the box, all that's left to do is remove the drip tray (which you can later use to add extra K-cups for future mornings) and add a cup of water. The cord plugged in-and-out of the wall, and with one press of a button, the machine started on its own.
One note to mention
While the machine in itself isn't faulty, I have experienced having to press the "on" button more than once on some mornings. It could be that the energy-efficient feature doesn't recognize my fingerprint, so at risk of accidentally turning it on, it doesn't (which isn't bad), but it's also imperative to note. Alongside the fact, it does take a few minutes to brew the actual cup of coffee. Some days, the process is done in under a minute, whereas on other days, it takes upwards of 5-minutes to heat the water and brew a cup of joe. Again, nothing majorly wrong with this machine, but some things to keep in mind.
Settings
Unlike other machines that are equipped with fancy features or settings, this coffee machine is pretty cut and dry. There is only one button and then a "strong" logo above it. For the most part, I always press the strong button (because I like my coffee black and strong), but on the day I didn't? You could tell the difference, which is great for anyone looking for versatility.
Shorter cord
Getting used to the size of this cord is one adjustment I had to make. In the past, I've had a longer cord that makes moving my machine easier and presented more options aesthetically, whereas here, you're pretty limited. It measured in at roughly 3", and when it came to my specific kitchen layout, this machine had to go right in front of the outlet, or else I needed to research alternative ways of use.
Suitable for all coffee lovers
With all of us all working from home, I love the convenience of K-pods (and how easy they are to order). Here, this machine is not only designed to use any K-cup of your liking (Yes, that includes both Starbucks and Dunkin Donuts brands, which I love!) but also says on the instructions you could use ground blends as well. Again, I haven't tested this out, but this could be another feature if of interest.
The final verdict
All in all, for a machine that rings in at under-$100, this did exceed all my expectations. I found that my cup of joe was perfect for single-use and brewed in a short amount of time. For the most part, it's a seamless experience, although, one final note that is important to mention? Almost every day, I do deal with a bit of overflowing water-wise on my counter.
The instructions specifically say to watch out (and that this could be a result), and there are a dozen different factors on why this is happening (my mug isn't large enough, I accidentally hit the machines, etc.), but it is worthwhile to mention. Again, it's not a big deal, but if you have any papers or what have you laying out on the counter, you could risk having them exposed, that's all.
Keurig K-Mini Single-Serve Coffee Maker: Our verdict
The Keurig K-mini Single Serve Coffee Maker offers a sleek design and matte finish that's perfect for anyone who's looking for a compact coffee machine that's affordable and convenient.
Users can seamlessly create a cup of joe by adding water to the reservoir, popping in their favorite K-cup pod, and press brew. Within minutes you will enjoy a delicious cup — anywhere from 6-12oz — and have versatility when looking to make coffee, tea, cocoa, or any other hot beverage of your liking.
To sum up? I not only love this machine, but I highly recommend it. While there are a few notes to keep in mind, it's nothing major, but if you're looking to shop for a larger family who needs more bells and whistles? I'd say this is good, just not great for them.
Keurig K-Mini Single-Serve Coffee Maker: Where to buy