Finding the best food storage containers will help you keep your refrigerator tidy, less smelly, and your leftovers pristinely packed for the next day's lunch (much to the envy of your colleagues who were ill-prepared at the crack of dawn).
Not only are you ready to walk out in the morning without decanting dinner into a makeshift container, but you'll significantly cut down your chances of splurging on a sub-standard sandwich.
Ideally, a food storage container needs to be airtight to stop bacterial growth and freezer burn, easy to clean, and robust in order to meet our criteria of 'the best'. We've rounded up a range of food storage options from plastic fantastic containers (always BPA free, obvs), stackable storage, and even glass containers you can pop in the oven for piping hot, bubbling bakes.
So, whether you're after a more durable bag for produce, lunchbox, or something to stop the cereal from spilling from the cupboards, we've got a beautiful selection of buys all boxed up for you. When you've chosen the food storage you like, check out the best microwave for reheating your lunch in a ping.
Best food storage containers for eating on-the-go
Why you can trust Real Homes Our expert reviewers spend hours testing and comparing products and services so you can choose the best for you. Find out more about how we test.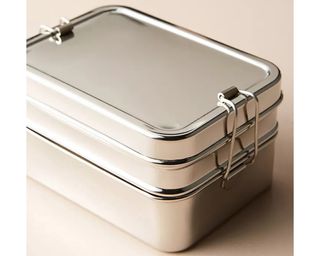 A triple, combo, this 3-in-1 eco lunchbox from Anthropologie is plastic-free, oven-safe, dishwasher-safe, and even keeps food warm which is perfect if your children prefer your home cooking at school to the canteen offering.
With three separate spaces to pack food, this smart food storage solution is absolutely a worthwhile investment to divide snacks from stews or other stodgy meals. It's not microwave safe, but who needs to waste time on your lunch hour queuing to use the communal office microwave when your lunchbox has kept its heat from the morning?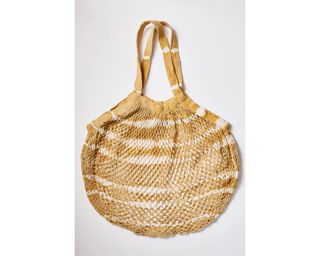 With single-use plastic falling out of fashion, and reusable bags having their moment in the spotlight as the latest celeb fashion accessory, step into the supermarket in style or make a farmer's market mooch a fashionable event.
These multi-use mesh bags make for an almost continental experience of picking and choosing your fave fruit and veg at the greengrocer or, picking up some meat from your trusted, friendly butcher. We particularly love the seventies-inspired bohemian tie-dye motif which comes in a warm mustard yellow or fresh blue colorway. And if they're being used by Rihanna, Jessica Alba, and Jessica Biel, who are we to argue?!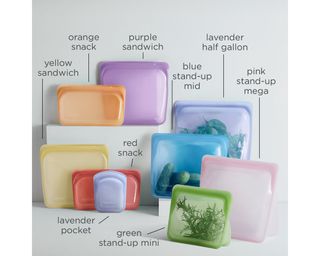 We can always count on Stasher for innovative finds and this set of food storage containers is no exception. In muted pastel hues, these multicolored food-grade silicone bags come in 9 different colors to make kitchen organization easier to keep the refrigerator and pantry organized. They keep the contents fresh – and you can quickly see what's inside through the transparent window.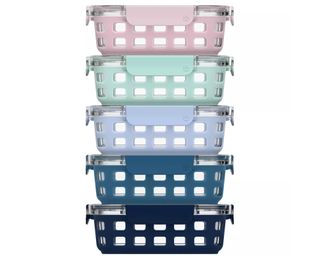 Food storage containers don't often get the reputation of being 'cute', but these pastel boxes are as pretty as a picture. With gripping silicone sleeves in pink, mint green, and cornflower blue, these vessels are style and substance encapsulated.
This 5-pack is uber affordable and the leak-proof lid has sealing snaps for on-the-go eating. Nothing is too much for this glass tub. It's oven-safe up to 450F without the lid, microwave-safe (again without the lid), can be used in your freezer, and when you're done using it, put it in the dishwasher.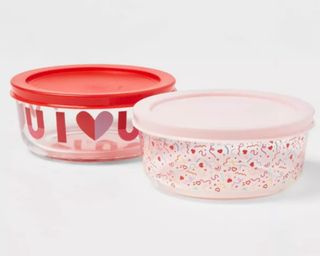 They say food is the language of love, so make up a packed lunch for a loved or significant other with this sweet set of heart-motif glass food containers, available from Target.
Perfect for everyday use, don't be fooled by their charming aesthetic, as these red and pink-lidded containers are made from durable reinforced glass so you won't be heartbroken by thin, shattering glass.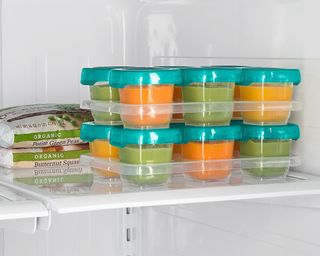 Homemade is best when it comes to baby food and children's snacks on the go, as you can ensure what's going into your kids' bodies and control the levels of sugar, sodium, and fat to keep them healthy. These OXO Tot 2 Oz. Baby Blocks Food Storage, made from silicone with a suction seal is perfect for purees, chopped fruit, dry cereal, and whatever else they can eat in the car and when you're out. What's more, they also come with a handy tray for uber-sleek organization.
And for the adults? It's the perfect pot size for condiments, salad dressings (ranch please!), and healthy dips like salsa, guacamole, and hummus – to go with that bag of tortilla chips of course.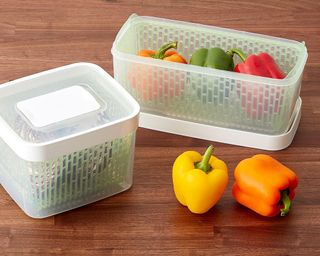 Name someone that likes a soggy salad or shriveled fruit salad – not us. So why should you have to try and get your five-a-day with fruit and veg that looks a little funky? Yes, there are smart refrigerators that promise to prolong your produce, but not everyone can afford them and trying to stay healthy is expensive enough as it is!
This OXO Greensaver Produce Keepers will stop lettuce looking limp and give crunchy bell pepper a little pick-me-up. It works using all-natural, non-toxic activated carbon filters that absorb ethylene gas (the chemical that causes bananas to go brown), slowing down spoilage. Inside of the food storage container, you'll even find an elevated removable basket that promotes proper airflow and prevents moisture buildup so you won't have to line the container with kitchen towel. Plus, it acts as a handy colander to rinse dirt and debris off herbs, legumes, and more.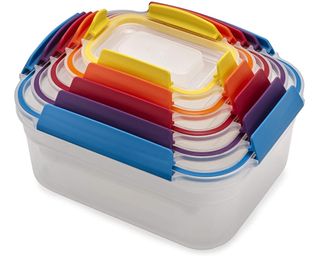 We're not sure about you, but the two worst things about food storage containers are 1) not having enough space to store all of them 2) spending an age trying to find out which lid corresponds to which base.
But, with the Joseph Joseph Nest Storage Set of 6 Compact Food Storage Containers, both problems are eliminated because of a smart stackable nest design and lids that coordinate with the bottoms of the bases for frustration-free storage.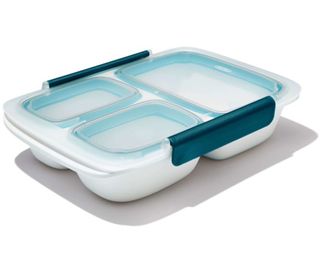 Whether you have fitness goals you want to achieve, or want to encourage your children to eat healthier portions, this OXO Prep & Go 4.1-Cup Divided Container is the perfect food storage container for sectioning off your protein, carbs, and small treats, all while looking like sleek ceramic.
Three leak-proof lunch containers in one can be taken out of the main compartment for you to enjoy each food choice without them spilling into each other. Store soup and a sandwich (without the bread getting soggy) or perhaps some oatmeal and fruit (without your berries going mushy from the steam).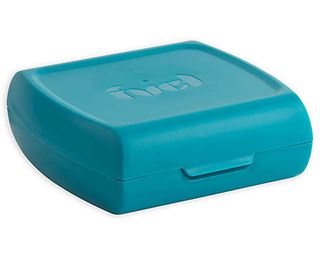 Sandwiches are the perfect portable lunch or snack... but not if they're a squished mess by mid-morning. While cling wrap, aluminum foil, and sandwich bags do their best to protect your filled bread from the fluff in your bag, they can't shelter it from being squashed to smithereens during that rush-hour subway journey.
Instead, this Trudeau Fuel K2 To Go Sandwich Food Storage will keep your BLT or baloney sub from getting battered. In a cool blue colorway, this container is environmentally friendly and a very economical option under five bucks too.
Is it OK to store food in plastic containers?
If you're wondering how to organize a pantry, there's no hard or fast rule and both plastic and glass each have their own respective benefits. While glass looks more luxury and less likely to absorb odors, it's not practical in busy family homes where kids might drop and smash the vessels.
'To help save time, money, and food waste, store your sundries in labeled, clear glass or plastic containers in a cool dry place within the kitchen cupboard or a pantry to keep the temperature consistent,' says Kathryn Hall, founder, and chief organizer, of Kath & Kin.
'This not only keeps the contents fresher for longer, but the clearly labeled storage jars allow you to see when your stock is running low, avoiding overspending on the food shop and leading to less waste, which is better for the environment.'
Is it better to store food in glass or plastic?
'As a market leader in innovation, our aim has always been to prioritize the use of glass over plastic, not only for its health benefits but for the environmental impact it has,' says Jo Booth, senior brand manager, Kilner.
'It's something we are passionate about and will continue to use in our product collections. Our iconic jars are stackable and have a borosilicate glass lid and base – a food-safe sustainable to plastic that can be used throughout the cooking process.'
Glass is the perfect material for storing food. It does not stain, absorb odors, or harbor flavors and is easy to clean. It's perfect for batch cooking and reducing food waste.'
What are the benefits of airtight food storage containers?
Aside from the obvious benefits of sealing food, and being able to transport it, airtight containers can prevent pests from getting access to your favorite cookies and cereals. Mold and rodents are one thing, but prevention is better than cure when wondering how to get rid of pantry moths naturally, so investing in vacuum-tight vessels will stop critters like maggots and larvae from lurking.
How to choose the best food storage
Price
Of course, we've tried to accommodate for all budgets, but it's worth noting the old adage 'pay cheap, pay twice.' A food container that's a little more expensive initially might be more durable and get more use than something that's budget and likely to break. Look for well-made seals, manufacturer guarantees, and a reputable brand.
Transportation
If you're looking for a new lunch box or bag, then you need to take into account the size, shape, and how heavy it is, as you may be lugging it about for around eight hours. Something that is advertised as being great for your pantry may be too big and cumbersome to carry around the office.
Dishwasher safety
While eating food is fun and enjoyable, cleaning up isn't so enjoyable. You need to keep on top of cleaning your food storage containers to make sure that they don't smell, stain, or grow mold, but chucking it into the best dishwasher can cause damage so make sure that the material is suitable for this appliance. If you don't want to risk it, handwashing takes only a couple of minutes... Promise.
Material
As technology and innovation increase in product design and development, we're seeing a steer away from plastic (especially the type that contains Bisphenol A (aka BPA)), an industrial chemical that can be harmful to your health. Glass and silicone options not only look smart, but they are easier to clean than you think.
Fridge space
Unless you've got the best refrigerator that comes with mounds of space, the truth is, most of us will be playing Tetris, trying to find inventive ways to store our meals. Buying online or in-store can be hard as you can't test out whether the container will fit in your refrigerator. But it's worth noting down the all-important dimensions, and even holding back off a purchase if you're in doubt that it'll fit.