The best Farrow & Ball paints are iconic in the world of interiors, not only for their 'original' paint names (think Broccoli Brown, Dead Salmon and Mole's Breath) but also for their rich, heritage colours and great quality.
Therefore it's no surprise that so many of us have fallen for the F&B paint range and want in on the brand's room-enhancing abilities. Here we've rounded up the most popular Farrow & Ball paint colours; from the classic Ammonite (one of the best white paints) to the bang-on-trend Hague Blue that's everywhere right now.
Farrow & Ball's best-selling wall paints are available in three finishes: Estate Emulsion (chalky matt), Modern Emulsion (matt), and Full Gloss. They also do an Eggshell that is perfect for wood and floors, plus Exterior Masonry and Eggshell finishes. Look out for low sheen Specialist Finishes, too. You can also choose between 0.75l, 2.5l or 5l tins depending on the job. Coverage depends on the finish you choose.
If you're looking for a bargain, head to our best paint deals page. Find out more about how to paint a house's exterior, too, with our handy step-by-step guide.
The best way to calculate how much paint you use is to check out the guide on Farrow & Ball
11 best Farrow & Ball paints
Why you can trust Real Homes Our expert reviewers spend hours testing and comparing products and services so you can choose the best for you. Find out more about how we test.
1. Farrow & Ball Ammonite
The best Farrow & Ball paint for any room; a neutral tone that suits north and south-facing spaces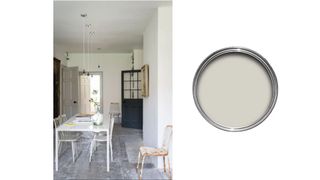 Ammonite is Farrow and Ball's most popular neutral. It's neither too warm nor too cool, so will work in any room no matter what the natural light situation. It's got a very subtle grey tone that you can bring out more if paired with a brighter white like All White, but without that contrast, it just looks like a lovely soft white.
2. Farrow & Ball Wimborne White
The best white Farrow & Ball paint for north-facing and darker rooms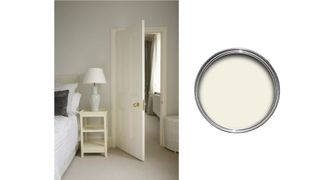 Another popular neutral, the timeless elegance of Wimborne White's classic just off-white shade has made it a firm favourite for many years. A versatile choice for almost any room – particularly areas with less natural light like hallways and windowless bathrooms - the merest touch of warm yellow pigment makes this white paint a warmer, more inviting shade than stark white.
3. Farrow & Ball Pavilion Grey
The most popular light grey Farrow & Ball paint; a soft and contemporary shade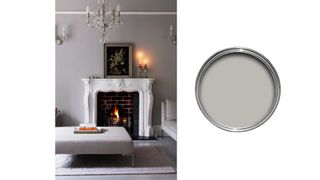 Of course, we all still love grey. An enduringly popular choice for stylish bedrooms and living rooms, it is an easy way to create a tranquil and inviting atmosphere. Pavilion Grey is a cool mid-toned grey - neutral enough for any room, but with a distinctive edge. Pair up with a bright cool white like Blackened for a clean, simple look.
Browse grey living room and grey bedroom design ideas to inspire your schemes.
4. Farrow & Ball Down Pipe
The must-have dark grey Farrow & Ball paint; perfect for adding drama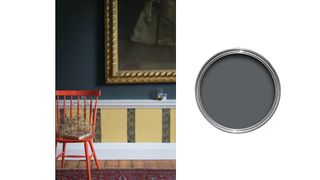 Farrow & Ball describe this colour as 'a dramatic lead grey'. Down Pipe is the best Farrow & Ball colour option for making a statement in the hallway or bedroom, but now finding its way into living rooms, home offices and dining spaces too. We love this colour in a kitchen, just pick the Wood & Metal finish and follow our guide to how to paint kitchen cabinets for a dramatic update. Deep, dark grey-black has been an on-trend colour for quite a few years now, and shows no sign of going out of fashion. A characterful alternative to light neutrals, it works brilliantly combined with off-whites or pastels.
Browse dark decorating ideas to inspire your scheme.
5. Farrow & Ball Railings
The other must-have dark Farrow & Ball shade; the best off-black around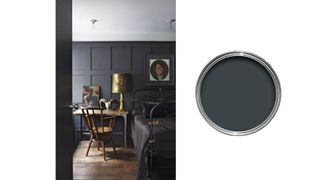 Blue or black? Why choose if you can have a colour that occupies a perfectly balanced space in the middle? With its unique, rich tone, it is no wonder that Railings has become a bestseller. This colour works especially well for adding character to a study or dining room, as shown above. Why not use it on woodwork and doors, too, to up the contemporary appeal? We think this is one of the best Farrow & Ball paints for those looking for a dark option.
6. Farrow & Ball Hague Blue
The best Farrow & Ball paint for a feature wall; a deep, dark, rich blue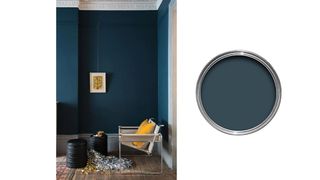 The most popular of all Farrow & Ball colours right now seems to be Hague Blue. Everyone seems to be painting walls, floor and kitchen cupboards in this strong deep dark blue. It has a slight green undertone which lends itself to rooms that don't get much natural light, and it also works well in smaller rooms too. Team it with a fresh, light blue like Borrowed Light to give it a lift.
7. Farrow & Ball Stiffkey Blue
The best warm blue Farrow & Ball paint for all over colour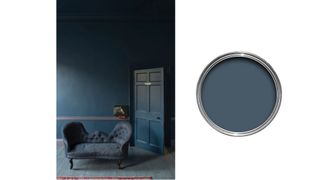 A bold and dramatic shade, Stiffkey Blue works wonders on rooms that are often overlooked, such as dining rooms and pantries – but don't overlook its potential for a bathroom or kitchen, too. Consider using it as an all-over colour for a really striking effect, as shown below. We think this is the best Farrow & Ball paint colour for those wanting a darker striking effect.
8. Farrow & Ball Dix Blue
The best duck egg blue Farrow & Ball paint; perfect for country kitchens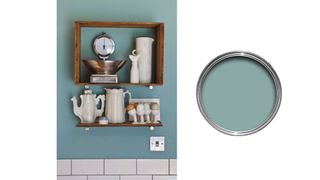 A delicate duck egg shade, Dix Blue sits somewhere between blue and green. A great option for injecting any room with a dash of summery, light-hearted colour, it has a touch of black pigment that creates a slightly aged and relaxed vintage feel, making it perfect for use on upcycled furniture, panelling and woodwork - check out our guide to how to paint furniture for tips - as well as kitchen walls and cabinets. Pair it with a neutral shade, such as Pointing, for an understated effect, as shown above.
9. Farrow & Ball Light Blue
A soft and gentle light blue Farrow & Ball colour; great for kid's rooms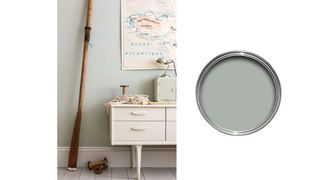 A very popular choice for spaces with a little less natural light, Light Blue by Farrow & Ball has a shimmering, silvery quality that will lift darker rooms, especially if they are north-facing.
We especially love it used in nurseries and children's rooms. Pair it with some warm, creamy whites to add extra softness to the space.
10. Farrow & Ball India Yellow
A rich, warm yellow Farrow & Ball shade; great for creating a cosy atmosphere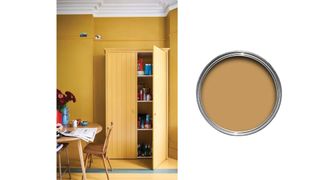 A popular colour choice, and not just for walls, a splash of India Yellow wouldn't go amiss in your home come spring-summer time. It'll certainly grab your guests' attention, and it works wonders in naturally dark rooms. Whether you're thinking of using it for a feature wall, to jazz up your flooring or revive some old-looking furniture, it's a daring choice we think you'll love. One of the best Farrow & Ball paints for those looking to step out of their comfort zone.
11. Farrow & Ball Setting Plaster
The best pink Farrow & Ball paint; a sophisticated pastel shade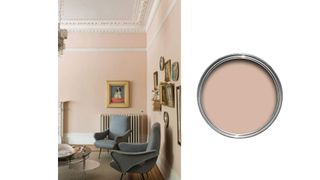 A grown-up pink, this dusty pinky-salmon hue replicates the look of newly plastered walls. No, you don't have to go ripping off your wallpaper and sanding down walls to get the look, just give them a coat of Setting Plaster.
A really soft colour with plenty of yellow pigment that makes it perfect for sunny living rooms and sophisticated boudoirs.
What makes Farrow & Ball's paints so popular?
Where to buy Farrow & Ball paint
Charlotte Cosby, the company's Head of Creative, explains the reasons behind Farrow & Ball's continued success. She said, 'Our paints have high levels of pigment, rich resin binders and high quality ingredients, giving them a unique depth of colour.
'We carefully source our ingredients from suppliers to ensure you'll find only the highest quality in each tin. We have a thoughtfully created palette of 132 colours in a range of interior and exterior, modern and traditional finishes. Our paint is meticulously tested, giving you the extraordinary colour and long-lasting finish you expect every time.'
More paint inspo: