Filter coffee made with a filter coffee machine is the best. You just can't beat the aroma and flavours of a freshly brewed coffee in the morning, and the Smeg DCF02 Drip Filter Coffee Machine really does do that justice.
When I heard that Smeg had launched a new coffee machine as part of their retro collection, I couldn't wait to test it. My husband and I enjoy our caffeine fixes in the morning, usually with a cafetiere, and this filter coffee machine catered for our varying taste requirements. Aside from actually drinking the coffee, I do also appreciate an appliance which looks good, excels in its performance and is easy to maintain, which are just some of the factors which I have captured in the review of this coffee machine.
Keep scrolling to read the full review to see if it the coffee machine you've been waiting for, but if you want to see more great options check out our best coffee machines guide for more top coffee makers, at the best prices.
Smeg DCF02 Drip Filter Coffee Machine specifications
Coffee type: filter
Pressure: N/A
Tank capacity: 1.4L
Cups: up to 10
Dimensions: H36.1 x W24.5 x D25.6cm
Weight: 3.4kg
Who will the Smeg DCF02 Drip Filter Coffee Machine suit?
This would suit someone who enjoys the taste of fresh filter coffee in the morning, without too much faff, and if they want to mix-and-match models for a colourful chic kitchen set-up.
How easy is the Smeg DCF02 Drip Filter Coffee Machine to set up?
Once we had unwrapped the coffee machine – nice box but a fair bit of plastic – we were super keen to make a cup or two of coffee. There's a booklet of instructions with this model which are pretty comprehensive for what it is, but after a quick skim through, it was easy enough to decipher the next steps for setting up.
Following the instruction booklet, you're recommended to remove any labels and stickers from the machine, thoroughly wash all components (in the dishwasher or by hand), adjust some settings and rinse the circuit a couple of times.
Now, let's go back to adjusting those settings. There are a lot of settings. When you plug in you'll need to set the time with a lever, which is found on the side of the machine, using an up and down action and then pushing it in to 'OK' the time you have landed on. You need a bit of patience with this lever but you do soon get used to it, especially because you'll be needing it again when you go on to set the water hardness (hard, medium and soft) and beep sounds.
Other settings such as setting the aromas and using the 4 cups function can all be controlled using the buttons on the front of the machine. This is great, but, do not turn off the machine at the plug at the end of each day because you'll rather annoyingly need to repeat the set up process all over again.
You'll also need to position your coffee machine where air can circulate because steam can quickly build if the machine is sitting under a cupboard, and it will also make it easier when filling up the water tank (more on this shortly!).
What is the Smeg DCF02 Drip Filter Coffee Machine like to use?
Following set up and rinsing the circuit, you're pretty much good to go. To start with, fill the water tank in line with the number of cups of coffee you would like to make. It's worth mentioning at this stage that you do need a steady hand when adding water to the tank because the opening is not particularly big. And, if like us, you do not have much space on the work surface which is free from the cupboards above, opening the lid far enough can be slightly problematic.
With water now in the tank, you can fill the permanent filter (which has a handy handle) with your choice of ground coffee. Then, aside from placing the glass jug onto the keep-warm plate, you can press the ON button which is LED lit so you know it's working. And within a matter of seconds, coffee begins to pour.
The keep warm plate is activate for about 40 minutes after the coffee has brewed, but I would suggest you make and drink the amount of coffee you want because I found it dropped in temperature pretty soon after the coffee was made.
Cleaning and maintaining the Smeg DCF02 Drip Filter Coffee Machine
After each use, the permanent filter (with the now used coffee granules) needs to be emptied into the food waste bin which should be done with some care because we found that not all granules made it into the food caddy! And the glass jug, although it looks nice, is prone to staining and is NOT dishwasher safe so care needs to be taken when washing this by hand, too. However, both the permanent filter and filter holder ARE dishwasher safe so that helps.
Depending on the water hardness setting, the coffee machine alerts you when descaling needs to be carried out. Although the machine did not alert me to this during the month or so of testing, the instructions suggest that it is very similar to when we rinsed the circuit during set up with the added addition of some descaler.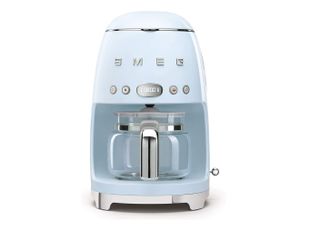 Anything else?
We tested this coffee machine in the soft blue colourway, but it is also available in pastel green, red, black and cream alongside a striking new crisp white hue. If you own other Smeg appliance then great, you can co-ordinate with other items in the Smeg range. If, like us, you do not own any Smeg appliances it's worth having a think about which colour is most suitable to your kitchen decor so it doesn't clash with anything because the chances are it will remain on the counter top rather than being stowed anyway.
How does it rate online?
This coffee machine gets an over all 4.8 out of five from Amazon buyers. Happy users love the colours, like how it looks on the worktop and found it relatively easy to set up. On the downside, some found that the keep warm plate wasn't on for long enough (barely one minute), it was a struggle to pour water into the water tank and that it beeps a fair amount.
Over on AO, reviewers have awarded the machine 4.5 stars out of five, who also love how it looks and rave about how good the coffee is. Just a slightly negative note that it was bigger than expected.
The verdict
This retro-styled machine is one of the best filter coffee machines around. It makes a lovely, smooth filter coffee, and it does look good on the kitchen counter top, too, despite being a little bulky for the more compact kitchen. So, if you like the look and the feel, and aren't too put off by the slightly fussy set-up and maintenance requirements, it beats the cafetiere so it would be worthwhile the investment.