The perfect cup of coffee starts with having the best coffee grinder on hand, plus a selection of your favorite roast. Among coffee experts, whole beans that are freshly ground are preferred among store-packaged pre-ground coffee. For good reason: the best coffee beans retain freshness – as pre-ground coffee is often stale before it hit shelves – and gives you the ability to explore a variety of coffee methods and flavors.
Beyond selecting high-quality beans, the coffee grinder you choose can affect your whole coffee brewing experience, from the flavors it extracts from the beans to how you brew it.
We researched blade, burr, and manual grinders to bring you our top buys depending on your needs. We've examined how easy they are to use and, most importantly, how well they performed when compared to the price. Keep scrolling to see what we found, and ultimately the best option for you and your morning brew.
Now, once you have your new best coffee grinder figured out, be sure to consider our best coffee makers guide for top-rated picks to use alongside your new grinder.
Best coffee grinders 2021: our top picks
Why you can trust Real Homes Our expert reviewers spend hours testing and comparing products and services so you can choose the best for you. Find out more about how we test.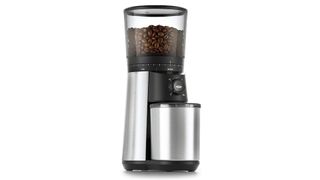 Quality, design, and performance under $100 can seem like a tall order for an electric conical burr machine, but OXO makes it all possible.
What it's good at
With 15 options and easy-to-see indicators for grind level, OXO's Conical Burr Grinder is easy to use and provides consistent results. The 30-second timer dial stays in place for continuous one-touch operation.
Users frequently commented on the OXO's quiet operation and consistently sized grinds. The amply-sized and removable hopper also makes it easier to clean.
What we don't like
Some users reported that on finer settings, it was more prone to clogging and that coffee grounds sometimes ended up behind the jar the ground coffee drops into.
Good to know
The OXO development team went to great lengths to reduce static: with the construction of a metal tab on the back of the grounder that goes through the plug into the outlet that helps ground the machine. The stainless steel grounds bin and a lower motor RPM also help reduces static.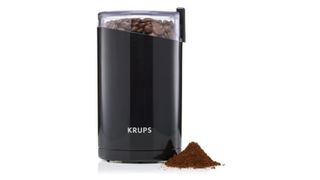 The Krups F20342 feels steady and substantial, and the fine ground coffee produced particularly suits those who use their coffee in a French press.
What it's good at
This affordable blade grinder design delivers surprisingly great results at a great price. It offers uniform grinding and no confusing extraneous bits.
The compact design can grind up to 3oz. at once, yielding up to 12 cups of coffee.
Plus, it's easy to use, with just one button that works much like that of a hand blender – just keep an eye on the beans through the clear lid until you have the perfect grind – but it will require some trial-and-error if you're not sure how fine you'd like your grounds.
All-in-all, this Krups offering is small, svelte, and stylish, too, so while it's easily packed away, it's also no bother to keep it on the counter.
What we don't like
We found that the coffee grinder's lid isn't the easiest to get off and some of the finer grounds have to be spooned out and get stuck under the blade.
What else?
For very discerning espresso enthusiasts who prefer a variety of settings, this might not be the best option for you, but for someone who wants a consistent grind at a low price for fresh beans, this fits the task.
Plus, in addition to coffee, you can use your Krups to chop or grind nuts, seeds, herbs, and spices.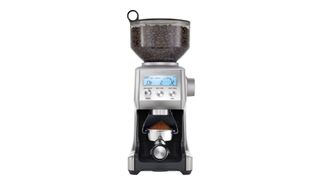 If you want top-quality when it comes to your coffee and are open to a splurge or an investment, you will find yourself holding onto the Breville Smart Grinder Pro for years. This smart burr grinder is one for the coffee connoisseur or the ideal gift for the coffee lover who seemingly has everything.
What it's good at
The Breville Smart Grinder has so many settings (60!) that you can make any type of coffee, including coffee for percolators and even super-fine powder used in making Turkish coffee. The stainless steel conical burrs are designed to minimize grinding heat and protect the essential oils in the coffee bean for the best-tasting coffee.
Users report that the difference between using a cheap blade grinder and this grinder is enormous, with the Breville Smart producing a consistent grind with a wonderful coffee aroma.
The removable hopper at the top for whole bean storage has a 16oz. capacity, so you don't have to refill too often. You'll also grind directly into a portafilter, grinds container, gold-tone filter basket, or paper filter
Choose from presets for French press, filter, or espresso, or program your own cup size and shot volumes.
What don't we like?
The price, but you do get quality and tons of smart features.
What else?
Because there are so many settings, it'll take you a while to find the perfect one for your machine/drinking preferences. So, buy this grinder if you really love experimenting with your coffee, or have a lot of patience.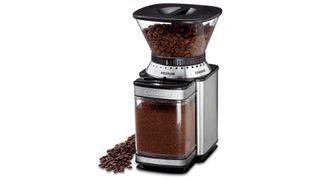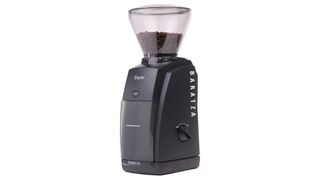 This specialty coffee grinder from Baratza is backed by the Specialty Coffee Association. It's easy to use, making it top-rated for beginners, but coffee experts will love it too.
What it's good at
The Baratza Encore is considered a specialty product, offering a consistent grind for a variety of coffee preparations with 40 mm conical burrs, offering 40 different ground options.
It features easy, intuitive controls like an on/off switch and pulse function to finish off the grind. It grinds at a slow, even speed reduces heat, noise, and static generation in the grinder.
What we don't like
The Encore works best for manual brew methods, as it does not yield the microscopically fine results that espresso requires.
Good to know
Additionally, Baratza emphasizes the repairability of its devices (as opposed to dumping it should something malfunction) and has responsive customer service.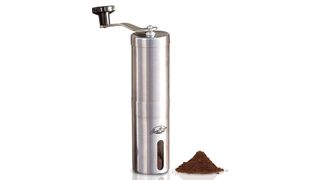 If you're constantly on the go, or perhaps don't want to disturb members of your household with your caffeine habits, the JavaPresse manual coffee grinder has made ways for its sleek-looking stainless steel burr design.
What it's good at
It's just as good, maybe even better than its electric counterparts, without compromising on features and serving up an attractive price tag.
It has 18 click settings for complete precision and control over the coarseness of your coffee beans, while the removable hand crank is 90% quieter than an electric grinder.
It also features proprietary Signature Burr Grinder blades designed with ceramic and tested to last 5x's longer than stainless steel blades.
What we don't like
Being that it's portable and compact, the grinder can only fit enough whole beans for two cups of coffee. Great for one person and single servings, more difficult for grinding beans for the week or for numerous cups.
Good to know
The finer the grind, the longer it will take to manually use the crank, so French press devotees may find a better experience than espresso experts, who require a finer grind.
---
What to know about coffee grinders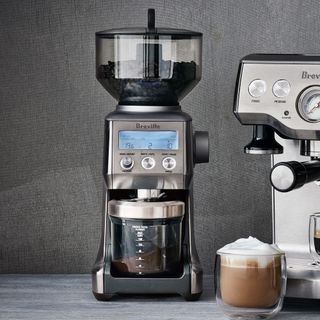 What type of coffee grinder is best?
There are two types of grinders: burr and blade.
Burr grinders
This type of grinder will grind more consistently as it uses a mechanism that grinds coffee between a pair of abrasive surfaces. These are, however, the more expensive type of coffee grinder but are a fab choice for the more refined coffee connoisseur.
Burr grinders are further sub-divided by conical and flat burrs, with flat burrs being the more expensive. In fact, due to their prohibitive price points, we did not feature any on our list. But don't worry, conical burrs are still the industry standard, unless you're looking to spend several hundred on a coffee grinder.
Conical burrs feature a conical base that spins against a larger circular outer ring with angled teeth in a vertical pattern. Flat burrs are made up of two rings that lie flat on each other horizontally and creates the most consistent-sized grind.
Blade grinders
The clue is in the name with this one: a rotating blade, essentially, spins around to finely chop up the coffee beans. A coffee grinder with a blade is one of the cheaper options, which will see prices starting from around $25.
How to choose the best coffee grinder
Whether you own of the best coffee makers or espresso coffee machines, a coffee grinder will allow you can enjoy freshly ground beans, without feeling the need to invest in anything else more technical. When choosing the best coffee grinder for you, there are a few factors to consider to ensure you choose wisely. They are:
Size matters
For big families who all have a thing for coffee, entertainers hosting dinner parties, or those who want to batch grind for the week, look for a grinder with a large capacity to fulfill a lot of orders quickly and easily. If you don't have a lot of countertop space to spare, a smaller one will do the job equally well, just with more refilling.
Grind settings
If you are partial to espresso or ristretto, make sure you pick a grinder with a fine enough grind setting. French press and cold brew drinkers will need coarser grind options, while drip coffee simply requires a medium grind.
What else can a coffee grinder do?
While we use the phrase 'coffee grinders', don't let us restrict you: some grinders are also ideal for using with tough-to-crack spices like cardamom or cloves, or even for nuts to fold into bakes or sprinkle on dishes. Just make sure to clean your machine thoroughly in between, so your coffee doesn't taste like cumin, and vice versa (unless you're into that sort of thing).
When to buy?
It'll be a good time to buy a coffee grinder when you've recently bought a drip coffee maker, especially when you see one in our coffee machine sales round-up.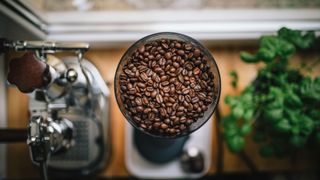 Why is grind size important?
Grind size affects brewing speed, which influences flavor extraction.
A coffee grinder enables you to make the smallest of changes to the grind size to change your coffee's flavor. For instance, finer grounds extract flavor fasts in contact with water for a shorter time, while coarser grounds extract flavors slower and need to be in contact with water for longer.
Swipe to scroll horizontally
| Coffee Maker | Header Cell - Column 1 |
| --- | --- |
| Espresso/Turkish Coffee | Extra Fine |
| Moka Pot | Fine to Extra Fine |
| Drip Coffee Maker | Fine |
| Pour Over | Coarse to Medium-Fine |
| French Press | Coarse |
| Cold Brew | Coarse |
How to use a coffee grinder?
A coffee grinder seems pretty intuitive, right? For most, it's a matter of adding in the coffee beans to the bean hopper, selecting the desired grind size (that can range from extra fine for Moka-pots and Espresso to coarse for French press and cold brewing methods), and watching it grind together.
Some coffee grinders have more features than others like pre-set timers and a massive range of grind options while others utilize simply on and off functions and the amount of time affects the grind size.
Things to consider when grinding is grind time, which can lead to over-extraction or under extraction. A coarser grind requires a shorter time to grind than a finer grind.
Pay attention to the potential that a grinder can overheat. The longer you grind the beans without pausing, the more heat is created by the blades, which can lead to burnt or bitter-tasting coffee. To remedy this, only grind a small amount at a time.
Another common issue you will hear among experts: static. Due to the high speeds of the blades, the grounds can pick up a static charge, and will ultimately cling to whatever surface they come into. Not an end-all, be-all, but definitely inconvenient. (And hint, our top pick, the OXO Brew Conical Burr Grinder was designed to combat just that)
What is the best coffee grinder for home use?
Just to recap... if you are new to buying whole beans for home use, then we wouldn't hesitate to buy the OXO Brew Conical Burr Coffee Grinder. It's a mid-range option that delivers great results. If you're looking for a splurge, The Breville Smart Grinder Pro offers tons of grind options with coffeehouse precision whether you're looking to make an espresso or enjoy a traditional cup of coffee.
You've reached the end of the page. Jump back up to the top ^