Looking for one of the best beds for your boudoir? There's nothing more blissful than getting a good night's sleep, and diving into a comfortable bed at the end of a long day can make all the difference! Yes, that's right: the perfect bed will offer comfort, practicality and make a stunning focal point.
But, with so many different types, sizes, and styles of beds to pick from, choosing the best bed can be tricky. After all, you'll be spending a lot of hours in it, so it's an important investment.
To help your search we've put together a selection of beds to suit every bedroom and budget. Whether you are looking for one with storage, a statement headboard to lean against as you sip your morning cuppa, or a centerpiece frame for a spare bedroom, you are sure to find the one for you. From classic to contemporary beds, we've got your slumber style covered!
If you wanted to upgrade your mattress at the same time, check out our best mattress guide or useful tips on how to choose the right mattress. Redecorating? Head over to our bedroom ideas hub page for some design inspiration.
The best beds and bed frames
Why you can trust Real Homes Our expert reviewers spend hours testing and comparing products and services so you can choose the best for you. Find out more about how we test.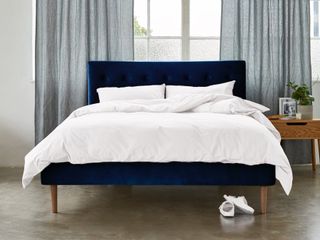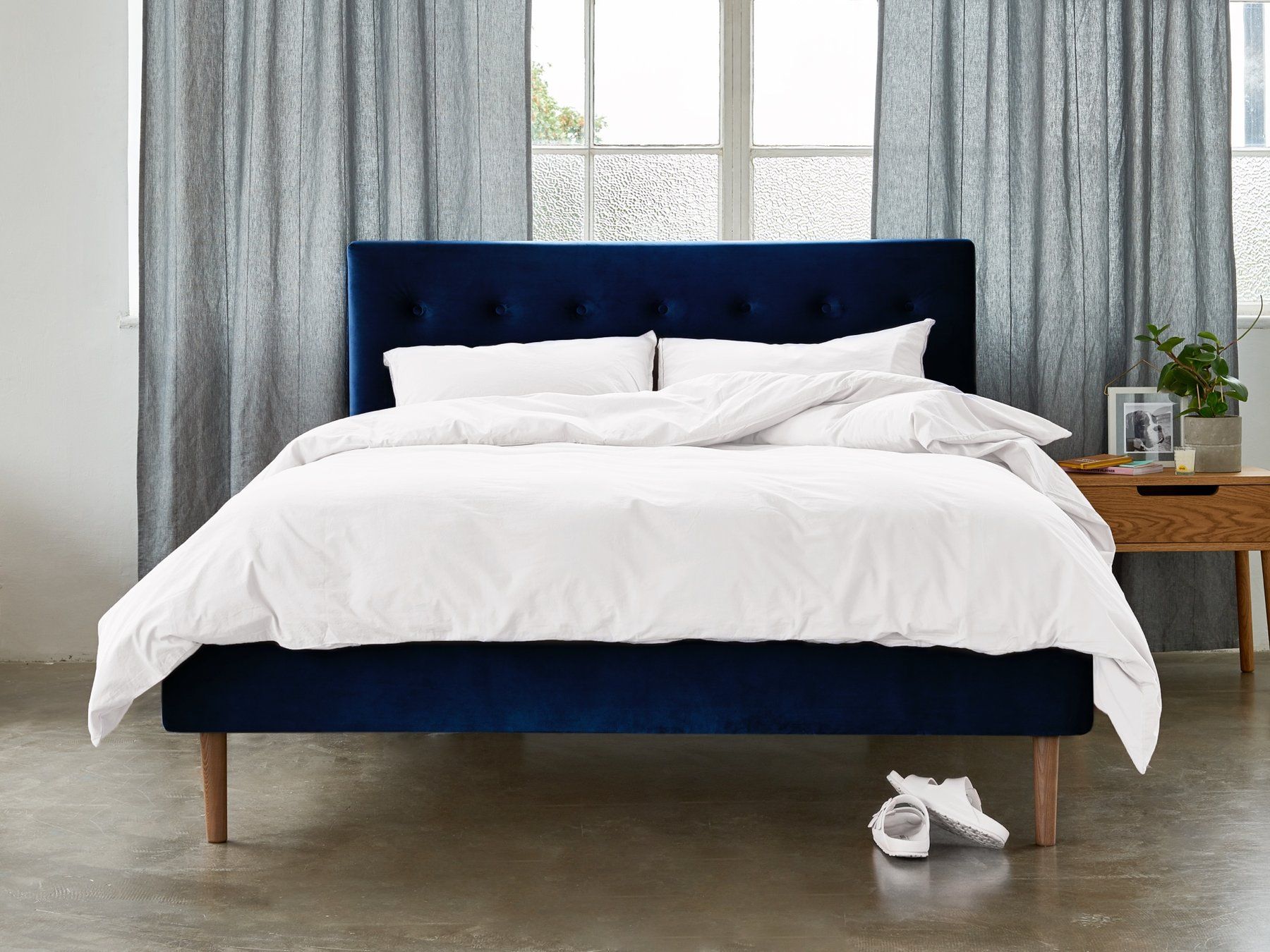 For a touch of glamour, this Eve Sleep bed will certainly add luxury to your bedroom. With its plush, soft velvet headboard and frame, it's also Smart as well! The entire bed is sealed with a special, nanoparticle technology that means it's water repellent and anti-static. Perfect for preventing dust from settling, and any spillages (think morning coffee!) staining your luxurious bed. You can choose between stunning Navy velvet and grey velvet.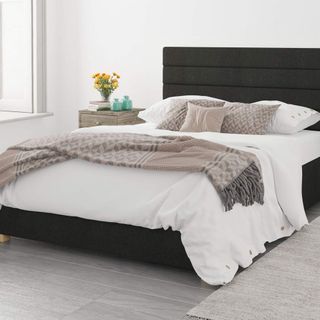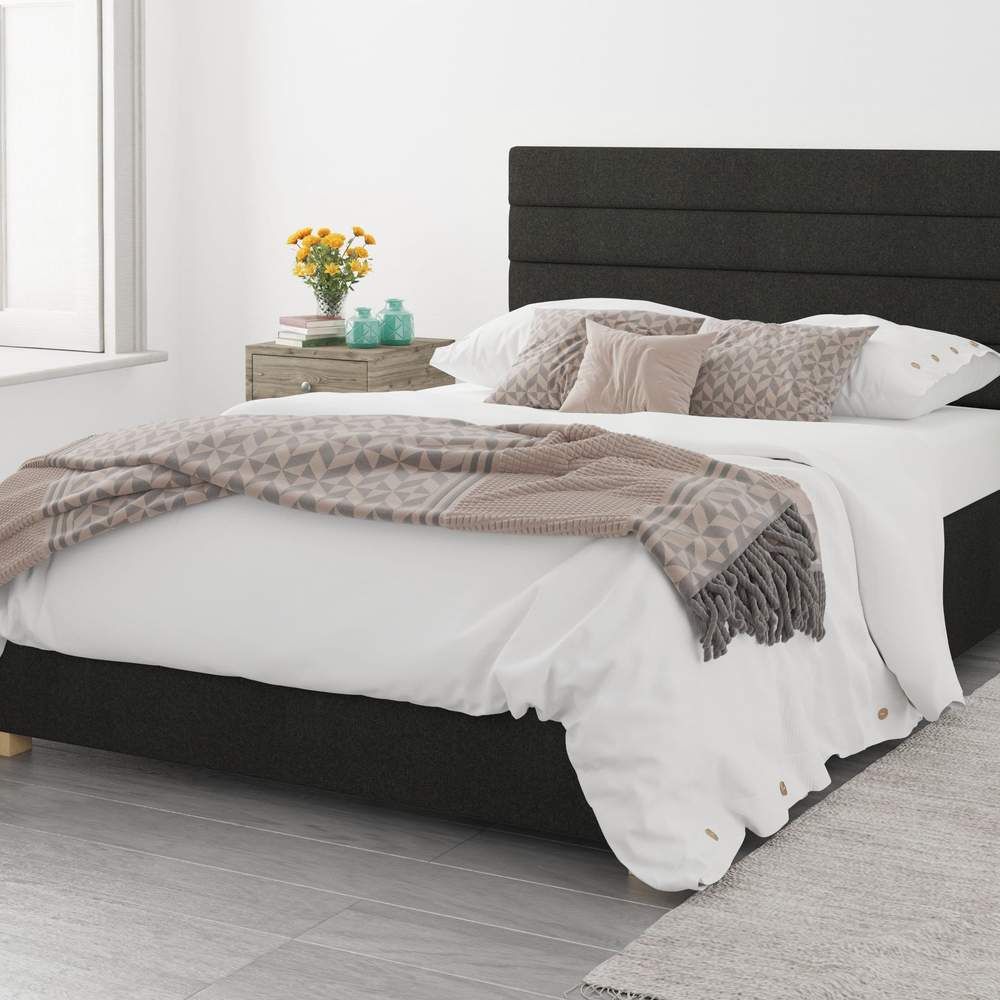 For those lacking in space or just want to hide away clutter, this Otty Ottoman bed is the practical solution. Simply lift the bed up to access 34.5cm deep storage space that's big enough to store all your bedding, clothes, shoes and much more. Best of all, the bed comes with a sprung slatted base to give a more supportive bounce for all sleeping positions and body types. Designed in a modern, charcoal grey upholstery, it's neutral colour will compliment any bedroom style.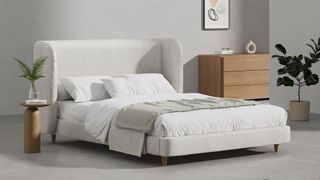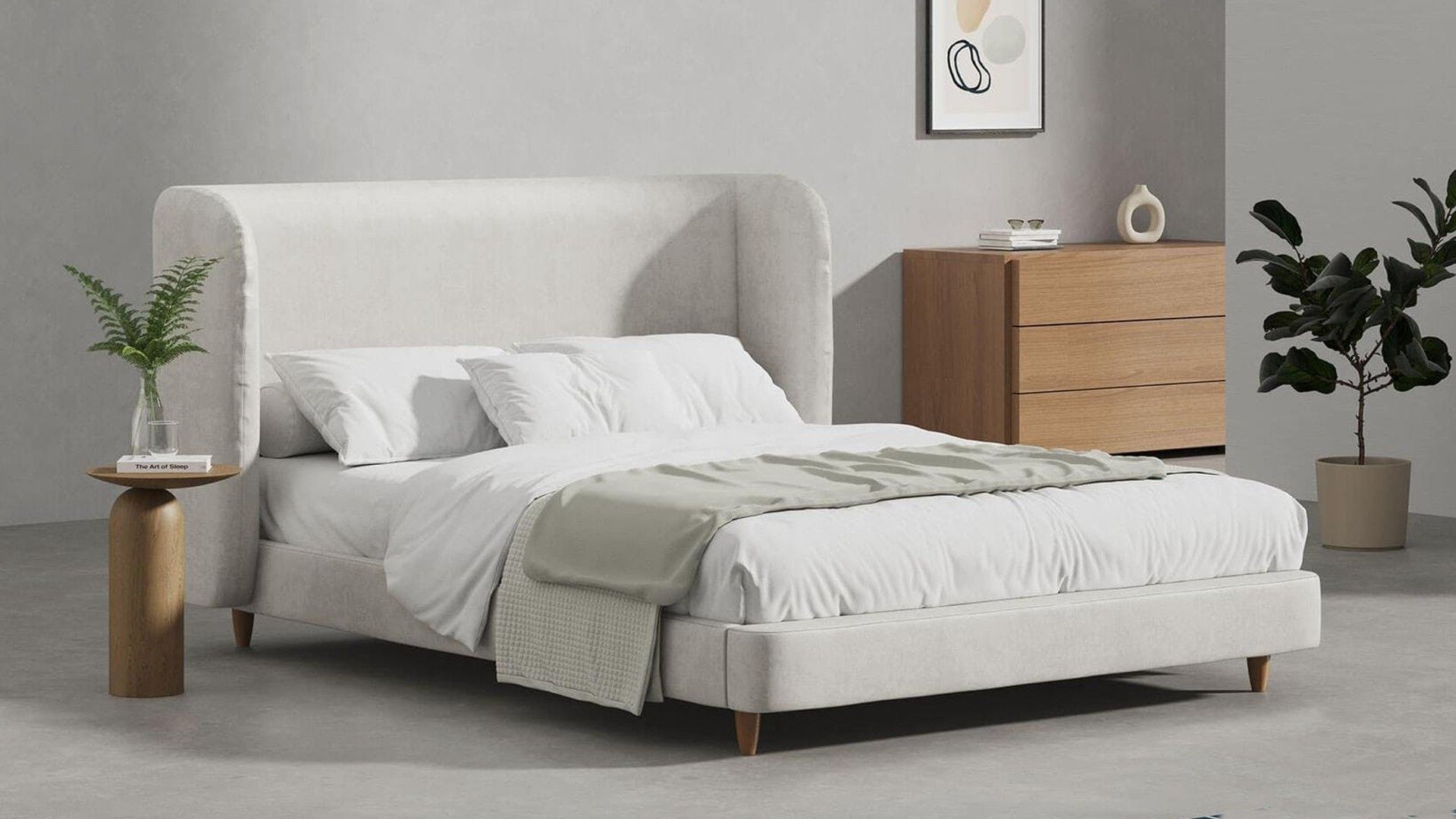 If you've been paying attention to interior trends you'll know that curves are big this year, and Simba's new Pegasus bed base brings this stylish shape to the bedroom, with the launch of a cocooning wraparound headboard paired with the brand's new responsive slat support system.
Available in pale 'Sweatshirt' grey, 'Blush' pink, or 'Inkblot' blue, the bed's suede-effect fabric has a subtle sheen that highlights the headboard's curvaceous form to create a focal point style statement in the boudoir.
Team that with the brand's new Simba-Flex and Simba-React bed base and you have the recipe for a dreamy night's sleep.
Unlike traditional static bed bases, the responsive slats flex gently as you move, helping your body to stay aligned, with narrower slats to relieve pressure around the shoulder area where most night movement occurs, along with firmer, extra-wide slats around the lumbar area which needs more support.
We tried, tested, and can certainly confirm it makes for a comfortable night's sleep. Read more in our full Simba bedding review.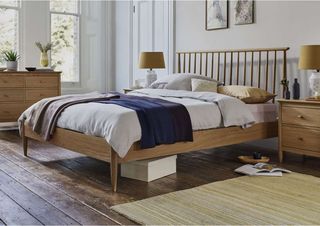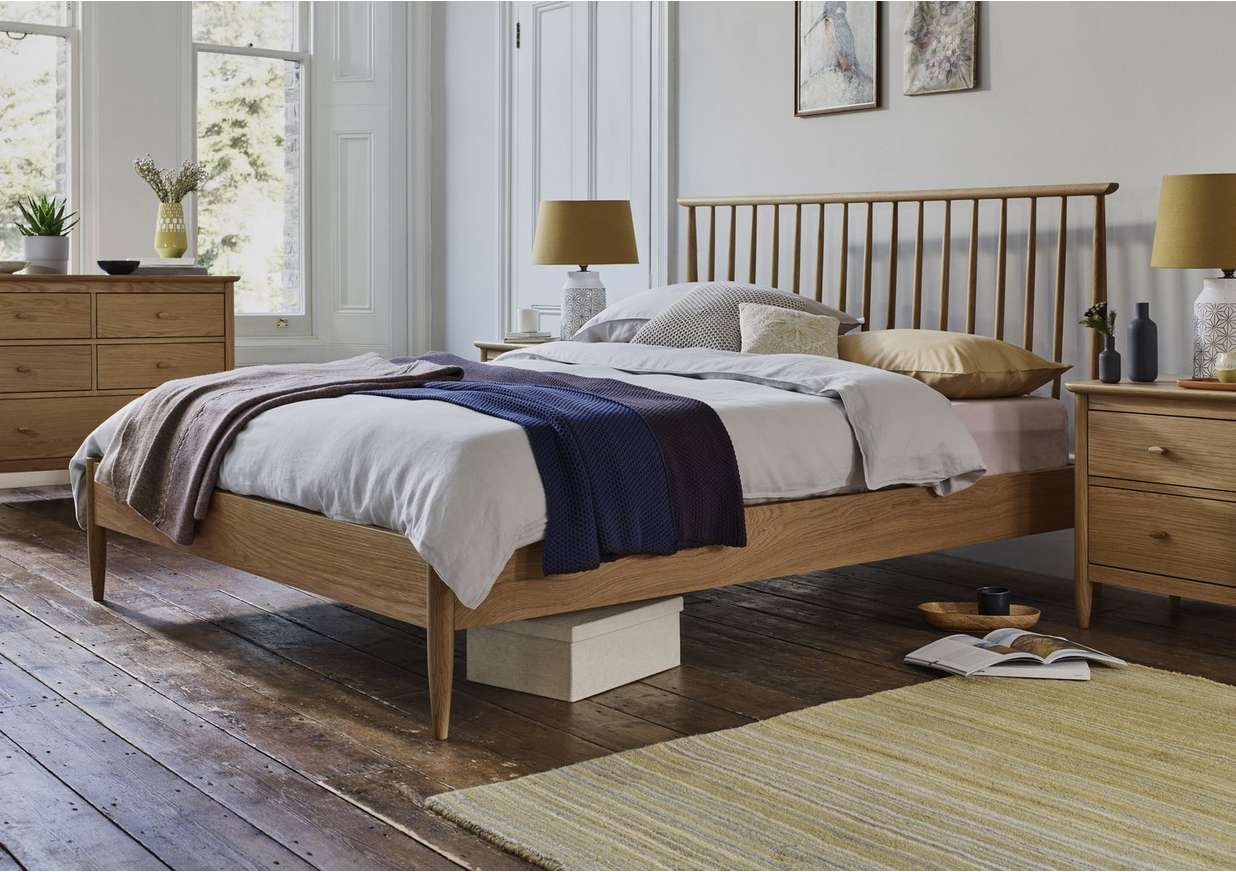 While it's easy for a wooden bed frame to adopt a standard (a.ka) boring appearance, this Ercol offering has made it into our round up of the best beds because it's simple, yes, but still has a stylish retro edge that we love.
Made from quality light oak with matching grains and textures, this bed emanates quality and superior design. Part of the charm is its shapely spindle headboard, although some people may find they prefer slats rather over thinner bars. There's also a range of matching furniture to give your room a Scandi-esque appearance.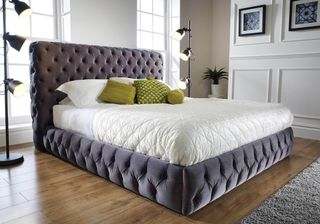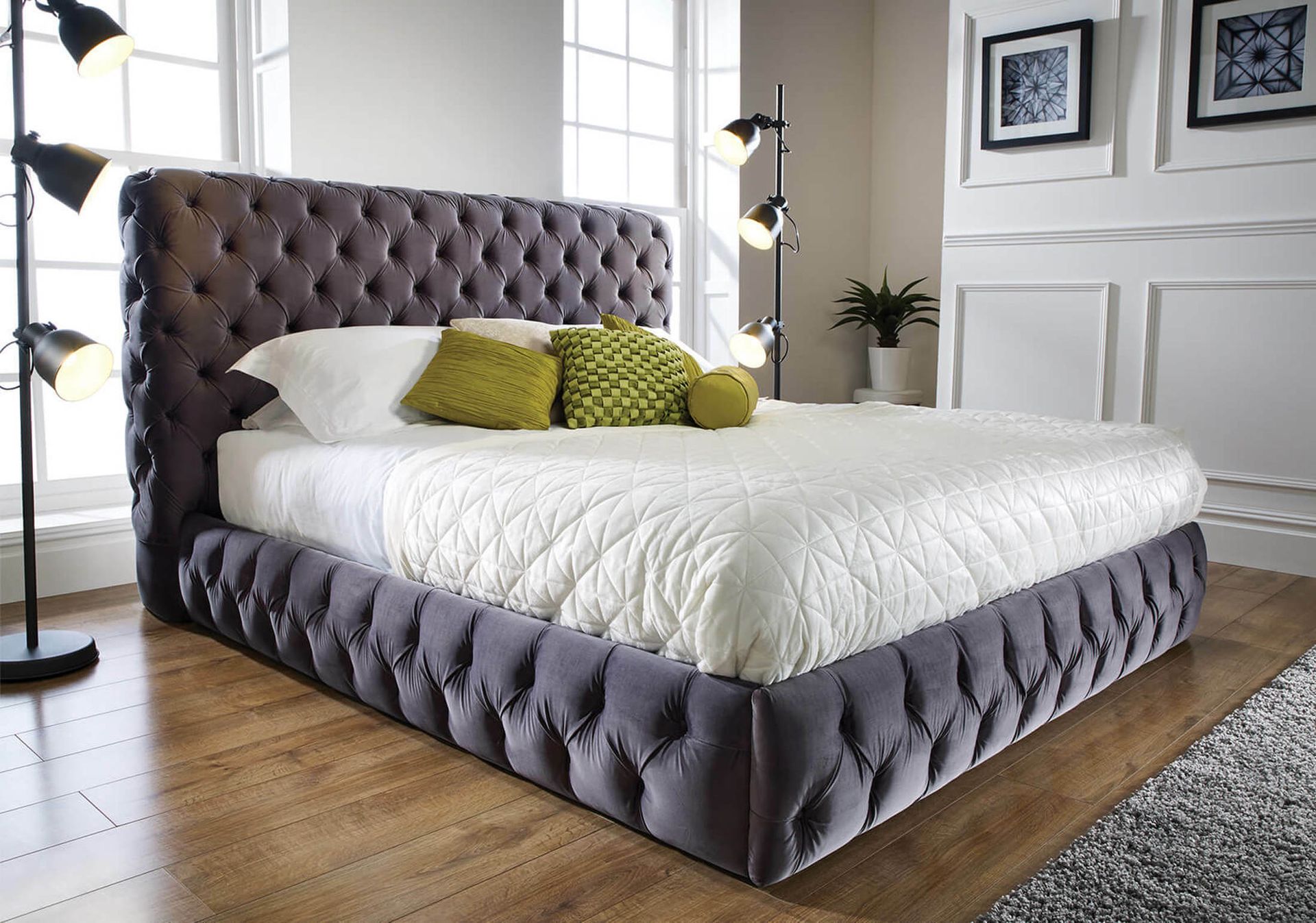 If you're looking for opulence and a bed to make a real statement, this Duke Bed Frame from Brooke & Wilde does exactly that. What's more, you can customise it with your own choice of luxury velvet (Lumino) fabric and colour. Its eye-catching design comes from its grand-looking, deep-buttoned cushioning and headboard. Best of all, this is bound to give you a cosy night's sleep and make you feel like royalty.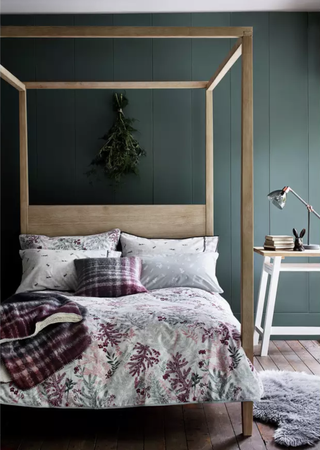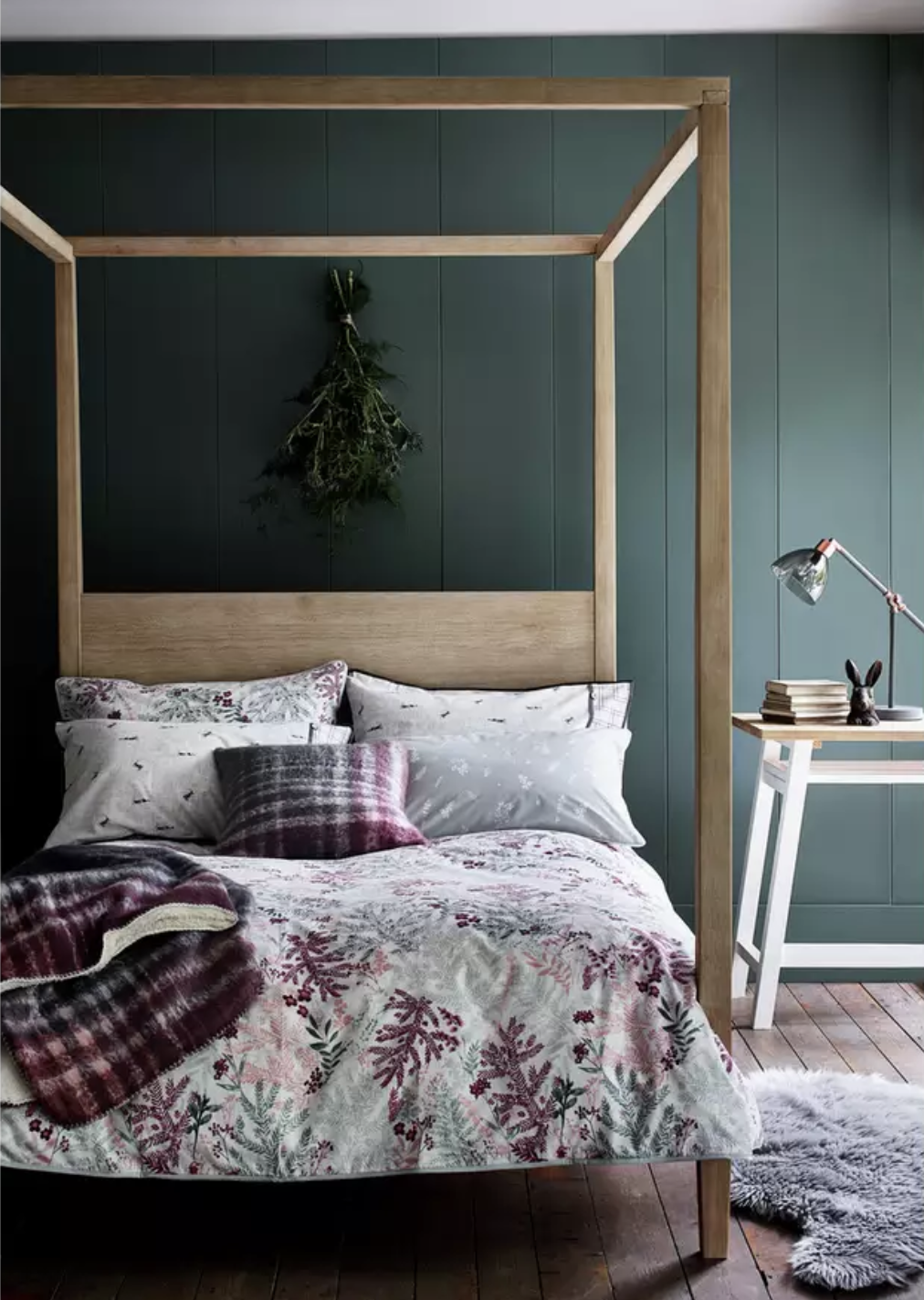 Now this bed makes a statement, this would look so lovely with fairy lights around it, maybe a few hanging plants dangling down. It's also a really practical buy too, because there is plenty of space to fit under bed storage in too. You might think at first glance this would be best for a larger bedroom, but we are thinking this would actually be a great piece for a small space – ditch the chest of drawers and just have this bed instead with some pullout drawers underneath.
Bag the best price by using one of our Argos discount codes.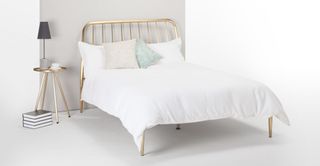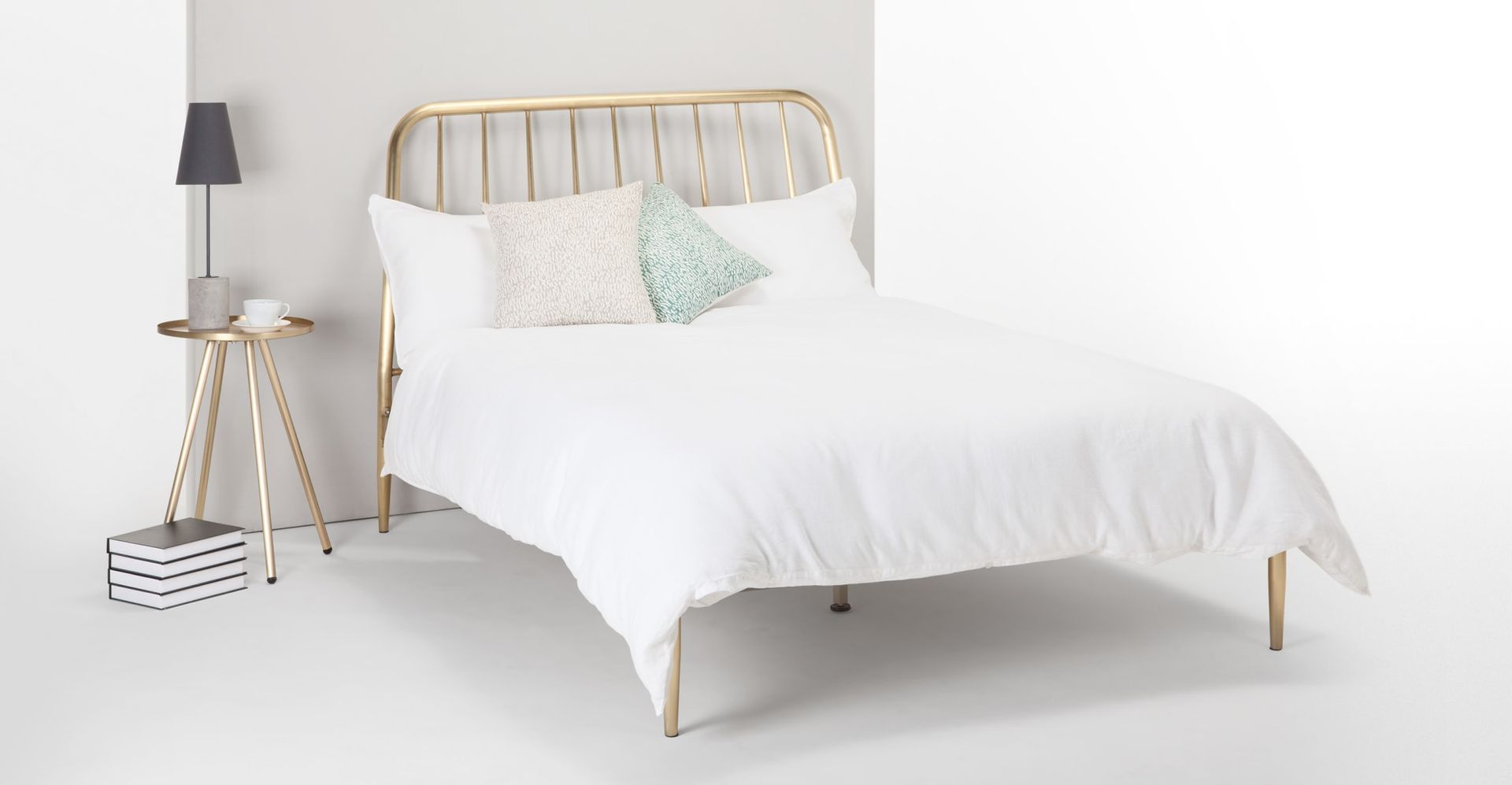 We have raved about the Alana bed from Made before, it's all over Instagram and such a bargain too. Really nice and simple, it comes in gold or copper and just adds the perfect amount of glam without being too... shiny.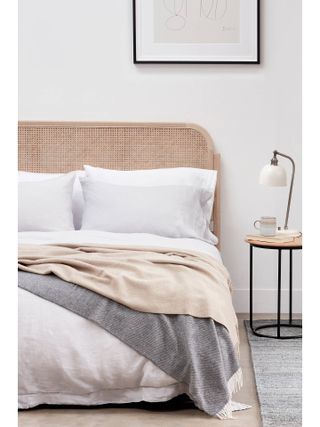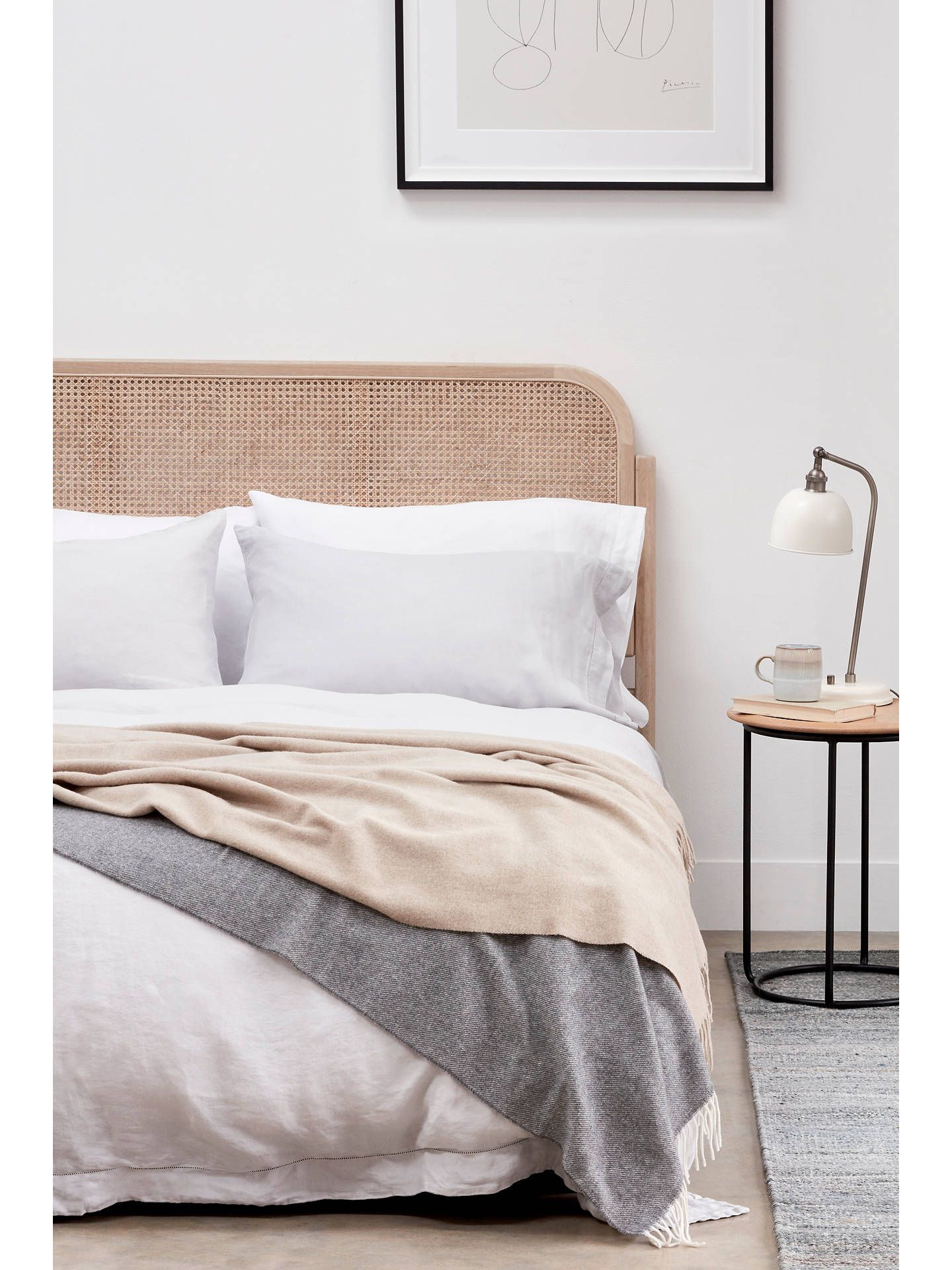 Like a boho look in your bedroom? We think this John Lewis bed is the best bed for you. The rattan/cane headboard is really desirable right now and can be mixed with other styles too. There's a black and an oak version, both equally gorgeous but the black makes a bit more of a statement.
---
How to choose the best bed?
Buying a bed is a huge investment, so you need to consider a few things before you buy. Here are some top tips:
Choose the right size for your space
Think about the proportion and size of your room. After all, you don't want an oversized bed for a compact space, where you don't have much leg room. Ideally, allow at least 45cm of space on either side of the bed, leaving enough space to change bedding or vacuum clean around it. Similarly, you don't want a bed too small that the room overwhelms it. So don't forget to measure up!
For two adults sharing, a king size or a super king bed will always provide a comfier night's sleep than a standard double bed. Both partners should be able to lie on the bed with hands behind their heads and elbows out, without touching, and the bed should be 10–15cm longer than the tallest person sleeping in it.
Think about the mattress
If you want the best sleep, then you'll need the best type of mattress to support your body. For spring beds, it's ideal to buy a spring mattress. While slot beds are more suited to foam mattresses. It's also advisable to buy a new bed and mattress at the same time to last longer and keep fresh.
What style do you want?
Do you want a traditional wooden bed, luxe velvet or one with flexible storage options? There are a plenty of different styles and designs on the market. Consider your interior style that reflects your personality, practical needs and how it would suit your lifestyle.
A bedstead makes a dramatic design statement – just imagine a bed upholstered in luxurious jewel-toned velvet or subtle grey linen, giving that boutique-hotel feel in your own bedroom. Or how about elevating your home with the high lines of an elegant four-poster? A divan might be the plainer choice, but these beds can pack a load of bedroom storage within the base and simply adding a statement headboard opens up the design possibilities. If you're on a budget, upgrading a basic divan this way can give a room a whole new look.
Try before you buy
Beds can be quite costly. However, just because a bed is expensive and looks great online doesn't mean it will give you a better sleep. Always try before you buy! When you visit their showroom, lie down on the bed in the same way you would at home to test out the comfort. Try different sleeping positions too as the mattress should mould to the shape of your body.
For upholstered beds, don't forget to request a fabric sample. That way you can see the colour and quality at home.
….and bring your bed partner!
If you're sharing a double bed with your partner, it's a good idea to bring them along to any showroom testing! Especially if you both have different sleep preferences. Then you can both get a feel of the bed and mattress and choose together. Plus, this would save on any disputes in the long-run.
---
How to get rid of your old bed?
So now you've purchase your dream (no pun intended!) bed, how do you dispose of your old one? Some shops will pick up your old bed when they deliver for a small fee. Alternatively, you can ask your council if they do collections of bulky items but check if you have to pay for this service.
If your bed frame is wooden, this can be recycled at your nearest neighbourhood recycling centre or donate your bed to furniture charities.
How to turn your bedroom into a sleep sanctuary
Investing in the best bed frame isn't the only thing you can do to increase your chances of a good night's sleep.
Finding a duvet and duvet cover set that offers good temperature regulation so you don't wake up too hot or too cold can make a big difference to a comfortable snooze, as can finding a pillow that suits your sleeping position - whether you're a front, back or side sleeper. You'll find our top picks of all in our guides to the best duvets, best pillows, and best duvet covers and bedding sets available.
And don't worry, you don't need to spend a small fortune to get a better night's sleep, our edit of the best bedding brands will point you in the right direction for finding options to suit your budget, whilst our round-up of the best bedding sales each month can save you some hard-earned cash.
Most sleep experts will also tell you that creating a calming environment in the boudoir is essential for a successful wind down in the evening, which makes the decor you choose in the bedroom particularly important. Get some inspiration in our bedroom ideas round-up, and our guide to how to decorate a bedroom.
A weighted blanket can also help to set the mood for relaxation, delivering serotonin and melatonin boosting Deep Pressure Therapy. Take a look at our tried and tested favourites in our guide to the best weighted blankets for adults.
It's also important not to underestimate the power of a calm mind. Using a mindfulness app like Headspace or Calm, or doing mindful stretching exercises like yoga or pilates before bed can all help you to train your mind and body to relax, helping you to achieve more restorative sleep.