When you find a sleep brand you love – especially one that does everything from mattresses to bed sheets – it is hard not to sing their praises every time someone mentions bedding. And this Simba bedding review is a deep dive into the offerings and merits of one sleep brand we know a lot about.
Simba has a long history in the world of bedding. Their story begins in 1979 when they started supplying thread to a Derbyshire mattress factory. In 2002 they diversified into mattress design, taking their thread that was used in millions of mattresses worldwide, to make their own high-tech mattress that would offer supreme support at an affordable price point. As the mattress in a box industry boomed, so did Simba, and they are now not only well known for their hybrid mattresses that use a range of sustainable materials, but they have extended their line to include everything from fitted sheets to weighted blankets.
Simba prides itself not just on its eco-credentials but also its dedication to sleep research. The data-driven company has made many a prototype and refined the design over time profiling 10 million sleepers to get the information they need to improve their products. And their development is still ongoing, with the release of their third (and most luxurious) hybrid mattress – the Simba Hybrid Luxe.
So, we have put their full range to the test. One reviewer, a whole lot of bedding and a legitimate reason to sleep on the job. It is a hard life sometimes.
Read on to find out what we really rate about Simba and which items you should be adding to your basket right now. After all, if you buy the best mattress, teaming it with exceptional bedding is a must to give you the highest chances of really really good sleep. And if you can get everything in one place? That's the dream.
Simba bedding: reviewed and rated
We have included a mini review of everything we have slept in/on/under below. Each is rated out of five stars too, with the average being the star rating we have arrived at for the brand as a whole. We've tried their mattress range and various bedding options first including pillows, duvets and mattress toppers.
Simba Mattresses
Of course, it was mattresses that helped Simba carve a shape in the sleep space. The brand now has three main mattresses of different levels and a kids mattress that is more slimline than their single options, so better suited to bunk beds. We have tested the lot – see our mini-reviews below.
To avoid repeating ourselves, note that all of these mattresses come rolled in a box, to inflate on unpackaging. They are also given a 200-night trial, at the end of which you can claim a refund if you don't think it is the mattress for you, and a 10-year guarantee is standard.
Suited to all sleepers
There is a reason this mattress often tops lists. It just does the basics for good sleep so well, at a price most people can afford. Though medium firm and best suited to side and back sleepers, the top layer is yielding enough for those who lie on their front. It does this with five layers to optimise your experience.
The first is a zoned Simba Pure Support base – a dense foam layer with sections designed for more give around your joints. Next is another layer of high definition Simba Pure with edge to edge support. No rolling off in the night here. Above a layer of titanium Aerocoil springs you will find another layer of Simba Pure foam – this time an open cell version designed for maximum breathability. Topped with a fifth and final layer of woven, sleep surface, you get the added breathable layer we all need for a cool night's sleep.
More movement to your memory foam
Mattresses made solely of memory foam have largely been eclipsed by hybrid models like this. That is because while memory foam gives you that lovely hug, some of us find it a bit warm and want a bit more push back when we roll over in the night. The Simba hybrid offers that, but with minimal motion transfer, so fidgets – and their bed fellows – can rejoice.
Bye bye back pain
When this mattress came on the scene many a review was in agreement that it warded off cases of back pain – especially those brought on by past mattresses. Our reviewers agree: from shoulder and hip pain, to something that helps me solve my inexplicable problem with finding a comfy knee position, the Simba has healed us all.
Great cooling
Something that shines with this mattress is its cooling ability. This is a feature listed on all Simba mattresses, but even though the Luxe has a moisture wicking bamboo sleep surface, we don't find the Simba Hybrid any worse, and in fact some say a little better. Worth noting if cooling is high on your list and you are leaning toward the higher outlay. All in all, we struggle to find any faults with this mattress for its price point. The only thing we miss is a washable cover that comes on some other mattresses, but you can buy the mattress protector if that is an issue, or just be really careful...
Real Homes Rated: 5/5 stars – read our full Simba Hybrid mattress review
All of the support
If you love the weightless feel of memory foam, but struggle with the feeling of being engulfed, then a hybrid mattress like the Pro is for you. Like the Hybrid before it the Hybrid Pro pairs the best of both worlds, combining springs and multiple layers of foam for a squishy yet supportive, firm yet yielding mattress that cradles you through the night. Unlike memory foam, rolling over is a bit easier with a bit more bounce back, but you still get that satisfying sink once you have been still for a while. And, you still get the benefits of having no motion transfer so wriggly sleepers are not a problem.
Wool aided cooling
Simba added two layers to the Hybrid (and adapted one) to make the Pro. There is an additional layer of springs and a wool layer under their improved and softer sleep surface. Together, these form a super breathable layer that naturally wicks away moisture for a comfy sleep. It could be the addition of the wool layer that led to a lingering odor we did not find with the first Hybrid, but this passes fairly quickly and certainly isn't as unpleasant as some more synthetic smelling mattresses.
Not as firm as some Simbas
Of the three Simba mattresses we have tested for adults, this is the least firm. It is more medium, than medium firm like the others. As someone who prefers a firmer mattress, the Luxe or Hybrid are better suited to me, but that doesn't detract from the fact this is a really good mattress and was given full marks by our mattress expert Linda Clayton.
Real Homes Rated: 5/5 stars – read our full Simba Hybrid Pro review
10 layers of comfort
With the Simba Hybrid Luxe, Simba added three more layers including an additional layer of larger springs, creating their most supportive mattress yet. The result is a lovely medium firm base (though I think it leans to the firmer side which is something I like), with sumptuously soft upper sleep surface made from bamboo. It also has a bamboo wool layer in place of the Pro's sheep's wool layer – something that will appeal to vegans looking to invest in Simba bedding.
The extra spring layer is made from 40mm springs, but the mattress still has the double row of 25mm springs present in the Pro. Along with the new bamboo layers this is meant to aid air circulation, thermal control and provide pressureless support. I can agree on the last point, but while the mattress didn't make me as warm as my old mattress, it was not quite as cooling as I hoped for the price and not noticeably cooler than its predecessors. It is good, but I expected more from the descriptions on Simba's site.
Another point to note is that all these layers add a fair bit of height – an extra six centimetres more than the original Hybrid. It might not sound much, but if you have a high bed frame and are on the shorter side (like me) it can feel like a bit of a hike to get into bed when you're super tired.
Great for couples
If you have a fidgety partner or someone who does a starfish and pushes you to the edge of the bed, this is a great mattress. Like all Simba mattresses it has supreme edge-to-edge support and seemingly improved motion transfer too. If you do feel much movement, it will likely be the whole bed. My other half tends to roll quite abruptly and heavily – with the Simba Hybrid Luxe the only giveaway is the noise of my slightly wonky bed.
My other half is heavier than me and likes a firmer mattress. He would like this mattress to be even firmer, but as I am lighter I think it is the medium firm (to firm) that it says on the tin.
Bamboo brilliance
The new bamboo wool layer means this is a more sustainable mattress than the Pro. While the Pro is still a great eco choice, using fast growing bamboo in place of wool not only means it is animal product free, but also less water is used in its production.
The benefits of bamboo go beyond the eco credentials though. Here, it has been woven into the softest of sleep surfaces (though as we said with the mattress protector, who cares once a sheet is on?), that is breathable, moisture absorbing and naturally antibacterial. Though I don't find it far more breathable than previous versions, I can agree that the moisture wicking and drying abilities are noticeable. The cover is removable and can be washed in a washing machine, and the base can be cleaned with a soft, damp cloth so easy maintenance is a good reason to buy this mattress over its predecessors.
The Luxe is a big investment, but it honestly does give me the best night's sleep I have ever had which I do think is worth paying for. And its sustainability measures are another reason to sleep easy.
Real Homes Rated: 4.5/5 stars
Satisfies even the fussiest little sleepers
For this one we had to call in the help of our mini reviewer – three year old Sophie. Sophie likes the finer things in life and that includes a nice squishy mattress, which had left her mum Laura adding a duvet to the top of her current single so that Goldilocks would find it just right. Since swapping this out for her Simba Hybrid Kids mattress, Sophie has slept more soundly, moved less in the night and goes back to sleep more easily if she does wake up. She described this medium-firm mattress as 'soft and comfy' and her mum who tested it too, agrees.
A thinner Simba Hybrid
This mattress is pretty much exactly the same as the Simba Hybrid, with the same five layers including a row of Aerocoil titanium springs for support, and three different foam layers for edge to edge support, cushioning and that lovely sinkable soft top. The Simba Hybrid comes in a single of the same width and length, so what sets this apart is that it is only 16 centimetres high – nine centimetres thinner than the standard Hybrid – and thus a better buy for bunk beds. On a standard single bed, the lower profile makes it that bit closer to the floor giving peace of mind to parents with kids who are a roll risk. That said, Laura noticed Sophie has generally stayed in one position for longer since having this mattress making falling off less likely.
Though it is thinner, it does cost the same as the single Simba Hybrid – something worth noting if you were trying to choose between the two. Ultimately the decision will depend on whether you need/want less depth.
Slight smell
Interestingly, we found the kids version of the Simba Hybrid is smellier than the original. Not offensively so, but noticeable for the first 24 hours after unpackaging. While it quickly dissipates, if your child is very sensitive to smells, you might want to find somewhere else for them to sleep on the first night until the odour goes away.
Real Homes Rated: 4.5/5 stars – read our full Simba Hybrid Kids mattress review
Simba Bedding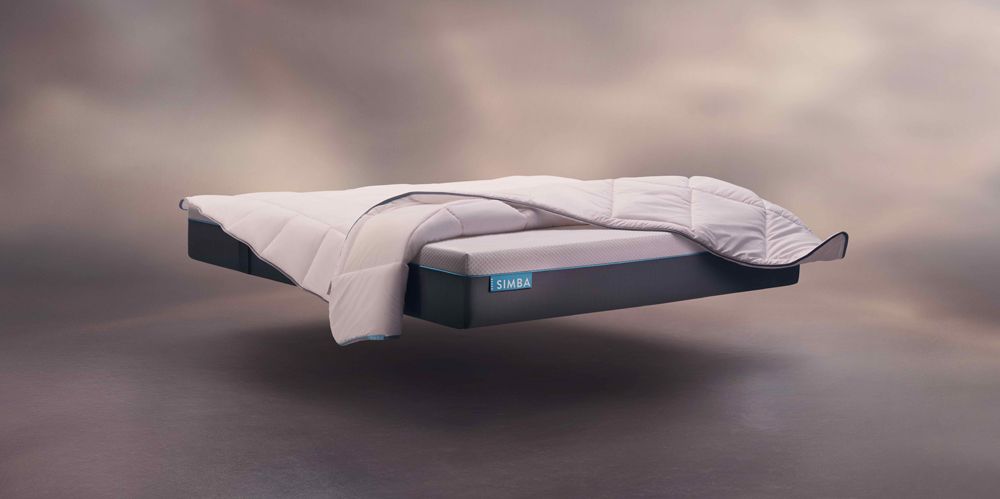 Perfect for all seasons
If (like me) you struggle to get to a comfortable temperature, the Simba Hybrid Duvet could be the perfect solution – year round. Simba has done away with tog ratings on this duvet, instead turning to temperature regulating technology to make the Hybrid duvet nice and snug in winter, yet cooling in summer. Wondering how? It is down to a few things, the first is their Stratos Active Temperature Regulation layer (their own version of NASA's Outlast fabric). This incorporates a material inspired by space travel which uses phase change technology to absorb and store heat, then release it as needed. Sleep with this side against your body to get the effects. This is teamed with a breathable cotton layer and then the wadding is Simba-Renew which is made from recycled PET bottles.
Structured feel
This filling is evenly spread and stitched in square pockets for a nice distribution of padding. It leads to a rather structured feeling duvet, which some claim is a bit on the heavy side, but as someone who uses a 13.5 tog duvet in winter and doesn't like the overwhelming 'flump' of down, I think this is the perfect feel. It also goes into a duvet cover nicely as it has just enough form to nicely work its way into place once you locate the corners and give it a quick shake.
Premium sleep technology and eco standards
We do need to address the price. It is by far the most expensive duvet I have ever owned, but on the flipside, it replaces the need for multiple tog ratings throughout the year and means I sleep better. It is therefore also the best duvet I have ever owned.
You are paying for a fair bit of research and development of the right materials to keep you at a comfortable temperature. Simba also takes their sustainability mission pretty seriously with use of recycled materials where possible, and big emphasis on the provenance of their cotton. Their supply chain is Global Recyled Standard certified and the cotton is approved by the Better Cotton Initiative. So if you were wedded to down, but want something more eco friendly, it is definitely worth the swap and could even be cheaper.
Real Homes Rated: 5/5 stars
A pillow for every sleeping position
Different sleeping positions require different pillows. If you sleep on your front you need something low and soft; back means something medium firm and a bit higher; and those who sleep on their side should choose a firmer pillow up to six inches high. These options will ensure your spine is correctly aligned while your head is being supported.
The problem is, your sleeping position may change over time, or with injury. Or families might find they need umpteen different pillow types for everyone. This is where an adjustable option like the Simba Hybrid Pillow comes in, and this adaptability is just one of the reasons we consider it the best pillow.
It is made up of a quilted cotton cover, stuffed with an inner bag of 'nanocubes'. These are small cubes made from Simba's signature open-cell foam – Simba-Pure. The outer can be unzipped so you can add or remove nanocubes to get the pillow to your desired height. The pillow comes with a little pouch for spare foam and top-ups can be ordered on Simba's Amazon page. The cover can also be removed and flung in the wash at up to 40 degrees celsius, so keeping it clean is easy.
Cooling tech
As well as being adjustable, this pillow is designed to keep you cool. Like their duvet, Stratos phase change tech has been applied to the pillow's cotton cover to absorb heat. There is also a mesh edging strip that aids breathability.
The materials used match Simba's planet friendly mission, be it the cotton from sustainable sources or the foam that is free from pollutants like TCPP, phosphate, parabens, biocides and other things that you really don't want to rest your head on.
Best suited to back and side sleepers
Our only negative is that front sleepers might find that when they remove enough foam to make it low enough, the shape of the nanocubes is somewhat pronounced. The cotton outer has padding to counter this, but it might not be suited to the most sensitive sleepers. It also starts out pretty plump. I am a side sleeper and had to remove a fair bit of padding to get it to my preferred height (which you then need to store in a linen cupboard or similar). And, though it is the standard 50 x 75cm it is rather snug when I put it in most of my standard pillow cases – it of course slots into the Simba pillow cases with ease though.
Real Homes Rated: 5/5 stars
Supersoft and breathable
When you spend as much on a mattress as you will with Simba, buying something to protect your investment is well worth it. Simba makes their own mattress protector starting from £90 for a single – not the most affordable but pocket money compared to replacing a ruined mattress.
Like many mattress protectors, it boasts a super soft quilted top, with 200 thread count cotton. This goes over 200gm fill to give light cushioning, creating a lovely breathable layer that will aid cooling, wick away moisture and protect your mattress from the night sweats. So far, nothing majorly different to other mattress protectors, albeit a higher thread count, but who is feeling that once the bed is dressed?
Odour and microorganism fighting
What sets the Simba mattress protector apart though is their use of Bi-Ome technology with actively eliminates microorganisms and fights odour to keep your whole sleep experience fresher for longer. It can be washed at 40 degrees celsius, then tumble dried, but note biological detergent is a no-no – we assume it messes with the Bi-Ome tech.
At the risk of oversharing, though I am cooler in my Simba bedding this mattress protector has faced some clammy nights, and a chance to put that Bi-Ome tech to the test. The good news is, my bedding stays fresh even when I leave it a bit longer between washes. What is hard to prove is that this is the Bi-Ome at work or not, but it is a result I am happy with either way.
Snug fit?
My main complaint about this mattress protector is that it is not as snug a fit as Simba claim and even on their rather deep 28cm thick Simba Hybrid Luxe, there is a bit of extra material for the top. If you fastidiously smooth this out, it won't pose a problem, but even when I do this, fitting the sheet soon leads to the odd crease here and there that some might find annoying.
This is a minor thing, and otherwise the protector fits very well, but worth highlighting all the same. This might be because the mattress protector has been designed not just with Simba's thickest mattress in mind, but for anything up to 40cm deep. A bit too much material is certainly better than too little.
The mattress protector deserves a slot on the list of the best mattress protectors, but I am struggling to pinpoint how it is worth twice the cost of my previous mattress protector from John Lewis. Bi-Ome is great, but I have no qualms with regular bedding washes so this might be a feature that needs to be tested by someone with severe allergies to be truly appreciated.
Real Homes Rated: 4/5 stars
Like a new mattress
The best mattress topper is a great buy if you need to up your comfort level, but don't need or want a new mattress. Likewise, the Simba Hybrid Topper is a good way to get a bit of Simba luxury on your existing bed with a smaller budget. They have essentially created a four layer version of their mattress and used a mix of springs and foam to make something super supportive, but also soft and cradling. It is great for countering all the issues you might have with your current mattress by easing joint pain, reducing motion transfer between sleeping partners and much more.
With a Simba Hybrid Luxe mattress for my main bed, I don't need this topper, but have instead put it on my spare bed to offer guests a taste of that dreamy sleep experience. I alternated sleeping on it and the Luxe for a couple of weeks and would say it is nowhere near as firm as the Luxe, but is far more supportive than the existing mattress below which I previously deemed pretty supportive. It is therefore great for upgrading a mattress that has started to lose structure, or for adding cushioning to a sofa bed. Glampers out there might want to take it away with them, too.
Cooling abilities
The jury is split on this (a few people on the team have tested the topper), but I found it to be cooler than the mattress I tested it on which has a supposedly breathable wool and cashmere upper. I am prone to overheating in the night, but a couple of other self confessed 'sweaty sleepers' said they didn't notice much relief. Therefore while it is designed to be breathable with its open cell foam and breathable sleep surface, we wouldn't go so far as to recommend it for this alone.
Why choose a hybrid mattress topper
You might be looking at the price and wondering what sets the Simba mattress topper apart from other mattress toppers. After all, you could buy a budget mattress for the same price. However, what this offers is a combo of springs and foam that makes it more than a cut above the rest.
Most other mattress toppers are there to add some pillowy cushioning to your mattress, or perhaps for added warmth. But the Simba Hybrid topper can also be the support you need for a bad back or achey knees. It has a zoned support base that we can confirm does act like a mini mattress on top of whatever you put it on. Because of the way it totally transforms what's underneath, we think it is a great investment, or a good way to try before you buy if you fancy getting a full Simba mattress elsewhere.
Anything else?
We think this mattress topper actually suits more sleep positions than Simba's mattresses which are a bit on the firm side for our front sleeper friends. That is owing to the hug like sink of the top layer, married with support where you need it.
The antislip base and straps are also worth a shout out. Most mattress toppers have the straps, but in our experience they are prone to pinging off. The straps stayed firm in our testing, but even if they hadn't the topper was going nowhere thanks to its slipper sock style base.
Our only negative? It does have a slightly organic smell for a couple of weeks from the foam. This soon clears though and is not reason enough to not buy.
Real Homes Rated: 4.5/5 – read our full Simba mattress topper review
Hotel bedding feel at home
You might have noticed a bit of a theme in the reviews so far. Simba bedding is luxurious and often with a price tag to match. But when it comes to their bedding sets we think they are very competitively priced, offering that Egyptian cotton, high thread count hotel standard feel, for much less than a night in your favourite five star. The bedding set – comprising two pillow cases and one duvet cover – comes in either 200 or 400 thread count cotton that has been sustainably sourced. You will sleep well knowing (and feeling) that.
Keep your cool
The percale weave cotton doesn't only offer softness, but is cooling too. Like all cotton, it naturally wicks away moisture, is breathable and cool to the touch, but the weave aids this while offering a matt finish as opposed to that soft sheen you get on some high thread count cottons. It might just be personal preference, but I like that.
Easy care
The bedding is very easy to look after. No special treatment – whack it in the wash, make sure there isn't a rogue red sock, and you will have beautiful white bedding every time. They claim Egyptian cotton dries faster (I haven't timed it, but it definitely didn't take long) and is less likely to crease which for someone who hates ironing is a good thing. Don't take this to mean crease free, but after a wash, drying on the line and a quick shake, creasing isn't gone, but neither is it noticeable. I can get this bedding washed, dried and back on the bed in a day, no problem. I also love how it is soft but keeps that crisp 'just washed' feel until it is time to wash again. Testament to the quality of cotton they have used.
One colour choice
The only things that hold this bedding back from five stars is that you can see that bold blue Simba duvet label right through it and it only comes in white. The label thing will probably only bother perfectionists, and who doesn't love fresh white bedding? That said, a range of hues – and some darker options included – would be nice (and hide that blue label perhaps). You can find more bedlinen options for creating your dream boudoir in our guide to the best duvet covers and bedding sets.
Real Homes Rated: 4.5/5
Deep sleep every time
While we can't vouch for those with insomnia or severe anxiety, for those nights where your mind can't switch off, the Simba Orbit Weighted Blanket does the trick. Like all of the best weighted blankets, it calls on deep pressure therapy to calm and suppress that flight or fight instinct that is triggered by stressful situations. By compressing you all over – like a big hug – the nervous system switches to relaxation mode allowing you to drift off more easily. As someone who is prone to overthinking and racing thoughts at bed time, it has been a massive help to me.
Washable is a win
The big thing that sets this weighted blanket apart is that it has a removeable washable cover. Think a duvet cover with ties to stop that weighted inner from slipping around. For something that you can sleep under (and thus sweat on) it is surprising how many other weighted blankets miss this crucial feature and are sponge clean only. So while the Simba is at the higher end of the market price wise, it has greater versatility of use and is not going to get ruined by you spilling your morning cuppa. The only problem with this washable inner is that putting it on certainly leaves you in need of stress relief – it takes a while to orientate and tie it up. Though I must admit I struggle with duvet covers for some reason.
Single only
One thing to note is the Orbit only comes as a single. This is fine for solo sleepers, but to achieve full cocooning effect, you need it to fully cover you with no bridging or lifting at the edges. That means if you share a bed, you need to sleep far enough apart to allow it to do its job and completely shape to your body. When I have tried this while sharing a bed, it often ends up sliding off the edge. Still, we must applause it for how good it is for preventing cold spots in winter.
Weighty... of course
You get two weight options with the Simba Orbit and are advised to choose one roughly ten per cent of your body weight for the best results. I have the lighter option but even that 6.8kg of blanket can be a bit of an effort to heave around the house. Why would I want to do that? Well a weighted blanket is not just for bed time. From reading a book on the sofa, to watching TV, a weighted blanket is your comforting savior whenever you need a little forced relaxation. And dragging it round the house is another reason why we love that it is washable. I just wish I could take it everywhere.
Real Homes Rated: 5/5 stars – read our full Simba Orbit weighted blanket review
Simba Beds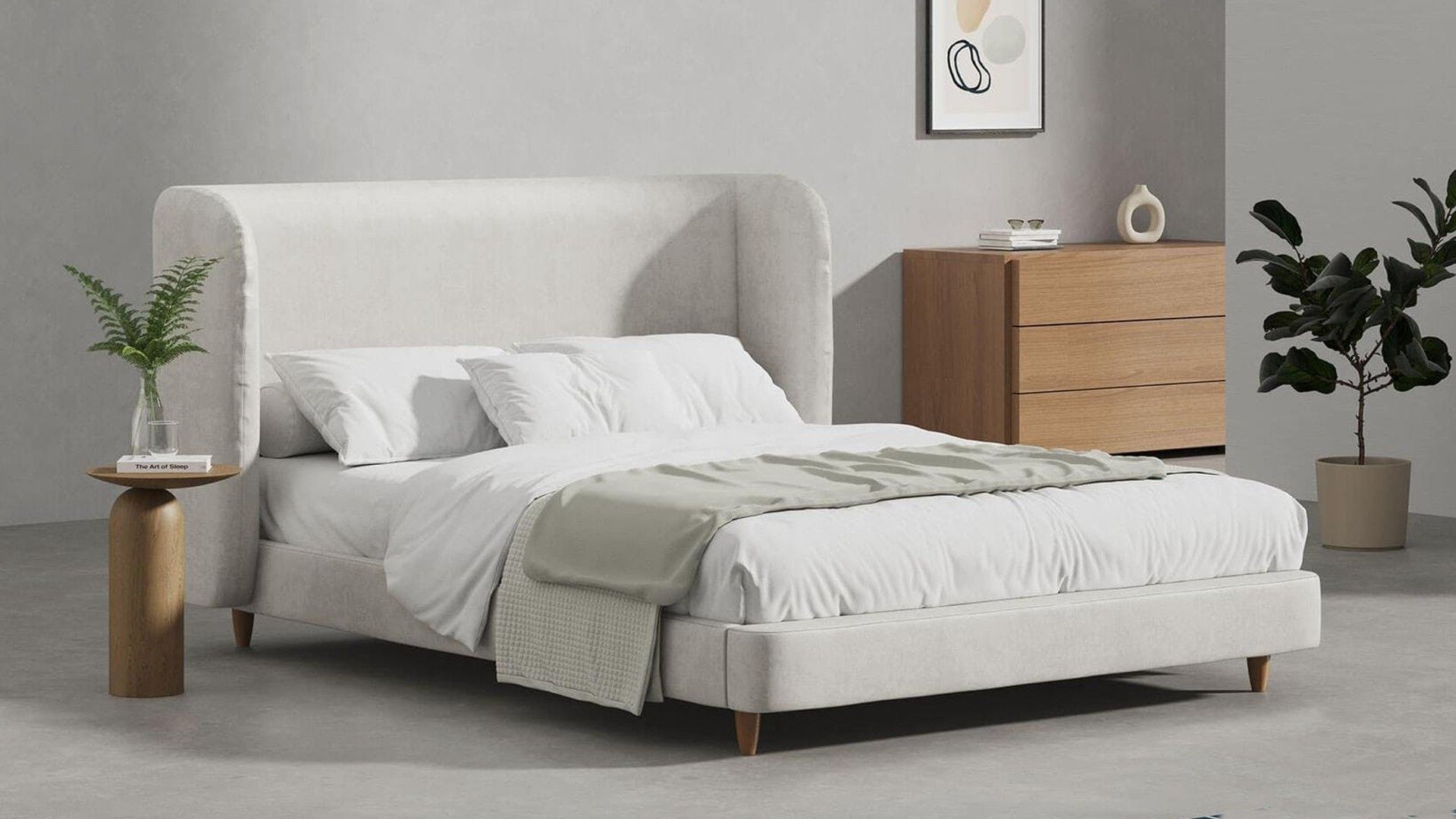 Embrace the curves
If you've been paying attention to interior trends you'll know that curves are big this year, and Simba's new Pegasus bed base brings this stylish shape to the bedroom, with the launch of a cocooning wraparound headboard paired with the brand's new responsive slat support system.
Available in pale 'Sweatshirt' grey, 'Blush' pink, or 'Inkblot' blue, the bed's suede-effect fabric has a subtle sheen that works well to highlight the headboard's curvaceous form and creates a focal point style statement in the boudoir.
The one downside is that the velour fabric does show up any changes in the direction of the pile, so depending on the levels of OCD at play, you might need to ensure you smooth the upholstery in the same direction before you can sleep easy!
Responsive slat system
Team the Pegasus' frames cloud-like appearance with the brand's new Simba-Flex and Simba-React bed bases, and you have the recipe for a dreamy night's sleep.
Unlike traditional static bed bases, the responsive slats flex gently as you move, helping your body to stay aligned, with narrower slats to relieve pressure around the shoulder area where most night movement occurs, along with firmer, extra-wide slats around the lumbar area which needs more support.
It takes two
It's perhaps no surprise that a piece of furniture this size takes two to assemble, but despite the flat-packed design that makes delivery to the room of your choice a hassle-free experience, it's worth mentioning that that wingback headboard is heavy, and definitely needs two to lift it into place.
We also found the slat system a little difficult to lock into place, but a bit of brute force got there in the end. And, of course, the good news is you have somewhere super comfortable to recline after expending that assembly effort.
We tried, tested, and can certainly agree this is one of the best beds for a good night's sleep.
---
The verdict: Is Simba bedding worth the money?
I have always wanted to spend more on bedding, but time and budget has often meant I have fallen back on budget buys from Ikea, Dunelm and even local supermarkets. In all though I have probably spent way beyond the price of a Simba bedding equivalent on pillows that can't be washed, mattresses that lose their bounce in a couple of years and bedding that becomes a bobbly mess after a few washes.
If you can afford the initial outlay, Simba bedding puts all of these problems in the past while offering so many more advantages. Remember that when you buy Simba products you are not just paying for high quality, sustainable materials, but also thirty plus years of sleep expertise, research and testing. Simba takes sleep very seriously.
And though the cost can seem prohibitive for some, like all good investments, it pays back in the long run. Simba products last longer, wear better and over time you buy less. And there are frequently Simba mattress deals or discount codes available to savvy shoppers.
Sleep is very important and for that reason, Simba bedding and its high quality makes it very much worth it. From the pillow that can be adapted to your exact proportions and sleeping position, to the mattresses that have eased back pain among our reviewers and many others online, you do get what you pay for and more. The ethics of the company is sound, the returns policy fair and the sleep experience way up there with the other luxury sleep brands. Based on modal scores for each product and our experience of the brand, we have given them a five star rating overall.
Simba bedding deals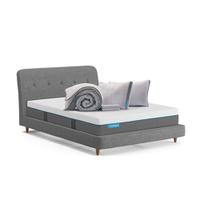 Simba Ultimate Bedding Bundle | From £2405 £1202.50 (save £1202.50)
No Simba bedding review would complete without highlighting this amazing 50% off bundle deal available at Simba right now. You can tailor the deal to get a double, king-size, or super king bundle that includes any of Simba's bed bases, any of its mattresses, 2 x pillows, a duvet, and a mattress protector, all for way, way less than you would pay for each item separately.
How is Simba bedding sustainable?
You can read the particulars of how each product is sustainable above. They work to tight rules on the provenance of their materials making sure they use recycled materials as much as possible, use zero-waste factories and ensure their products can be recycled or reused when they reach the end of their life.
Returned products are recycled and they will also collect and recycle your old mattress when you buy from them. Old plastic bottles make up the fibres in their duvet filling and the mattresses are made from 100 per cent recyclable materials.
This ethos extends to packaging too. Though the rolled mattresses have to come in a pretty hefty plastic bag, this is made from 40 per cent recycled content. Simba uses FSC approved cardboard for the rest of their packaging that is easy to recycle. That is if it makes it to the bin of course – most of ours became box forts for little ones or storage.
Read more on Simba's Sustainable Sleep section.
Is Simba made in the UK?
All Simba bedding sold in the UK is made in the UK. The springs are made in Leeds from 100 per cent British steel and this is used in all mattresses sold worldwide, too. Once developed in Derbyshire, their headquarters are now in London.
Simba is proud to support British industry and extend this love to our NHS, offering an NHS discount for employees.
What's better Simba or Tempur?
While Tempur is a world-leader in memory foam mattresses, Simba bedding is best for people who don't want full foam and would like some spring support too. Simba is also better if you prefer your mattress to be firmer and is thus better for side and back sleepers, too.
We also rate Simba really highly for edge to edge support – you can lie right on the precipice and not feel like you are about to roll off.
Which is better, eve or Simba?
In all of our testing Simba has consistently come out higher than Eve, with 5 and 4.5 star ratings as opposed to 4 and 5 for the Eve products we have tested. Eve's entry level mattress is actually £30 more expensive that Simba's but Simba's premium offering (the Luxe) is about £600 more than eve's top offering. It does have twice the number layers though, is more advanced and has better eco credentials.
If you are a front sleeper though, you might find Eve mattresses have a bit more give.
Both of the brands do much more than just mattresses though. Eve sells all of the bedding options Simba stocks including pillows and bedlinen, and Eve also offers cot mattresses, baby bedding, beds and bedroom furniture. Something to note if you want to get everything including your bedroom furniture in one place.
We also like the Sleep Away Set Eve does that includes a portable mattress, duvet and pillow. Simba does a travel pillow – but they hide this right at the footer of their website so it is little known and we have not tested it.
---
About this review and our reviewer
How we tested our Simba bedding
Simba put their reputation on the line when they agreed to send us a full fleet of their bedding options, free of charge. The company already offers a 200-night trial which promises to refund you if you don't get on with their mattress plus a standard 14-day return policy on all other bedding, so they are confident in their ability to give you a top notch night's sleep.
All of the bedding arrived in April 2021. So I have been testing it for over half of the length of their trial period, and will continue to update this article through the seasons as they are allowing me to keep the bedding. The topper is on my spare bed and I have tested that both with my old mattress and on top of the Simba Hybrid Luxe to get a fair comparison.
Because of the time frame I have tested it in, I have been able to put everything through its paces in a variety of temperatures. When I first received my Simba bedding, it was a chilly 10 degrees celsius outside. Then we had a heatwave in July with temperatures reaching well above 30 degrees celsius and not falling below 18 at night. Simba is well known for temperature regulation tech – I have certainly been able to put that to the test.
About my sleep
Context helps, so here is a bit about me to allow you to work out how my sleep experience could compare to yours. To start, I am a 30-something female of average weight and slightly less than average height. Why is this important to know? Size has an impact on how a mattress might feel and while I often overheat at night, this is probably not to the levels of discomfort of the menopause (I'm told).
My sleep stats:
Sleep position: side
Insomnia: no, but I often find it hard to get back to sleep if I wake in the night
Sleep problems: overheating or being far too cold
Average sleep time: 7 hours
For a more rounded review, I have also included comments from my other half. He is the same age, but about a foot taller and roughly 50 per cent heavier than me – so this should give you an idea of what the bedding is like for someone else. He lies on his side or front and would happily sleep forever if I wasn't there fidgeting next to him.