Best Amazon Living Room Furniture: Quick Menu
Finding the best Amazon living room furniture can be a tricky task, as there are thousands of pieces on the site. You want pieces that look stylish and sophisticated, but you don't have hours to scroll through the extensive site.
Amazon is a useful site to visit, as it has an extensive range of brands and styles. When decorating your living room, the best page to visit is Amazon's living room furniture page. If you're a Prime member, you can also enjoy next-day delivery on most of these too, making redecorating a total breeze. It also has great discounts throughout the year, including on sales days such as Black Friday. You can find these on Amazon's dedicated Black Friday page.
If you're searching for the best Amazon furniture buys and want to start with the living room, I'm here for you. I've looked through the site for buys that are chic and are highly rated by shoppers, who have used them in their homes and completely fallen in love.
The best Amazon living room furniture
Why you can trust Real Homes Our expert reviewers spend hours testing and comparing products and services so you can choose the best for you. Find out more about how we test.
Ready to get started? This list includes a range of pieces from Amazon's best furniture brands, that have high star ratings and glowing shopper reviews.
The prices below were correct at the time of publishing this article.
The best Amazon living room seats
These living room seats are as dreamy to relax on as they look…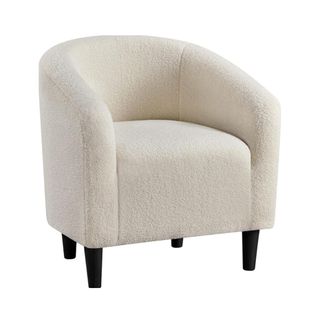 On trend
1. Yaheetech Accent Barrel Chair
Size (in): H29 x W28 x D26
Made from: Boucle, wood, metal
Price: Was $124.99 Now $77.99 (save $47)
White and cream furniture are the best color furniture for small living areas, as they make a small space look more bright and airy. This super soft seat looks perfect for curling up in, with padding all around it. Amazon reviewers say that it adds serious flare, is easy to assemble, and is well-made.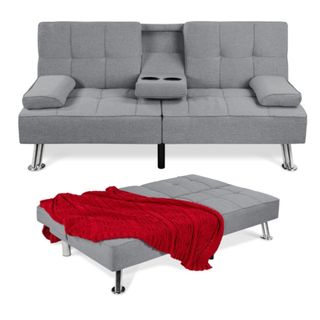 Convertible
2. Best Choice Modern Convertible Sofa Bed
Size (in): H31 x W65.25 x D21
Made from: Linen, metal
Price: Was $299.99 Now $219.99 (save $80)
This couch reminds me of cinema seats, with its comfy cushions and cup holders that are perfectly shaped for your Stanley cup. As well as this, it can be converted into a bed for overnight guests. It comes in five different colors — gray, light gray, beige, black, and blue — which are all versatile colors that will go with lots of decor styles.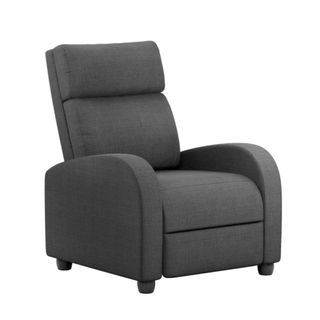 Wing back
Size (in): H38.6 x W20.6 x D29.1
Made from: Textile, steel
Price: $114.99
You can fully lounge in your living room with this recliner, which goes back all the way to 180 degrees. It's Amazon's choice and has over 9,600 five-star reviews from shoppers who love how comfortable it is and say that it's true to the pictures. You can also grab it in leather material if you want extra softness.
The best Amazon TV stands
Living in a rental or don't want to mount your TV to the wall? Stands are useful for displaying your TV and adding extra storage space.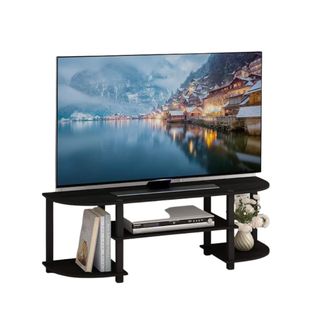 Multiple tier options
4. Furinno Turn-S-Tube TV Entertainment Center
Size (in): H15.9 x W47.25 x x D13.4
Made from: Wood, PVC
Price: $35.49
Looking for a budget-friendly, no-frills but still fab TV stand? This is the answer. It has open shelves for displaying decor and other items, making it easy to see where your TV remote has disappeared to. Assembly is required, but it doesn't require any tools, and reviewers say it should take under 10 minutes.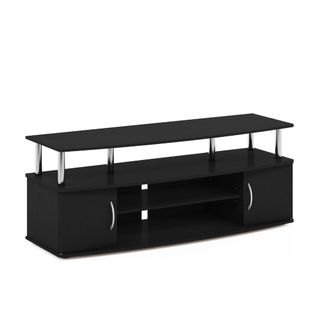 Lightweight
5. Furinno JAYA Large Entertainment Stand
Size (in): H19.6 x W47.24 x D13.5
Made from: Wood
Price: Was $79.99 Now $70.55 (save $9.44)
Sleek, modern, and durable — this TV stand has it all. It has two cabinets for storage as well as two large display shelves that are just the right size for video game consoles and TV boxes. The chrome finishes also give it a really contemporary feel, which is great for those looking to make their small space look luxe.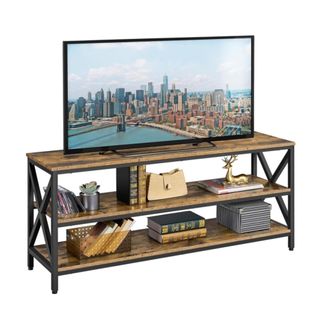 Sturdy and supportive
6. Yaheetech Industrial TV Stand
Size (in): H24.5 x W55 x L16
Made from: Wood, iron
Price: Was $115.79 Now $109.99 (save $5.80)
Industrial farmhouse styles never seem to go out of style (as Taylor Swift would say), and this one will add impact to any living area. I like that the shape is a straightforward rectangle, making it easy to fit into small spaces. One reviewer even said that it helped make her house look properly like a home.
The best Amazon coffee tables
A stylish coffee table will draw the eye to wherever it's placed.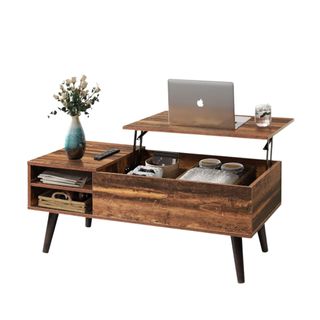 Rustic
7. WLIVE Wood Lift-Top Coffee Table
Size (in): H16.7 x W39.4 x D19.7
Made from: Wood
Price: Was $129.99 Now $89.99 (save $40)
For those living in smaller spaces, lift-top coffee tables are the way to go, as they can store so much and can convert to more space very easily. This one currently has a huge $40 saving on it right now, making it a very good price for what it is. Reviewers do say that assembly is tricky, but that the end result is stylish and sturdy.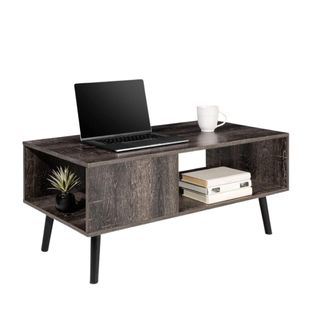 Easy to clean
8. Best Choice Products Wooden Coffee Table
Size (in): H17.5 x W39 x D19.75
Made from: Wood
Price: Was $99.99 Now $59.99 (save $40)
I love that this coffee table looks more expensive than it is, with its modern cut-outs and dark gray wooden material. The lower shelf is the ideal place to store coffee table books and indoor plants, while the top is spacious enough to place your coffee cups.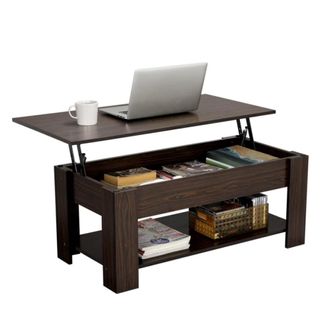 Adjustable height
9. Yaheetech Lift-Top Coffee Table
Size (in.): H16.5 x W38.6 x L19.7
Made from: MDF, pine
Price: $53.99
This is one of the most highly-rated coffee tables on Amazon, with over 10,000 five-star ratings from Amazon shoppers. They love how well-packaged it is to prevent breakages, how spacious it is, and the overall finish. A lot of reviewers do note that it is hard to build, so you might want to allocate a few hours to build it if you aren't a pro.
How to choose the best Amazon living room furniture
Looking to find your own living room furniture? Here are a few things to consider when shopping the site:
Size: Check the measurements of the furniture you're looking at buying, and measure it up against the space you have. If the size isn't listed (which sometimes isn't on Amazon), it's a good idea to be wary about purchasing.
Ratings: Look at the average star rating of the product and check how many it has. It's a good idea to make sure the product has an average of four stars and plenty of written reviews from verified buyers.
Labels: Amazon often labels products as its choice or as bestsellers. This is a good indication that Amazon itself recommends the product, as the site hosts lots of external sellers.
How we chose these Amazon living room furniture pieces
Unfortunately, we don't have the resources to call in millions of Amazon furniture buys to test ourselves — hey, we only live in small spaces! Instead, we looked through Amazon living room furniture and picked out products with an average of four-star ratings and above, and ones with over 500 reviews from genuine buyers.
FAQs
Is Amazon a good place to buy living room furniture?
Amazon is a great place to buy living room furniture, as it sells a range of different products from numerous brands — from smaller independents to bigger brands. This makes it easy to find exactly what you want.
Is Amazon living room furniture well-made?
This will depend on the product — be sure to check the materials and read the reviews before buying, to make sure you pick a piece that's well-made and suitable for long-term usage.
---
Now that you've sorted out your living room, you might want to move to a different room in the house — the office, perhaps? These Amazon office chairs are the best for supporting your back and sitting comfortably.