These patio ideas are perfect for getting your outdoor space ready for summer. Even if you are working with a small patio is can be transformed into a beautiful and comfortable space for reading, lounging, and partying – with our brilliant garden patio ideas for every garden style, size, and shape. 
If you have a patio that you have been making the most of during lockdown – alfresco dinners, gins outside and lazy Sunday morning coffees – why not give it a quick spruce up so it's as lovely as it can be for the rest of the summer? Just follow this guide for patio design ideas and inspiration. Then if you are after more looks for your green space and for the latest trends in garden ideas be sure to check out our feature. 
1. Create a summery vibe with a bistro set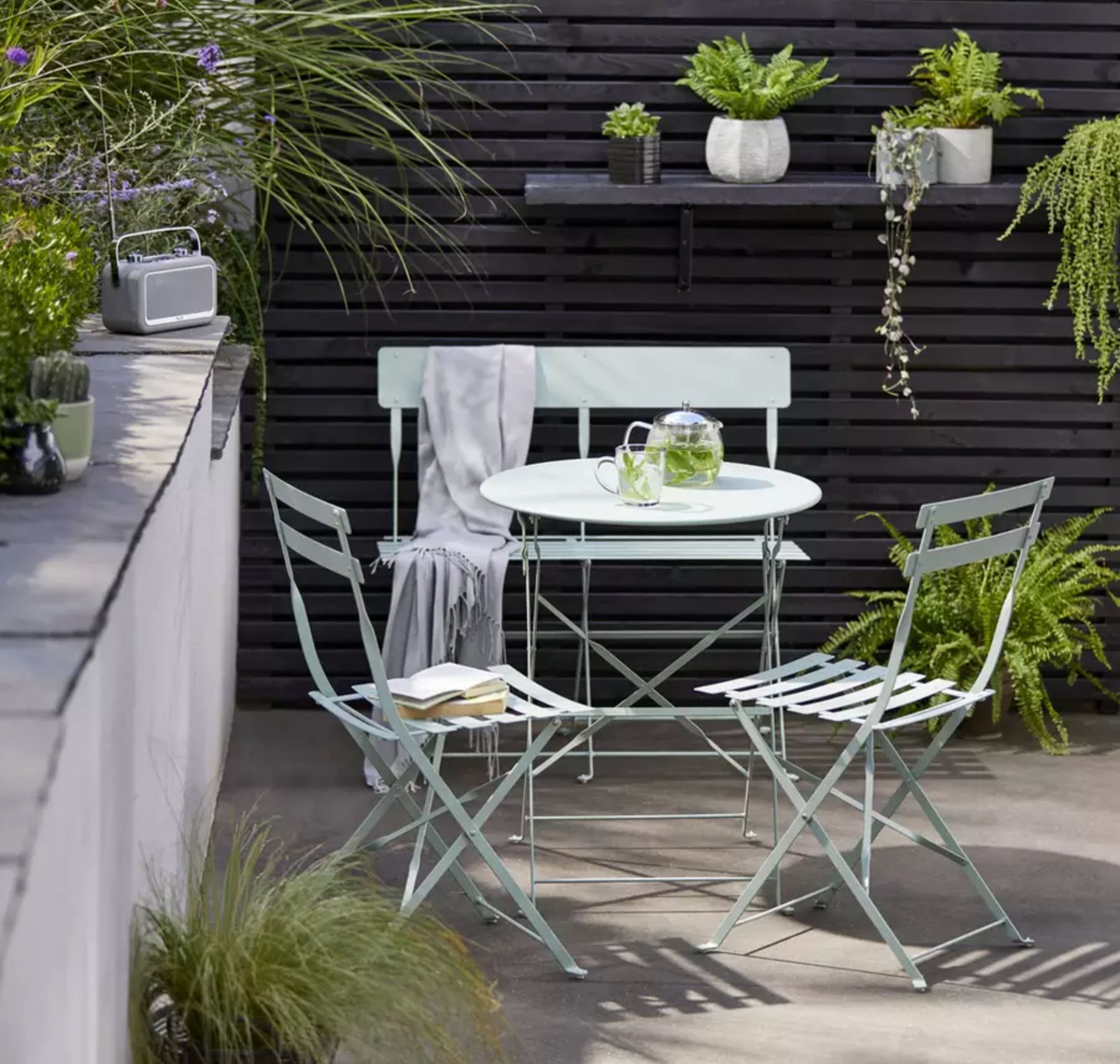 If you are after small patio design ideas, we think a bistro set in the way forward. Nothing quite suggests summer in the same way as a good-looking bistro set: these compact and lightweight patio sets come in a multitude in materials, colours, and shapes, and are one of the easiest ways to enjoy a small patio. You needn't spend a fortune to get a great-looking one: this one above is by Argos and very affordable. Browse all Argos bistro sets or see more buys below.
2. Go for low seating for a relaxed looking patio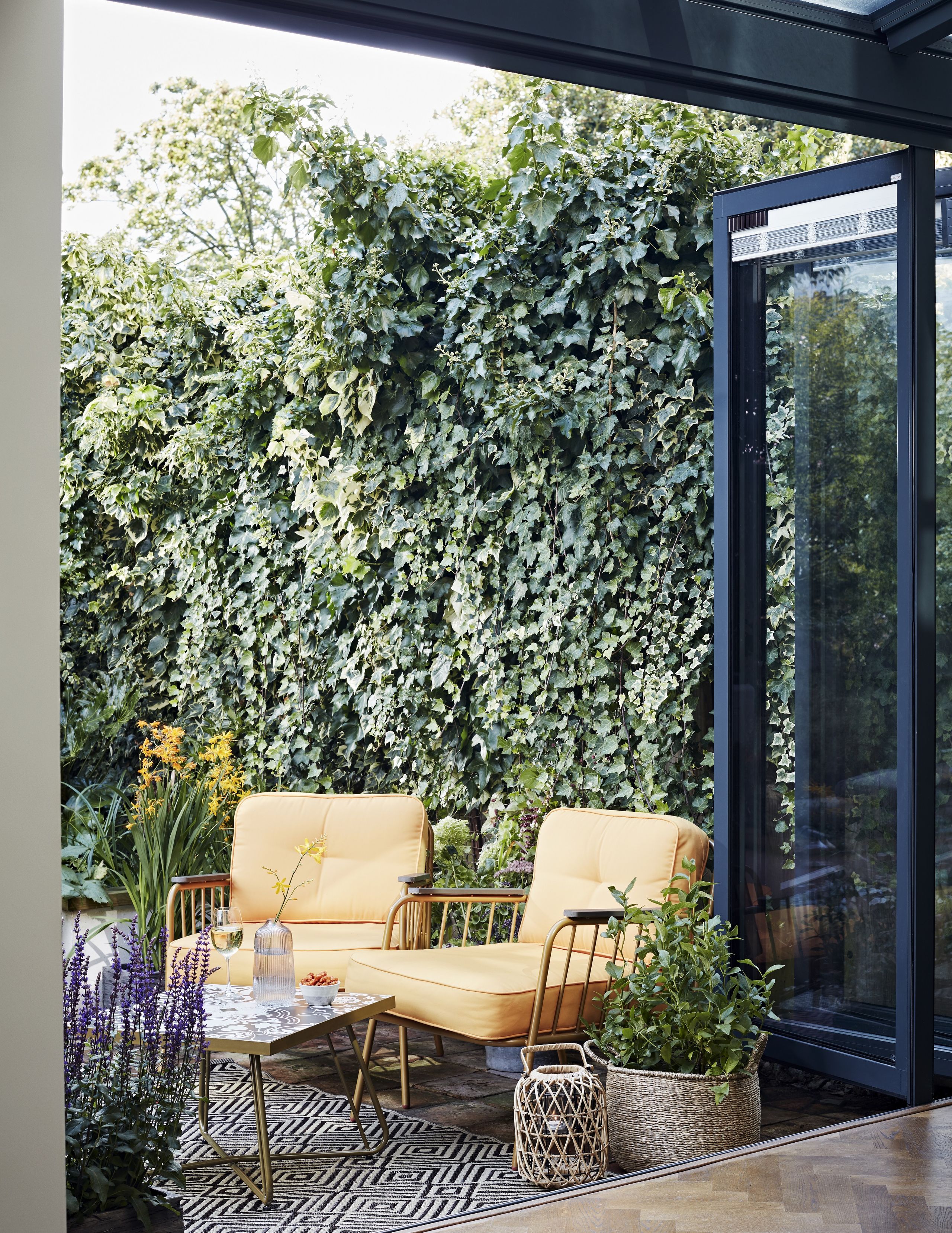 Low seating is one of our favourite patio ideas for smaller patios. If your patio is overlooked and tiny, low seating will not only make it feel larger (plus you'll be able to see over it from inside to the garden beyond), it will also help improve privacy in your garden. 
The Nectar Bistro Set (above)  from Dobbies has sumptuous cushioning in a pleasing apricot shade – a colourful accent perfect for a small patio. Try John Lewis for a similar set of garden armchairs (shown below).
3. Go eco with your patio ideas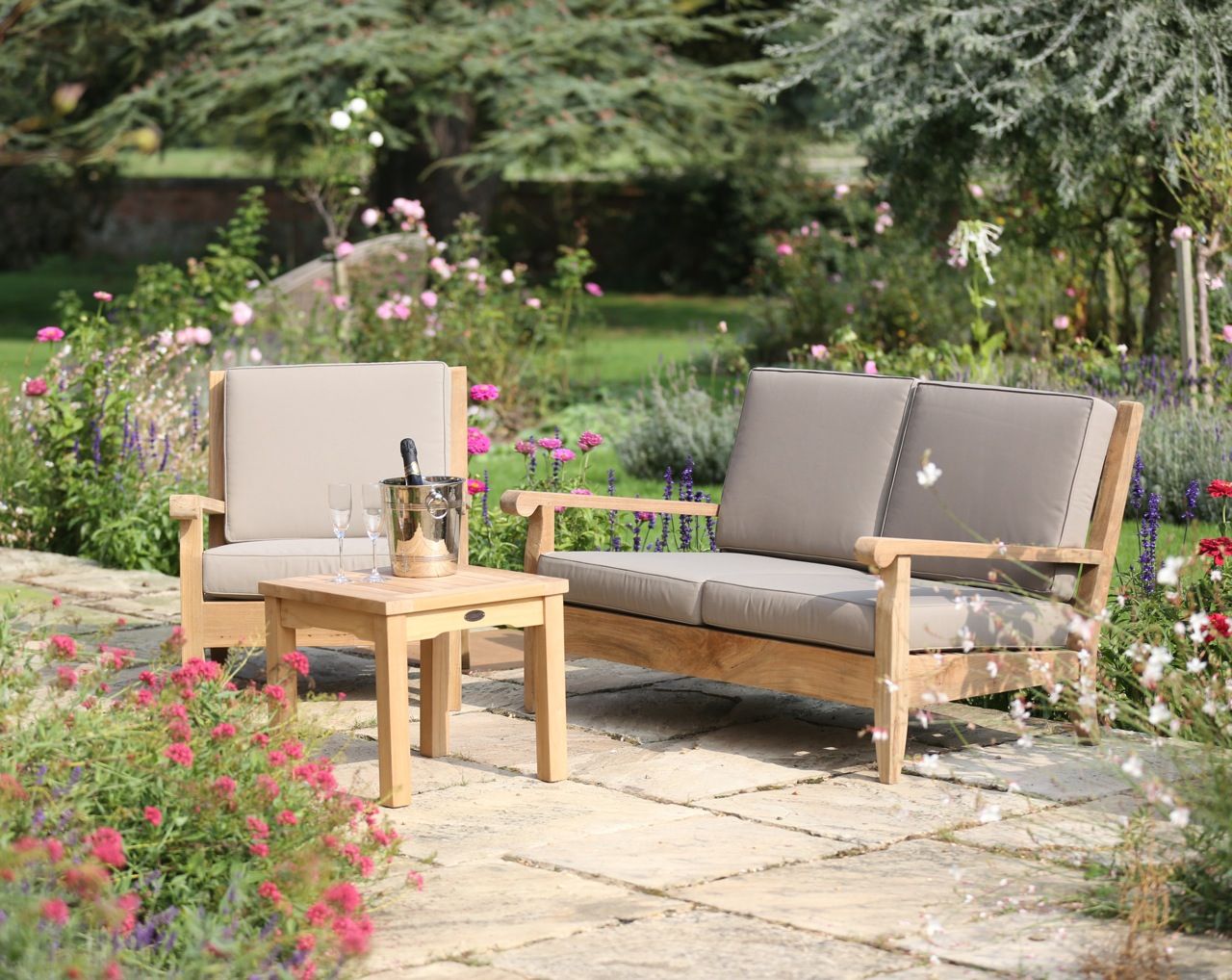 Buying patio furniture and accessories that you can leave out year-round is a must if you don't have the shed storage space. So, shop for teak (whether new or reclaimed), which is the most durable of all garden furniture timbers, and match it with water-resistant accessories that don't mind the odd shower or two. 
If you're clever, you might even match durability with creating an eco-friendly garden, too. 
4. Invest in a gorgeous patio furniture set
Want to sort out your patio once and for all? Go for an investment patio furniture set – think a roomy corner sofa, a table and chairs – and you're guaranteed to make the most of your outdoor space all through the summer. 
Our top pick is the gorgeous and durable Sardaigne set from Maisons du Monde. It's made from UV-resistant synthetic wicker and has the most gorgeous removable cream cushions. 
5. Need patio ideas for small gardens? Pick one stand out piece
You don't need a lot of stuff to create a perfect atmosphere for summer lounging. An understated, well-built set will be more than enough for most patios, especially those on the smaller side. 
Recreate the look shown here by B&Q – and discover more patio ideas on a budget – at Argos.  
6. Refresh the look of a balcony patio with sleek furniture 
Looking for balcony patio ideas? Balcony patios tend to be the smallest, and substantial rattan furniture sets may not be an option (think dragging heavy furniture upstairs!) Opt for a lightweight but stylish solution, such as this very affordable one from Ikea, who have plenty of brilliant small patio ideas. 
7.  Choose container-friendly plants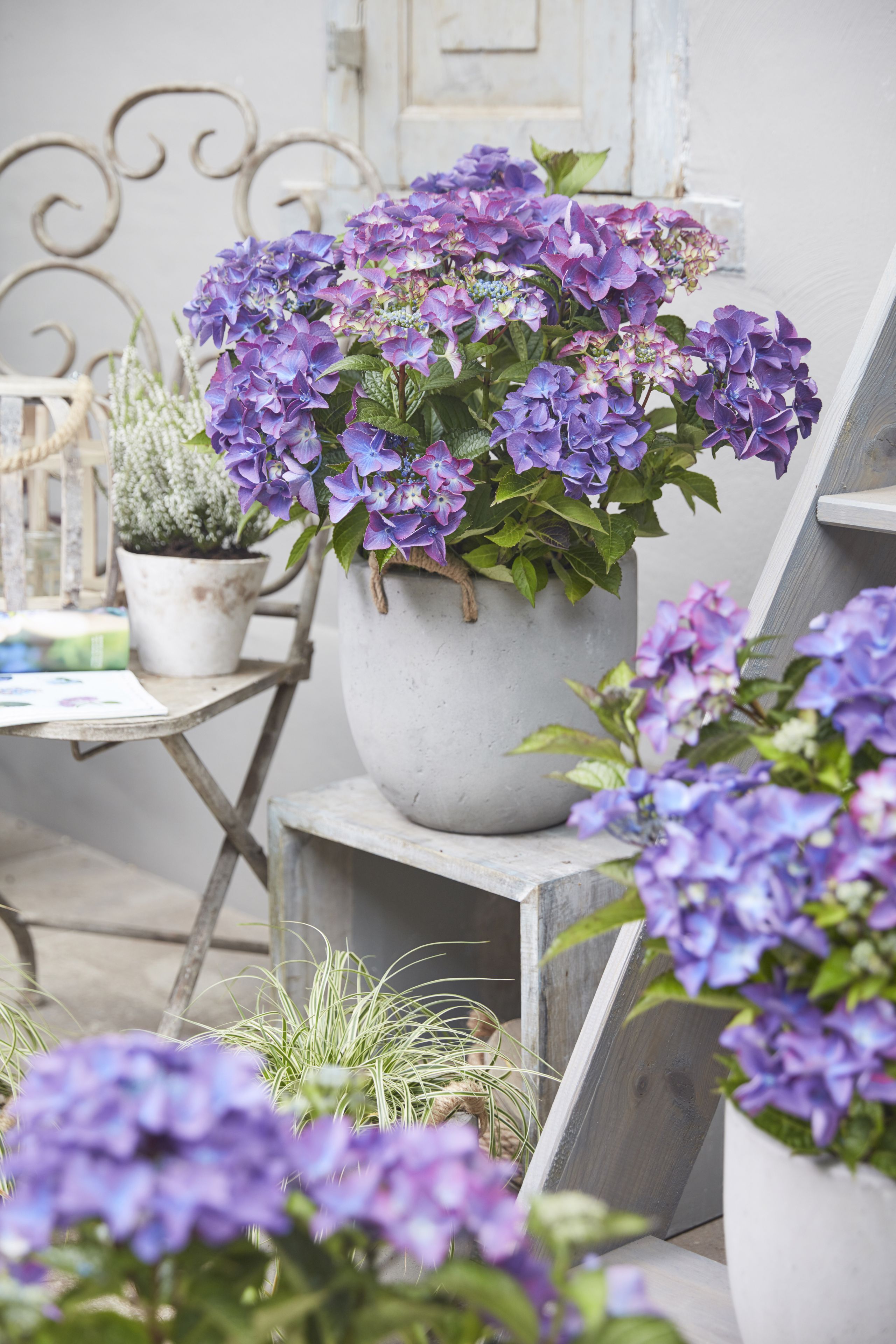 Not all garden patio ideas are furniture-centred. Container gardening is one of the joys that come with having a patio, and is relatively easy, requiring little more than regular watering, assuming you choose low maintenance plants. Hydrangea and geranium do well in containers and provide lots of stunning colour; or, you can choose exotic species, such as palms, citrus or olive trees, although they will have to be brought inside during cold spells.   
Citrus trees and Hydrangea 'Black Diamonds Shining Angel Blue (pictured below) are available at Thompson & Morgan; potted olive and palm trees can be purchased at The Palm Centre.
8. Patio ideas with colour: create a bright accent
Add an instant splash of colour, without sacrificing comfort, with a woven rattan chair. We love this multi-coloured one from Habitat: it is generously sized and ergonomically shaped, and its dazzling bright colours are guaranteed to liven up your patio. 
You can also recreate this patio idea by painting your own colourful garden chairs – a DIY hack even a beginner can tackle. 
9. Go for a comfy patio idea and add a sofa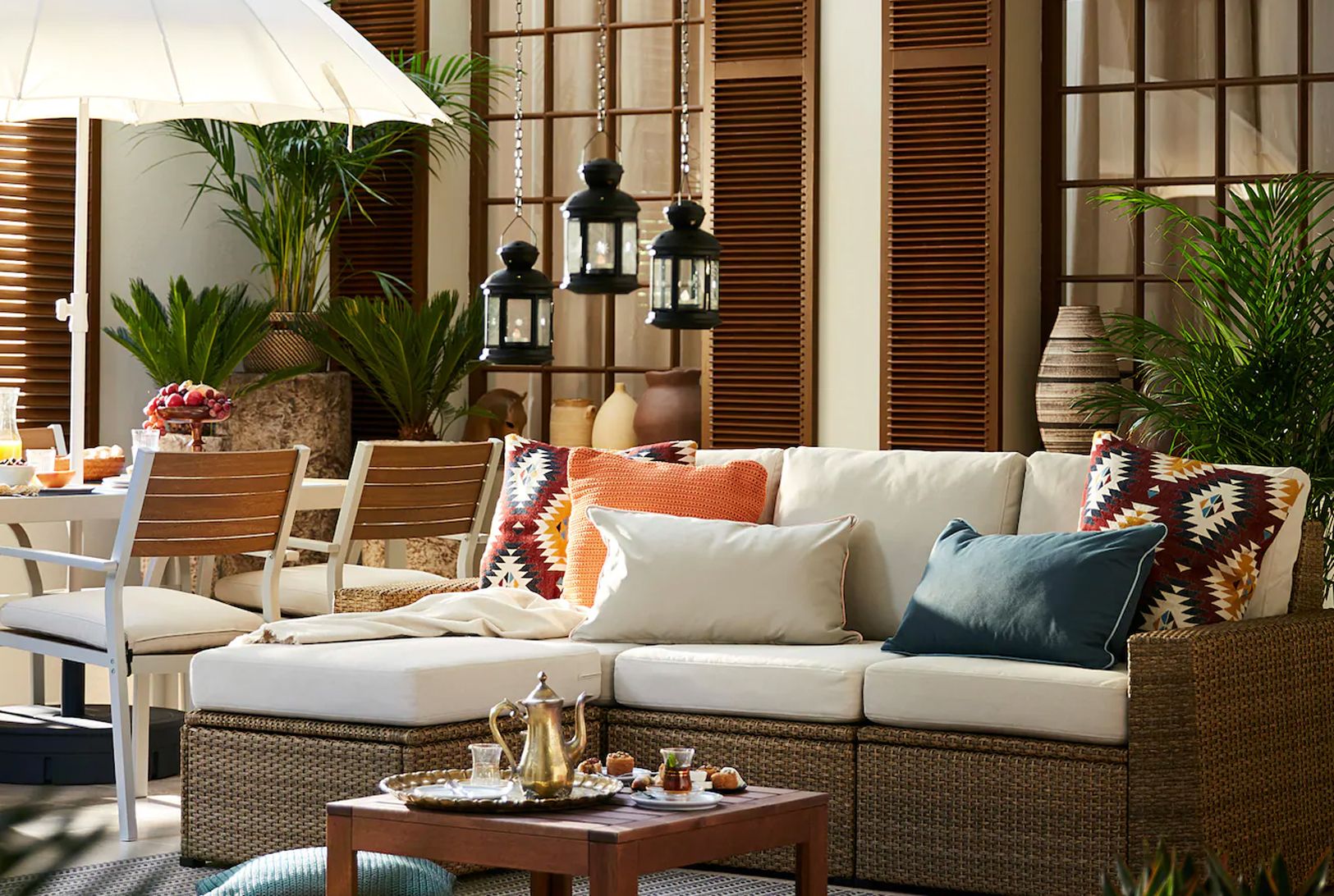 Shop tableware, garden furniture and lounging sets in durable natural or man-made materials, with steel frames (which can stand up to the weather and are light enough to move about easily), and with deep seats you can lean right back in. Cushioning is important, too: it needs to be as deep as your sofa's, but shower- and mould-resistant. 
We love the roomy and inviting Solleron range from Ikea.
10. Stay cool in the shade with a garden parasol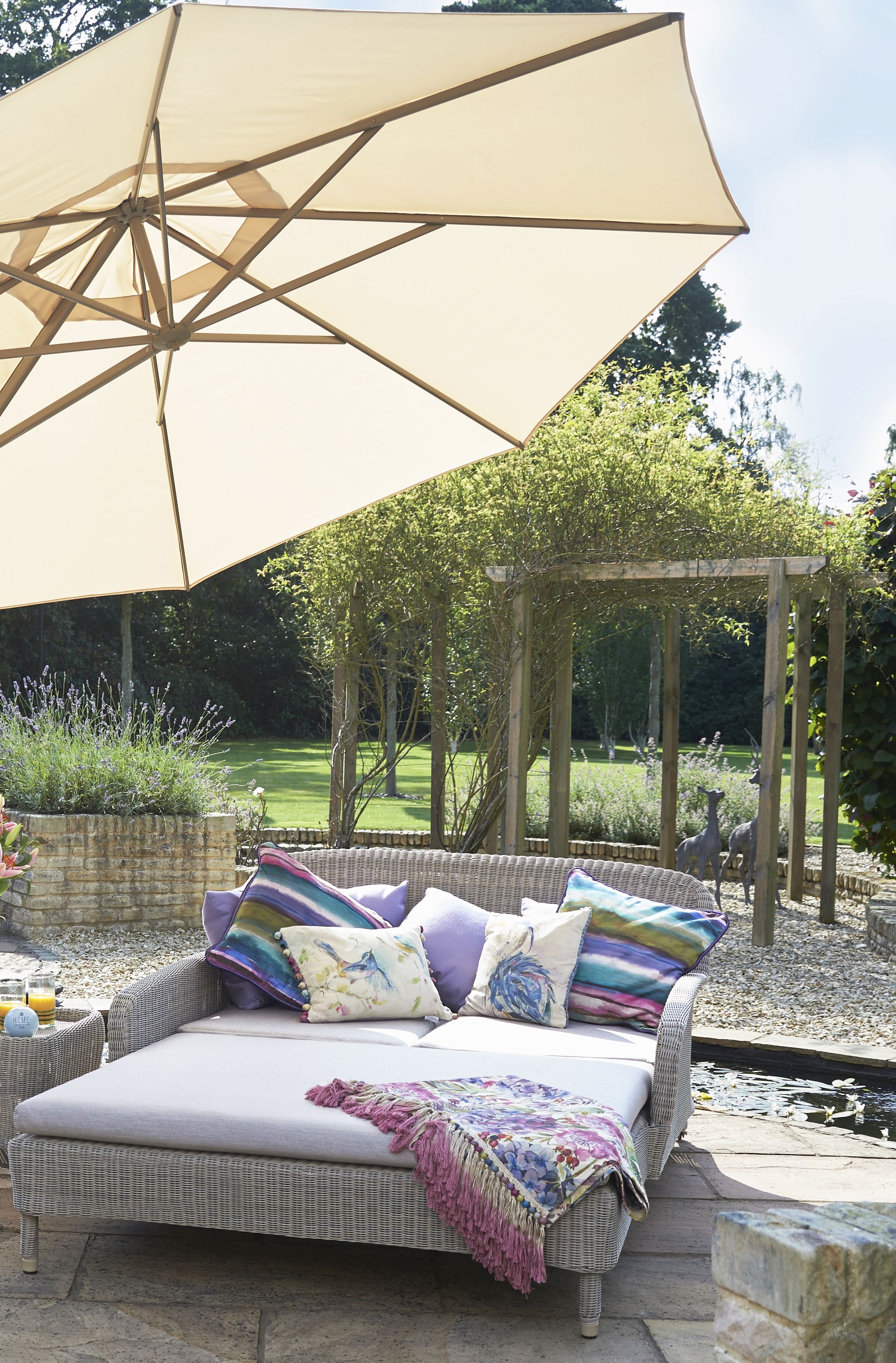 Lunchtime summer sun can get overwhelming - even in Britain! So, create a shady corner – and a splash of colour and pattern – with a stylish parasol. Got a spacious patio? A garden parasol will give you plenty of coverage. 
We like the Siesta Cantilever Parasol from Bridgman. 
11. Patio ideas for privacy: create a secluded seating area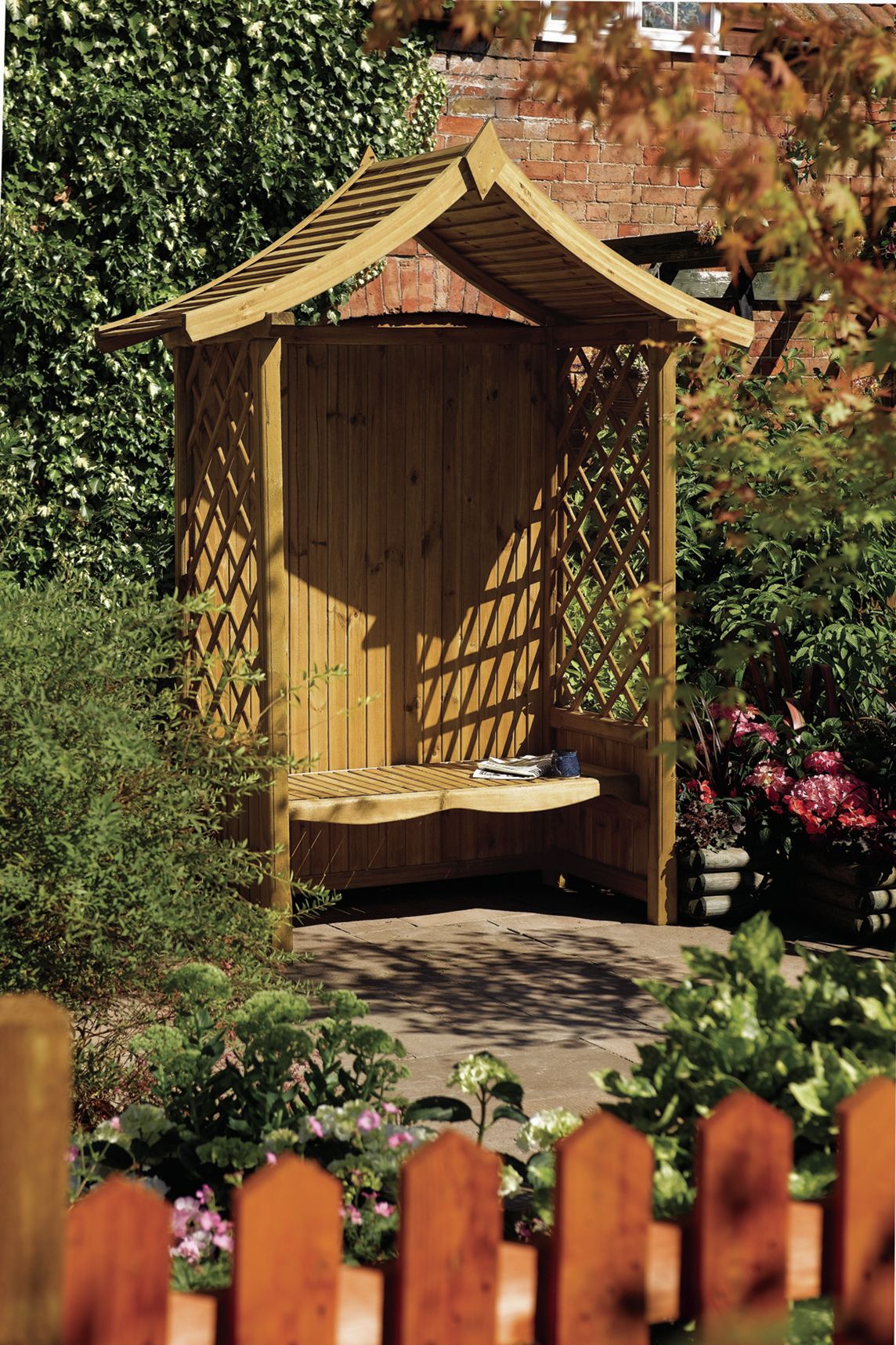 For some of us, the outdoor area is more of a retreat. For a chance to have some time all to yourself, and away from neighbours' eyes, opt for an arbour seat. We like the Rowlinson Tenbury Arbour Seat from Wickes. 
12. Soak up the sun on comfy loungers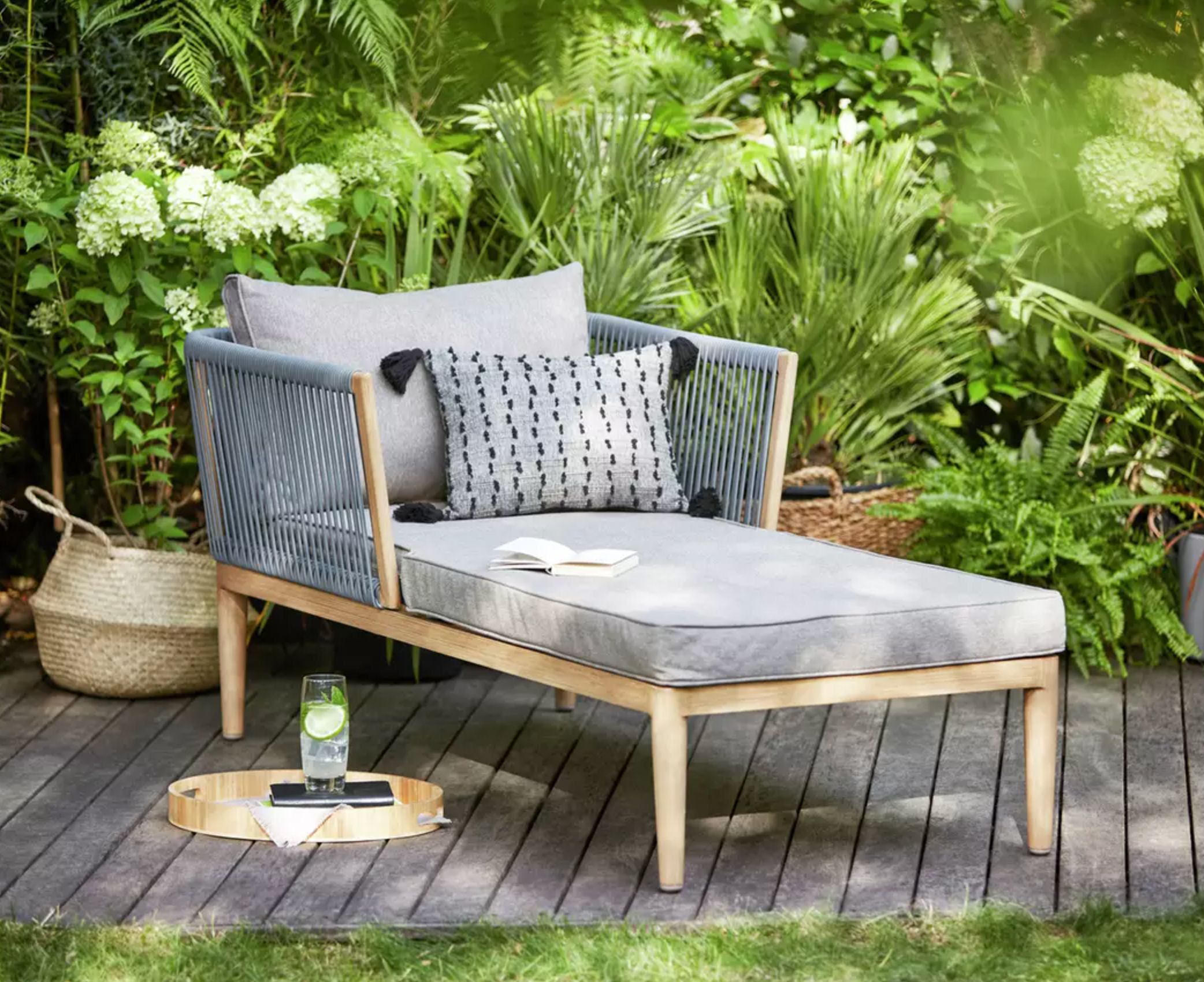 If your patio has a bit of extra space – and you are a sun worshipper – why not invest in comfortable rattan loungers? 
We like this sunlounger from Argos. For more of the best sunloungers, don't miss our guide.
13. Garden patio ideas for chilly days: invest in a firepit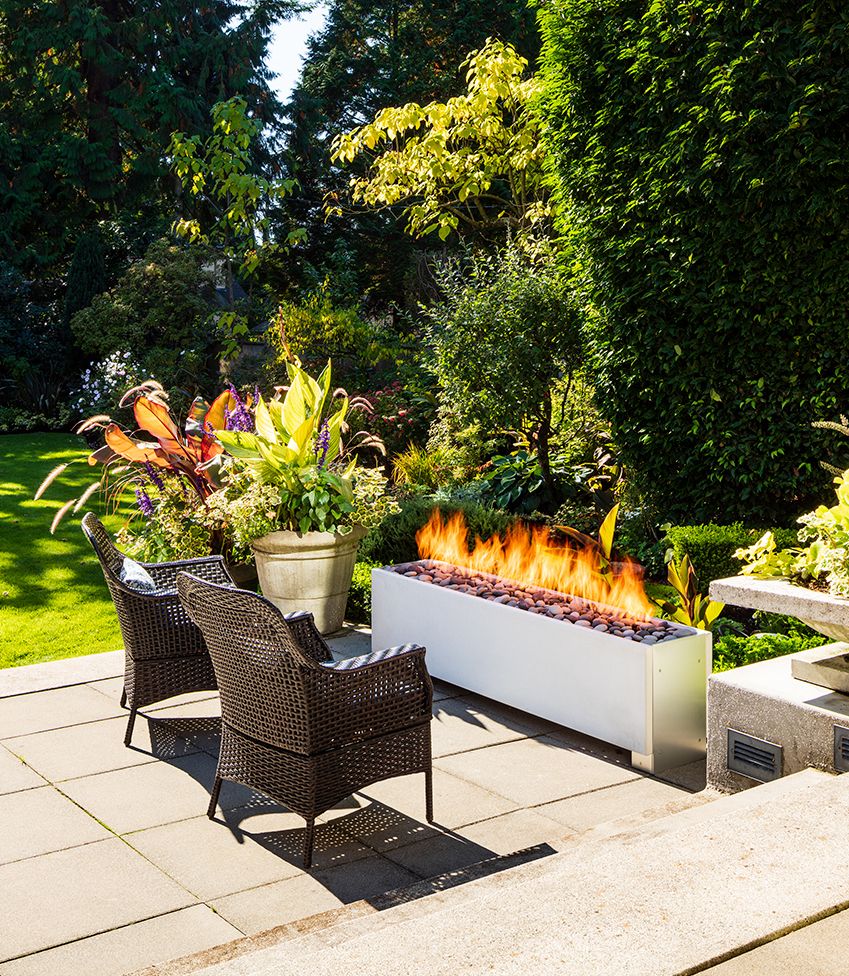 Thing is about patio ideas, they do often assume that the weather is always glorious, but plan for cooler days and evenings by investing in a patio heater. Ditch style-free patio heaters in favour of the most natural heat source there is: fire. Cheaper to run than a heater, guaranteed to keep you warm, and perfect for conjuring up a convivial atmosphere, a fire pit is a stylish companion to patio lounging on those days when summer temperatures aren't their best – or you stay out too long. 
Our pick is the very smart Linear Firepit from Solus Decor.  
14. Drift off in a hanging seat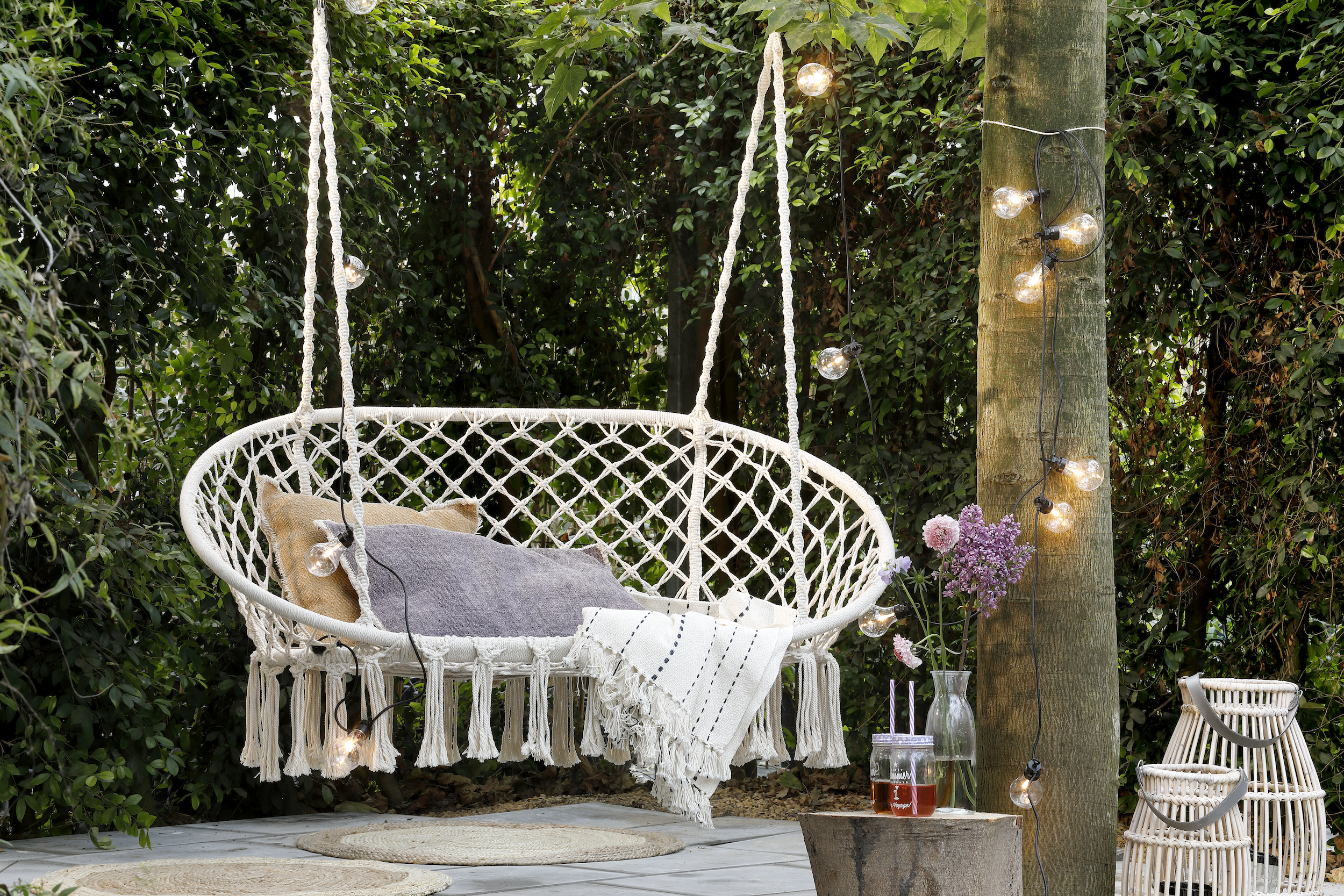 Hanging seats are the ultimate patio lounging luxury. There is something infinitely relaxing about gently swinging in a seat that is one step away from becoming a hammock. Put yours in a shady spot and string up some festoon lights  to recreate the patio idea. 
We think that the romantic Macrame Double Hanging Seat from Ella James is just perfect for a summer afternoon nap.
15. Create your own outdoor cinema on your patio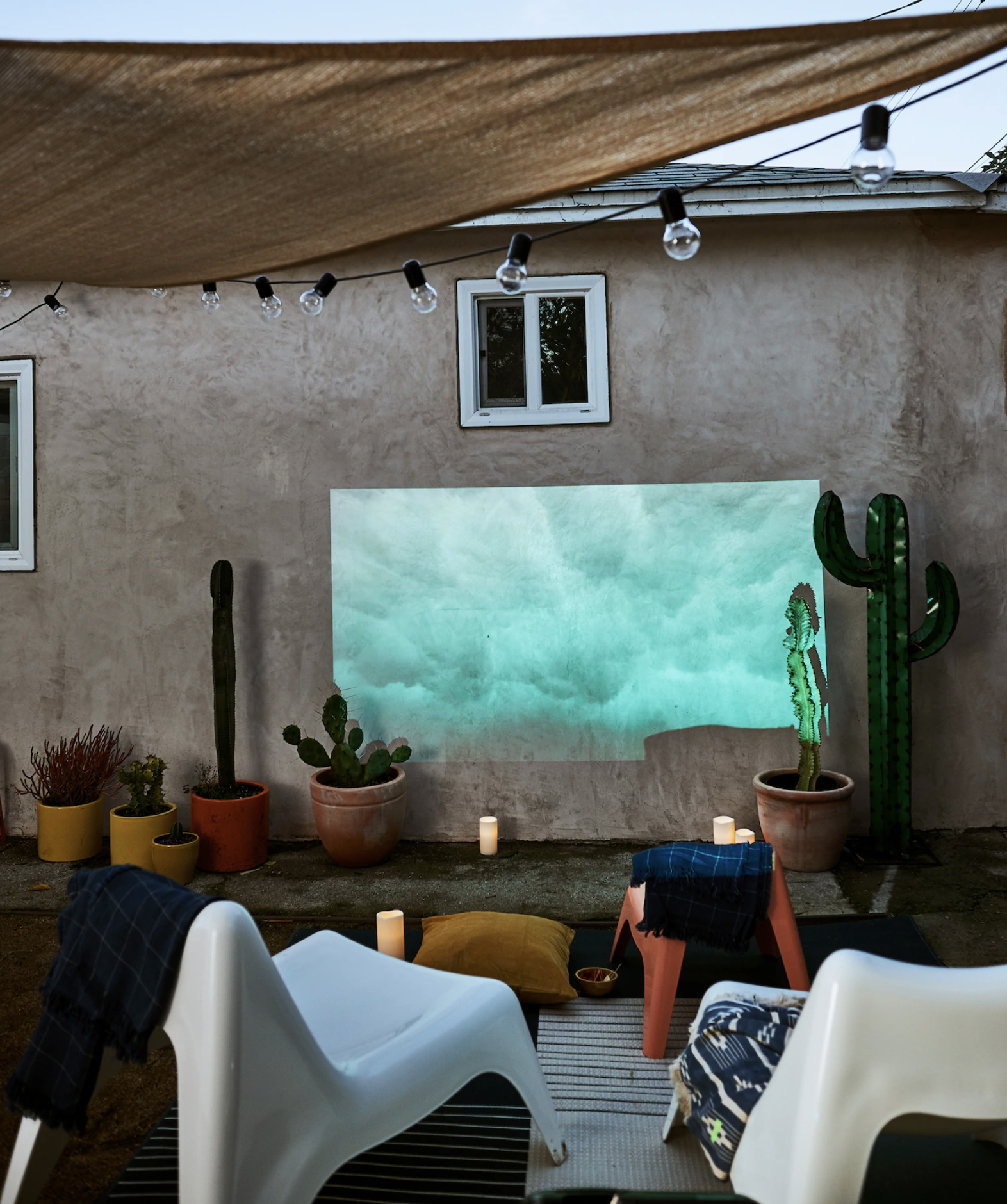 We love this patio idea! The patio is the perfect spot to create an outdoor cinema – all you need is a blank white wall or just suspend a white sheet and you're good to go. Find all the best outdoor projectors in our buyer's guide.
As for chairs, you'll need the right ones for movie nights. The Vago chair (above) is for sure one of those indoor/outdoor pieces: great on a balcony, great in the corner of the kitchen. The design is just a classic. 
16. Go for modular Ikea garden furniture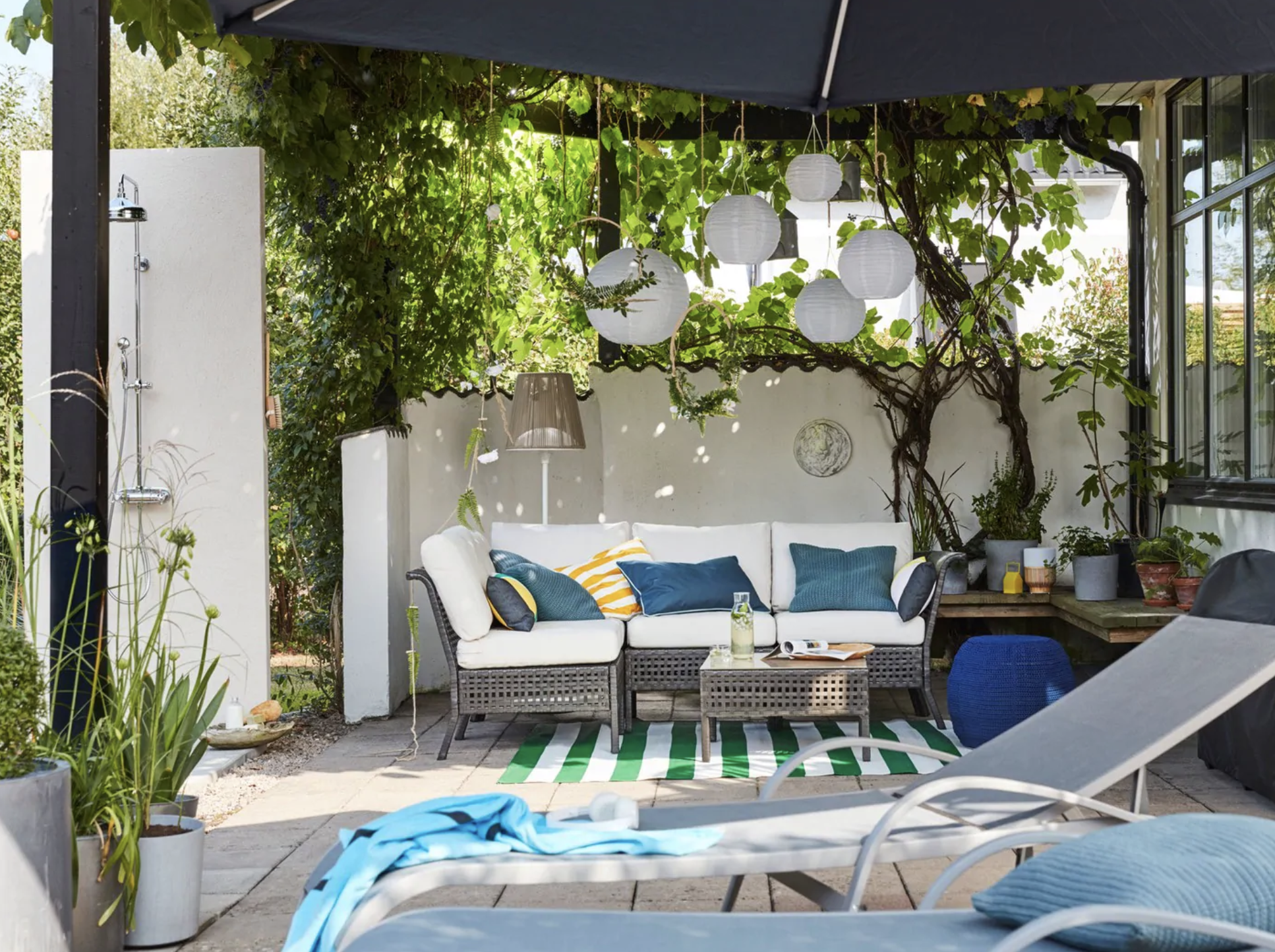 Modular furniture has always been a small space dweller's friend. What we like so much about the Solleron series is you can really create a shape of sofa that fits with your space. You can build up how many seats you want, add armrests, corner sections, pick colours and cushions to go on top – just a really versatile piece of garden furniture and a great patio idea if you're squeezed for space. 
17. Make use of vertical space with ladder planters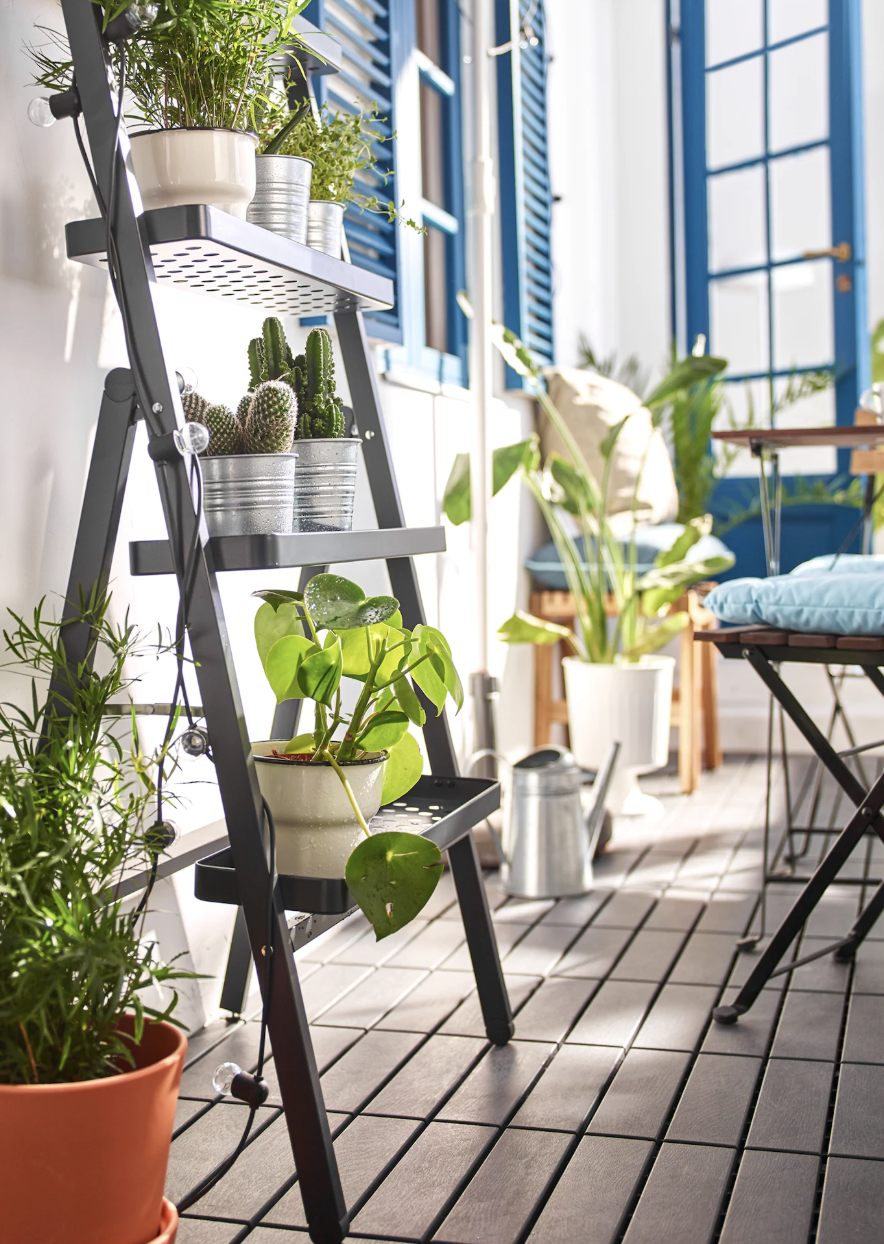 If we've said it once, and we will say it again, vertical gardening is your friend if you're looking to make the most of a small space. And this Salladskal Ladder Shelf, £50, is designed to help you do just that. Style with plenty of plants to ensure you maximise the potential of your outside space.
18. Pick storage that doubles up as furniture
For patio ideas that are lacking in space, multifunctional furniture is the way forward. Invest in pieces that can also be used as storage for outdoor cushions, blankets and BBQ accessories. 
This bench from Ikea is not only great for storing soft furnishings when it (inevitably) starts to rain but it can also double up as a coffee table. 
19. After cheap patio ideas? Paint the floor!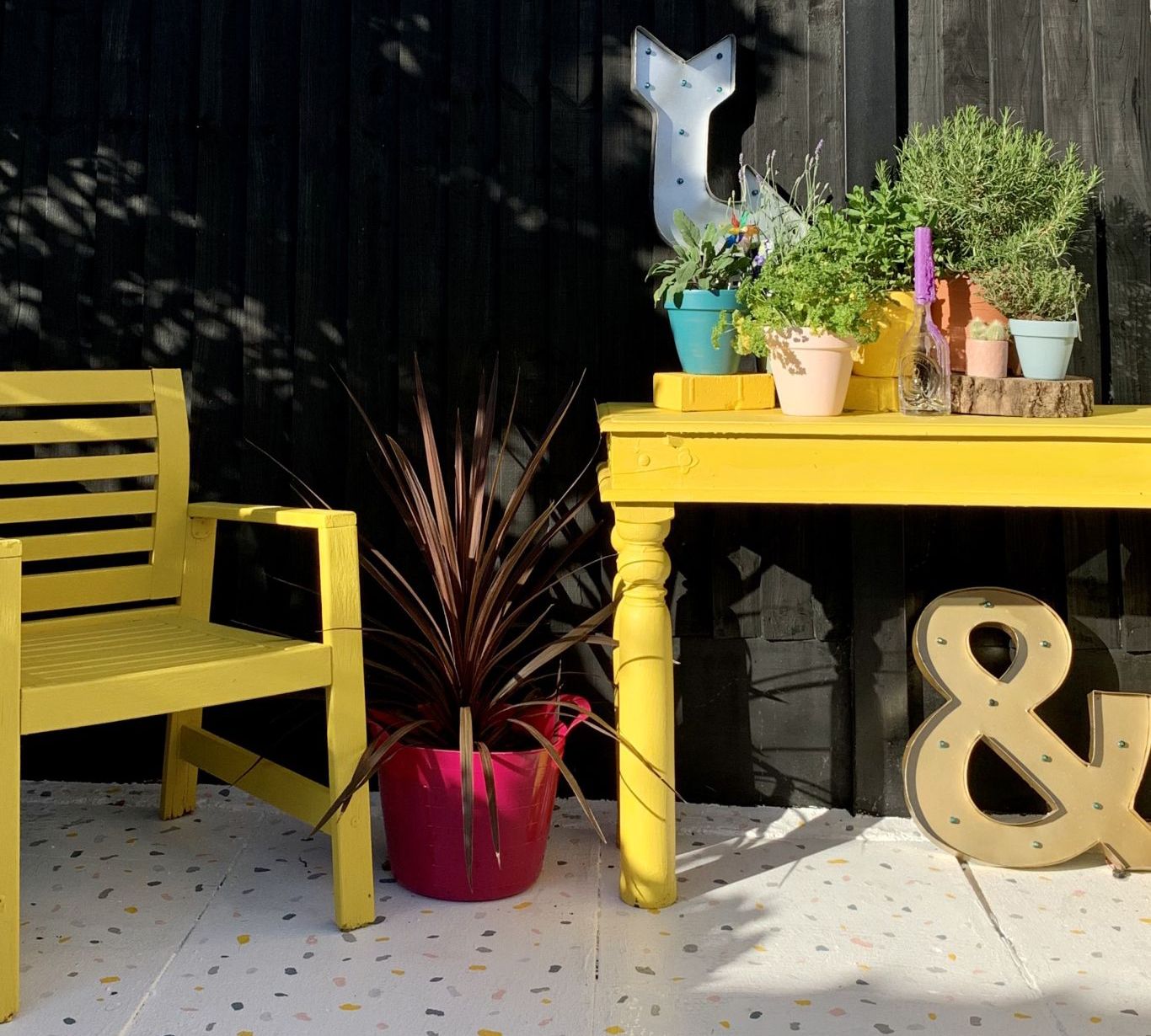 Not something we would have thought to do before but it looks great! A really easy patio design idea, just get some masonry paint and cover up those tired looking tiles. You can add stencilled patterns too, or create a terrazzo effect like the one above. 
More garden ideas: