Choosing patio paving for an autumn garden makeover? Now's a great time to do the work – after you've finished enjoying your summer garden and before the weather gets to cold. 
Good quality patio paving is worth the investment: it should last you many, many years, so it's important to choose well. We guide you through all the different considerations, from the practical properties of different materials to which paving style to choose for your garden. 
If you're designing a patio, planning a garden path and updating a driveway, here's what patio paving you can lay. 
Planning a new garden design? Use our guide to find out how.
Which patio paving material to pick?
Most garden designers use three to four different materials, such as granite, brick and oak, to avoid a look becoming too busy. This makes it easier to achieve design unity. Don't feel you can't break up one monotonous material – knapped flint along side clay bricks is common in rural gardens, for example. Or use smaller units of the same thing – a ribbon of rough granite setts running through crisp sandblasted granite slabs could subtly delineate a children's play space.
Which patio paving colour and finish to choose?
Shades of earthy brown, honey, dark grey and deep brick red work well with most materials used in British architecture, especially older buildings. Around modern glass-clad or wooden exteriors, decking (see our guide for design ideas) looks good. Subtle is always best; pre-cast concrete imitation garden paving in pink or yellow slabs is a common offender. Rainbow-coloured sandstone can look odd, too.
Which patio paving style to opt for?
Hard landscaping can enhance or ruin a scheme. Rustic clay pavers, river-worn gravel, split riven sandstone and tall hazel hurdles suit more traditional designs. For modern schemes, sawn limestone, quartzite, planed oak – even polished concrete – are common, although cut, sanded or planed materials usually cost more. But don't be afraid to break the rules. Traditional materials used in a contemporary way (such as porphyry or sandstone planks) also feature extensively in modern designs, for a pleasing hybrid of old and new.
Pick patio paving for indoors and out
Using the same material continuously from your indoor space to outside will blur the line, making spaces look and feel larger, however, you'll need to choose a material that will work in both climates, that's slip-resistant, frost-proof and will not fade or discolour; natural stones will work for these purposes, as will porcelain, which is more affordable and can be made to mimic everything from natural stone to wood.
Consider the garden's landscape and setting
The local design vernacular should also have an influence. In the front garden, where hard landscaping makes an contribution to the character of the surrounding area, try to use local materials, or sympathetic alternatives that blend in. Buff-coloured Cotswolds stone chippings would look odd surfacing driveways in Cornwall, for example, where granite is local.
Think about the effects of weathering on patio paving
Appearances are important, but so is performance. Garden paving and decking should be slip-resistant, durable, and require little maintenance. Retaining structures built with bricks, blocks, sleepers or stacked stone should stand firm even if the soil beneath is waterlogged. While good-quality materials cost more, they will last longer.
From a visual perspective, check if a material weathers well. Oak, natural stone and copper only get better with age. Concrete imitation paving won't change at all; however, for some people, this is exactly the point.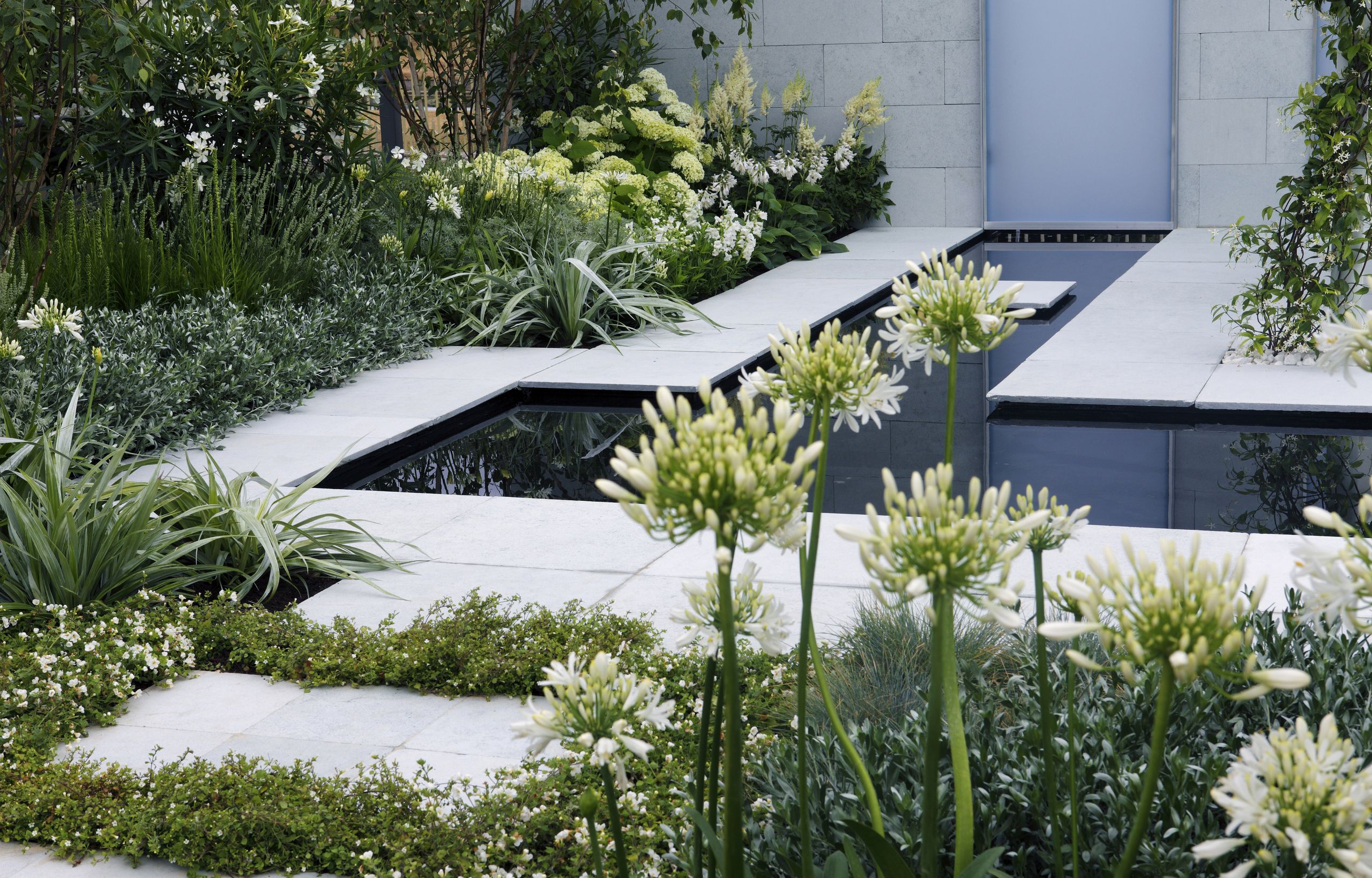 Do you need planning permission for your patio paving?
How materials behave and affect the wider environment is a hot topic. Water run-off is a key issue, especially in towns and cities where old drains can no longer cope with run-off from so much extra paving and tarmac. Rules introduced in 2008 now mean impermeable surfaces mustn't exceed five square metres in a front garden unless angled to a lawn or flowerbed; otherwise you'll need planning permission.
Many permeable alternatives exist, from gravel and block paving ('rumbled' blocks look more natural) to reinforced grass (such as Geogrid from Grassform), so it's not difficult to comply. Porous paving and bound gravel, even permeable tarmac, are also worth considering, especially if you want to create an eco-friendly garden. 
How much does patio paving cost?
The cost of the patio slabs depends on their design, size, construction, quantity and quality. Cut natural stone costs more than split, while loose gravel is cheaper than resin-bound. Concrete imitation paving costs less than the real thing and, being a uniform thickness, is quicker to lay, too. 
Factor in labour and machinery, and always get quotes from at least three contractors. The labour cost for paving will depend very much on where you live, but expect to pay between £75 and £100 per square metre for someone to prep and bed down the paving slabs on a mortar mixture. 
How to cut the cost of a new patio paving
Research, research, research. Local builders merchants and DIY sheds offer good deals, and using local materials can cut costs, but this isn't always the case. Brazilian slate, for example, is cheaper than Welsh. Likewise, reclaimed materials are rarely cheaper than new.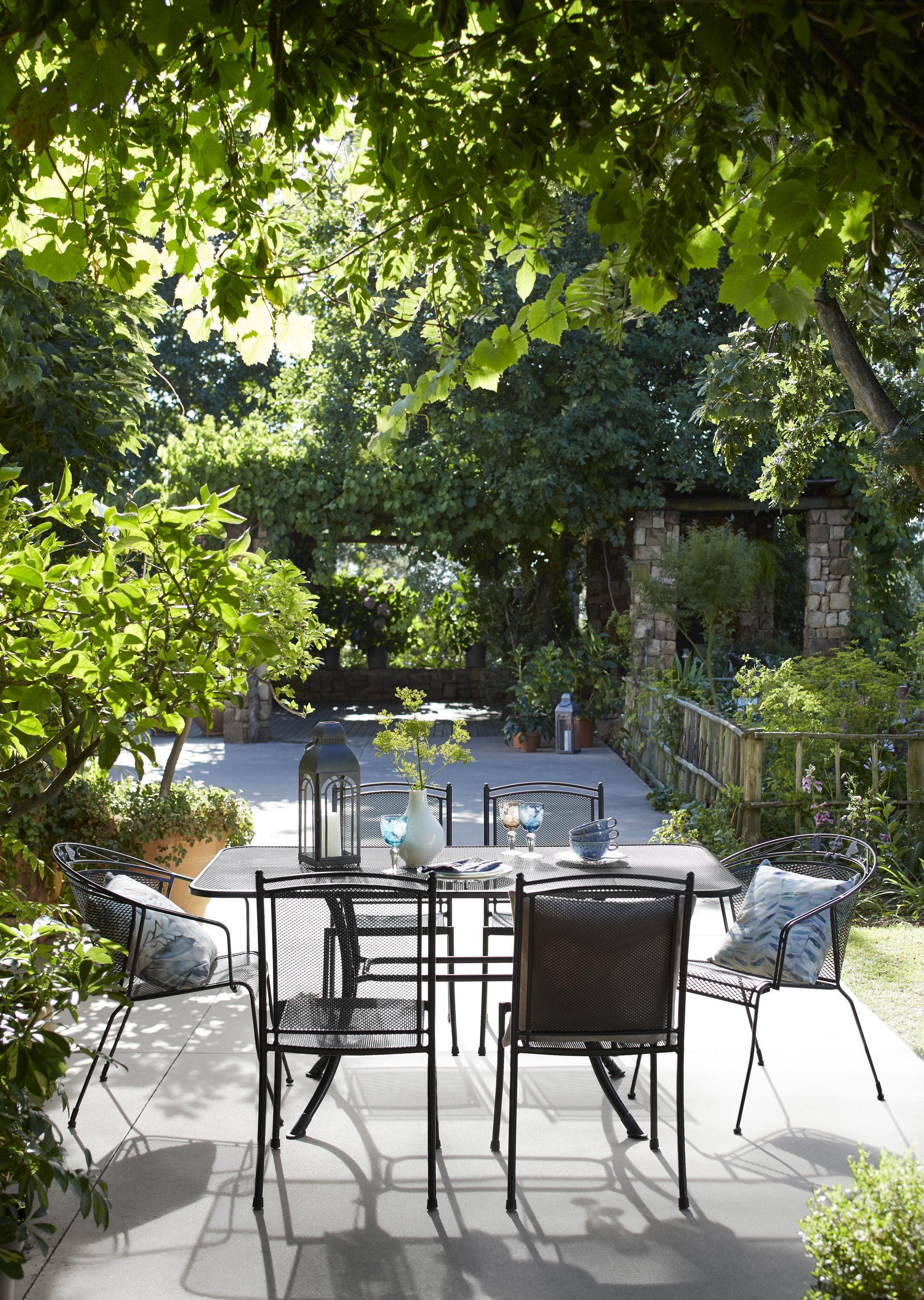 Natural stone paving: which should you choose?
Natural stone paving is well worth the money: durable, frost resistant, it should last decades if properly cared for. As a rule, if you don't know what you want, go for sandstone, which complements most garden design schemes. In a contemporary garden, granite or limestone paving slabs will look very smart, too.
Patio cleaning: how to keep your paving in top condition
Once you've got your patio all laid and looking lovely, how do you keep it that way? Unless you've used concrete slabs, most stone paving blocks, real or imitation, will need some maintenance, particularly in the spring, when they've been exposed to cold and damp weather conditions for months. A good patio cleaner, stiff brush, and a pressure washer is all you really need to clean your patio. 
Don't like the idea of using chemicals in the garden? Try diluting some vinegar with water – this should be effective if your patio hasn't gone too green and you maintain it regularly. Find out more ways to clean your home with vinegar in our guide.
More on creating the perfect patio: