Open plan layouts have been fuelling renovation projects across the country for the past few years. Whether it's an open-plan kitchen diner or an open plan kitchen diner and living room, it seems we're keen to open up our homes, choosing large multi-functional rooms over several smaller hideaways. And with new builds becoming increasingly smaller, open-plan is a great way to combat small boxy rooms and maximise the space we already have.
The Real Homes Show talks you though how to transform a reader's cramped-feeling home into an airy, more open plan space, but don't make any design decisions until you've read our pros and cons of this modern layout.
Pros
Let's take a look at the good things an open plan room can achieve:
1. Brings the family together
Whether you're helping the kids with homework while you're cooking, chatting to your siblings while making cocktails, or reading a magazine while watching your partner make breakfast, open-plan living creates multi-functional spaces where living and being together becomes all round easier.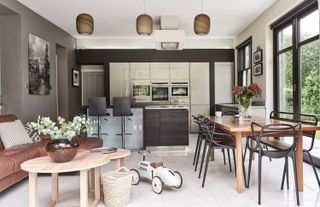 2. Great for entertaining
Fewer rooms means bigger rooms, which means more space to gather the troops and have fun. You'll have enough space to extend your dining area and feed the five thousand, so prepare for your home to be the go-to party pad, where all your family and friends can sit, eat, chat and boogie in the same room. Choose bi-folds doors and open up your home to the garden too for the ultimate summer party space.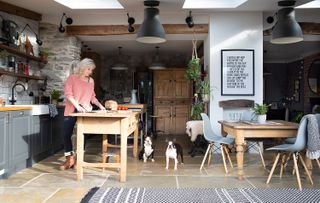 3. Brighter and lighter
The more natural light we're exposed to, the happier and more energised we feel. With less walls, there's less light-blocking barriers, meaning the natural light from your windows and rooflights can spread to more of your home, making for a more pleasant, light and airy space.
4. Adds value to your property
As the most sort after layout for all kinds of properties from family homes to one bed flats, those with an open plan layout sell for more money than those with several smaller rooms. Creating an open plan home will make your home more visually appealing, whilst being a financial investment, should you choose to sell.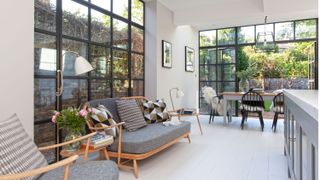 5. Easier to keep an eye on the kids
If you ever feel like you need to be in two places at once, open plan means you can bring those two places together. You can be cooking the dinner whilst ensuring your toddler doesn't start eating crayons again, you can catch up with friends whilst keeping an eye on how long your teen spends on the laptop. All in all, it can help you to be an all-seeing super parent, all while getting on with other things.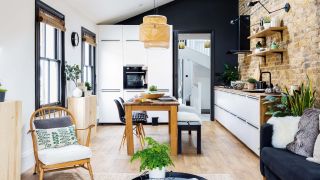 Cons
And... why wouldn't you go open plan?
1. Noise levels
A multi-functional space is all well and good, until the kids are screaming because they can't hear the TV while you're boiling the kettle, or the thunder of the dishwasher is ruining your dinner party vibes. While using rugs and fabrics can minimise noise, you may well find yourself hiding in your bedroom just to avoid the kids' singing toys.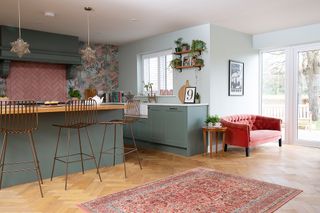 2. Messy kitchen = messy home
With no walls between living areas, you can't close the door on a messy kitchen and leave the tidying until later while you relax in a tranquil dining room. 'Out of sight, out of mind' isn't really an option, so if you're the kind of person that can't relax until everything's in order, open-plan living may be tricky for you.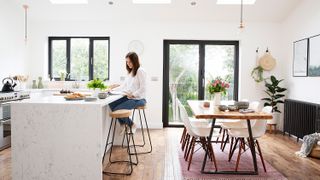 3. Lingering smells
That delicious healthy fish you relished for dinner won't be so great when you're still smelling it in the dining area as you're trying to eat your porridge the next morning. No doors mean no scent barriers, which means dispersing smells you can't escape from.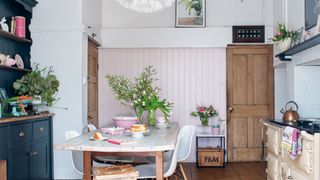 4. More costly to heat
In homes with more walls, you can heat only the rooms you're using, meaning the space gets warmer, quicker, whilst costing you less. Whereas in an open plan layout, you need to heat the entire space, so it takes longer to heat, whilst costing you more. Definitely something to bear in mind!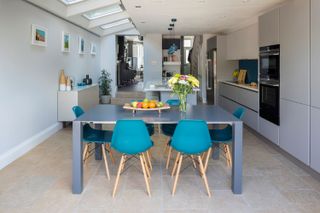 5. Less privacy
A multi functional space means lots going on at once, all in the same room, and that can become a little chaotic. If you like your privacy and enjoy being on your own, open plan could be quite overwhelming, not to mention exhausting. If the thought of having no where to go when your partner brings the rugby team home and steals your peaceful Sunday is not a pleasant one, consider keeping a snug just for you, too.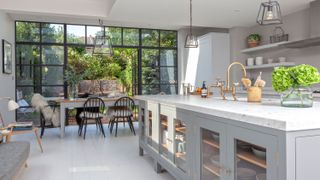 More on open plan living