Learning how to fit a desk in a small space is key for making sure you're able to carry out your hobbies or even work at home. Desks are often large, so finding the right gap for them in a smaller home or apartment can be a tricky task.
Whether you're looking for a makeshift space in your living room or want to create space out of magic in your little office, finding space for a desk is a good idea. While it can be easy to just work on the couch, some tasks are too important or just need the surface room that a desk provides.
Looking through small space decorating ideas, and think a desk is the way to go for your place? I've spoken to experts to find out how exactly to fit one into a small space, plus picked out desk buys in case you want to start building your little workspace ASAP.
How to fit a desk in a small space: 5 expert tips
Ready to get started? No matter if you're looking for small office ideas or just want your desk to fit in a particular space, these tips will help you fit your desk.
1. Fit the desk against the wall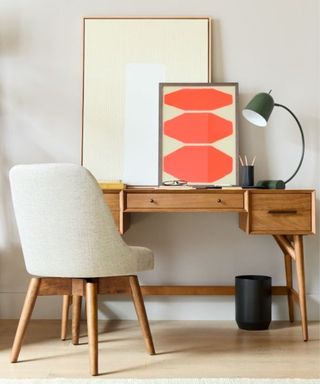 Rather than having a desk in the middle of the room, utilize as much space as possible by placing it against the wall. "Depending on the size of the desk and shape of the space, this may be the best option to leave walking space around the desk," explains Luis Carmona, owner and lead designer at VERDE Interior Design. "Having furniture pieces placed against the wall of a room can often make a small room appear bigger because you can see more available floor space." Now that's definitely a win-win.
Luis Carmona is the owner and lead designer at VERDE Interior Design. With almost two decades of experience in the creative space, Carmona gets to blend his many passions into one design studio, offering interior design and branding services to his commercial clients.
2. Go taller, not wider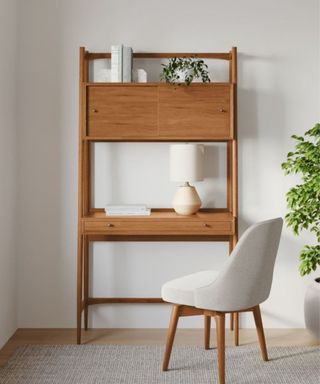 When it comes to smaller spaces, going for vertical space rather than horizontal space is always the way to go. "Having a large corporate desk spanning 5' across an office is a luxury that many with small offices do not have," explains Carmona. "Opt for a desk that is adequate but that has some height."
3. Look for a floating desk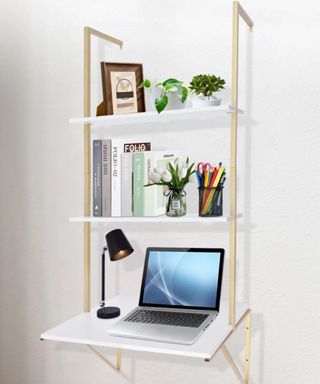 If you're able to mount your desk onto a wall, this could be another option. "A wall-mount folding desk is a great way to fit a workspace into a small area," says Samantha Polkow, founder of interior design firm Studio HB. "Just recently, we sourced a floating shelf desk that acted as a display shelf when folded for a client who needed a desk in her bedroom but didn't have the space to accommodate one."
Samantha Polkow is the founder of Studio HB, a high-end residential interior design firm in NYC. For the past decade, she have designed primary and weekend homes for busy professionals and experts in their fields.
Carmona also suggests using wall desks, as these work as a small space storage idea, shelving and even lighting in a vertical design allowing for maximum efficiency, while taking up minimal space. "They are great options for smaller offices or a space where one needs to fit multiple workstations."
4. Choose a desk with thin legs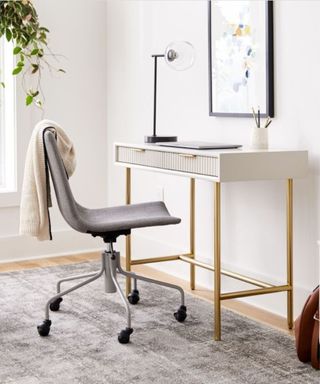 For those who want to maximize floor space in their small room, pay attention to the measurements on the desk's legs. "Desks with thin legs or minimalistic designs work wonders," says Joy Aumann, interior designer and founder of LUXURYSOCALREALTY. They're also visually less intrusive and maintain an open, airy feel in the room.
Joy Aumann is a licensed realtor, interior designer, and founder of LUXURYSOCALREALTY. She has two decades of luxury real estate and design experience staging homes
5. Opt for multifunctional furniture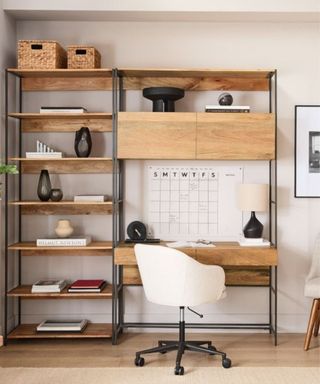 If you are dedicating a lot of space to a desk, make it work as well for you as possible by utilizing the space to the max. "For instance, integrating a desk into a shelving unit not only saves space but also provides ample storage," says Aumann. "This idea was a lifesaver in a studio apartment I worked on." The desk-bookcase combo she installed was not just a workspace, but also a place to display personal items, candles, and books, blending seamlessly with the room's overall decor.
Shop desks for small spaces
Want to pick a desk that will fit in your small space? These three buys are perfect for offices and other rooms in the home.
The prices below were correct at the time of publishing this article.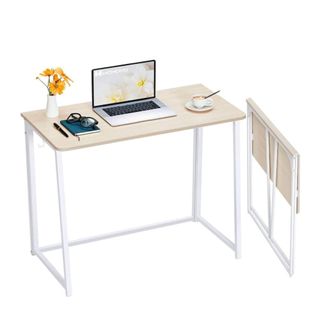 Easy to assemble
1. Wohomo Small Folding Desk
Size (in.): H29.52 x W31.5 x D15.75
Made from: Wood, steel
Price: $59.99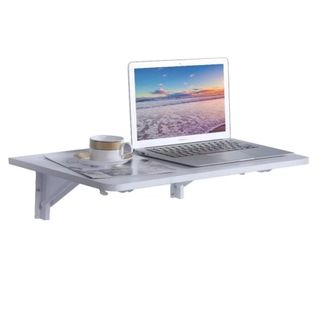 Amazon's choice
Size (in.): H6.5 x W23.6 x D15.6
Made from: Wood
Price: $39.99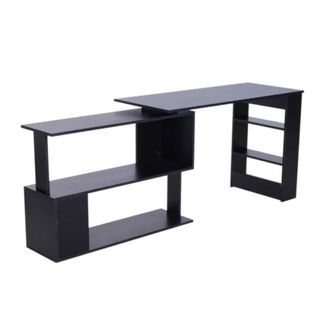 Modular
3. Ebern Designs Lengby Desk
Size (in.): H29.25 x W47.25 x D29.25
Made from: Wood
Price: $109.99
FAQs
How do you fit a desk in a room with no space?
If you are fitting a desk in a room with no space, opt for a floating wall desk instead, as this won't need to go on the floor.
Where should a desk be placed in a small room?
In a small room, a desk should be placed against a wall, so you won't need to walk around it. This also optimizes the floor space.
---
Most importantly of all when fitting a desk in a small space, be sure to measure the surroundings before you attempt to place it. This will ensure that you won't end up with a desk that you definitely can't fit in your small space.
Still shopping for your home office? If you are still furnishing it, these highly-rated small bookshelves are stylish and practical.