If you have the luxury of a little outdoor space, when summer sadly ends and when fall comes around, it's essential to ensure that your garden and entire yard is fall ready to prepare for the inevitable change in climate.
If you're into autumn gardening, a tidier yard to work with will make harvesting and planting bulbs for next year, much more enjoyable. And, if you don't have a green thumb, a more manageable outdoor space in fall will still mean less maintenance.
It's a win-win.
1. Declutter and reorganize
Whether you want to start planting for more seasonal color, or if you simply need to shut down your yard space until next spring, there is always a little sprucing to do post-summer.
Chris, green-fingered author of Garden Benchtop notes how a major part of preparing your outdoor space for fall is to keep it tidy: 'Although it feels like a chore, performing a general tidying of your garden will set your garden up for success next year.'
If you've been entertaining guests all summer long, now is the time to clean outdoor furniture before covering or storing it away to prevent weather damage. Bring any cooking equipment such as barbecues and utensils inside also, and wrap chimineas with waterproof covers. You also want to declutter and bring in any empty pots where you can so that they don't collect water or debris.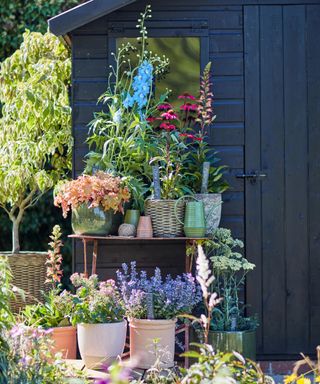 If your garden room became a home office in summer (but isn't built for winter), or if your shed is full of all sorts of DIY and miscellaneous garden tools, take a little time to have a total clear-out. Organizing the inside of sheds and greenhouses, ready for winter storage will also make it easier to find everything again in spring.
Note that greenhouses, garden rooms and sheds can all be susceptible to cooler weather also, so be sure to treat any wooden outbuildings with a weather protection wood preserver to prevent color fading or damage to the wood.
2. Keep walkways clean and clear
Sweep walkways, clean patios, decking and driveways, especially If your yard is open and surrounded by trees.
'Rake up any fallen leaves and add them to the compost pile (after you have run through the leaf piles with your kids), and deadhead those old flowers to signal to your plants it's time to go to sleep.' Notes Chris.
If you're anticipating wet weather conditions, use a leaf blower or rake to remove fallen leaves before downpours as they can create dangerous slippery surfaces and if left, they will start to rot. You can use a hard-wearing outdoor brush to sweep away leaves and bag up for compost. A pressure washer and patio cleaner can be used on decking or patios to remove any dirt build-up, mildew or algae also.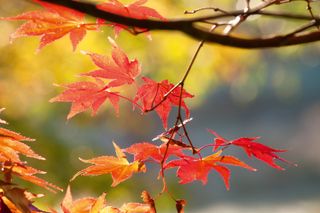 3. Tidy up spent plants
Whether you're preparing to plant flower bulbs for next spring or not, Jeremy Yamaguchi, CEO of Lawn Love says that when it comes to getting your garden ready for autumn, it's all about anticipating the winter months also.
'Fall gardening is honestly mostly about preparing for winter. You want to weed out any dead or dying plants, trim judiciously, and make room for ground coverage plants that thrive in winter like brush. This will help keep your soil nutrient rich and prevent weeds from taking over.'
According to Silvia Borges, sustainability gardener, owner and Chief Editor of EnviroMom. 'Getting your garden the right way early in the autumn is what brings better yields in the spring and eases up 80% of the work needed.' Noting how getting rid of leftover roots, plants, and leave will help improve your garden for fall.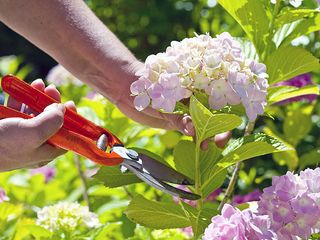 4. Plan for any future planting
If you're being really organized and resourceful, collect any late summer seeds 'Think of the Future - the best part of gardening is continuing the generational growth of your plants. Fall is the time to collect and stow away those matured seeds into diligently labeled paper envelopes or empty spice jars (for those who are super organized).' Notes Chris.
If you're growing pumpkins you'll want to keep them healthy, note they don't need a ton of water, ready for harvesting in October and otherwise, it's all about maintaining any beautiful autumn planting to keep your yard space looking lush even in the bleak mid-winter.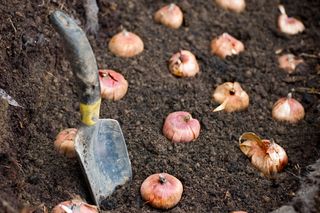 5. Prepare your lawn for reseeding
If you have a lawn, hot summer months may have done damage to the grass, and cooler weather in tandem can take its toll so if you haven't already, scarify and aerate your lawn, ready for reseeding a month or so before the first frost.
Lawn scarification is essentially raking your lawn in order to prevent the forming of thatch – which is when the dying grass basically turns into straw. Letting your lawn go to thatch can encourage moss growth and disease, and may make the grass more vulnerable during hot spells the following year, because its roots won't be deep enough.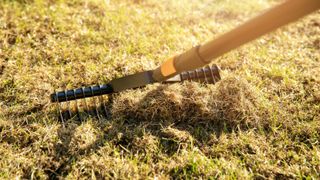 Scarifying can be tough on your lawn, so aerating it afterwards will help to replenish water, air and nutrients. Aeration helps prevent the compacting of the soil, allowing water and nutrients to penetrate properly, which is essential for strong roots. You can aerate the lawn with a garden fork: simply poke through the surface throughout the lawn.
Following that, Borges says how it's important to use a mix of natural fertilizer and nitrogen-based ones on soil: 'After aerating the soil and spreading the fertilizer over your garden don't forget to introduce it deep into the ground by running a soil mixing machine. That way, the nitrogen and soil-enriching compounds will get trapped deep into your garden until the early spring starts melting the snow. Fertilizer combined with melting snow will behave like a protein boost to your garden.'
One thing's for sure, when the weather takes a turn, being outside isn't everyone's cup of tea. If you're more of a fair-weathered gardener, rest assured that tending to your outdoor space now will mean you'll have less chores to do throughout fall and winter.