While many of us are welcoming fall with pumpkin spice lattes and scary movies, our landscapes are acknowledging the season with dying grass and wilted plantings. But as it turns out, autumn is a very important season when it comes to your yard.
A little TLC now can keep your yard and garden looking lush throughout the fall season. Plus, October is a great time to plant new bulbs for next spring. We've rounded up advice from the landscape industry's leading experts — in various parts of the country — so you can keep your plants healthy and thriving, even when the temperatures dip.
For more ideas on how to enliven your green spaces, visit the Real Gardens hub.
Fall gardening musts in the Southeast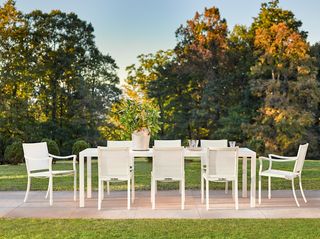 Based in Richmond, VA, Ann and Will Massie, the brother-sister team behind luxury outdoor furniture brand McKinnon and Harris know a little bit about alfresco living. The biggest challenge for southerners in the fall, Will admits, is grass.
"My lawn is looking its worst at the end of a hot and dry summer," he says. "I've just aerated, seeded, and top-dressed my lawn with composted mushrooms." According to the expert, the vegetable makes for a great organic, slow-release fertilizer. Early fall is an optimal time to plant new grass seed, he adds, as well as order spring bulbs to plant for November.
Will recommends Muscari Armeniacum, Blue Jacket Hyacinths, and Maureen Tulips in southern states. Additionally, he says to plant spring bulbs in pots so they can be moved to anywhere in the garden when the time is right.
Meanwhile, Anne likes to take this time of year to look after her garden tools. "I have all sorts of pruning tools, and fall is not a time when I would use them," she says. "I sharpen my loppers, pruning shears, and clippers with a sharpening stone...it's not glamorous work, but come spring I am so happy when I reach for my tools and they are all ready to go."
Anne also advises planting or transplanting peonies in autumn months. "They don't look like much in the fall, but if you need to transplant or plant, it's the very best time to get them situated so they are free to do their thing in the spring," she adds.
Fall gardening musts on the West Coast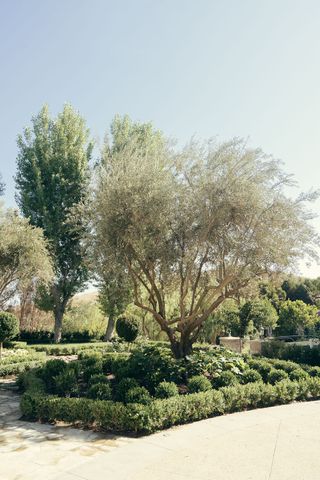 Free from harsh winters, West Coast dwellers can keep their gardens going through the cool season with a little extra care, says California's Trilling Landscape Design & Build's Heather Trilling.
In the fall, she recommends cleaning out summer vegetables and planting varieties that can thrive in cooler weather, including radishes, broccoli, brussels sprouts, turnips, collard greens, lettuce, and spinach.
Trilling also says this is an optimal time to plant trees, since the milder weather can help roots establish. You'll also want to mulch and aerate your soil as well as adjust irrigation and lighting timers.
Finally, look forward to the spring. "Start ordering the spring bulbs you are hoping to see in your garden/yard," she says. Her recommendations for the West Coast include: pansies and violas, sweet peas, and sweet alyssum.
Fall gardening care in the in the Northeast and Midwest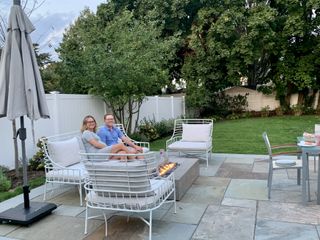 In the Northeast, Midwest and other climates that experience chilly falls and harsh winters, you might expect to see a dead, drab landscape until spring. Not so, say the experts at Connecticut-based landscape architectural firm Wesley Stout Associates. "We design our landscapes so they have seasonal interest throughout the year," offers Senior Associate Thomas Cross.
He recommends evergreen trees and shrubs like Hollies, Yews, Spruce, and Fir as well as deciduous trees and shrubs that boast interesting or colorful bark. Think Birch, Paperbark Maple, and Red Twig Dogwood. Winterberry, Inkberry, and Witch Hazel are all shrubs that have winter berries or flowers for color even in cold months.
You can also plant bulbs in the fall that will thrive through autumn and winter. Project Designer Elisa Miret-Pollino loves the glowing orange berries seen on Hypericum 'Magical Pumpkin' in the fall. She also calls Goldenrod "the earth's way of saying fall is on the way." Fall Asters, Anemones, Golden Flame Spirea, Heleniums, and ornamental grasses are all other great options for the season.
For the winter, Miret-Pollino says Boxwoods are great for their form and framework, especially in snow. "Winterberry with its red or orange berries against a backdrop of snow is another sight for those long cold periods in the winter," she offers adding, "and they're a great food source for the birds."
Finally, Cross says northeasterners can extend the months of outdoor living with some smart installations. "Fire pits are one of the most popular outdoor features that can help extend the seasons," he says. "We have also been using louvered pergola systems with drop-down screens that can mechanically open and close depending on the weather."
Read more: