While there's no correlation between small bathroom design mistakes and nightmares, don't be surprised if that over-crowded vanity or excessively dark paint color keeps you up at night.
Space might be limited, but there's ample opportunity to make stylistic faux pas in an itty, bitty W.C. Fortunately, designers and interior experts are on hand to lead you in the right direction.
As you work on transforming your abode and brainstorming small bathroom ideas, pay attention to the red flags that are sure to send experts (and dwellers) into a tizzy. After all, you want a good night's sleep, don't you?
8 small bathroom design mistakes, according to the pros
While we encourage you to follow your heart's desire, there are a few problematic situations that could make a small bathroom feel smaller. Here's what the pros insist you shouldn't do.
1. Using the wrong colors or materials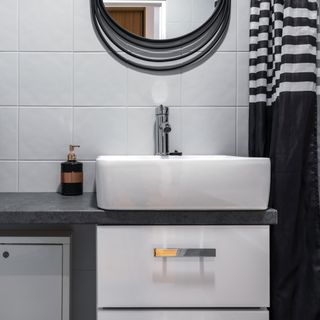 Look, we go gaga for burgundy whenever there's a slight chill in the air, and our wardrobe is essentially a giant charcoal-colored blob of fabric. However, that doesn't mean your bathroom should have floor-to-ceiling deep hues.
"Opting for darker materials can inject a playful touch into a small bathroom, however, it's imperative to exercise caution," says designer Erica Davis of Eralyn Interiors. "Selecting non-reflective materials may inadvertently create an illusion of reduced space."
If you paint an entire small bathroom a dark color, there is a good chance you'll feel cramped, so introduce those moodier shades minimally but stylishly, like through your small bathroom must-have accessories or with a statement wall. It's all about brightening up that small bathroom, folks!
Erica and her mother Laurie Davis are co-founders of Eralyn Interiors. The two luxury interior designers support professionals in designing their forever family homes that are livable, functional , and elevated.
2. Using an ill-fitting door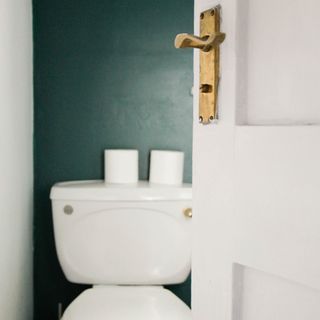 Obviously privacy is of the utmost importance in the W.C., so you can't have a door that doesn't stay shut or knocks into the vanity every time you open it.
"You want to make sure there is room for a door to shut properly for privacy," says designer Chantelle Hartman Malarkey. "If it is such a small space a swing door doesn't work, consider a sliding door like a barn door."
Chantelle Hartman Malarkey, a.k.a. the Lifestyle Alchemist, is an interior designer, photographer, home chef, hosting expert, and blogger who shares ideas about family travel hacks, beauty must-haves, delicious recipes, among other topics, with her followers.
3. Storing goods improperly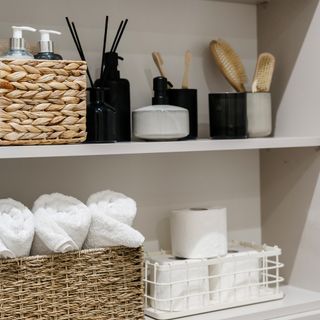 There are plenty of ways to declutter a small bathroom, so don't just opt to put everything in one spot. Think of storage opportunities as another way to accentuate the space and keep your goods in check.
"Expand your storage beyond the vanity by exploring alternative solutions, like incorporating a stylish basket near the shower area," Davis says.
Tufted embroidery
Cloud Island Storage Basket
Price: $24.99
Dimensions (in.): D12 x W12 x H11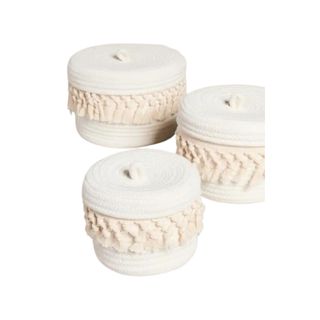 Set of Three
Shiraleah Round Dharma Organizer Baskets
Price: Was $57, now $42.75
Dimensions (in.): H4.75 x D5.5, H5.5 x D7.5, H6 x D9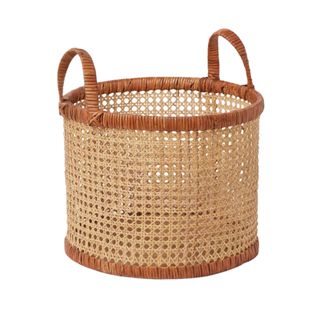 20% off
Price: Was $49.99, now $39.99
Dimensions (in.): D12 x W12 x H11
4. Overdecorating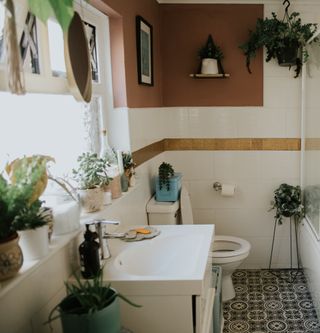 We love our tchotchkes just as much as the next person, but you'll notice in a small bathroom that "more" doesn't always mean "better." In fact, additional items can cause clutter and lead to confusion, especially when toiletries start piling up and empty shampoo bottles don't end up in the recycling bin.
"Declutter and aim for a minimalist look," recommends designer Artem Kropovinsky. "Keep decorations minimal."
Artem Kropovinsky is an interior design expert and founder of Arsight, an award-winning interior design studio based in New York.
5. Overcrowding the floorspace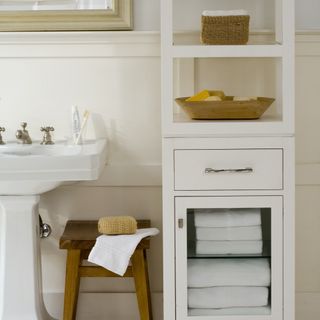 Sometimes extra add-ons are necessary when you run out of space, but be careful not to make walking a challenge—a non-negotiable rule for a small bathroom.
"Avoid adding furniture like dry sinks, cabinets, or other storage with a large footprint that will overcrowd the space," says home improvement specialist Joshua Bartlett.
As a homeowner, you want to create a space that is comfortable, functional, and reflects your personal style. I'll Just Fix It Myself is dedicated to helping you achieve just that with expert advice, tips, and tutorials on all things home improvement, DIY projects, and home maintenance.
6. Underutilizing vertical space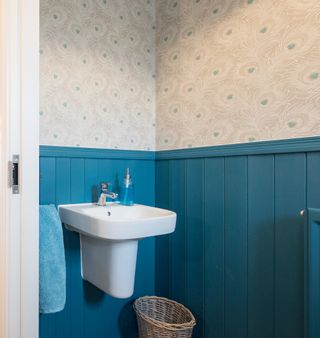 Speaking of floorspace, we'd be remiss not to talk about the walls. They're arguably the most overlooked area for storage and design alike in a small bathroom. Opting for a floating cabinet is an opportunity to minimize traction on the floor, provide a place for essentials, and allow you a place to show off your style. (Snake plant, anyone?)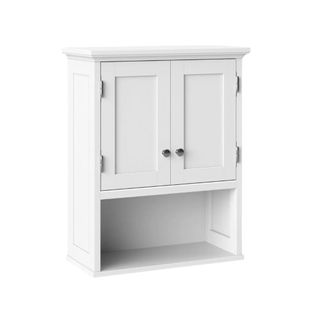 Farmhouse style
Threshold Wood Wall Cabinet
Price: $90
Dimensions (in.): D9.75 x W21.5 x H25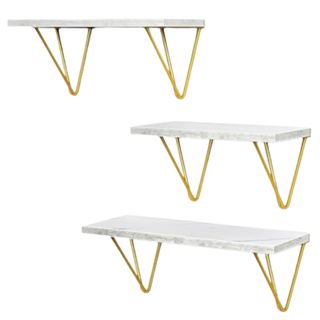 Glam
Everly Quinn Floating Shelves
Price: Was $33.99, now $27.99
Dimensions (in.): D6.1 x W11.41 x H6.1, D6.1 x W13.77 x H6.1, D15.74 x W6.1 x H6.1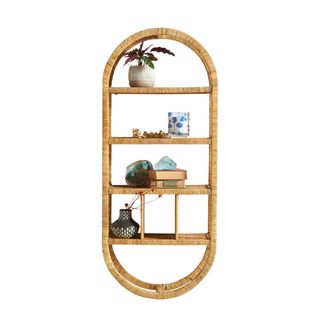 13.25 lbs./shelf
Selena Rattan Shelving Unit
Price: $248
Dimensions (in.): H42.25 x W17.75
7. Settling for bad lighting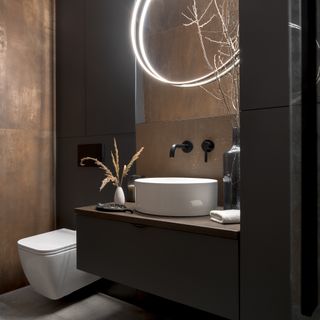 You can't be expected to style your hair in a dark room, nor can you get ready for work on the daily when lighting is overly harsh. It's important to keep the zen vibes flowing, even if that means bringing in an extra mirror or switching to LED lightbulbs.
"Lighting also helps the room appear brighter and lighter which in turn makes it feel bigger," Hartman Malarkey notes. "Natural lighting is also great for applying makeup and achieving a natural look."
8. Ignoring it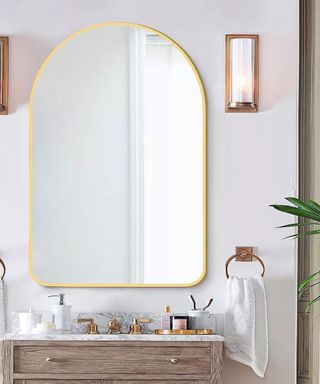 Perhaps the biggest small bathroom design mistake of them all would be ignoring the room entirely, thinking it doesn't have equal style importance compared to the rest of your abode. We'll be the first to disagree.
"Do not treat the bathroom as if it were not a room in the house by excluding it from the design just because it is small," says Marzia Dainelli, CEO and interior designer at Dainelli Studio. "Propose and study solutions that make it as livable and part of the design as the other rooms."
Marzia Dainelli is the CEO and interior designer at Dainelli Studio, a Milan-based architecture firm with a dual soul: product and interior design.
FAQs
What not to do in a small bathroom: are there design rules to avoid?
If you're curious what not to do in a small bathroom, the first rule is simple: don't be unorganized and messy. This will only make things feel crowded and overwhelming. Don't paint the walls an overwhelming dark color, as this could make the room seem smaller than it actually is. You should be paying attention to the floor and the walls: make sure there's not too much crowding the floor so that it's difficult to walk; whatever you don't need to put on the floor, opt for vertical decor and/or storage.
What color makes a small bathroom look bigger?
A small bathroom will look bigger with light, airy, and neutral tones. As much as dark and moody shades might look nice, they have the potential to make your space seem cramped.
---
So you've nailed the designing part. Now what? Follow expert-backed small bathroom feng shui tips (and steer clear of small bathroom feng shui mistakes) to keep the chi flowing smoothly.