If you like the idea of planning an extension that's designed to maximise natural light, a glass box extension, orangery or conservatory are options worth considering, depending on the style of your property.
Our clever design tips and tricks are here to help ensure that your space feels as large and light as possible, covering everything from roof lanterns that raise ceiling height to contemporary slim-frame windows and tips for keeping a light-filled extension cool in the summer.
1. Decide whether you want your design to match your home's aesthetic
There are a couple of options available when designing a glass extension; either a classic style that matches your home's aesthetic or a design that dramatically contrasts with the building, adding interest and individuality to the architecture.
Listed or period properties suit an orangery-style design, which is often sympathetic to their original features. This said, modern glass extensions are a popular option for extending a terraced house. Take a look at our gallery of striking glass extensions for inspiration.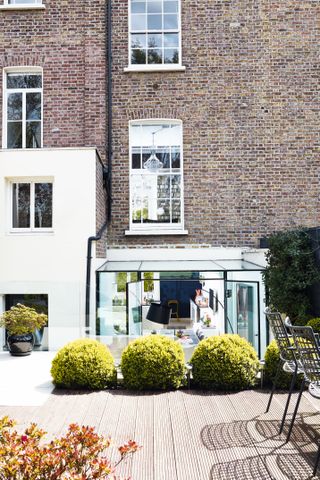 2. Use roof lanterns to raise ceiling heights
If you've inherited a flat roof extension from a former owner, adding a roof lantern is the best option for raising the height of your ceiling while making your space feel larger and lighter.
3. Consider the visual impact your design will have from the indoors
In addition to thinking about how much light you'll be gaining, it's important to think about what effect your windows will create visually from the indoors. For example, evenly-spaced windows will be more pleasing than unevenly-spaced ones, while slimmer frames will be less obtrusive than chunkier ones.
4. Create a contemporary look with slim-framed glass
If you've opted for a contemporary glass extension, either to tie in with the modern style of your home or to contrast a period property, it's worth considering slim-framed expanses of glass that will give uninterrupted views of the sky. This is also a great option for maximising light.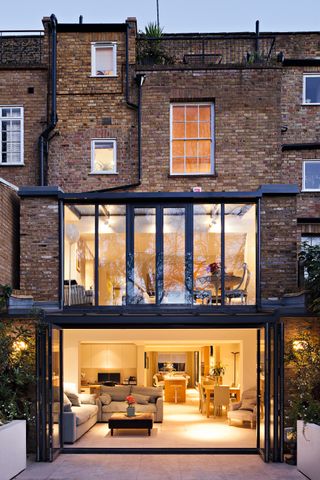 5. Invest in remote control fittings
Even with solar-control coatings, heat can build up in a room with a lot of glazing. With this in mind, it's worth ensuring that your windows are fitted with remote control fittings that allow you to open and close them easily.
Looking for more glass extension advice?