After stepping off a flight from Spain, Ellie and Adam received a voicemail message from an estate agent that instantly banished their post-holiday blues. The house they'd missed out on after a bidding war was unexpectedly back on the market.
'We'd sold our house and were planning to move in with my mother-in-law as we hadn't found another place yet,' says Ellie. 'So I phoned the agent straight away.'
Profile
The owners Ellie Tildesley, a visual merchandiser, and her husband, Adam, a water quality scientist, live here with their children, Arlo, six, and Murray, four, and cat Mindy.
The property A four-bedroom, early 1940s detached house in Bradninch, near Exeter, Devon.
Project cost £45,000 for building work and interior fit out.
The detached 1940s house in the Devonshire village of Brandninch had originally been £75,000 over their £350,000 budget, but it came on their radar when the price was slashed.
'It was a rough diamond – a solid house constructed by local builders with bay windows at the back and potential to extend,' says Ellie. 'For most people, the dated carpets, pink Artex and woodchip would have made their toes curl, but it got me massively excited.'
Looking for more inspiration? Browse our real home transformations. Read our guide on renovating a house, too, for more guidance.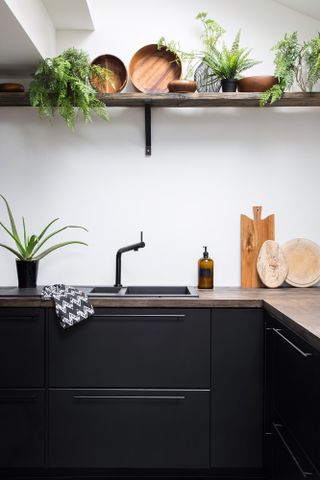 After completing the sale in August 2016, the family stayed with Adam's mum for several weeks while the house was rewired and the Artex checked for asbestos. Starting on the first floor, they began ripping out carpets and fireplaces, sanding floors, replacing radiators and having walls re-skimmed room by room.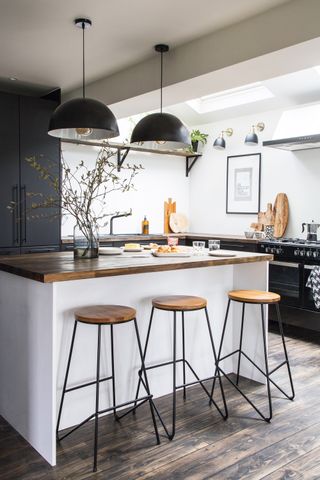 With a tight budget, it was Ikea all the way in the redesigned kitchen. 'Luckily they had a simple, matt black finish that I really liked. We only spent £2,000 on the kitchen, island and utility, and I fitted it all myself,' says Ellie. The nifty island is made from two 80cm drawer units, MDF panels, and a wood worktop. 'It has plenty of storage, which means we don't need wall cupboards,' says Ellie. 'I prefer the space to look open and streamlined.'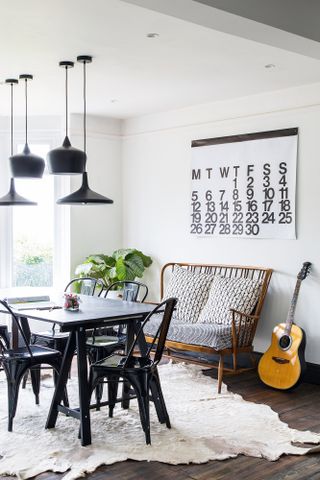 Her favourite aspect is the cleverly customised breakfast cupboard next to the fridge-freezer which keeps small appliances off the worktops. 'The 80cm wide cabinet wasn't deep enough. Instead we used two 40cm by 60cm cabinets side by side and cut through the dividing panel to fit the width of the microwave,' she explains.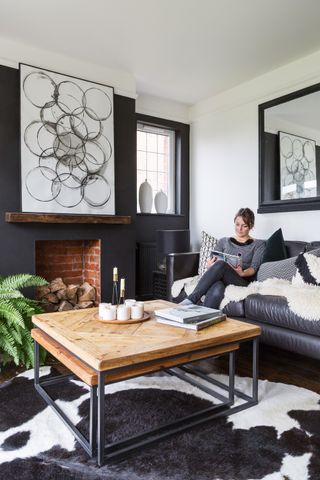 A game changer has been adding French doors to both reception rooms, as there was previously no direct access to the garden, and extending the kitchen by a couple of metres at the side.
'My mum suggested it,' laughs Ellie. 'The extension has almost doubled the size of the kitchen and given us a utility room, all within permitted development limits.'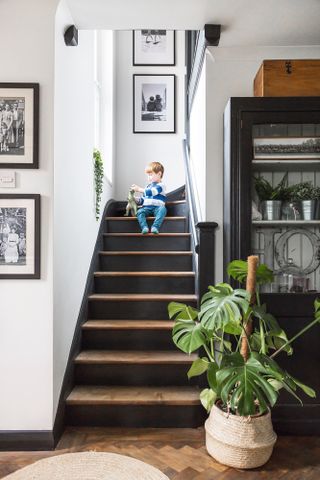 Although the spacious landing was a big selling point, Ellie felt an en suite was more important, so they transformed a small toilet into a shower room by stealing space from the landing and master bedroom.
Since the main bathroom was stripped back to an empty shell during the first fix, the en suite proved invaluable in the meantime. 'The bath was removed to install a waste pipe for our future toilet, and the water tank was taken out in readiness for a new boiler,' says Ellie. 'So it made sense to just rip everything out until we have more money to redo it.'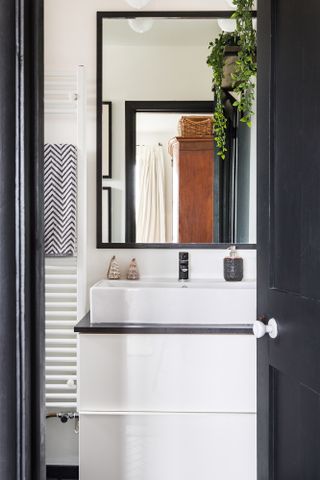 More from Real Homes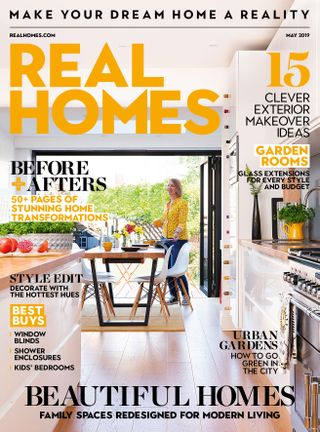 Get inspiration, ideas and advice straight to your door every month with a magazine subscription
Throughout the project, the couple relentlessly tried to keep down costs. They reused the old kitchen door in the new utility room, put down a planed square edge (PSE) timber floor in the kitchen instead of engineered oak, and bought ex-display white goods. 'With integrated kit such as fridge-freezers and dishwashers, as long as they are in good working order, it doesn't matter if they're aesthetically damaged,' says Adam.
Ellie's even utilised her degree in Fine Art to create her own abstract artwork and has made a dining table from a plywood sheet and two Ikea tressel legs.
Surprisingly, the stylish monochrome look wasn't entirely planned, and is a major departure from the couple's previous home, which had a softer, feminine feel with a sage green painted kitchen and putty walls.
'It started after I tried grey woodwork in our bedroom and it didn't look punchy enough with the black fireplace,' says Ellie. 'Now I've always got a black paint brush or spray can in my hand.'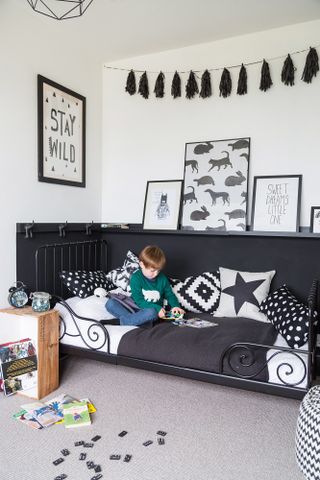 While there's still work to complete, including turning a cupboard into a proper larder, decorating the ground floor bedroom and adding a P-shaped shower bath to the bathroom, the pair are enjoying a breather before the final push.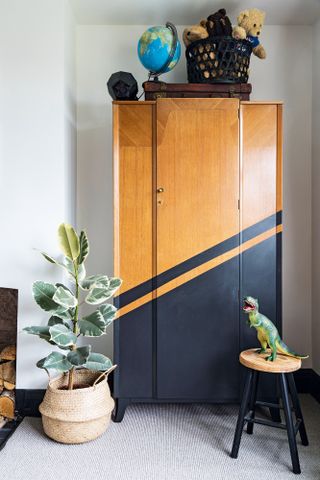 'I love how Ellie's vision has paid off,' says Adam. 'It looks contemporary, unique and homely. It feels like it's been a long journey, and there's still more to go, but at least we aren't living on a building site now.'
Contacts
More ideas and advice