Learning how to clean quartz countertops is essential for keeping them pristine. While many people go for quartz because it's more low-maintenance than natural granite or marble – it still needs a bit of sprucing to keep stains and spills at bay.
You may be surprised to hear that the best cleaning products for this material might be found in your food pantry rather than under the kitchen sink, or in your cleansing closet. What's more, it's super easy to apply.
Caring for quartz countertops is so simple that you may need to learn more about what not to use to avoid overdoing it. In most cases, you'll only have to clean it with a few natural, chemical-free cleaners which you can find in your store cupboard. By taking this approach, and using the best eco-friendly cleaning products where possible, you can keep your family away from toxic detergents and save the planet at the same time – go you!
How to clean quartz countertops
Fortunately, if you're researching how to clean countertops, you'll be pleased to discover that quartz is probably the easiest type of countertop to bring back to a good-as-new condition. Follow a few simple rules and your quartz kitchen worktop will be bright and shiny once more.
How to clean and maintain quartz countertops
Quick care tips for quartz
To keep your quartz countertops in tip-top condition get yourself into a daily routine. You should wipe crumbs and dust off the surface everyday with a damp cloth or paper towel. The best cloth to use is a microfiber version which is kind to the quartz surface.
If you want to use a cleaner on the quartz surface, you can use a mild dish soap solution. Don't use too much, though. A few drops in warm water will suffice. You can opt for a general household cleaner instead, but do make sure it's a gentle, pH-balanced product (that's neither too acidic or too alkaline).
The only exception to the this rule is Soft Scrub with Bleach Cleaner Gel, 28.6 Fluid Ounces, which you can find on Amazon which Jon Stanley, VP marketing at Caesarstone UK & EMEA says is suitable to use quartz surfaces.
He says: 'To remove fingerprints, coffee rings and water marks, give your surface a more thorough clean with a non-abrasive household cleaner like Soft Scrub Liquid Gel, a smooth cleansing cream or gentle household bleach. Apply cleaner to damp cloth or sponge, wipe, and dry with paper towel.'
Joyce French, cleaning expert Homehow, explains that: 'As a basic quartz cleaner, for daily use, washing up liquid mixed with warm water is strong enough to keep quartz clean yet gentle enough to avoid stripping discoloring your countertop.'
We spoke to Jason Quint, owner of Florida-based Signature Kitchens. Quint is adamant that 'since quartz is a non-porous material nothing should be penetrating the surface so in reality, all you should need to use is warm soap and water (just like the manufacturer says).'
Quint doesn't recommend any strong chemical cleaners: 'honestly, they aren't required. Companies will market products that make it seem like you need this special formula to clean something when in fact regular soap works just as well at a fraction of the cost.'
How to clean up spills from a quartz countertop
Spills aren't as catastrophic for quartz as they are for natural stone countertops made from marble, for example. Still, don't wait until the next time you clean the kitchen and wipe the spill as soon as you've noticed it. Although it's unlikely that it will penetrate, you could still end up with a stain. A microfiber cloth (that you can buy on Amazon) is best as it will absorb all of the spill, but kitchen towels will also be OK.
'Spilled oil, vinegar, soy sauce, curry, turmeric powder, red wine, food coloring, makeup, ink, permanent markers and metal marks from keys are not an issue on your Caesarstone,' says Stanley.
'Gently add a cleanser with oxalic acid to a non-abrasive sponge and wipe. Remember to rinse and wipe dry.'
'For blood, candle wax, glue from adhesives, hard water deposits and oil, apply a mild degreaser on the surface and let sit a few minutes, then wipe with a clean damp cloth. Wipe dry.'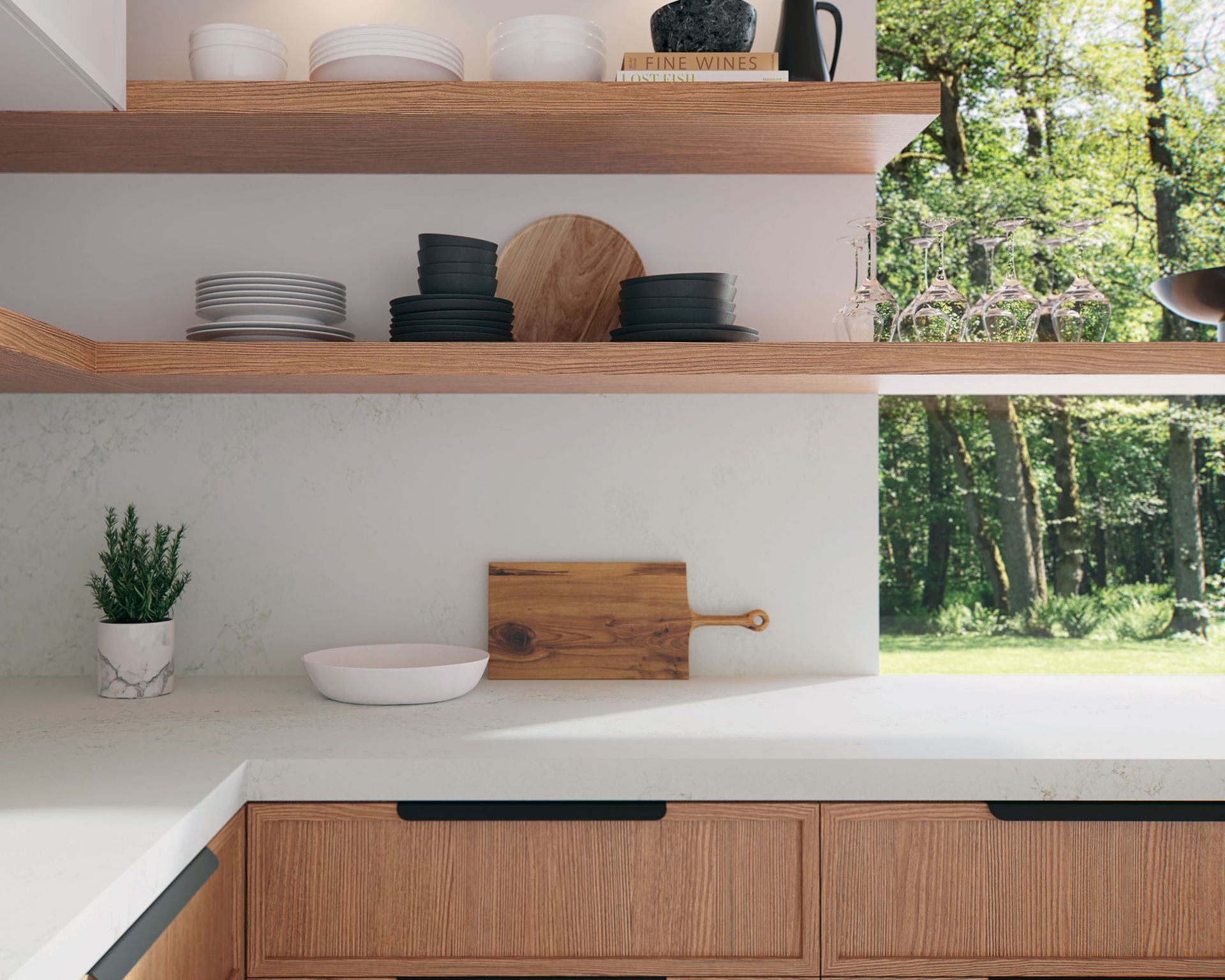 How to get rid of a stain or mark on a quartz countertop
Grease is a common cause of marks, but you can remove it from quartz countertops. Get yourself some household kitchen cleaner suitable for quartz (see above for more guidelines) and apply with a non-scratch cleaning pad. Rinse straightaway.
If there's a stain that's proving hard to remove, you can call on the same product help. This time leave the cleaner in contact with the stained area for a couple of minutes then work on it with a non-scratch pad. Again, make sure you rinse thoroughly.
When something you spilled is proving hard to get rid of, use a mild dish soap solution and a non-scratch pad. Rinse with warm water when you've finished. If this doesn't do the trick, it's time for household cleaners as above. Always work on the stain with a non-scratch pad and rinse thoroughly.
Spilled something that's dried on to the countertop? Food, paint or, er, gum can be scraped off using a plastic scraper. Here are the caveats: go gently and hold the scraper at an angle so you're working on the debris and you don't scratch the surface.
Can you use vinegar on a quartz countertop?
Live in a hard water area? If limescale is spoiling the appearance of a quartz countertop, you can call on the old favorite to get rid of it. Yup, get the white vinegar out of the store cupboard along with that other trusty remedy, baking soda.
How to clean with vinegar in this case? Make up a paste with equal parts of vinegar and baking soda and apply to the surface and leave for 10 minutes or so. Remove the paste with cold water on a microfiber cloth. Bear in mind that you might need to repeat this process if the hard water staining is stubborn.
If you haven't got any acetic acid to hand – don't worry, as you can just clean with baking soda. French says: 'Mix baking soda and water to form a paste. Using a soft cloth, dab the paste onto stained areas and leave the solution to sit for around five minutes, rinse the cloth with warm water to wipe away any residue.'
What shouldn't you use on a quartz countertop?
Quartz countertops are easy to look after, but there are some things you shouldn't use on them if you want to keep them in their original condition.
Don't ever use abrasive cloths or scourers, steel wool, pumice stone or a stiff brush on a quartz countertop. They can damage the surface and make it lose its sheen. OK, you won't make it unusable as quartz is a durable surface, but it won't look as good. We've already mentioned using a microfiber cloth and that's because it's soft and won't harm the quartz surface, but will still do an effective job.
Aside from scratchy sponges and wiry wipers, it should go without saying that you should never chop food directly on your clean quartz countertops. Instead, invest in a quality chopping or cutting board to avoid scratching, denting and damaging your expensive worktop.
Make sure you don't use harsh cleaners on the surface, either. We're talking about products like bleach or oven cleaner.
'Harsh chemicals and cleaners (ex. oven/grill cleaners, toilet cleaners, and dishwasher polishing agents) can irritate the surface and damage the sheen of your countertop. Trichlorethane or methylene chlorides, such as paint removers or strippers, are also chemicals to avoid.' says Stanley.
Some quartz suppliers recommend products such as Formula 409 and Windex (both available on Amazon) to clean grease and stains off quartz. Do check your manufacturer's guidance on this, however, as using a product it doesn't recommend could invalidate your warranty.
Can you use Clorox wipes on quartz countertops?
The jury's out for this one, as we've got two conflicting answers from the experts. While Stanley says that Clorox wipes and Lysol Disinfectant Spray (both available on Amazon), are safe to use on their products, French warns against using them on your worktop.
She says: 'No, any type of disinfecting wipe should not be used on quartz countertops. The reason you can't is because Clorox or disinfectant wipes contain citric acid and are not diluted, resulting in weakening of the seal on the counter's surface and causing discoloration.'
If you do have a Caesarstone-branded countertop you should be safe enough in the brand's promise that you won't nullify your warranty, but if you've bought yours from somewhere else, it's best to check with your manufacturer, just to make sure you don't damage a delicate surface.
How to bring the sheen back to a quartz countertop
If your quartz countertop has lost its luster, this could be due to build-up on the surface. If you haven't been using mild dish soap to clean it, now's the time to try this remedy as it could bring the shine back by banishing grease.
The problem could also be caused by a build-up of cleaning products. If that's the case, a specialist stone cleaning product that is designed for use on quartz as well is the one to go for.
How to clean a honed quartz countertop
If your quartz countertop is honed (i.e. matt), you'll need to watch out for stains a bit more. Honed surfaces are always more prone to staining. Perry Valentine works with crystals and minerals at At Perry's and reminds owners of quartz countertops not to use 'any abrasive substances such as lemon, vinegar, or ammonia as it may cause your countertop to discolor.' A soft cloth, water, and soap is all you will need.
However, for really tough stains, Valentine recommends Scotch Brite scrubbers – just be careful to use them sparingly, only on the affected area.
Can I use a magic eraser to clean a quartz countertop?
This is a very firm 'no.' Quint warns kitchen owners that 'using a magic eraser on a quartz countertop is one of the worst things you can do and will very likely ruin your beautiful (and expensive) quartz countertops!' The reason is that 'one of the ingredients in magic erasers is actually finely ground quartz crystals and rubbing quartz on quartz you can and will scratch your countertop.'
You may read about magic erasers used on quartz countertops online, but Quint says that the advice never to use magic erasers on quartz 'comes directly from our manufacturer training sessions by the people that make the quartz countertops rather than some random person on the internet.' So, keep that magic eraser for cleaning your bathroom tiles and grout.