If you're wanting to know how to clean a microfiber couch – take a seat and listen up. You might be more familiar with using microfiber to clean other surfaces, but what do you do if you have a sofa made of this synthetic material?

Microfiber couches are perfect for both renters and homeowners. Some of the best sofas made from this material are made from polyester/polyamide mix, which means that they're super affordable and built to last in busy family environments.
But, despite their durable properties, they're not invincible, so if you're looking for ways to lift crushed cookies, trodden-in dirt and liquid accidents of all sorts, let us (and the furniture experts) guide you through the process of how to clean a couch of this caliber.
It's helpful to know what microfiber is, and why it's used to make settees, so we spoke to one furniture expert who reviewed the functionality of this material in a family home.
'Microfiber is made with synthetic fibers like polyester or polyamides. The fibers are finer than silk, and they can be knit or woven into a piece of fabric. Since the fibers are so small, the weaves can be much tighter, which has two advantages.' explains Amber Dunford, lead stylist, Overstock.
'First, less dust or other allergens can sink into and through the fabric, making your furniture more hypoallergenic. Second, the tight weave means liquid spills will bead up on the surface of the fabric instead of immediately soaking into the fibers, which gives you a short window of time to dry up the liquid before it stains.'
How to clean a microfiber couch
'Use undiluted rubbing alcohol to clean a microfiber couch that features an "S" care tag,' says Sarah Fishburne, Director of Trend and Design, The Home Depot.

'If the microfiber couch fabric has a "W" tag, make a cleaning solution of a quart of warm water and a tablespoon of mild, clear dish soap in a spray bottle.'
If you've run out of liquid detergent to wash your dishes, use this opportunity to take a look at the best washing-up liquids to clean your couch (and your dishes after!)
You will need:
How to:
1. Collect surface dirt first
Before you settle that stain, you'll want to remove any dirt or debris off of your sofa first. Food or debris from the outside can get ground into the sofa fibers so it's best to get rid of these if you don't fancy cleaning a microfiber couch more than once.
The ideal tool for this job is your best handheld vacuum cleaner as you can get right into the nooks, crannies and crevices of your couch. If your settee smells a little funky, you can do some homework the night before and clean with baking soda to eliminate any odors. This eco-friendly cleaning product is one of many ways to spring clean your home naturally without any toxic products.
2. Pour the rubbing alcohol into a small spray bottle
You can carry out this step over the kitchen sink or bathroom basin to make sure any accidental spills can be rinsed away immediately to avoid a strong smell from lingering in your home. You're also less likely to damage any furniture or valuable items this way.
3. Test an small, inconspicuous area
'Cleaning solutions can be unpredictable on fabrics like microfiber. Never clean large swatches of fabric without first testing the cleaner on a small, inconspicuous area,' says Fishburne
'Spray the intended cleaning solution on a one-inch square on the lower back or bottom of the furniture. Blot lightly to see if any color transfers. Let the patch dry completely to see if it causes fading.'
4. If all good, spray the affected area
Use the spray nozzle to apply the alcohol. You want to wet the stain, but you shouldn't oversaturate it with loads of product. Keep the bottle between 3-6 inches away from the stain to make sure you're distributing a light mist at a time.
5. Rub the stain
Using the white washcloth, rub the stain with the white cloth in circular motions until it lifts. The cloth needs to be white, light-colored or undyed as the rubbing alcohol could lift the dye from the cloth onto your sofa.
Plus, with a white cloth you'll be able to clearly see the muck transfer from one textile surface to another which is super satisfying.
6. Let the spot air dry completely
Be patient with this step, and don't be tempted to use your hairdryer or best fan on full blast to speed up the process.
7. Soften the fabric fibers before you sit
Using the scrubber side of your sponge or medium-bristled brush, gently apply sweeping motions to soften the fabric fibers. If you're like us, you'll want to smooth down the fibers in the direction of the nap so that all of the pile sits neatly.
Follow Home Depot's step-by-step video
If you learn by watching, rather than reading through instructions – this video is sure to be beneficial to you when cleaning a microfiber couch.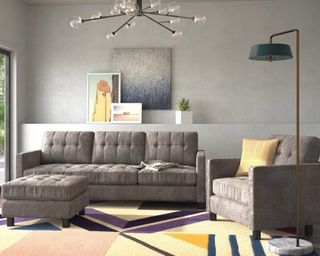 Is microfiber stain proof?
'Microfiber is highly water resistant, but it's not completely immune to stains,' says Dunford.
'The especially tight weave of microfiber causes any liquids to bead up and sit on the surface of the fiber for a short time instead of soaking right into the fabric. If you can clean up the liquid before it soaks into the fabric, it will be as if nothing ever spilled on your furniture.'
Is it easy to clean microfiber couch?
'Microfiber is relatively easier to clean than other plush fabrics,' says Andres Hinostroza, co-founder, Joybird.
'In fact, it's so stain-resistant that if you spill something on your microfiber furniture, it can be clean and dry within a few hours. A lot of people, however, don't know the best way to clean their microfiber furniture. But, if you clean microfiber correctly, it will last for years.'
What products can I use to clean a microfiber couch?
The best cleaning supplies for one type of upholstered sofa might ruin another fabric seat so it's best to do your due diligence first and check any care tags first. Upholstery cleaners vary in strength on the PH scale (the rating of how acidic or alkaline a solution is) and products on either end of the spectrum can do more harm than good to your cloth furniture.
'Microfiber varies in its care requirements' explains Fishburne.
'Carefully read labels before purchasing a  furniture cleaner to be sure it will work on your type of microfiber. Before you clean, always check the furniture care tag. Each tag is required to carry a code that indicates how the fabric must be cleaned.'
"W" indicates that only a water-based cleaner has to be used on the fabric.
"S" requires solvent-based cleaners only.
"S-W" means either water-based or solvent-based cleaner is fine for use. 
"X" means neither type of cleaner can be used - only dry cleaning methods such as brushing or vacuuming can be applied.
If there is no care tag on the piece of furniture, in most cases, it is fine to assume a solvent-based cleaner will be safe.