Gone OTT in the cleaning aisle? You need these dishwasher tablet hacks. We're all familiar with the mighty power that these teeny tabs have when cleaning our crockery and cutlery, but did you know that they can be used elsewhere?
There are hundreds of cleaning hacks out there, but we've been particularly impressed by all the uses that can come from one little tab. And, if these kitchen staples are being used to clean every room in the home, bulk buying certainly has its benefits once you have allocated enough for use in your dishwasher.
We're not asking you to stockpile to the point that you sacrifice crucial cupboard space. In fact, we're encouraging you to use just one product to clean your appliances, upholstery, and even your backyard furniture. So whether you opt for solid dishwasher tablets, soft and squishy multi-colored pouches, or an eco-friendly option, make them work harder around the home, and scale down that packed under-the-sink space once and for all.
These dishwasher tablet cleaning hacks can compete against all of your current cleaning favorites, saving you money, time spent at the shops, and storage. Win, win, win!
1. Clean your toilet
Cleaning a toilet is not exactly our idea of fun, but considering what the bathroom is used for, it's essential that you give your toilet seat and bowl more than just a wipe-down.

"Drop a 3-in-1 dishwashing tablet in your toilet, and leave for as long as possible (minimum 30 minutes)," says Lindsey Davis, ecommerce content director. "Then, use your toilet brush to remove any stains before flushing."
We'd recommend doing this overnight in the morning before you leave for class or work to avoid any interruptions and give it as much time as possible.
You might need to clean your toilet brush if it's looking particularly messy after this task. But fear not, with our three-method guide you can choose how you want to go about it.
2. Deodorize your kitchen trash can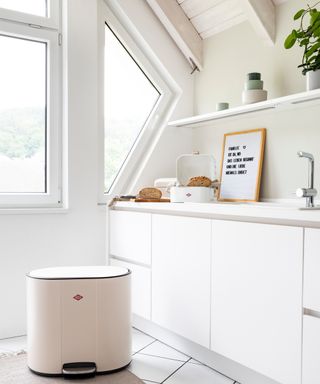 Let's be honest: While some of us have certain expectations when using the trash can, things can get a little messy when you put the family in the mix. Meat bones, veggie scraps, and sauces all combine in one container, and if you have a bin bag that isn't replaced regularly – things can get sticky (not to mention stinky) real quick.
While we love using the best cleaning products like Arm and Hammer trash deodorizer, we can't guarantee it'll always be in the kitchen cabinet. And, if you're not an avid baker, the chances are that you haven't been introduced to all the hacks and ways of cleaning with baking soda either.

If you use a dishwasher, it's highly likely that you've got a box of tablets under the sink, so when your trash can reeks, crumble a dishwashing lozenge into the bin to remove offensive odors. This can also distract insects and pests and deterring flies.
3. Create a DIY oven cleaner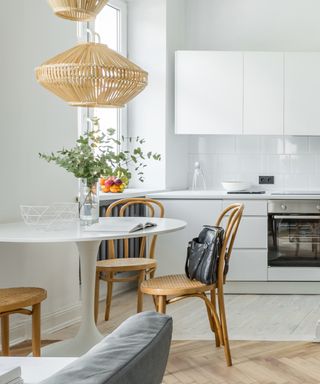 Wondering why you should put a dishwasher tablet in your oven? Well, because loads of people are doing it on TikTok, and for good reason too! Easy Off Oven Cleaner is amazing at cleaning your oven, but 1) it can be super strong, and 2) it needs a lot of time to work.

If time isn't on your side or you can't source this product – use a dishwasher tablet. Wearing a pair of kitchen gloves (the Vgo 3-pack from Amazon is great value), dip a tablet into water and scrub the inside of your oven (including the oven door). Bear in mind, that this isn't as corrosive as the branded caustic soda solution, you'll need to get really stuck in with it.
And now oven cleaner is another product to knock off your shopping list if you lack space or budget!
4. Remove residue from pots, pans, and Pyrex dishes
We love cooking up a storm in the kitchen — the cleaning? Not so much. But, if you've ever been distracted from your hob (for what felt like a matter of seconds), you might have come back to a seriously-reduced sauce or worst still, an acrid mess in your best saucepan set.

Scourers and a good amount of elbow grease can only go so far. So if you find yourself breaking a sweat in the kitchen while cleaning a burnt pan, tag team with a dishwasher tablet to break down any food debris that's stuck to the surface.
To do this, fill the offending article with water, bring it to a boil, and then drop a tablet into the vessel and simmer for ten minutes. After the time is up, drain away to reveal a clean pan. To save time, you could use your tea kettle to fill the pot with boiling water.
If you love roasting dishes in the oven, but detest the burnt-on bits, you can also use this trick on your casserole or dutch oven. In this instance, there's no need to bring it to the boil, just let it soak for a while, and then use a non-scratch sponge (we like Scrub Daddy) to wipe off any of the remaining baked-on grime.
5. Clean your washing machine
Don't get us wrong, washing machine cleaners are great to get rid of grime and gunk in your washer, but if you don't have a designated utility room — it only takes one more product to topple the Jenga-style arrangement in your cupboard.
Until the appliance brands come out with an all-singing-all-dancing white good, cleaning your washing machine every so often is an essential part of its maintenance. So if you want to avoid clothes coming out dirtier than they were deposited, bung two dishwasher tablets in the drum and run an empty cycle. A 90-degree Fahrenheit cycle should be ample to activate the cleaning power in those pastilles!
6. Clean your air fryer — fast
If you're obsessed with cooking everything in your air fryer, you need to know about this dishwasher tablet hack.
While it's meant to be a no-oil cooker, crumbs and batter from our favorite foods can build up on the basket. So, if you're having difficulty cleaning your countertop gadget, fill it with boiling water, add a dish tablet and let it do its thing for as long as it needs to. You'll see the hot water turn from clear to a murky brown which is sort of gross, but uber satisfying at the same time.
Note, that if you don't have any dishwashing tablets around, a good dish soap will also cut through caked-on grease and grime. We've got a step-by-step guide on how to clean an air fryer this way if you need visuals to refer to.
7. Unclog your sink drain
Our kitchen sinks have it hard sometimes. From dinner leftovers that lurk around the drain to washing a small pet in the basin, it's no wonder the drain needs a helping hand at times.

This is where we face a dilemma: unclogging a sink drain with a plunger can be time-consuming, and using a commercial product (with corrosive agents) isn't the best idea in a busy home. But have you tried using a dishwasher tablet to decongest your drain?
Start off by removing your sink strainer basket and setting it to one side. Then place a dishwasher tablet on the strainer itself and pour hot water over the tablet. You can either use your kettle or run a hot tap if that's easier.
8. Upgrade your upholstery cleaning routine
If you've invested in a statement sofa or bougie rug abroad, then you've got to put in the work to keep the respective item in good condition.

Instead of using a bottled solution all the time, why not make your product go further by using this dishwasher tablet hack for minor stain removal? Note, it's always best to test this out in an inconspicuous area before you begin, just to be on the safe side.

How to:
Fill a bucket (a washing-up bowl will do) with warm water and drop in a tablet until it has dissolved.
Dip a clean microfiber cloth (or rag) into the dishwasher tablet solution and wrap it around a small saucepan lid. If you do have an elastic band, you can secure the cleaning cloth in place.
Hold onto the handle side of the pan lid and clean your upholstered item with sweeping, circular motions.
We should mention that a couple of people have commented on this video concerned about soap residue being left on their textile goods. If you too are worried you can suck up any sudsy remains with a handheld vacuum cleaner.
9. Make outdoor furniture shine
If you've outfitted your tiny patio or balcony with a nice set of outdoor furniture, you'll want to look after it correctly. Sure, a few leaves can be swept off, but if bird poop doesn't get cleaned up, it can corrode the material and eat into the rust-resistant coating.
It's pretty obvious but if you've seen wildlife droppings on your patio dining set, this too needs to be cleaned up pronto. This is after all the place you might enjoy a coffee, or alfresco meal, so you'll want a hygienic place to eat.
Cleaning outdoor furniture doesn't necessarily require an expensive investment. All you need is a bucket of hot water, a cloth, and a few dishwasher tablets. Create a soapy solution by dropping the tablets into the container, and use the rag to wipe everything down.
10. Get rid of marker pen and crayon marks
If your nieces, nephews, or younger siblings got a hold of the crayons while at your place, you might have some cleaning up to do. While your go-to might be a melamine sponge (hello Magic Eraser), it's far more cost-effective to drop a tablet into a bucket of hot water and use a normal dishwashing sponge to tackle felt tip markers or crayon marks.
11. Get rid of the grime on your extractor fan
Ever taken the time to examine your extractor fan? If the answer is no, then prepare to be seriously grossed out by what's living on and around your extractor hood!

As this fan is fitted directly above the stove or hob, a build-up of grease and grime, and fat is to be expected, but that doesn't mean you should neglect it. Typically, if you've got a product like the Easy Off Heavy Duty Degreaser Cleaner Spray, you'd be good to go. However, when you compare the cost of this cleaning product versus this dishwasher tablet hack, you'll save yourself a few dollars each year.
This 10-cent trick was found on the Mums Who Clean Facebook group. With just shy of 350,000 members, this forum focuses on budget cleaning tips for busy moms.
To begin, boil some water (just enough to coat the filter in the sink) and remove the filters from the extractor fan. Then place the filter in the kitchen sink, and pour the boiling water in with a dishwasher tablet. Leave this for two hours, and watch the water turn from crystal clear to a yellowish-brown... Lovely.
12. Clean your bath tub, properly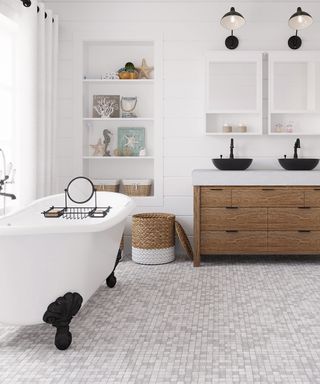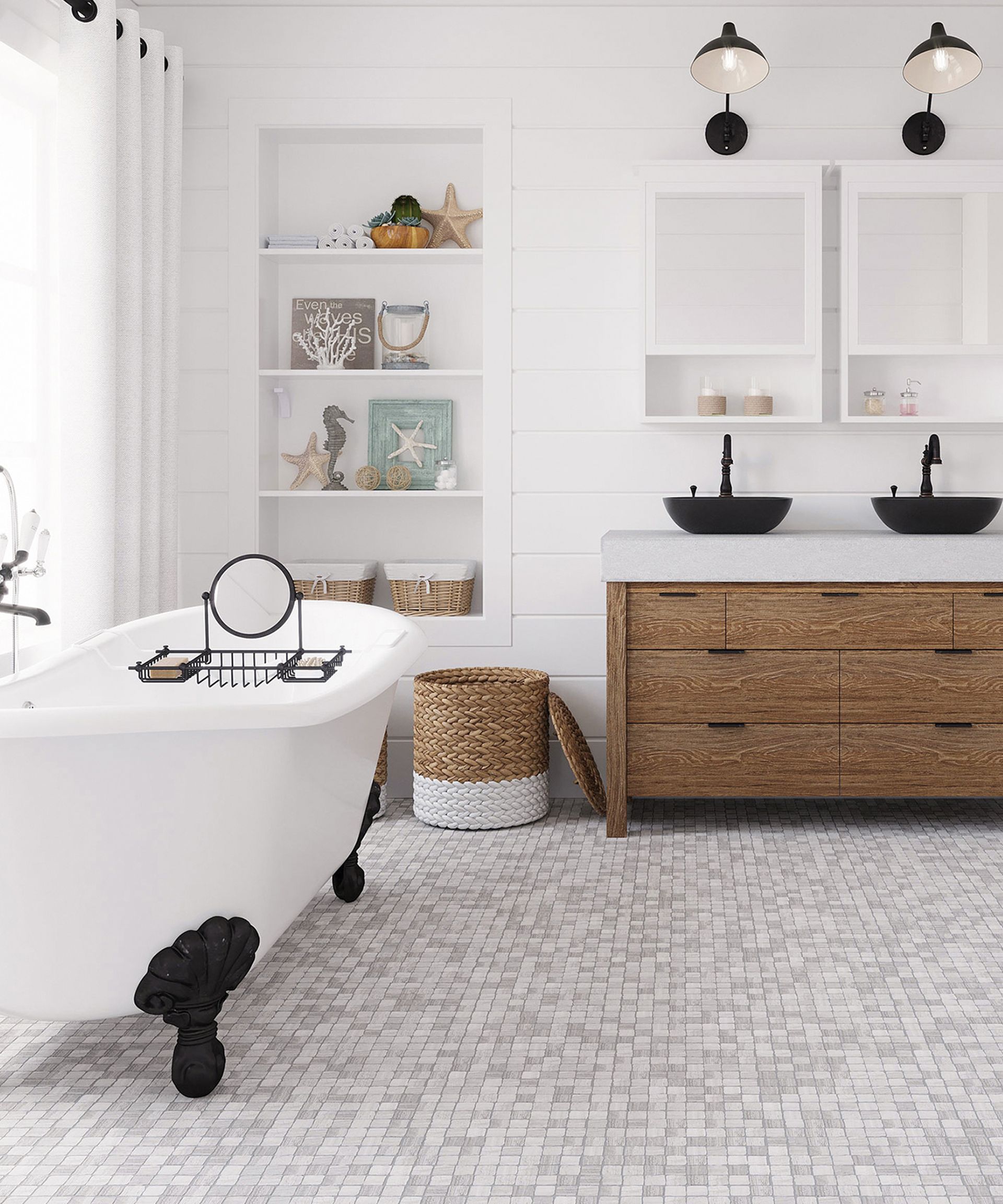 Many of us are guilty of quickly rinsing down our bath with our high-pressure shower head and calling it a day. But if you've had an intense self-care session (ie: shaving your legs and using bath oils) – you might have seen a film of soapy residue and dead skin in your bathtub – gross.
We love eco-friendly cleaning products as much as the next person (Method's Eucalyptus Mint foaming tub and tile cleaner is great), but when we're running low on our bathroom cleaner, dishwasher tablets are the next best thing.
"After bathing, throw two or three tablets in the tub and leave them for as long as possible," says Davis. "You don't need to fill a bath full of clean water, as using the stuff you've washed in is fine if you use a tablet with degreaser and water softener."
'Then drain and rise with your shower attachment. This hack cuts through soap scum and limescale a treat.'
13. Get brown stains out of coffee cups and tea mugs
If you live in a hard water area or are partial to letting your tea bag brew (read: stew) in the cup, you've probably noticed a brown stain at the bottom of your favorite cup. But rather than throwing away good mugs, take the tannin stains away with a dishwasher tablet.
You might think that using a dishwasher will suffice, but targeting your tea cup directly may deliver better results.
14. Make vase stains vanish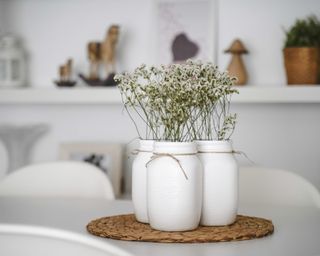 If you're the lucky recipient of a bouquet of flowers, you'll want to show them off in a super-cute sculptural vase. Pretty as they are, blooms only last for around 10 days before they start to wilt, and bacteria from leaves and fallen petals get into the water.
When you come to dispose of your stems, it's not uncommon for the water to appear a little murky (from plant food and green gunk), and if you've really neglected them, the water can really stink — yep, the first-hand experience here.
If you'd rather not deal with a slimy jar, remove the flowers first, then pop a dishwasher tablet into the vessel and fill it with warm (but not boiling) water. Wait two hours before pouring the dirty water into your sink and rinsing the vase again with fresh warm water.
15. Clean floors, tile, and grout
When you're looking to clean grout on your floor and wall tiles, your most common options are to buy a special cleaner, use hydrogen peroxide powder, or get a tub of Stardrops The Pink Stuff.
Though a tub of cleaning paste only costs a few dollars, if you've got dishwasher tablets, you shouldn't feel inclined to buy a specialist product. Simply crumble a tablet into a bowl, add a few drops of water to create the right consistency, and apply with an old toothbrush.
Note that you can also drop a dishwasher tablet into a mop bucket, fill the contents with hot water and use this to clean your floors. The Vileda Turbo Microfiber mop has been tried and tested by us and would be one of the best mops to use for this tip.
If you need to restock on dishwasher tablets...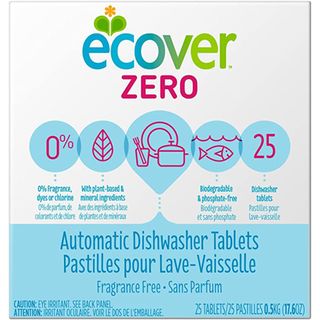 $6.65 for 25
1. Ecover Automatic Dishwashing Tablets Zero
The eco-friendly cleaning choice

If you've got a young family, or looking for a gentler alternative to conventional capsules, this fragrance free, plant-based product is perfect to add to your cleaning reputoire.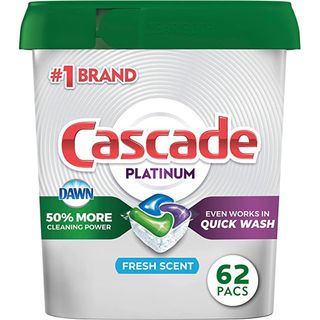 $7.99 for 50
2. Cascade Platinum Dishwasher Pods
Amazon's best-selling dishwasher pods
Psst! Though the 62 pack is pictured here, you're better off buying 50 tabs for $7.99.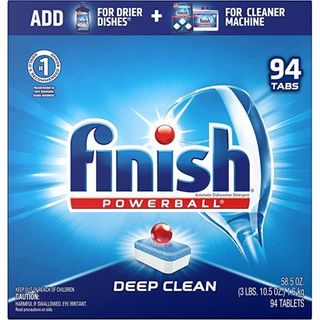 $25.14 for 94 tablets
3. Finish All-in-1 powerball dishwashing tablets (94 count)
A market-leading brand
These are the dishwasher tablets I keep under my kitchen sink. Bought in bulk, they work out at just 27 cents each.