The best dishwasher tablets will help you forget the days of red-knuckle scrubbing and greasy sinks. The tablets on our list will tackle stuck on food, stains, and will deliver that inimitable sparkle that only dishwashers can deliver, really.
Whatever you're after, we've got the picked out only the best options and top-rated dishwasher tablets, from powerful capsules and tablets to eco options that are septic-tank friendly, and listed the best deal prices on them today.
Keep scrolling to buy – but if you're not sure what's going to suit you best, you can start by reading our tips on how to buy the best dishwasher tablets at the bottom of the page. And if you need a new appliance? Don't miss our guide to the best dishwashers on the market.
The best dishwasher tablets
Why you can trust Real Homes Our expert reviewers spend hours testing and comparing products and services so you can choose the best for you. Find out more about how we test.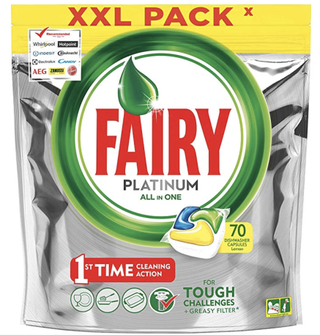 The Fairy All-In-One Platinum Dishwasher Tablets are the best dishwasher tablets you can buy, as not only do you get a bumper pack but they also come with first-time cleaning action as well as cleaning a greasy filter. The soluble pouch dissolves much quicker than hard tablets too, so there's no fuss and no mess.
Brilliant shine
Cutting through grease and grime, these capsules have salt and rinse aid action built in, as well as glass and silver protection for glassware, utensils and cutlery, so everything comes out sparkling.
Tough on stains
Say goodbye to having to do a second clean, as Fairy Platinum All-in-One has first-time cleaning action thanks to enzymes in the powder base that help to break down burnt-on residue.
Results
A great priced bumper pack with all the cleaning action you'd want. There's a liquid-top compartment in each capsule that cuts through grease easily, which also helps to leave your dishwasher smelling lemon fresh. They even tackle hidden grease and dirt from the filter and there's an anti-limescale system to stop calcium build-up, which would eventually prevent your dishwasher from working its best.
Good to know
Recommended by some of the leading appliance brands including Whirlpool, Hotpoint and Indesit, so you know you're in safe hands.
Buy Fairy All-In-One Platinum Dishwasher Tablets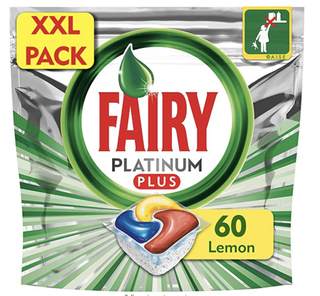 Next up in our list are the Fairy Platinum Plus Dishwasher Tablets. Best for keeping cookware and dishes in tip-top condition, these tablets break down food residue while removing the dull sheen that can accumulate over time. Here's everything you need to know:
Low temperatures
Thanks to the three liquid chambers that make up each capsule, the detergent dissolves fast so it works in low temperatures as well as high.
Short cycles
Works in short cycles too, which is ideal when you're in a hurry or need a quick turnaround of side plates and cutlery when you have friends over.
Integrated action
With built-in rinse aid and salt function, these tablets offer glass and silver protection.
Good to know
Your dishwasher will smell lovely and fresh with the lemon scent while fast dissolving means faster cleaning, perfect for short cycles.
Buy the Fairy Platinum Plus Dishwasher Tablets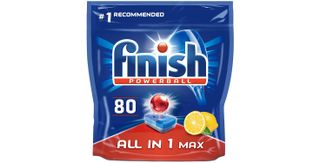 Next are the Finish All In One Max lemon tablets, which are perfect for giving dishes a thorough clean and shiny finish without having to pre-rinse.
Power gel
These tablets combine detergent with power gel for outstanding results every time and there's a multi-chamber technology that activates each cleaning agent when it's needed.
Shiny finish
Even homes with hard water will see the difference in their glassware, as these tablets have a quick dissolving power gel that gets rid of residue for a perfect shine.
Pre-soaking
The Powerball penetrates as well as breaking down and lifting away tough stains and burnt-on food residue while the advanced powder with bleach cleans those hard to reach stains.
Good to know
These are so powerful that you may actually want to cut them in half – there'll be less chance of soapy residue afterwards, too.
Buy the Finish Max All In One Lemon tabs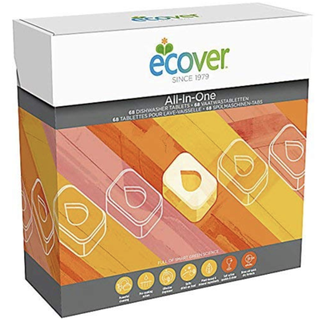 Those looking for an eco-friendly dishwasher tablet option without any chemicals will love the Ecover All-In-One Dishwasher Tablets; perfect for families with young children or those with septic tanks rather than mains drainage.
Fragrance-free
Some people prefer a non-fragranced tablet as there's no risk of a lingering after taste on dishes or cutlery.
Quick drying
Thanks to its fast drying formula, dishes and glasses are streak-free.
Sparkling results
These tablets may be plant and mineral based but they still tackle dried-on food head on.
Good to know
You can snap the tablets in half, as some buyers say that half a tablet works just as well on a basic dishwasher load for four people, making your tablets go twice as far!
Buy Ecover All-In-One Dishwasher Tablets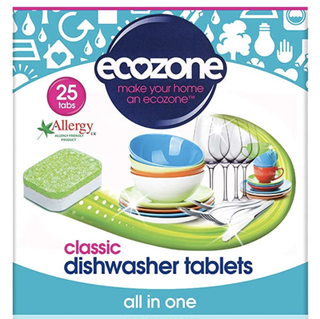 These Ecozone Ultra All-In-One Dishwasher Tablets leave dishes shiny and streak-free and are suitable for vegans and allergy sufferers too.
Non toxic
There are no chemicals used in this product, so you can be sure that it's safe for use around young children or if you need something that works with a septic tank.
Cruelty-free
These tablets are Certified Cruelty Free as well as vegan and environmentally-friendly due to its plant-based ingredients.
British made
Manufactured in the UK.
Good to know
There's no synthetic smell or residue with these tablets and no residue on crockery or cutlery either, just a clean wash.
Bjuy Ecozone Ultra All-In-One Dishwasher Tablets
What are the best dishwasher tablets?
The best dishwasher tablets right now are the Fairy All-in-One Platinum Dishwasher Tablets, as these lemon-scented capsules offer first-time cleaning on tough food stains as well as tackling grease inside the appliance and leaving glasses sparkling.
Read more on both below, or see our best list below to save time:
How to buy the best dishwasher tablets
Washing dishes in a dishwasher is certainly more efficient than washing up by hand, but to make sure you're being 100% efficient, make sure you're buying the best detergent for the job.
Available as hard tablets or liquid capsules, detergents are made up from a combination of enzymes and chemicals and the best products are those that have the right combination to tackle tough stains while dealing with grease and grime at the same time, leaving dishes – and your dishwasher – clean and fresh.
Different brands
Check out reviews of what buyers say to see what you think will work for you, as each brand and product is different. Some are better with burnt-on food while others handle grease and watermarks well. Some are designed to work only at high temperatures while others are ideal for lower heat.
Eco-friendly
If you want to choose an environmentally-friendly option, look for plant-based ingredients, which are also vegan and cruelty-free as well as being suitable for septic tanks.
Looking for more cleaning advice?