You may want to brighten a small kitchen if you're feeling a little dark and cramped. Unfortunately, making tiny spaces physically larger is not always an option unless you want to do major construction.
However, there are many ways to trick the eye and make a small kitchen feel brighter and larger than it is. Better yet, these ideas don't need to cost a lot of money or require a ton of effort to get truly incredible results.
I spoke with two top interior designers to learn their best small kitchen ideas to add light to your tiny cooking space.
How to brighten a small kitchen
Having a small apartment kitchen is a challenge in general. Whether you live in a studio or a condo, these spaces often feel cramped and dark, especially if your kitchen is old.
From dark wood cabinets to black granite countertops, many smaller unrenovated kitchens feel as if they were designed to be dark.
See some easy ways to refresh this space and make it lighter.
1. Try appliance decals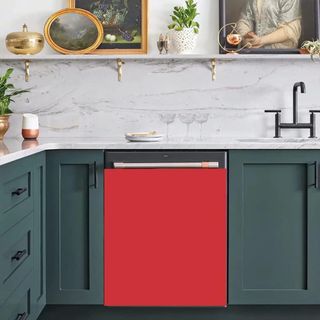 A small, dark kitchen only looks worse with old kitchen appliances, especially if they're black. While replacing appliances is expensive and generally not possible for renters, interior designer Kate Dawson suggests covering up your old appliances with decals.
"I've been seeing more and more options for decals that can go over old appliances. I know it sounds kinda weird, but if you can find the right color, it's actually a great way to update a space in a very cost-effective way."
These bright decals from Amazon are perfect for things like old black dishwashers according to the designer.
Or if you want a sleeker look, silver decals are also available. "It'll convert your appliance into a brand new stainless steel model in no time," says Dawson.
2. Paint the cabinets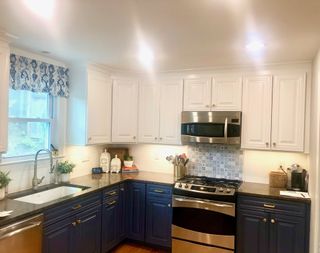 Paint can be magic in any kitchen. "Painting your kitchen cabinets a lighter color is a sure-fire way to brighten your kitchen. The age-old saying is true, it's crazy what a coat of paint can do! Infusing light, airy colors in the accents around your kitchen can certainly help the space feel brighter," says interior designer Audrey Scheck.
There's more than one way to go about this. Dawson suggests leaving the bottom cabinets a dark color (or painting them a dark color), and then having the top cabinets painted white.
"Crisp white! It will completely open up the space since your eye will is always drawn to light, so the white will practically feel like you've added overhead lighting!"
3. Add a mini lamp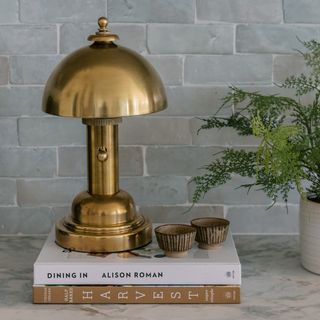 One unique way to add a little more light to your kitchen is with a mini lamp. "Opt to add ambient lighting with a mini lamp tucked under a cabinet. This will create a cozy, warm glow while also adding light to dark corners," says Scheck.
This fun lamp from Schoolhouse doesn't even need to be plugged in.
Another way she suggests going about this is with picture lights like these from this one from Lamps Plus, if you have an empty wall. "We love to place these above windows, open shelving, and of course, artwork!"
4. Install strip lights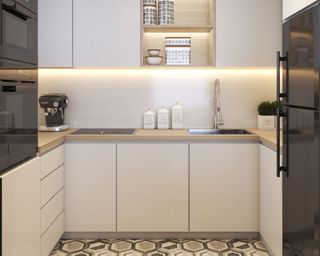 Adding strip lights under cabinets is an easy and inexpensive way to create more light. This can be especially helpful for those who like to cook. After all, you don't want to cut your finger while chopping because there isn't enough light.
"Another great trick is to get under-the-cabinet lights," shares Dawson. "You can buy battery-operated ones that will stick to the bottom of the cabinet... meaning no ugly cords to hide!"
These lights from Amazon are inexpensive, highly rated, and have a motion sensor feature. So they're perfect for late-night snackers.
5. Try a brighter bulb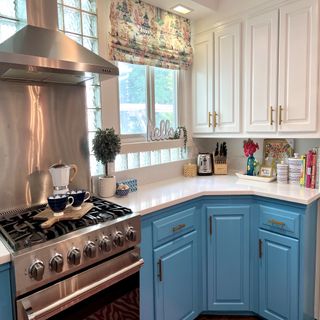 This might sound obvious, but if you don't have enough natural light in your kitchen, something as simple as a brighter light bulb can be a game changer.
"If you have pendants in your kitchen, consider maximizing the wattage of the bulb you're using. Updating to the highest wattage possible will provide more light, and it's an easy way to brighten your space without having to change fixtures," says Scheck.
Go with an LED or incandescent bulb and skip the fluorescents, which are way too harsh for most people.
6. Accessorize with a rug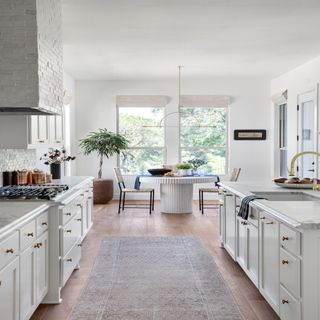 Rugs add warmth to any room of the home. So why not use them in the kitchen?
Scheck suggests looking for rugs with ivory, light blue, green, or blush in them to contrast any darkness, like this Threshold light blue rug from Target.
7. Replace dark countertops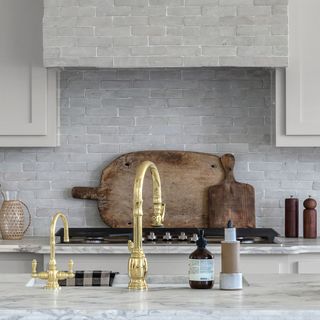 Do you have an older kitchen with dark countertops? If you can't renovate your kitchen completely, Scheck suggests replacing them.
"Consider replacing dark countertops with something lighter to visually brighten the kitchen. Look for a stone with a white or ivory undertone that has veining in it to add even more visual interest.
Meet the experts
Kate Dawson is an interior designer based in New Jersey.
Audrey Scheck is an interior designer based in Austin, Texas.
How do I make my small kitchen look brighter?
Adding light any way you can instantly makes a small kitchen look brighter. Open the curtains, put up the blinds, and open the windows. Also, opt for white cabinets and lighter-colored countertops.
How can I make my small kitchen look amazing?
Just because a kitchen is small doesn't mean it can't look amazing. Design it as you would a larger kitchen with beautifully painted cabinets (think whites and blues) as well as light-colored countertops and shiny hardware.
---
Just because your kitchen is small doesn't mean it has to be dark. There are many ways to literally and figuratively add light. But start the process by following these small kitchen design rules. Also, if you're trying to figure out where to store all of those plates and gadgets in a small kitchen, don't miss these helpful organization tips.