Colds and coughs go from one of us to another in winter and stomach bugs can be rife in summer. But it might not all be down to the man who sneezed on you in the newsagents' or the toddler who stuck his hand in your mouth (true story) at the weekend – the germs you're picking up may well be lurking in unexpected places in your home.
So, with the help of Chartered Environmental Health Practitioner, Dr Lisa Ackerley, also known as The Hygiene Doctor, and biochemist, Dr Chris Etheridge, we look at where those nasty bugs might be hiding, and the best ways to get rid of germs – and, ideally, to prevent them flourishing in the first place.
You can find more cleaning tips, hacks and advice on our dedicated hub page.
1. Best ways to get rid of germs in carpets
Why you can trust Real Homes Our expert reviewers spend hours testing and comparing products and services so you can choose the best for you. Find out more about how we test.
We're careful to keep on top of bacteria in our kitchens, bathrooms and furniture surfaces, but deep within the fibres of the household carpet are bacteria and dirt that can't be removed by vacuuming alone. Even in short pile carpets.
Dr Ackerley advises, 'Regular vacuuming may make your floors look spotless but deeper down, there can be some unpleasant health risks. Just by keeping your shoes on when entering your house, you may transfer health hazards from outdoors into your home, which could include bacteria such as Campylobacter, strains of E.coli, Salmonella and even parasitic worms into the flooring throughout your home.
'If you have small children playing on the floor, this type of contamination may be transferred from surface to mouth leading to a risk of illnesses causing diarrhoea, stomach pains, nausea, vomiting and fever.
What's the fix?
Shoes off at the door: 'The best first defence is to have a "shoes off policy" but not everyone will stick to that and certainly pets come and go as they please!'
Deep clean: 'While most microbes are harmless, extra attention to regular, deeper cleaning with a carpet washer can help eradicate those that could cause illness. This is especially advisable if you own pets, or you are elderly, pregnant or have babies, toddlers, or care for other vulnerable people, for example, someone having medical treatment that makes them more susceptible to disease.'
Use our guide to how to clean carpet to get the job done properly.
Get rid of dust mites: 'In addition, if anyone at home suffers from dust mite or other allergies, then it pays to keep carpets clean of these mites and the dust they feed on which can cause a range of symptoms from runny nose and coughs to exacerbated asthma problems. You can't see these micro-organisms with the naked eye, so a surface that looks clean may not be hygienically clean.'
Use our guide to find out how to get rid of dust mites.
What to try
A vacuum cleaner for pets and pet hair and a carpet cleaning machine; VAX's Platinum Power MAX carpet washer, for example, removes 93 per cent of bacteria along with other fungi and allergens lurking within your carpets.
2. Best ways to get rid of germs on knobs, handles and switches
'These are perhaps the most germ-ridden spots of our house,' says biochemist, Dr Chris Etheridge. 'Because we touch them so often, they get dirty extremely quickly but are often forgotten when cleaning. And while it's easy to assume that the bathroom doorknob and light switch might be the dirtiest, don't forget stove knobs, and the microwave – research has proved them to be covered in both aerobic and faecal bacteria.'
What's the fix?
A weekly wipe: all knobs, handles and switches, even the ones that look clean, should be wiped weekly with a wet cloth.
Step up the cleaning if you've been working with food: Dr Ackerley adds, 'Cleaning general surfaces with a cloth is fine but crank up the hygiene if you have been preparing raw meat, poultry or vegetables, as they may leave dangerous bacteria such as Campylobacter and E.coli on the surface, and as these are infective in low doses, you don't want them on your sandwich, so use an antibacterial product on the surface with some kitchen roll – you don't need much but it is worth it in these targeted areas.'
Use disinfectant: 'If anyone in the home has flu,' adds Dr Ackerley, 'then consider using a disinfectant spray such as Dettol all in one spray on hand contact surfaces which will make them hygienic for the next person.'
Wash hands: 'It is always important that everyone in the household washes their hands before eating and before touching their eyes or nose to help control family illnesses – just because one person is poorly it doesn't mean everyone has to catch the illness! Our life is literally often in our own hands!' says Dr Ackerley.
What to try
e-cloth's Home Starter Kit has all you need to make the switch to quick and convenient chemical-free cleaning and remove dirt and bacteria with just a wipe and water.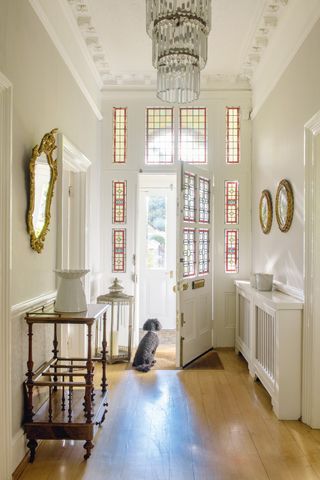 3. Best ways to get rid of germs on Kitchen Surfaces and Cutting boards
Cutting boards are another place where harmful bacteria could be transferred from raw foods to ready-to-eat foods (cross-contamination). If not cleaned properly, the boards may appear to be clean, but they could harbour bacteria which could be transferred to any other food being placed on the cutting board – which puts health at risk. Kitchen surfaces need careful hygienic cleaning if they have been contaminated by raw foods.
What's the fix?
Use antibacterial cleanser: 'Make sure to always clean your cutting board hygienically after using it, sanitising it by using an antibacterial cleanser (which cleans and disinfects), using the dishwasher on a high heat (not for wooden boards) or washing in hot soapy water, then carefully rinse by pouring just boiled kettle water over in the sink,' says Dr Ackerley.
Replace a cracked cutting board: 'Also make sure to replace your cutting board as soon as you start noticing deep grooves, as these allow bacteria and food to collect, and moist food is ideal for bacteria to multiply. After preparing raw meat, poultry or vegetables, kitchen surfaces should be disinfected using an anti-bacterial sanitiser (leave on for a minute or two) and paper towel – you don't need much and it is a wise precaution.'
What to try
These cleaning hacks that don't require harsh chemicals – if you're looking for a more eco-friendly approach.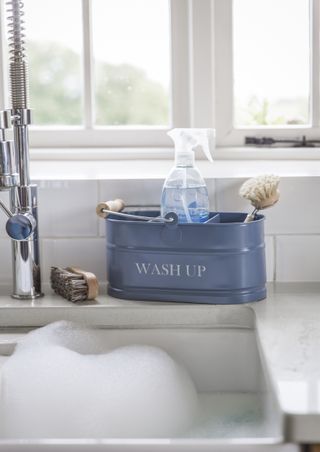 4. Best ways to get rid of germs on computer keyboards
When is the last time you've cleaned your keyboard? If you don't remember, that's not a good sign – it's probably swarming with germs and bacteria. Because it is so frequently touched and contains tiny cracks, it is a place where food and bacteria can be found. What's more, lots of us eat at our desks, meaning our hands could be germy whilst we munch on a sandwich, and equally food drops into the keyboard.
What's the fix?
Clean it! 'Make sure to always shake out any crumbs and dust and wipe it down regularly using an anti-bacterial wipe particularly if you share with others, who may not be as hygienic as you (50 per cent of office workers don't wash their hands after using the loo),' says Ackerley.
What to try
We like a bit of Zoflora – check out how to clean and disinfect with it in our guide.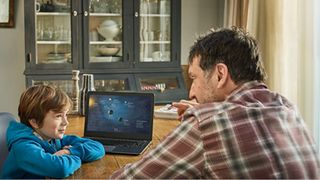 5. Best ways to get rid of germs in washing machines
Washing machines are often the first port of call for 'accidents' after sickness and upset stomachs. Then there are the pet beds and heavily soiled sports clothes. 'Putting these items in the washing machine at low temperatures may not kill the germs and can leave bacteria, moulds and fungi in the warm moist conditions they love to thrive in,' says Dr Ackerley. 'And unless you do something to kill them, germs such as E. coli or norovirus from underpants or other soiled clothing could transfer on to your other clothes and even to tea towels if you wash them together.'
What's the fix?
'Wash tea towels separately – collect them weekly and wash them all together on a hot wash (over 60°C),' says Dr Ackerley.
'Hot wash heavily soiled items (over 60°C) or if this is not possible because it would wreck the fabric, use a lower temperature and a laundry sanitiser which you can buy from most major supermarkets,' recommends Dr Ackerley.
Pick the right washing powder: 'Premium powders for whites will probably have bleach in them which is anti-microbial but of course that will bleach coloured clothes.'
Always leave the washing machine door open to allow air to circulate and regularly clean the rubber door seal and detergent drawer.
Do one very, very hot wash: 'Make one weekly or at the most monthly hot wash at over 90°C (I do white towels at this temperature) to spring clean your washing machine of microbes and stop any smell building up,' says Dr Ackerley.
What to try
Use our guide to cleaning your washing machine to ensure yours stays germ-free.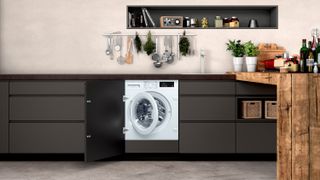 6. Best ways to get rid of germs from behind the toilet
What's lurking behind the toilet? Probably germs, mould and dust. A hard to reach area, people may skip over this section when cleaning the bathroom as angles and pipes make it hard to clean properly.
What's the fix?
Vacuum then mop: Dr Etheridge suggests, 'Use the nozzle of a vacuum cleaner to clear away dust, then use the e-cloth Mini Deep Clean Mop, which is perfect for hard to reach areas and removes grease, dirt and over 99 per cent of bacteria with just water.'
'Keep toilet cleaning products separate from your other household cleaning items so that they don't get mixed up and used for kitchen cleaning,' recommends Dr Ackerley.
What to try
Our best mops for hard floors AND our best mops for tiles. Both picks are chosen for effectiveness, ease and, of course, price. Use our guide to cleaning a toilet, too.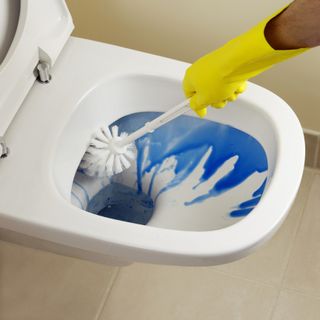 7. Best ways to get rid of germs from fridges
Fridges often get overlooked when it comes to cleaning, yet they can become contaminated from raw foods and left-over food that has gone mouldy, which can transfer to other food stored in the fridge.
What's the fix?
A sound fridge-cleaning routine needs to be part of the cleaning routine and is a good idea to get the shelves out once a month and wash in hot soapy water in the sink and dry with a fresh clean tea towel or paper towel before returning to the fridge. For areas of the fridge that are used for raw meat, chicken, fish and raw vegetables, these may need a hygienic clean with is safest with an antibacterial spray (or a final very hot water rinse – carefully pour kettle water over them in the sink) and use paper towel to dry just in case you missed a bit – you don't want harmful bacteria on your tea towel!
Good hygiene after the fridge cleaning: after cleaning, put the tea towel in the laundry basket, ready for a hot wash. Keep raw foods away from ready-to-eat foods. 'I use a box or meat drawer for raw meat and poultry, and a drawer for veg that will be cooked, such as carrots, and a separate area for salad items. That way the "dirty" foods are kept from the "ready-to-eat" foods, reducing cross contamination risks.' says Dr Ackerley.
Know your best befores and use-bys: 'When doing the fridge clean, remove out of date foods (use-by expired). Foods past their "best-before" can be used but they may not be as good quality. Don't throw away vegetables unless they are mouldy – they are often good way past the best before date and can be made into stews and soups. Portion up left over foods in labelled freezer proof containers and freeze them so you will have a home-cooked ready meal to microwave at a future date.'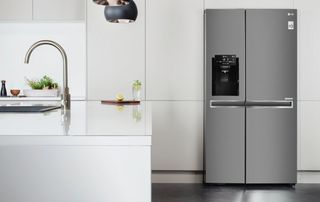 More on cleaning your home: