If you thought that your tiny outdoor space lacked potential, then let our small garden ideas prove you wrong. This gallery is full of big ideas, for small spaces, whether you're dealing with a small decked garden, a little piece of a courtyard, or even just a balcony – we have the inspiration that you need to make it work even harder at looking great
From planting and landscaping tips, to innovative layouts that will suit a small garden design perfectly, we've rounded up 51 clever ideas to help you create your perfect outdoor space.
1. Maximise every inch by zoning your space
Do you find that you only really use one particular section of your garden? If so, dividing your space up into specific zones is a great way to maximise every inch. In this lovely modern garden by @ohmymaison there are three distinct areas for sunbathing, playing on the grass, and dining, ensuring that even the very bottom of the garden is used. Flooring is a really effective way to zone a garden space – see how the paving, grass and decking are used here. But if you can't change your flooring, look to screens, outdoor rugs or living walls, to create distinct 'rooms' within your garden.
2. Use different materials to create an outdoor room
Small garden ideas can be quite subtle. Take this one, using zoning, a trick usually reserved for breaking up large indoor rooms into different areas – say, one for relaxing, and one for dining. The key to garden zoning is using different textures, colours or materials to differentiate between the areas. Flooring, for example, is perfect for doing this, and will create a larger-feeling, more interesting outdoor living space.
This clever small garden design by Anna Carin Design combines decking and patio paving to achieve the zoned effect.
3. Choose furniture on wheels for a flexible space
We use our gardens for many things, from dining, to exercise, to sunbathing, to socialising. If you haven't got room to adhere to all of these needs at once, choose portable furniture that you can easily bring out, put away and roll around as and when you need. This wheeled coffee table is great for social gatherings, and when it's time for your alfresco Pilates session, simply roll it aside so you can stretch out to the max. This table was painted in Dazzling Yellow by Cuprinol.
4. Create the illusion of a larger garden with an outdoor mirror
You can't beat a good optical illusion for making your space look bigger. Just like inside our homes, large mirrors reflect light and space to instantly create the effect of a larger area. This large landscape mirror by Cue & Co stretches across the expanse of the wall for maximum impact. Ensure to position your mirror so that it reflects something beautiful, such as greenery, to visually enhance your space too.
5. Nod to cosy and practical vibes
Keep your tiny garden set up cute, cosy and pest-free too with a canopy-esque mosi net. Practical, cool and a great way to zone a small seating area in your outdoor space.
6. Include a mini garden bar
A small garden space doesn't mean you can't include a mini bar. Keep yours on wheels and with a shelf or two for storage to enjoy it in all seasons.
7. Add accessories with purpose
Every detail counts in a small garden so when you're adding those final touches, make sure they work hard at both looking stylish and being practical too.
8. Bring decking up the wall
Enhance a small decked area further more by continuing the hard landscaping up the surrounding walls also. And, we've plenty more small garden decking ideas where that came from.
9. Choose a statement egg chair
Swap out a cramped feeling space for a luxurious one by carefully selecting the best garden furniture and seating. An egg chair now features in most of our homes and it elevates this small space perfectly. Find one in rattan for extra points.
10. Stack garden pots in multiple heights to add dimension
Container gardening is one of the best small garden ideas, especially if your garden has a patio or decking. The trick is to go for as many different types and heights of garden as possible: this will help add dimension and texture to the space. For instance, mix and match large terracotta pots with tall and slender glazed pots. And if you have a really small space, stack them up like this or wall-hang them to pack more in.
11. Grow veg everywhere you can
Growing veg isn't limited to greenhouses, allotments and extensive gardens – almost everyone can have a go at creating a kitchen garden. Whether you have space on your window sill to grow a few herbs, or a spot on your balcony for a tomato plant or two, there are always options for growing (a bit) of your own.
And you don't have to invest in expensive planters either. Here the Samla Box, £6.50, has been used. But, you could just as easily upcycle something you already have at home.
12. Keep storage in your sofa
You would never guess that this modular sofa was hiding gardening gloves, extra blankets and the like. With no compromise on style, it's a clever small garden space solution worth including in every outdoor setup.
13. Include a herb stop
Cute, fragrant and tasty, squeeze in a herb garden station on a covered patio or balcony space and you'll be so distracted by the loveliness of it that you'll forget how mini it is.
14. Keep veg within reach of the kitchen door
Growing fruit, veg and herbs near the kitchen door means that when tomatoes, courgettes, herbs and more are ripe and ready for eating, you can access them easily, without sacrificing any of the loveliness from your garden design.
15. Line your entire tiny garden with raised beds
Frame a small garden with raised beds – DIY or not – and you will enhance the outdoor space you do have. Because if you have a small outdoor space and are not sure where to get your plants in, raised or built in beds are a great way to do it, especially if you blend them in with your walls or fences.
16. Use screening for privacy too
Plant small trees for privacy and shade even in a petite garden, combining greenery with more robust garden screening ideas for the best success. Then fill out the rest with whatever plants suit your space and colour scheme. Keep the middle space clear of plants so it doesn't get too crowded and add some furniture to complete the look.
17. Ditch the shed – go for garden storage that doubles up as plant display instead
If your outdoor space is really very small, an outbuilding, no matter how slimline, is likely to overwhelm it. So, think about garden storage a bit more creatively: ideally, you want items that will be useful and attractive, and provide extra room for container plants.
18. Add an opulent canopy to a small terrace or balcony
What small balconies and terraces lack in floor space, they can make up for with a sense of airiness and height. Emphasise these positives with an attractive pendant light or a hanging canopy.
19. Include an outdoor fireplace or pit for cool nights
Outdoor fireplaces are actually even better suited to smaller gardens than larger ones, for the simple reason you will really feel the cosiness in a smaller space. If your house won't permit the addition of a fireplace structurally, consider getting a chimenea or look at fire pit ideas instead.
20. Choose natural materials where you can
Choosing wooden furniture, soft colours in accessories and natural decor like plants when putting your smaller outside space together will reflect more of the great outdoors, naturally enhancing the size of your surroundings.
21. Create a covered area with a large patio umbrella
The easiest way to create shade and protect your tiny dining area from rain? A large garden umbrella. Simply remove when you want to enjoy the sun (if it's out, that is).
22. Or add a pergola into a small corner
This lovely compact garden of course isn't acres and acres but defining the decking with a pergola proves how it can enhance even just a corner of a small space. String up the fairy lights, add an outdoor sofa and there's your little but lovely setup sorted. For even more character and to custom make yours to size, you could learn how to build a pergola yourself.
23. Enhance small garden landscaping with a central gravel path
Gravel is a great material for creating fluid, easy-going paths that are flattering in gardens big and small. To create an illusion of space as part of your small garden landscaping, build a central path surrounded by luscious borders.
24. DIY a sleeper seating space
Ingenious, stylish and a great job to do over a weekend. Take a leaf out of Wicke's DIY book and customise your own seating space to fit your mini outdoor setup perfectly.
25. Plant a garden tree to add height and interest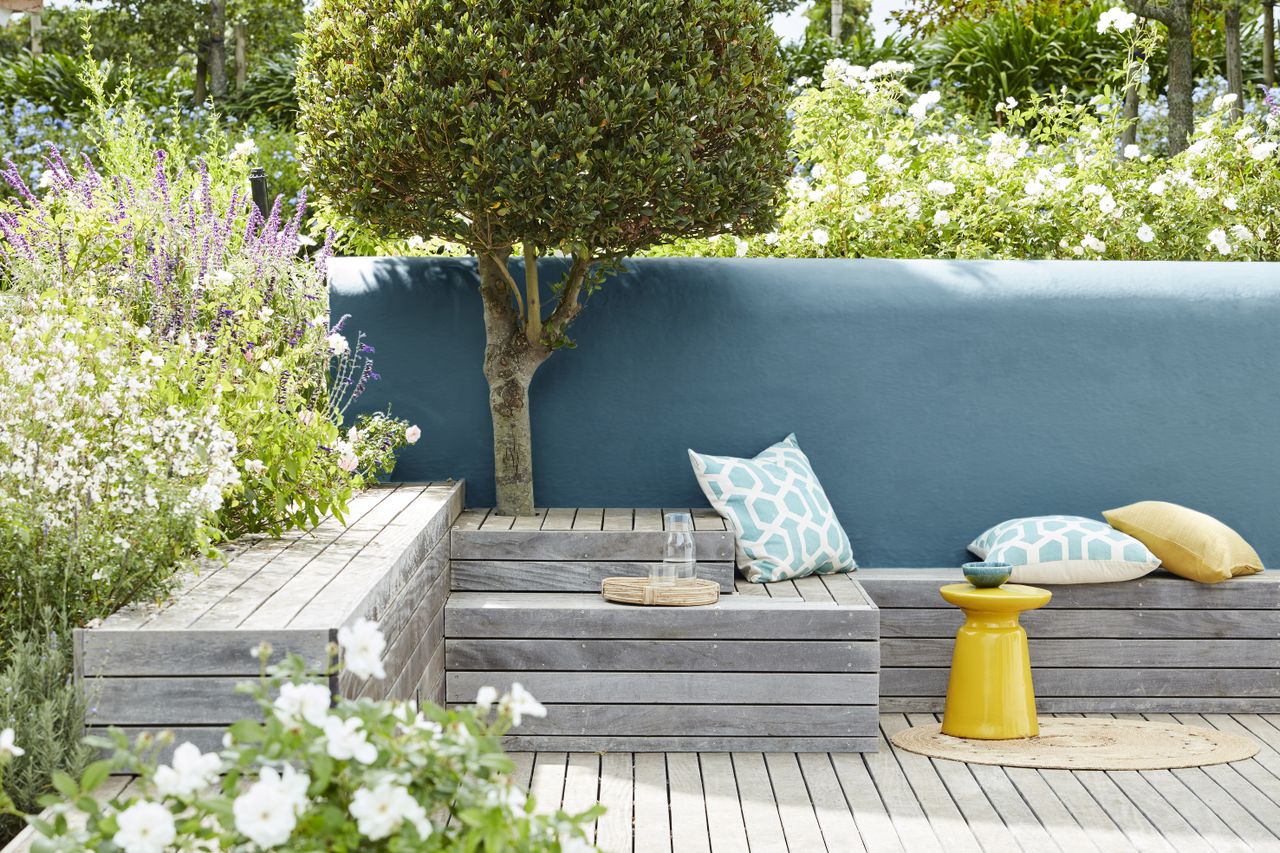 Think trees are only for large gardens? Not necessarily. Plenty of species will do fine in a small garden, or even in a garden container. The benefit of having a tree in your small garden is you are visually expanding your garden upwards, rather than keeping all the attention on the limited floor space.
This garden benefits from a stunning plum tree but there are many more top small garden trees to choose from.
26. Rooftop your cinema club
Pop up your own outside cinema club on a free bit of rooftop to elevate the little space you do have. This idyllic setting proves just how far a white sheet, the Rigga Ikea rack, cushioning and the best garden lighting ideas can take you.
27. Cheat a tiled floor with printed decking tiles
Balcony flooring seen better days? Or maybe you just want to go for a different look? Ikea sell decking that just clicks together and covers your patio or balcony floor, it's literally so easy. We like the patterned tile effect that the Mallsten tiles give (above) but there are loads of floor decking options at Ikea so check those out too to instantly update your balcony.
28. Layer your garden planting scheme to save space
Layering is actually very simple, and has been used in small garden design for centuries. Just think taller plants in the background, herbaceous perennials and grasses in the middle, and annual flowers at the foreground of your garden borders. Try layering colour, too – you may wish to have gradations of just one colour, or classic colour combinations such as red and purple.
29. Create a small but luxurious outdoor relaxation area
Even the tiniest garden can become a luxurious, relaxing sanctuary. You will have to decide what's most important to you – a fully planted up outdoor space, a nook for reading, perhaps even a tiny swimming pool... However small your garden, once you've decided what you want your space to be like, there's no reason you can't achieve it, with the help of a skilful garden designer or landscape architect.
30. Create a heightening lighting scheme
Clever lighting is the perfect small garden idea for visually enhancing your space, especially if you choose upward-facing spotlighting or accenting a tree with fairy lights.
31. Plant a green wall in a small garden
Another trick that emphasises the height rather than width of small gardens is planting a green wall or vertical garden. Choose fast-growing climber species such as jasmine, honeysuckle, and ivy.
32. Cheat a green wall with artificial plants
If you aren't green fingered or just want some guaranteed all year round greenery this is a fab Ikea gardening hack – build a green wall just with fake flowers. This one has been made using Ikea's very handy faux plant wall panels.
33. Maximise seating space with a garden corner sofa
There's no hard and fast rule on where to position your garden furniture in small gardens, but generally speaking, it makes sense not to place any heavy, non-portable pieces centrally, because everyone will inevitably keep bumping into them. Instead, opt for a corner sofa and a compact coffee table.
34. Blur the boundaries between indoors and outdoors
Use continuous flooring to relax the boundaries between home and garden which is a really nifty small garden idea. You can maximise this with accessible glazing, and replicating the same decorating scheme inside and out.
35. Enhance a small courtyard with elevated areas
Even the smallest courtyard can be made to look chic and inviting with clever use of materials, levels, and lighting. This Chelsea courtyard has been given a sleek makeover with multiple layers of light limestone paving. By Charlotte Rowe Design.
36. Paint and plant garden walls and fences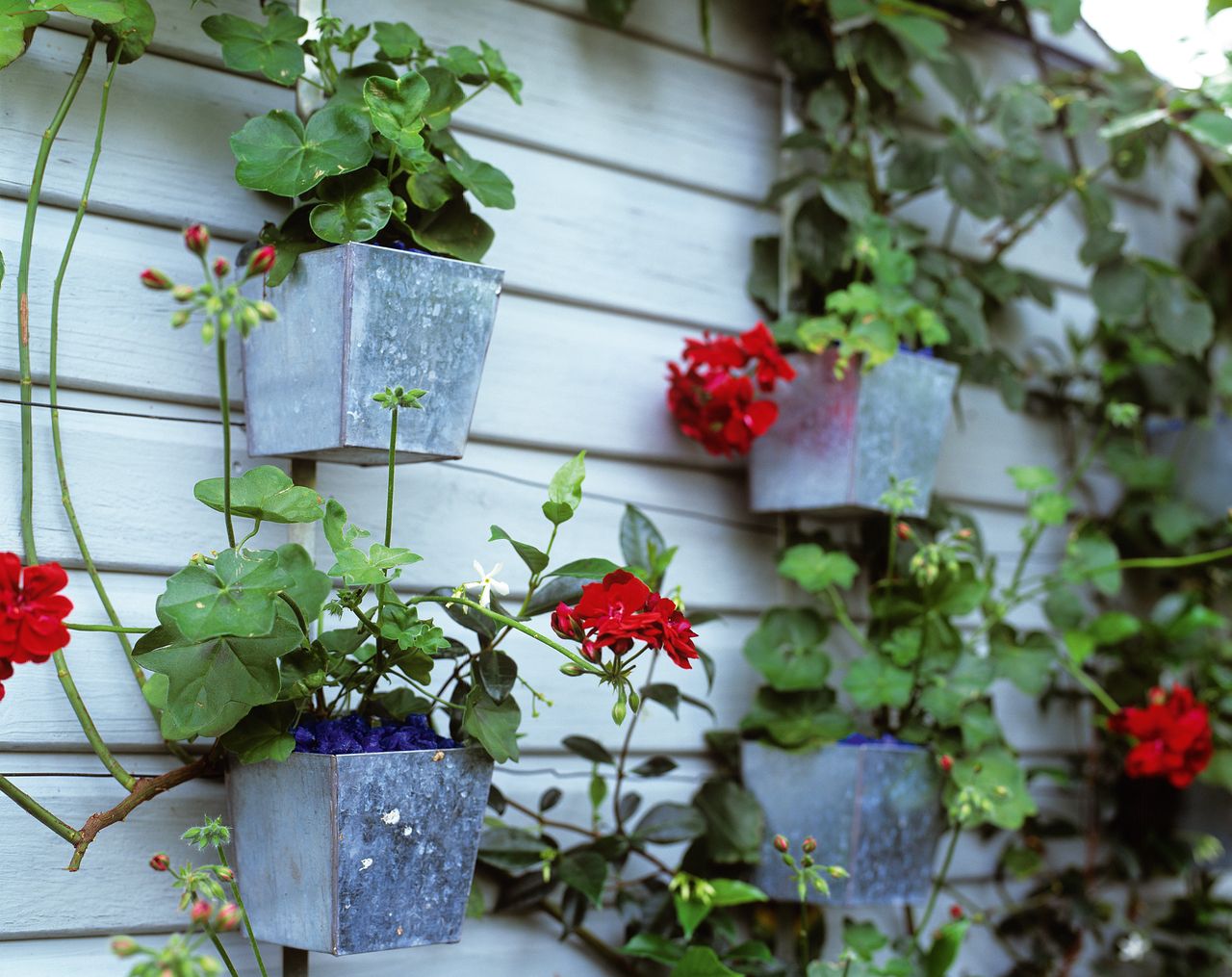 Just as you'd paint walls in a light colour in a small room to make it feel bigger, doing so in a small garden will make it feel larger. Another small garden idea? Think 'up' and 'out' by mounting your container plants onto a garden wall or fence. The effect will be especially stunning if you choose trailing plants (trailing pelargoniums are especially appealing).
37. Use limewash to create an airy and spacious look
Talking of small garden ideas that make your outdoor space feel bigger and brighter, get that charming cottage garden look – and make your small garden appear larger and lighter in the process – by liming your exterior and your garden furniture. This traditional preservation technique is coming back into favour in modern homes too for a chilled Scandi look if cottagey is not your vibe.
38. Keep your lawn pristine, even if it's tiny
Small garden design ideas that include a tiny lawn? Here's a great one. But don't neglect it; a neat and sculpted lawn, however small, will give your garden a smart and spacious look; like a large formal garden, but in miniature. To keep your lawn in top shape, mow it regularly.
39. Paint small garden fences to add extra colour
Want to transform your small garden in just a weekend? Bold move here, but we reckon painting your fences in bright, sunny colours for the summer can really improve your space. What's going to look nicer? A slightly faded, peeling wooden fence or a super stylish vivid colour? You can always soften the look by adding a trellis and growing climbing plants over the top. And see this furniture, below? That was plain wooden and a little worn looking – but was given a new lease of life with a lick of paint.
40. Make a small balcony garden feel like a Greek holiday villa
If you are on a budget or are trying to accommodate for a smaller, narrower space, don't worry, we have a few pointers. Painting doors and shutters is an easy and cheap way to brighten and add a modern twist to an outdoor space. Choose a bold colour like you would when creating a Mediterranean garden that will draw the eye upwards, making the space feel longer. Using vertical shelves and shelving units in order to create loads of space to put plants and outdoors accessories (without taking up much floor room) is a great idea, too. And we LOVE the curtain, strung up to create privacy, shade and an extra splash of colour. See more of this IKEA set up on their website.
41. Add a cheeky hammock or two for chilled vibes
The rug and the hammock help make the small space feel more like an outdoor room than a garden, which is a great option if you have a small back yard and are not sure how to make the most of it. You don't need to try to transform it into a green space, just see it almost like an extra room, with a few potted plants dotted about, too. Oh, and use paint to add some splashes of colour. We can't resist a bit of pink, so naturally, we are in love with @emeraldterrace's back yard.
42. Create a display on exterior walls
From the cacti to the stunning imagery from the best outdoor projector no doubt, it makes a beautiful backdrop to keep a small space feeling vibrant.
Complete the look with good chairs – we love these classics from Ikea, theVago chair and you're all set.
43. Go for modular garden furniture to suit your space
Modular furniture has always been a small space dweller's friend. What we like so much about the Solleron series is you can really create a shape of sofa that fits with your space. You can build up how many seats you want, add armrests, corner sections, pick colours and cushions to go on top – just a really versatile piece of garden furniture.
44. Less is more in a small garden
'In a small space, a few large features are better than many small ones. Two or three big pots will have much more impact and look far more stylish than a dozen ill-assorted smaller ones. One tree, if you can fit it in, is better than three shrubs of a middling size,' says gardening expert and TV personality Alan Titchmarsh.
45. Co-ordinate paving and hard landscaping
Alan also recommends: 'Choose paving and other hard landscaping that match or complement each other. This way, whatever else is going on in the garden, these will act as an anchor and provide a unifying theme.'
46. Keep a focal point in a small garden
'Focal points are spots that draw your eye when you gaze into the garden. All gardens, no matter how small, ought to contain at least one good focal point, and preferably several of varying intensity – but cram in too many and they will all lose their impact,' says Alan from one of our favourite reads, Alan Titchmarsh's Small Gardens
47. Create a tiny outdoor kitchen
So when you have slaved away creating a lovely outdoor space, make sure you take time to enjoy it. And to us, enjoying an outdoor space means plenty of al fresco eating and drinking in an outdoor kitchen space. We love this Ikea hack – creating a mini outdoor kitchen with just a kitchen trolley and a table top BBQ. This trolley is just £80 (£71 if you are an Ikea Family member). Store condiments and crockery underneath and bon apetit.
48. Add a summer house to a small garden
Summer houses and garden outbuildings are not necessarily just for massive spaces – some are quite compact, as small as just five feet across. This small garden ideas with a summer house is by Lights4fun; see B&Q for small summer houses to buy.
49. Go monochrome to enhance a small garden
And by monochrome we don't mean black or white; washing your entire small garden in a deep, vibrant colour will create a jewel-box effect that's very attractive, and it'll distract from the small size of your garden. This small garden idea is by Chaplins Furniture.
50. Don't be afraid to decorate a small garden table
Just because you have a tiny bistro set in your patio, doesn't mean you have to keep it clear at all times. In fact, we think that draping your small garden table with pretty table linens and decorating with fresh flowers will visually enhance your outdoor space by creating a focal point.
51. Really small garden? Go big on accessories
It's a misconception that small garden do best with smaller everything: actually, a couple of well chosen large ornaments, planters, or lanterns tend to look much better than lots of small ones. The Galvanised Metal Lantern is by Lights4fun.
52. Use all the walls
If you have a small walled garden, use the walls! You basically automatically have extra space, it's just vertical. Choose the wall that gets the most sun and hang planters with herbs along the whole height of it, using hooks or a wall rack. This small garden idea with a herb garden is by Ikea.
How do you layout a small garden?
This all depends on how small your outdoor space is, what you're using it for and therefore, what you have in it to layout. Planting vertically is your friend, even if it's a vegetable garden that you're growing. And, although it's a small area you're working with, you shouldn't be afraid of filling it with a variety of decorative touches and different zones as a busy space looks and feels more spacious than an empty one. Then you need to be clever with how you fit it out, furniture-wise. If a convivial atmosphere is important for you, choose furniture that can work flexibly – much like your space will. David Hough from home improvement specialists, SMART Balustrades recommends that 'Where possible, choose non-fixed outdoor seating – so it can be moved at leisure to create different spaces, and packed away when not in use for those with smaller outdoor spaces such as balconies.'
How do you brighten up a small garden?
Brilliant planting will without a doubt add colour and life to your small garden space. Bright garden plant ideas will not only add vibrancy to your garden, but will also encourage wildlife in, making for a more dynamic and wholesome area to enjoy too.
And, in a recent study mentioned by Rowse Honey apparently gardens in urban areas take the top spot in producing the most nectar per unit area for bees... Proving that you can keep bees happy even in a tiny garden.
'But did you know that simply planting a few bee-friendly flowers in a window ledge container or hanging basket can help keep our buzzing buddies happy and healthy?' says Rowse Gardening Experts. 'Any outdoor space, no matter the size, can be transformed into a foraging wonderland for pollinating insects. Every space has potential, and a mini makeover will help to brighten up the place while giving bees the food they really need!' Lavender, Catmint, Valley Valentines, Sunflowers, Chives, Cosmos and Wildflowers are some of the favourite flowers as recommended by Rowse to transform your small space. 'Wonderful wildflowers don't just grow in fields and grass verges – they're perfectly happy sitting in a pot, too! Planting wildflower seeds will bring natural wonder to your outdoor space, no matter how big, and they really are the blooms that bees love best. A bee-autiful display of blossoms will brighten up your day, and help feed our buzzing friends at the same time – it really is a win-win.'
Tiny but lovely.