Great garden fence ideas are a must to not only create a sturdy barrier at the front or back of your house for privacy and safety but, to also add more personality and style to your outdoor space. You don't need to spend a fortune either as there are plenty of cheap ways to fence off your yard space, without compromising on that pop of color or cool design either.
Whether you want to fence off your vegetable garden, an entire decked area or just your front yard to keep the dog in (or the kids) we've rounded up the best looking and most functional fencing ideas to inspire this addition to your garden landscaping design.
1. Choose a neutral fence for a color pop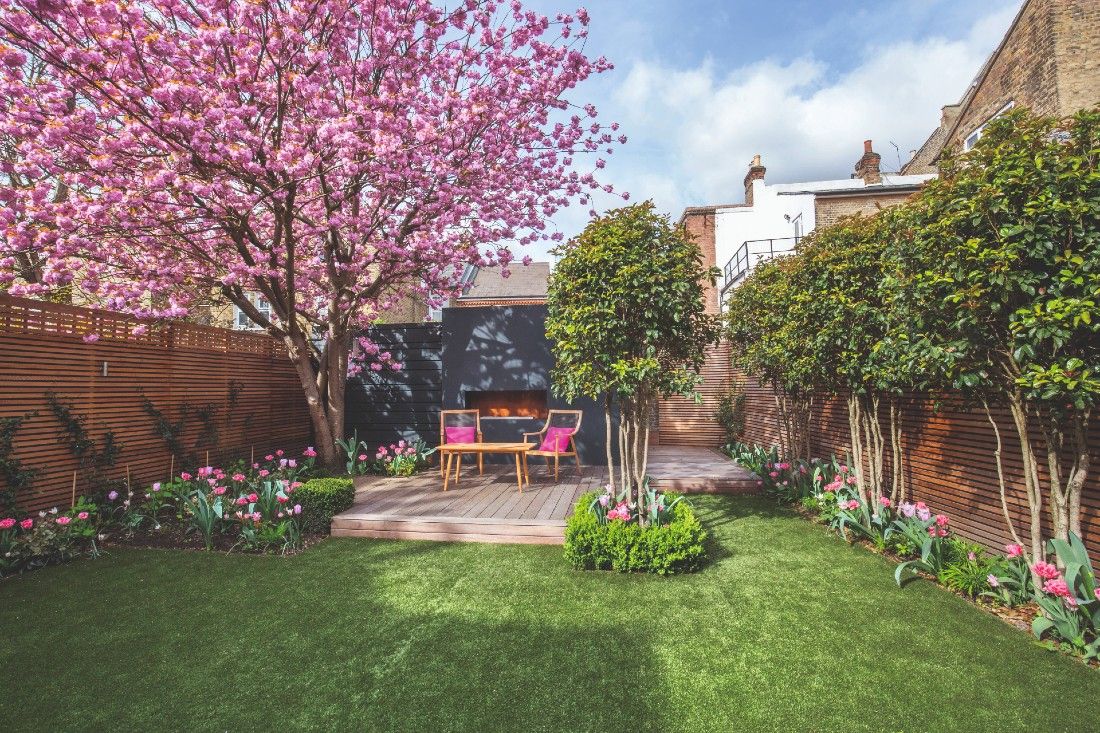 If you choose only the brightest plants and outdoor furniture for that matter, let your fence take a back seat with a natural, solid wood finish that will help all your bright decor within the fenced area do the talking.
2. A slatted wooden fence for modern patios
Slatted designs still increase privacy and make great patio ideas for more contemporary yard spaces. Accessorize and increase privacy further with tall, colorful planting around your fence to create a cool and very liveable section of your outdoor space.
3. Fence off your outdoor dining space with tall panels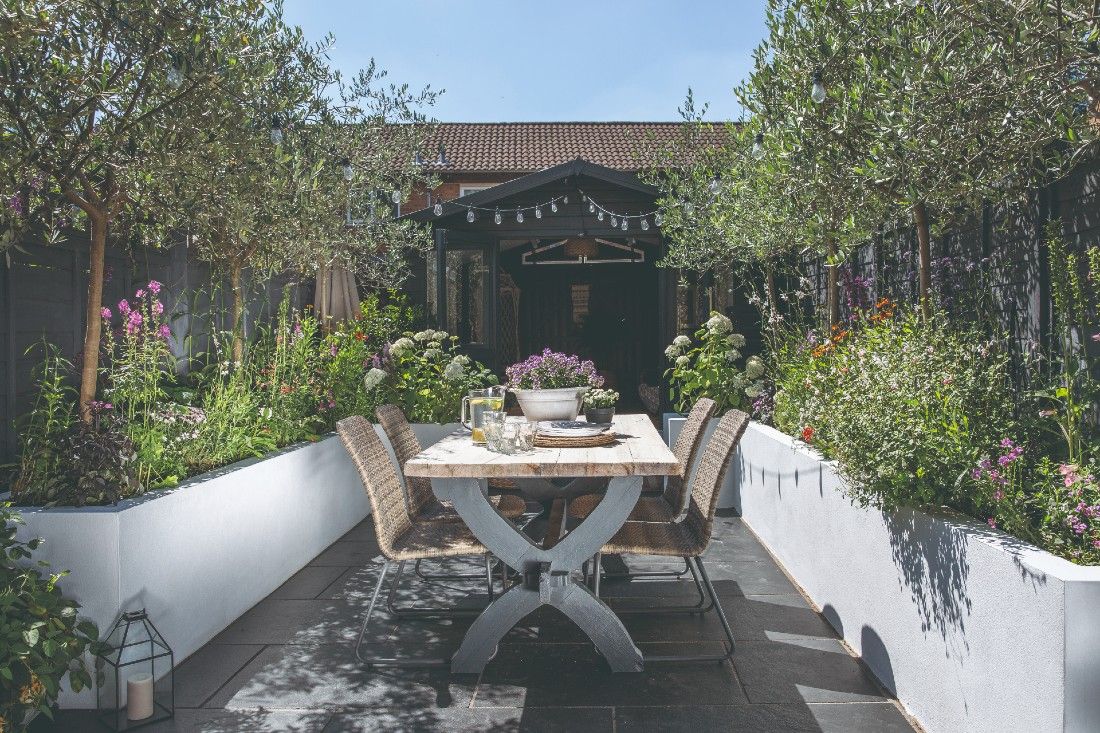 If your yard is all about outdoor living then creating convivial zones that feel really relaxed and secluded is the right way to go. The dark vertical panels fence off this dining area perfectly and, the dark stain creates a gorgeous atmospheric backdrop beyond those tall trees, helping it all blend into the landscape.
4. Garden fence ideas for boundaries
To mark rear garden boundaries, solid timber fencing, such as closeboard or lap panel, is best. Closeboard, also known as feather edge, is composed of vertical feather-edged boards fitted to a sturdy frame of posts and horizontal rails, while lap fencing, also known as waney or overlap fencing, is made from waney-edge boards that are partially overlapped and fitted horizontally onto a timber frame.
Each has its own benefits: closeboard garden fencing is stronger and more weather-resistant, making it better suited to exposed sites. It can be bought as individual panels, or featherboards can be purchased separately and fitted to a frame, allowing for an uninterrupted stretch of fence. Meanwhile, lap fencing generally only comes in panel form and offers a more affordable option.
5. Go with a garden trellis for zoning
If you want to screen off different areas within your garden, then strength and privacy won't be as paramount, and you can afford to use a fence design that is less robust. Traditional square or lattice trellising is a good choice for zoning, particularly for sectioning off a separate sanctuary area without blocking out sunlight. What's more, it's great for growing climbing plants against to create a living wall. Alternatively, slatted screening can be used as a garden fence for a more contemporary backdrop.
6. Make your garden fencing a design feature
Treat your garden fence as you would a feature wall in the home to add interest to a vertical space. This could mean painting a section of it in a bold colour, or using a patterned panel to create a focal point.
7. Pick a pretty picket
Picket-style garden fencing provides a barrier without cutting off your plot from the outside world – the low height invites interaction, while the gaps between pales give a glimpse of the garden beyond. This type of fencing design is great for sectioning off a vegetable patch for protection from pets and children. For increased privacy, grow a hedge behind the garden fence or allow climbers to tangle between the rails.
8. Paint a picket fence for rustic color
Match the picket fence to the gate and even a suburban terraced property can look like a rustic haven. Stick to a pale shade and match your planting to the color of the paintwork for a really light touch.
9. Fence off a vegetable patch with a woven number
If you've got a thriving kitchen garden going, then add a little structure around it for better wind and even pest protection. Choose a fence material that is in-keeping with nature, like woven hurdle fencing that is usually made from willow or hazel to give a beautiful rustic look to a yard. It's also cheap and super practical too as in situ it can be shaped to fit curved boundaries, and its open structure makes it wind-resistant.
10. Or, choose a more uniform woven fence design
If you are looking for full-height garden fence ideas, woven panels can provide strength and will protect plants from harsh winds, while letting sunlight through. Note that they are very appealing to climbing plants that may use the weave to anchor their tendrils. This fence design can be used to create a lovely living wall, but will damage the panels over time.
11. Take out the gate opening for fluidity
Instead of fencing your entire space and adding a gate, keep the space open to increase ease of movement around your back yard. Also, don't shy away from modern looking slatted screen fencing designs. Inject a little boho glam into your traditional garden by slinging garden lights from them (the slats are perfect for hooking things on to) to create a twilight entertaining zone. They are also fab in the day as they create shade while allowing some light to stream through.
12. Consider metal fencing panels
The industrial look of this fence design works really well for period properties. Add an edge to a garden of pretty meadow flowers with a hardwearing metal fence. There are plenty to choose from, but we like cut-out designs which won't look too heavy in a traditional scheme.
13. DIY a colored fence for a cheap upgrade
Let your front garden fence bring color to your outdoor space in all seasons with a splash of brightly colored paint. You can buy panels which are pre-treated in coloured stains, but otherwise, take advantage of the large range of fence paints on the market and save cash with this easy DIY.
14. Build a boundary with climbing plants
Barely-there wire trellis can be used in vertical gardening to support a number of climbers including favorites like roses and clematis. While you may not want to use this fencing design for the external boundaries of your garden, it can help you break your garden up in to different areas and maximises the planting potential of your plot.
15. Choose iron railings for a classic front yard fence
Wrought iron railings are another garden fence idea that are frequently used to the front of properties as they create a boundary that looks imposing from a security point of view, without blocking the view of the home. They are strong, can be painted in any color, sure to keep the dog and kids secure and finally, they require little maintenance.
16. Build a living retaining wall
While not strictly speaking a fence, you can create a beautiful natural boundary with a retaining wall made from vertical oak sleepers. This fencing design will form a raised bed of sorts that can be planted with tall grasses for height, or low herbs and shrubs.
17. Create a dramatic backdrop for planting
Looking for garden fence ideas that really show off your planting? One way to create this is to paint or spray your garden fence a dark color, such as deep blue or black. Then position light-leafed plants in front of it for a dramatic contrast.
18. Mix slatted and solid fencing
If you have a small patio that faces a busy street or driveway, you can make it more private by surrounding it with tall fencing. The trick is not to go for solid fencing on all sides to prevent an overly severe or boxed-in look. Instead, use a combination of slatted fencing that lets the light through, along with a panel of solid fencing where you need the most privacy.
19. Give your fence the feature wall treatment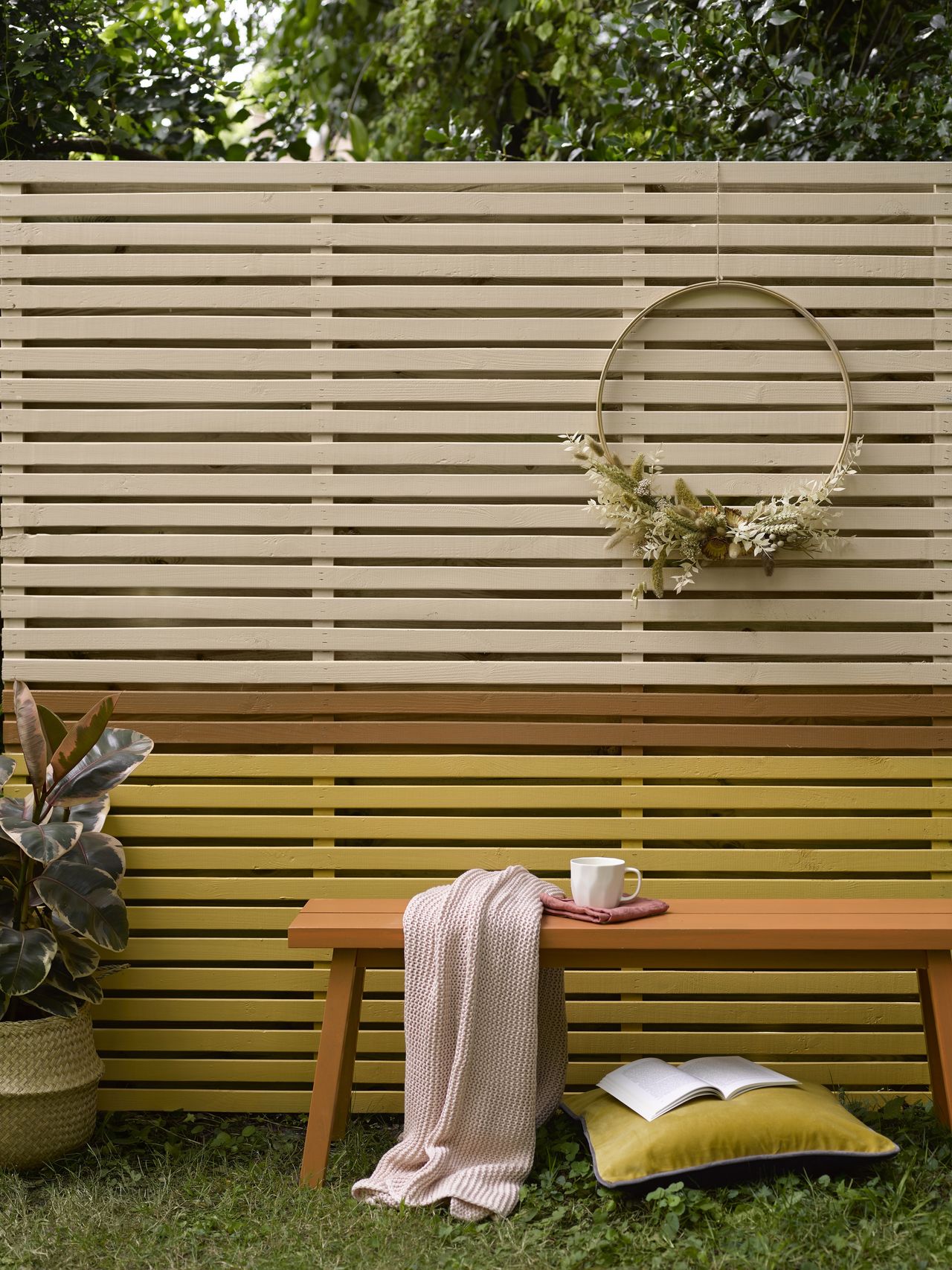 Three gorgeous colors makes this small fence pop. Perfect to frame a cozy reading spot and imagine how great this would look on a grander scale too.
20. Be coherent with your color scheme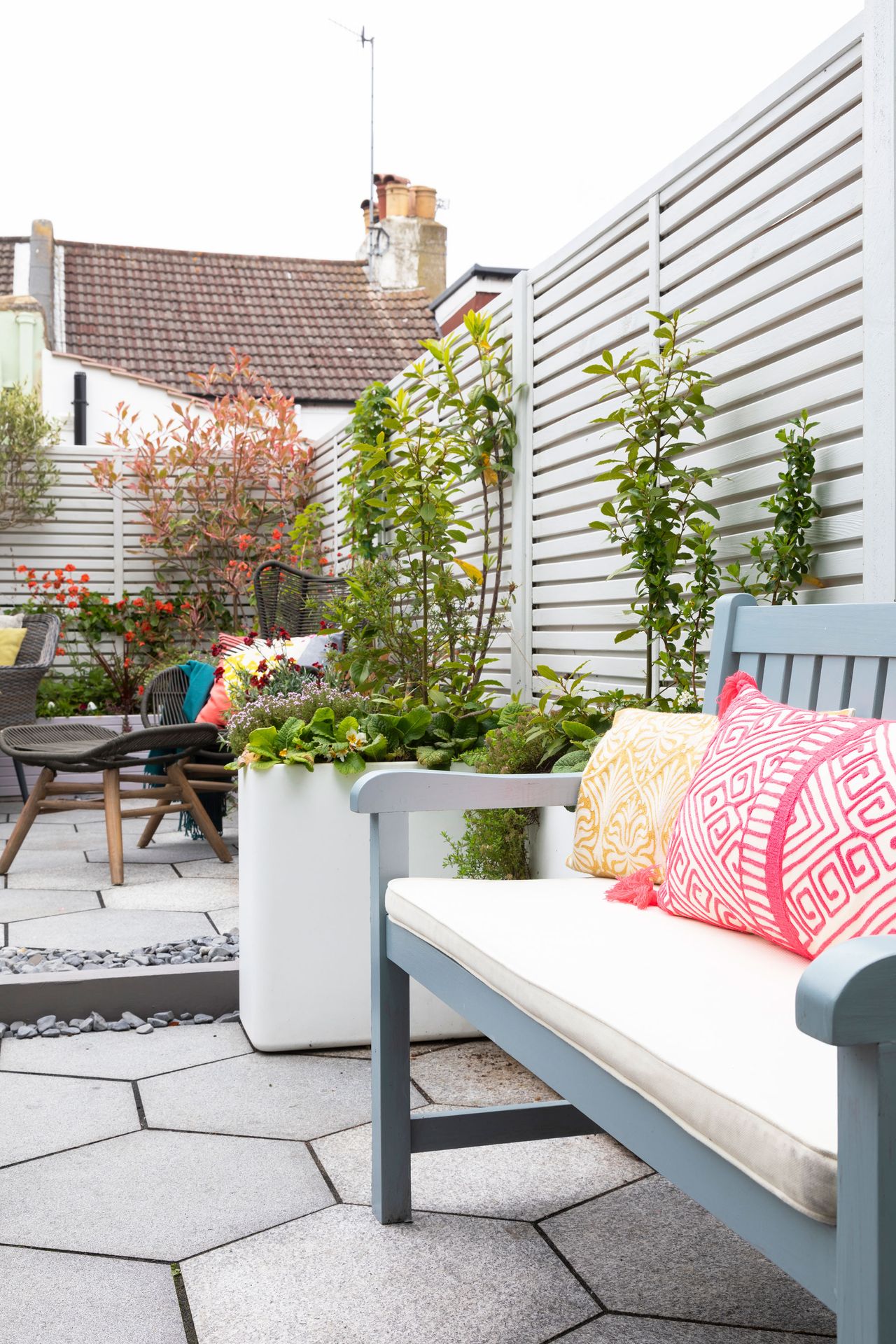 If you have a lot of light tones or another dominating hue on your patio area, stick to it with your fence ideas for added uniformity. What's more, it will enhance the space you have, making it feel lighter.
Which wood is best for garden fencing panels?
Cedar is the ideal choice of timber, but as pressure treated pine is more affordable, it might be preferred and can be just as effective if well cared for. When you choose timber, remember to check how it has been treated. Fencing is commonly either dip-treated (where the wood is immersed in preservative), or pressure treated where it is also treated with preservative but dried first. This is longer lasting but comes with a higher price tag. Dip-treated fences need periodic re-treating so it might be worth investing in a paint sprayer for regular reapplications of a fence stain (check our buying guides for both).
Fencing can be bought in two ways: you can either have a bespoke design built to specific dimensions, or purchase ready-made panels in standard sizes. Whichever option you choose, we have plenty of garden fence ideas on offer; however, which is best for you should be determined by purpose and property type.
How to install your garden fence
Erecting fencing is within the grasp of competent DIYers, but if doing it yourself, it's best to ask someone else to help.
Fences, walls and gates do not require building regulations approval, but it is important that they are structurally sound. New fencing will not usually require planning permission either; however, if you live in a listed property, or in the curtilage of one, then you will need to seek listed building consent.
Our top garden fencing tips:
Decide whether you want to set your posts in concrete or use post supports. Metal post supports are quicker and easier, but can be weaker.
Install your fencing by putting up the posts and panels alternately as you go down the line. Doing it this way should result in the correct spacing.
When installing posts in the ground, ensure that at least a quarter of the total height of the post, ideally 60cm, is below ground level for stability.
Use a spirit level as you go to check that your panels are level
Prolong the life of your fence panels by using pressure treated gravel boards below the panels.
Fences on a slope need to step up or down the slope.
Leave hedgehog holes under solid fences so these creatures can move from garden to garden.
Use post caps to protect the timber from rain and create a more attractive finish.
Use thicker, 100mm posts for heavy panels for additional strength.
Fence it off guys 🙌