Decluttering and organizing once and for all is a daunting task—but it's always well-worth the effort when your home and storage solutions function like a well-oiled machine. Not only does it help your day-to-day flow but it also helps to improve overall mindset and wellbeing.
'Clearing the clutter from your house actually helps you clear emotional clutter in your mind too,' says Victoria Cornell, founder and decluttering expert at Motherhood Life Balance. 'Clearing out the clutter also lets you make room for new and positive things!'
Antsy to start decluttering your own space? We spoke to a handful of decluttering and organizing experts to get their best insights on exactly how to declutter your home as efficiently as possible so that you can implement the most efficient organization ideas around, for zen-like surroundings.
Where do I start decluttering my house?
It can be very overwhelming when you start out, especially if you haven't done any household purging in a while. Take the pressure off for best results, just go one step at a time. Don't go after the whole house in an afternoon because trust us, it will be too much. Do it by room or by area just so you don't end up with a full house of decluttering mess.
DIY influencer Jessica Nickerson of @househomemade comments: 'Pick one space that you feel needs to function better for you. Don't pick one thing, like "all of my clothes"..its too broad and can be overwhelming. If you do choose your closet, start with one part of it, like getting the t-shirts in order. Then move on to pants. When you break it up into smaller, bite-sized pieces, it can be less stressful. In an effort to keep things easy, I'd also advise to not pull everything out all at once. What if something pulls you away from the task at hand? Then you have an unfinished project AND a huge mess.'
1. Set a proper time duration for the activity
'Decluttering takes time because it involves decision-making every step of the way,' explains Anton Giuroiu architect and founder, Homesthetics.net. 'You need to decide on a per-item basis if you're going to keep something or not and that will definitely not always be a fast decision to make.'
That being said, Giuroiu suggests you make sure to allocate a proper time window for decluttering. For small areas like a bathroom, a day or half a day might be enough. A whole weekend, on the other hand, might not be enough for larger places like a home office or when organizing a closet. Set your expectations early and make sure that you do not do things in a hurry because you might not be able to do decluttering properly if you are pressed for time.
2. Gather and sort like items
If you are clearing out your closet, put together pants, shirts, handbags, etc. If you are organizing a garage, put all gardening supplies together or sports equipment, or car maintenance tools.
'Break things down into little categories based on how much time you can spare,' says Katherine Lawrence, founder of Space Matters and support organizer for Hoarders on A&E. 'If you want to organize your kitchen in 30 minutes a day, then one day pull out all the mugs, the next day sort through glasses, and so on.'
3. Decide from that category what you love, what is useful, and what is practical
'I recommend donating or throwing away anything you haven't worn in 6 months or used in 6 months,' says Cornell. 'Don't keep things that have a negative emotion attached to it. For example, you see an item of clothing that you no longer wear and think 'wish I fit into that' or 'wish it looked good on me,' you do not need to carry those feelings around with you. Out it goes!'
If you have a lot of a certain item, it might take a little more decision making to cut down your collection… Let's say you have twenty-five wine glasses and you and your spouse have a daily glass of wine. Pick your favorite two. Sometimes you have dinner parties with six guests, add another four to your keep pile. You love glasses that you picked up while traveling to your favorite vineyard. Add those four to the keep pile and adjust your kitchen storage accordingly.
'Ten glasses fit nicely on one shelf in your cabinet,' points out Lawrence. 'Keeping ten glasses checks the requirements of what you love, what you use, and what is practical. Good Job!'
4. Place items in a permanent home that makes sense
Most of us get the idea of a permanent home with socks (dresser drawer), forks (kitchen drawer), coats (closet), etc. So let's apply this logic to everything else and create a "home" for all the things you own. 'Use labels in drawers and bins as reminders for other family members,' suggests Lawrence. 'Challenge yourself to keep minimizing until everything fits without stacking, shoving, and stuffing.'
5. Make digital copies of your documents
Papers and other documents account for most of the clutter in anybody's house, says Giuroiu. As a result, it is vital to keep a digital duplicate of your papers so that you may search for them digitally when you need them right away, but the physical versions can be kept out of sight and in a secure area. 'Simply ensure that your digital copies are secured from hackers and that your physical copies are stored safely away from floods, fires, and other natural disasters,' he adds.
6. Channel a minimalist mindset!
'If you are struggling with any of these steps I give you permission to just chuck stuff,' says Lawrence. 'The fewer things you have the less you have to organize!'
It is very difficult to "organize" things that you don't really like, never use, and do not fit into your living space. So keep donate, recycle, and trash bags handy and fill them up with enthusiasm. Congratulations, you just eliminated one more thing you will never have to organize!
7. Utilizing vertical space is key
'Instead of a bulky bookcase use thin book ledges hung on the wall, instead of a table lamp use wall sconces, and rather than a cold bare floor, lay down a patterned area rug to create more depth,' suggests Karin Sun, founder of Crane & Canopy. 'Filling up your vertical space truly makes a difference when it comes to organizing all of your daily essentials around the house.'
8.Try and stick with a neutral background in order to keep things less busy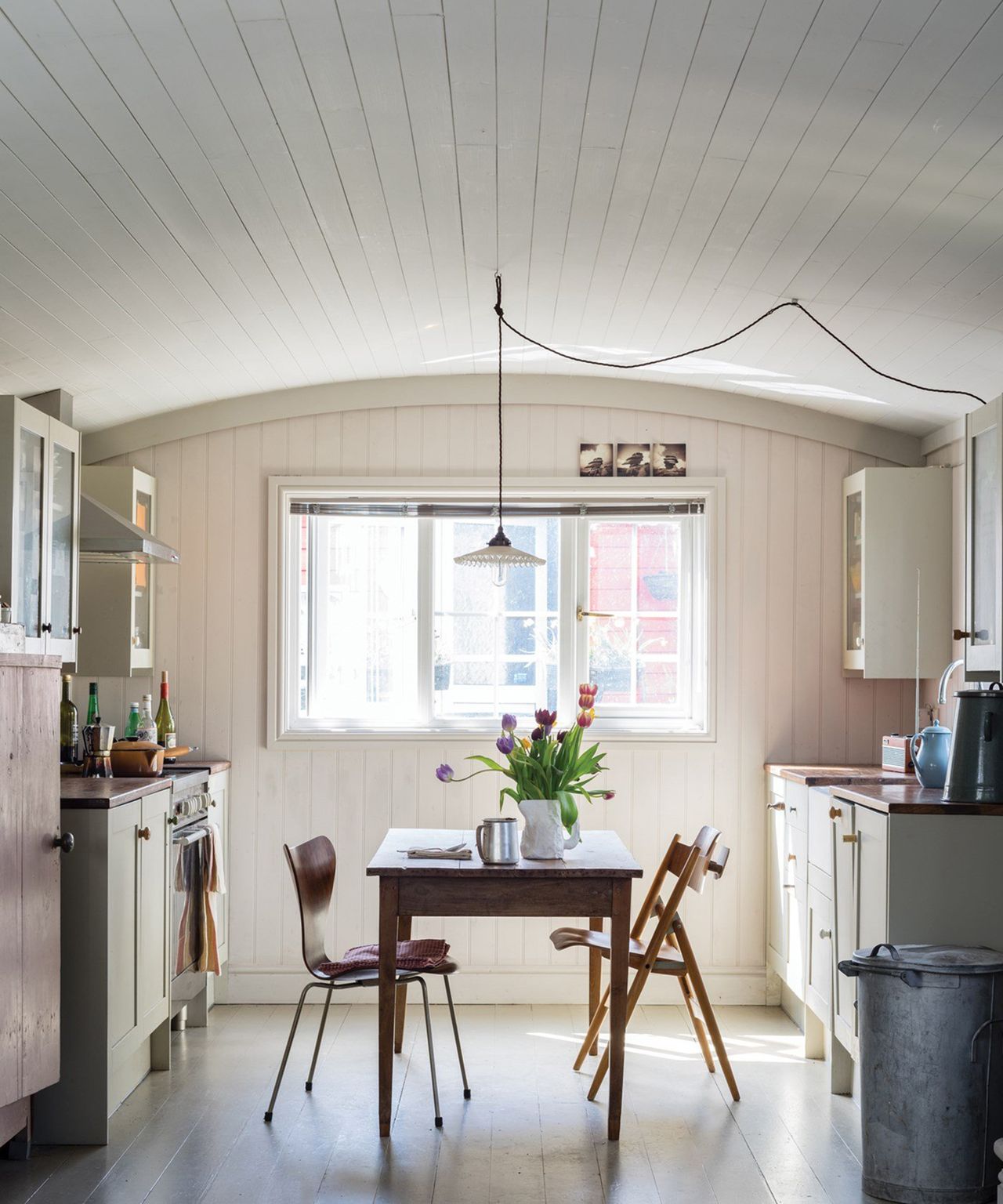 With multiple personalities in a single space, things can get busy quickly. 'If you have neutral walls and neutral bedding, add character to the space by decorating the space with colorful artwork, shower curtains, throw pillows and throw blankets,' says Sun.
9. Go double duty
Buy furniture pieces that can serve multiple functions, suggests Sun. 'I love using sideboards in dining rooms that actually have filing cabinet drawers in them. This way, I have a place for all the important documents and let's face it so many times people end up using their dining room table as a desk so it's nice to have everything in the same space.'
How to declutter your house quickly
Nickerson's best tip is: 'Don't over think it. It's pretty easy to justify holding on to something because "it was a gift" or " I paid a lot of money for that". If you aren't using it or wearing it then its taking up valuable space in your home. Let it go. It's ok! You'll feel so much better once things are simplified. I like to list bigger items on Facebook Marketplace. Price them right to get them out quickly.'
The biggest decluttering mistake people make Nickerson thinks is down to simply not starting. 'Lists like mine can be overwhelming but they don't have to be! So what if it takes you way longer to accomplish? Get it done on your timeline but get it done. Every year, after I go through the clean out, I get better and better about being intentional in deciding what things I bring into our home (my kids are a different story). It's a process and unless you're innately a minimalist, it takes time and consideration to change habits and live differently. Just start.'