If you're searching for a mattress that will help your children to sleep more soundly, then chances are you've probably come across the Simba Hybrid Kids Mattress. The newest release from Simba comes exclusively in a single size that fits perfectly into bunk beds and other children's bed frames.
The mattress has five layers, combining a breathable top surface, two foam layers with springs between, and a zoned support base. The whole thing is designed to be supportive, breathable and temperature-regulating, stopping little sleepers from getting too hot and ensuring a comfortable night's sleep. But does it actually deliver?
To put it to the test, we've had to call in a VIP reviewer, three-year-old Sophie, who is a very fussy critic indeed. She's refused to sleep on a standard mattress since she graduated from a cot, and has always had a duvet placed under her sheet to make the bed comfortable enough for her. Princess? Possibly.
Read on for Sophie – and her mum's – full review, and, if you're looking to update your own sleep situation, don't forget to take a look at our guide to the best mattress for grown ups.
Simba Hybrid Kids Mattress specifications
Tension: Medium-firm
Type: Mattress in a box
Construction: Foam layers with titanium Aerocoil springs between
Sizes available: Single
Age range: Suitable for children 3+ and adults
Who will the Simba Hybrid Kids Mattress suit?
Front, back and side sleepers: The foam layers mean you can sink into the mattress while the springs offer enough support for all sleeping positions.
Memory foam fans: This doesn't feel like a traditional sprung mattress. Think foam with a little bit more roll.
Light sleepers: Our mini tester slept more soundly and nodded back off quickly when waking, even at 7am.
Anyone with small spaces or awkward access: it arrives in a box so it can be easily moved around. And because it's only a single, it's easy for one person to lift.
Unpacking the Simba Hybrid Kids Mattress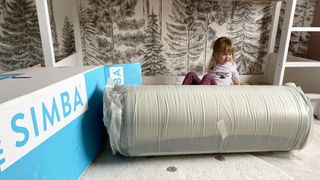 Okay, so I doubt Simba will be too concerned about this, but Sophie's first criticism was that the blue box 'isn't for girls'. Yes, I've tried to raise her to be as gender-neutrally as possible. No, it clearly hasn't worked. Once we'd go over that hurdle and she'd also accepted that there wasn't a Barbie Ultimate Dream Playhouse inside (no idea where she got that from), it was super easy to get into position and unpack.
This is our second mattress in a box and they're sooo much easier to manoeuvre up stairs and into small bedrooms than traditional mattresses. Because the kids' mattress only comes in a single size and isn't that heavy, I was able to lift it upstairs and into Sophie's bedroom myself.
Once you've opened one end of the box, you slide the mattress roll out and find it is wrapped tightly in plastic. There's an instruction book, money-off voucher and cutting device inside a recyclable cardboard wallet. I used the cutting tool – which I kept well away from Sophie as it's super sharp – to carefully slice through the plastic and the mattress pops out. Make sure you keep hold of this as it's super useful for unpacking other parcels, not just mattresses.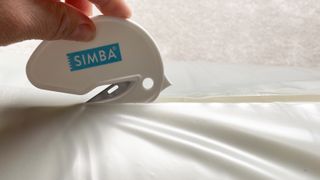 Once the mattress was freed from its confines, I was able to move it onto our bunk bed base. It fit snugly. Now obviously Sophie wanted to jump straight on, but you need to leave it for at least five hours for the layers to rise up ready to sleep on. I distracted Sophie with colouring and snacks and the bed had risen up enough to sleep on by bedtime.
Now just a quick note, all of these mattresses in a box release harmless gases as the foam layers expand, which does cause a bit of a stink. Luckily Sophie seemed oblivious to it, but if you've got a child with a sensitive nose, you might want to put them in a different bed for the first night.

What's the Simba Hybrid Kids Mattress like to sleep on?
I asked Sophie to describe her new mattress and she said 'soft and comfy' but her vocabulary to describe mattresses is a little limited, so I'll share my thoughts, too. Sophie only weighs about 18kg and so she's so light she barely makes a dent in the surface of the mattress. I was waiting for her to toss and turn and struggle to get to sleep on the first night, but she was out like a light. I noticed that she changed position less during the night than she did on her previous sprung mattress, so the foam does seem to help her to sleep more soundly.
As Sophie doesn't have much experience of different mattresses, so I decided to try it out myself. We have a king size Simba Hybrid mattress on our bed, and the firmness is perfect for me. The kids version feels very similar in that it it's medium-firm – not quite as firm as an all-foam mattress, but I like the extra flexibility the spring layer provides. I slept soundly, although persuading Sophie to move to the top bunk so I could get a turn took a while!
To give the mattress one final test, I decided to conduct my own motion transfer experiment to see how supportive it is. I covered a 3/4 full tumbler of water with kitchen roll, placed it on one side of the bed and rolled over three times to see if I'd displace the water. Not a drop of water spilt, which is impressive on a single mattress. It means teddy bears and blankets can be assured of a good night's sleep, too.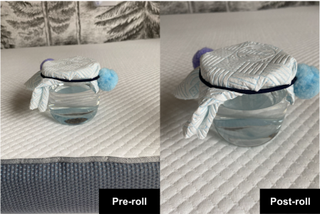 Simba Hybrid Kids Mattress filling and materials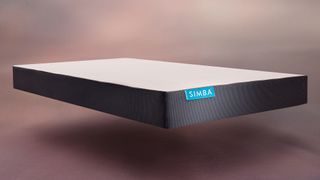 There are five layers in the Simba Hybrid Kids Mattress, each with it's own purpose:
1. Fresh Sleep Surface: A soft, breathable top layer. I covered this with a waterproof mattress protector to be on the safe side.
2. Open-cell foam layer: Designed to encourage air flow and filter heat away from the body to stop little ones getting sweaty while they sleep.
3. Titanium Aerocoil® springs: Provide even body weight distribution.
4. High definition foam layer: A supportive foam layer to stop little ones rolling off the bed.
5. Zoned support base: Another layer of thermo-regulating foam to keep sleepers cool.
Ordering and delivery
Order direct from Simba and you'll get free delivery and returns. There's also a 200-night trial period, during which you can return the mattress free of charge if your little one doesn't get on with it. Oh, and you'll get a 10-year guarantee, all of which makes it feel like a safe investment.
How does the Simba Hybrid Kids Mattress rate online?
As the Simba Hybrid Kids Mattress is relatively new to the market, there are only 503 reviews on the Simba website, but these overwhelmingly positive, with an average of 4.9/5 stars. Comments include 'my daughter sleeps longer and better' and 'worth the price, great investment'.
How does it compare to other kids' mattresses?
There are lots of companies making single mattresses designed especially for children, including big hitters like Silentnight and Dreams, as well as smaller companies like Little Green Sheep, Little Folks and Naturalmat. Prices tend to range from £200 to £300, so the Simba, which retails at £369 but is often on offer below £300, is at the top-end of the market.
One thing Simba doesn't shout about, which lots of other children's mattress manufacturers do is whether or not the mattress is organic, or toxin and chemical-free, which isn't something I could find details of on the Simba website.
That said, in terms of positive reviews and experience, the most important thing for a kids' mattress is that it helps them sleep soundly and safely, both of which the Simba Hybrid Kids Mattress does.
Is the Simba Hybrid Kids Mattress worth it?
At full price of £369, I personally feel that the Simba Hybrid Kids Mattress is at the very top of what I'd want to pay for a children's mattress. This is mainly because I'm guessing Sophie will want to change her bed, or even swap for a double, before this mattress is at the end of its life, which could mean needing to replace it sooner than I'd like.
However, there's no doubting that she and I both slept more soundly on it, which is priceless for some parents. Knowing she'll now settle herself if she wakes in the night is so comforting for me – and means I get extra sleep. So yes, if you have the budget – and make sure to look out for deals – then the Simba Hybrid Kids Mattress is worth it.
About this review and our reviewers
Laura Crombie has been writing about homes and interiors for 14 years. She presents most of Real Homes' video reviews and has tested everything from cordless vacuums and toasted sandwich makers over the years.
Sophie is a three-year-old who likes to make her opinions known on most things. Good = princesses, pizza and Peppa Pig. Bad = carrots and Mr Tumble.