To say the last couple of years have been tough on us all is an understatement. So when offered the chance to test the Simba Orbit weighted blanket, I was very quick to say yes.
I had read lots about the best weighted blankets and was keen to see whether one from Simba – experts in all things sleep – lived up to expectations. Would it really beat stress and help me sleep better?
I don't have diagnosed stress or sleep problems, so take this as coming from someone who was both tired and stressed – but not medically so. However, I can say that after a particularly trying year my anxiety levels were such that anything that would reduce them would be welcomed and noticeable, so read on find out how the Simba Orbit and I got on.
This was the first weighted blanket I had tried and have tested a few more since. So, this piece will not only tell you all about the Simba Orbit and its many merits, but also some intel on whether a weighted blanket is right for you at all.
If you need more products to improve your sleep, it might be time to buy the best mattress.
Who does the Simba Orbit suit?
What is a weighted blanket for?
Weighted blankets use what is known as deep pressure therapy to soothe you. Our bodies generally respond positively to pressure – be it a hug, swaddling, or even gentle massage. The weighted blanket replicates this pressure over your whole body, suppressing the flight or fight impulse that is triggered in stressful situations. That racing feeling in your body or mind when your are under stress is a result of that instinct, and stops you being able to switch off while sleeping or relaxing.
Weighted blankets contain lots of small beads spread throughout. This means the blanket is heavy enough to simulate deep pressure therapy, but not so heavy it becomes uncomfortable.
Simba has done a lot of research on how weighted blankets can help with stress, anxiety and insomnia which is worth a read if you want to learn more. They do caveat that a lot of the evidence of them being effective is anecdotal, though there is plenty of science to explain why it could help.
If you ever find yourself uttering the words 'I need a hug' then a weighted blanket could be the answer. Or if you don't say those words because you are not particularly tactile (that's me) then a weighted blanket could be what you didn't realise you needed. It is all the comfort of a hug, without having to break social distancing rules – or having people infringe on your personal space...
It is not a replacement for medical treatment for stress, anxiety or insomnia, but can be used in conjunction with any cognitive or pharmaceutical therapies you currently use, to great effect.
Those struggling to sleep as a result of stress will benefit from using a weighted blanket, but it is not advised for use by children, the elderly and people with circulatory issues or diabetes. Simba say that if you can't lift it above your head, you shouldn't use one – which sounds sensible to me if you want to avoid getting stuck.
What do you get in the box with the Simba Orbit?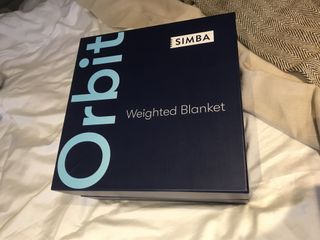 The attractive and sturdy box contains the blanket and a cover. The blanket comes in single size measuring 135x200cm, but in two weights – 6.8kg/15lbs or 9kg/20lbs. Simba recommends choosing a blanket that is approximately 10 per cent of your body weight. If your weight lands between the two options, you should choose the lighter one.
The blanket itself is made from a cotton exterior with glass nano-beads which are distributed evenly through the quilted pockets. This comes with a cushioned layer between you and the beads. There is a washable, removable cover included so that you can use the blanket in place of your duvet.
The Simba Orbit is a slate grey colour that is sure to match many a scheme. There aren't other colour options, but also nothing to stop you adapting an existing duvet cover to go over the top should you be crafty (and bothered).
Using the washable cover
When you unbox the blanket, you are nearly ready to go. You just need to get the cover on. My first go was a bit of a mess, but then I have to have a little break when making a bed to pep myself up to put the duvet cover on anyway. In theory, it is simple: there are ties inside the cover to tether it to the corners and sides of the blanket. However, I wish I had found Simba's handy instructions first which suggest turning the cover inside out, then laying the blanket on top so you can tie it to the case before turning right-way-out. Instead, I just rolled the cover up and worked my way down the blanket, only to find I had tied it in sideways instead of longways.
A quick fix and I was ready to go. Time for a little lie underneath to de-stress.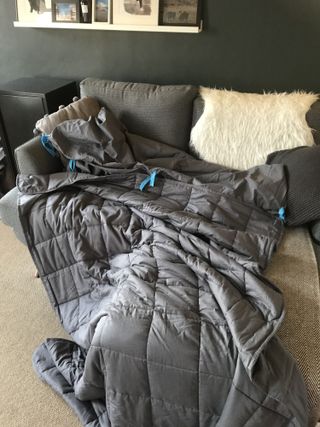 What is the Simba Orbit like to sleep under?
As the weather was cold when I first started using it, I used the Orbit both on top of my existing duvet and underneath it. I did not overheat either way and it felt like it regulated my temperature fairly well. I have used it in summer too – on the hottest days it is a bit much, but I was still using it when outside temperatures were in the low twenties (celsius) at night. I loved how it enveloped my body, meaning annoying cold spots and draughts were not a problem. So from a temperature point of view, it does the trick.
Now, did it deliver on the deeper sleep I was promised? In short, yes. On the whole, I think I sleep fairly well, with my Fitbit telling me I get an average of seven and a half hours a night. However, I had been in a pattern of waking around 1am and finding it hard to get back to sleep – blaming an overactive mind on most occasions. This had been going on for a few weeks before I tried the Orbit and then the first night I slept under it, I slept through. On nights when I did wake, I found it much easier to get back to sleep.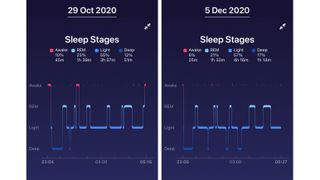 As previously mentioned, the Simba Orbit is only available as a single. Really, it is best suited to people sleeping alone, though if you and your partner both wanted to sleep under a weighted blanket it would be best having one each anyway. This is because it needs to securely wrap to your body, and if sharing, you may have a bridge where it is stretched between you.
On a standard double bed, you will find it hard to share though. I tried sleeping under it with my other half in the bed and really, this is not possible unless you have a king or super king and can sleep far enough apart. If it hangs over the edge of the bed, you will find it slides off in the night. This is not just an Orbit problem, but the issue with most weighted blankets as they tend to be single size.
My advice? Save it for sleeping solo, lie slap bang in the middle of the bed and starfish to your heart's content.
Not just for bed time
The Simba Orbit and other weighted blankets are not just for sleep though. If you struggle to decompress after work, then you might find relief lying under it while you watch telly, or even while listening to your favourite music or audiobook.
I have a chaise sofa, so find it quite comfortable to cover my legs with while I am sitting, though it does make me feel at my most calm when fully under it. It is a bit of a weight to lug up and down to my loft bedroom every time I want to do this, but worth the effort if I need a moment of peace. Because you can do this too, the price feels well justified as you get plenty of bang for your buck with frequent use.
Did it relieve tension?
The short answer is yes – for me it did. Whether everyone would find it therapeutic is another question, but my sleep graph speaks for itself and I always feel better having not had a broken night's sleep.
I am always mindful of how when you want something to work, you can trick yourself into thinking it has – much like a placebo. So that should be taken into account. But whether it is a real physical response or psychosomatic, I do feel less tense after sitting or sleeping under the Simba Orbit.
Washing and care
Lots of weighted blankets are spot clean only as they don't have removable covers like this one. That means you will not want to sleep directly under it, as you can with the Simba Orbit.
The cover can be washed at 30ºC which will keep the blanket clean and fresh. If you do spill or get anything on the blanket itself, you can clean with a damp sponge. Still, it is probably best not to sit under it drinking a big glass of red wine unless you don't mind the smell and stains.
Unlike a normal duvet which will lose thickness over time and need replacing, the life of the Simba Orbit is much longer. With the glass nano-beads, depth loss is not an issue, though the padding may reduce a bit over time.
How does the Simba Orbit compare to other weighted blankets?
Among the best selling weighted blankets, it is the most expensive, but it is also one of the few with a removable cover. Online reviews for similar weighted blankets with removable covers suggest that 'cover slippage' is an issue – but not so with the Simba Orbit.
For me, having the removable cover is a must or else I wouldn't want to sleep under it without a sheet or something else between. And I would be forever worrying about getting it mucky which is a risk as I keep lugging it round the house.
Another thing to note is that some cheaper weighted blankets suffer from bead movement over time – another risk of being moved around the house a lot. So far I have not had this problem and the beads seem secure within their quilted pockets. Some people preferred blankets with more padding, but I can't see how the Simba Orbit would need more padding, and would worry it would make it too warm.
How does the Simba Orbit rate online?
The Simba Orbit gets 4.8 out of 5 on the Simba website and 4.6 out of five from reviewers on Amazon. Many agreed that it helped them sleep and relax, though some found it a bit warm. Interestingly, I found I was cooler when it was on top of my main duvet, though wonder if this affects how it works. I will hold that thought until summer...
Is the Simba Orbit weighted blanket worth the money?
Wellness and sleep are so important. If you wince at the £160+ price tag, just bear in mind that this really did help me and improved my sleep and stress making it completely worth the expenditure. There are much cheaper weighted blankets on the market but as mentioned before, these won't have the longevity as you can't clean most of them.
I have now been using mine for over a year and it is as good as the day I brought it home. No bead movement and the washable cover is still good as new after several washes.
What I would say is that if you are not sure if a weighted blanket is for you, it could be worth trying a friend's or relative's first, then take the plunge on the Simba Orbit. It really is the best, but you need to be sure the compression therapy will be right for you, before forking out for the benefits.
The verdict?
Though not the cheapest weighted blanket on the market, I consider one like this with a removable cover a must. If you are having sleep issues, the price is not significant and could bring remedy to that. If you want one just for curling up on the sofa, consider a cheaper option without the cover, but don't come crying to me when you stain it.
About this review and our reviewer
Lindsey Davis is Editor in Chief for homes ecommerce at Future. This means she spends all day working with her team to find you the best products for your home (and life). She lives in a small Victorian cottage, so while she has a lust-list of interiors items the length of your arm, she doesn't have the space – so being selective is key.
Like all of our reviews, the Simba Orbit has been tested first hand in a home setting and the product is given to us – free of charge – to do so. We test products for as long as possible; in this case, Lindsey started testing in October 2020 and still uses the blanket today. And, where possible, we return to our reviews at a later date to let you know how the products stand the test of time.