Considering buying a Simba mattress? This is the review for you. I've been sleeping on a wide range of mattresses and trying them out to bring you a true picture of how comfortable each one is and how much support it provides – and this is one of the best I've tried. I've also persuaded my husband Nick to take part to create a balanced view of what each mattress is like for women (so often the purchasers) and men, talked friends and family into trying them out, and have conducted some semi-scientific testing so that you can buy your mattress online with confidence.
If you're looking to find the best mattress for your needs, you'll find plenty of choice in our guide to the top picks – but don't miss our deep reviews first.
Simba Hybrid mattress at a glance
Firmness: it rates as medium/medium firm.
Sleep position: it suits side, back and front sleepers.
Your weight: it's suitable for people of average and above average weight.
Motion transfer: fidgety partners won't bother you.
How it feels: really supportive but with a giving top layer.
Sizes: single to emperor.
Read below as I try the Simba mattress (you can visit the Simba website here. Already convinced? Check our Simba mattress deals page for the latest bargains, too. Head to the Simba website for a browse of their latest sleep bundles, which are their regular discounts, sales and deals.
Simba mattress specifications
Why you can trust Real Homes Our expert reviewers spend hours testing and comparing products and services so you can choose the best for you. Find out more about how we test.
Type: Memory foam/micro pocket springs
Sizes: Single, double and king (each in UK & EU versions), plus small double, small single, super king and emperor
Who will the Simba mattress suit?
Can you use an electric blanket with a Simba mattress?
Feeling the chill suddenly. Whether you sleep with the heating off or just like to feel super warm when you get into bed, you might like to know if you can match the Simba mattress with an electric blanket. This is a breathable mattress, but we find it warm to sleep in – in other words, we don't think you'll need on. But if you really want to, there's no reason why you can't. Simba's advice? 'Just remember that a cooler room can help you get better sleep.'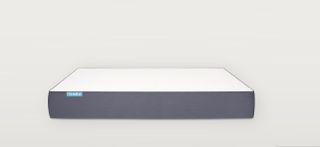 What's the Simba mattress like to sleep on?
The Simba Hybrid stands out from the bed-in-a-box crowd for its layer of teeny pocket springs. Having found its all-foam contemporaries pretty weird in their flatness – the abrupt sensation when you sit down on one takes some getting used to – Nick and I were both looking forward to something with a bit more bounce.
The conical springs are only wee, so you don't get the luxurious height of a pocket spring number but it definitely felt more spring-like when we first climbed aboard. Night one went fairly well. It is undoubtedly a comfortable mattress, but our first instincts were that it would better suit people who enjoy a medium mattress. Our life-long allegiance to firm mattresses has yet to be challenged and I am afraid the Simba Hybrid felt squishier than we'd ideally have liked (I mentioned the spring layer, right?).
On the plus side, it didn't smell, like many of the mattresses we've tried. I have no idea why, but I was very happy with that outcome. Also, I felt equally comfortable sleeping on my side, back and front. This is rarely the case for the latter. The size or shape of your lady-bumps matters not; they are simply unsuited to sleeping on! Fast-forward five nights and our opinion remained the same; too soft for us, but we could appreciate why so many people are Simba converts.
Naturally the bounciness of the Simba does have an impact on motion transfer, but the layers of latex and memory foam have a dampening effect and the recoil was evident but minimal when Nick did his usual, and scientifically accurate (ahem) thrashing about test. He never woke me during the night, at least not with movement; sound, however…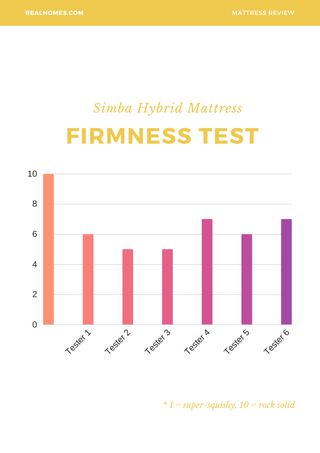 Our ever-ready firmness testers (three male, three female, ranging from 10 to 17 stone) generally agreed with our verdict on softness levels (note: I was careful not to give them my opinion in advance so as not to subliminally sway them). The ratings ranged from five to seven (see graph above), with 10 being fiercely firm and one kitten soft. One of our testers (the heaviest, sorry mate) even needed a hand to get off the mattress again but he isn't the nimblest (again, apologies).
The weight test (below) threw up no surprises. Our olde school weight, with the hand-drawn ruler tacked on, is primitive at best but it did sink to 9cm (10cm is the highest), which supports our other findings that this mattress is indeed squishy. Notice that the weight sunk equally at the side and middle, suggesting a pleasingly level sleeping surface from edge-to-edge.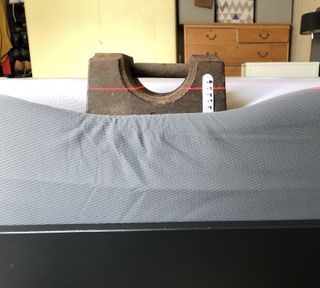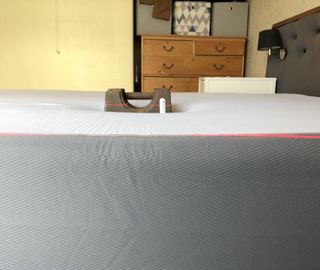 On posture, the dot test (below) shows a little more curvature on Nick's spine than we've experiences so far in the testing gig. However, Nick does have pretty wide shoulders so I don't think this will be a problem for people who don't heft wood around for a living. And he didn't complain about any back strain, even after testing for five nights. I found this mattress pretty supportive, although I did feel like I sank down into it more than usual and I had to move from side to back a few times until I found an angle (with one knee up and one down) that worked.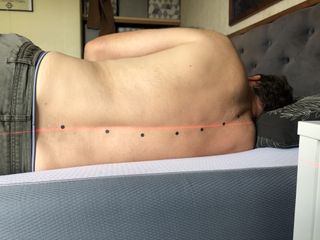 How does the Simba rate online?
Of the frankly astounding 21,029 reviews on Simba's own website, the vast majority (17,935) give it the top five star rating, and only 91 have pipped for the lowest one star option. The converts mainly wax lyrical about enjoying the best night's sleep of their lives, while the nay-sayers are mostly complaining about delivery issues but there are a few references to the mattress 'dipping'.
The stats are similarly impressive on Trustpilot, with 84 per cent of the 18,695 reviewers opting for the top 'excellent' rating. Many of the fans mentioned improvements (and even cures) in their back pain, and are basically evangelical about their life-changing experience. Go Simba. The few rating it one star mainly moan about poor delivery/service, with a few reporting sinking/sagging after a few months.
What do you get for your money?
The usual 100-day free trial, plus a 10-year guarantee and hassle-free returns. Oh and a nifty knife for opening the heavy-duty plastic bag it's suctioned into. It's the little things in life…
Is the Simba worth it?
On balance, yes. Don't let my preference for a firm surface put you off, though. Firmness isn't the same as support. It did support my body, I just felt like I had to wallow around to find a position that worked, which you don't get with a firmer mattress.
Even if you do share my fondness for firm, the free trial makes it worth a punt, and its huge online following suggests that there are many (so very many) happy customers out there. If I had to pick one element to rave about it would be the response time – by which I mean the time it took for me to sink into the mattress and feel supported.
It was noticeably, and pleasantly, more responsive than all-foam mattresses. The others tend to feel really very firm when you first lie-down, but you slowly, almost imperceptibly, settle into the mattress until you realise that you haven't accidentally fallen asleep on the floor after all. Not so with the Simba Hybrid, and I think that is where it scores highly, and why it is so popular with the masses. Oh and it was also cool. Not hipster cool, but body temperature cool. I never once had to throw off my summer weight duvet during the night and no waking up in a muck sweat either.
Simba mattress fillings
Here's the lowdown on layers, from top to bottom. You sleep on a hypoallergenic cover with integral airflow for temperature control. Under that lies a comfort layer, aka Simbatex, which contains cooling soybean balms (what now?!) and a more open cell structure than memory foam (again airflow-related). Next comes those conical pocket springs (2,500 in a king size) that provide a bit of bounce and responsiveness. Then there's a fairly decent wedge of Visco memory foam, which essentially contours the mattress to your body shape. Finally, a zoned support base helps reduce motion transfer. In essence, this rather complicated build construction boils down to a well-supported and cool night's sleep – hzar!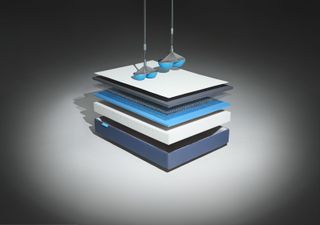 Ordering and delivery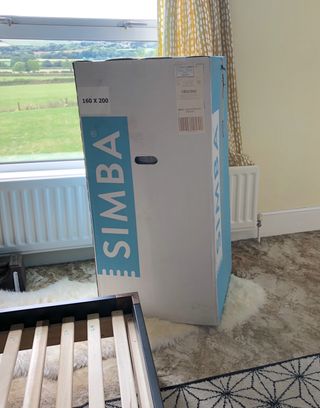 More mattress reviews to check out:
About our review – and our reviewer
Linda Clayton has been writing about homes and interiors for nearly 20 years, working for publications such as Homes & Gardens, Country Homes & Interiors, Real Homes, Ideal Home, Livingetc and House Beautiful. Linda and her husband spend between five and 10 nights sleeping on each mattress. Find her on Twitter at @lindaclayton and @lindaclaytonwrites on Insta.
Read more: