Crack open the champagne and campaign to celebrate women-owned small businesses this International Women's Day and the feisty females the world over that put the sass-factor and smile into sustainable style.
Whether you are looking for eco-friendly gifts for the super woman in your life, or want to support the sisterhood by buying things made by other women, we have found some great companies to support. Let's all unite, and fight to achieve gender equality AND a kinder planet, by whopping up the curves, happy-making hormones, and really appreciating just how beautifully unique, and wonderful women are – every single one.
Women-owned small businesses that pack a punch in sustainable style
In our eyes, every determined diva deserves a shooting star accolade, but alas, it's impossible to name everyone, sadly. So instead, to kickstart this International Women's Day party guest-list, we've rounded up just a few of our favorite amazing ladies – that all produce unique works inspired by nature, made with love to nurture our homes and souls with positivity and beautiful things.
Over to the brave bombshells themselves…
1. Divine Goddess Soaps – Dana Massar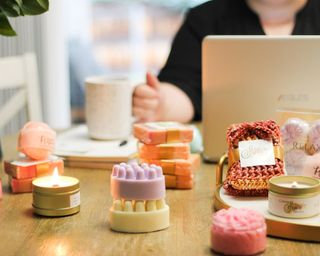 Licensed cosmetologist, Dana, is on a mission to spark our inner goddess with her line of soaps, shower steamers, and premium spa products that 'sets your soul on fire.'
'I am inspired by the world around me. Art, nature, colors, you name it. I love to see the beauty in everything,' says Dana Massar, founder, and top goddess, Divine Goddess Soaps.
Dana continues: 'When we embrace our inner goddess, we embrace a life filled with positive choices, happy thoughts, and radiant experiences. Let's make the world more beautiful together.'
'We live in a world that is constantly hustling and bustling; it can seem overwhelming to even the strongest woman. Now more than ever, it is important to carve out little moments of luxury. We must do this so we can unwind, recharge, and face the next day with the strength, grace, and divinity that we inherently hold within ourselves.'
'Over the years, I've worked with many women who struggled to find their balance, so I have channeled my artistic inclinations with my formally trained experiences to offer you a company that is dedicated to your beauty inside and out.
Find your signature scent from her line of soaps and home fragrances.
2. Hereafter – Yvonne Leung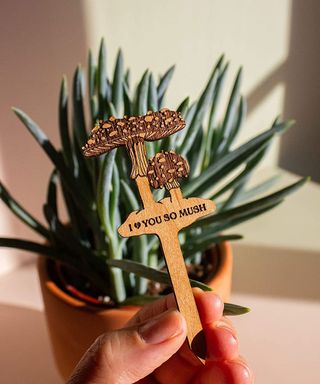 Founded in 2012, Hereafter is an independent, woman-owned small business based in Los Angeles. With a goal to inspire more love and reflection in our everyday experiences, Hereafter, create beautiful wooden gifts and keepsakes that help you express love, thought, and care.
Yvonne says: 'Our products are inspired by the range of life's experiences, from the little everyday moments to the most joyous milestones. Made from sustainably forested America-grown hardwoods, each piece is unique in its grain pattern and adds warmth to your space as you display it for years to come.'
Shop now: Gift your pun-loving, plant parent bestie a lasting display of affection they can keep in their home with pride, with the Mushrooms wood plant pick bundle, by Hereafter at Amazon.
3. Priormade – Rebecca Prior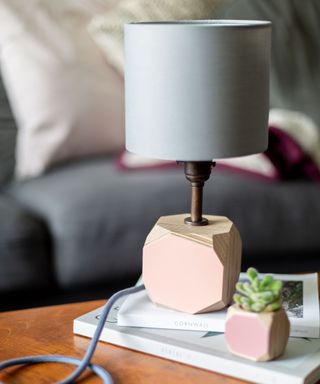 Priormade creates contemporary homewares, lighting, and accessories using a range of sustainable, low-impact, and recycled materials.
In 2011 Rebecca Prior, founder, began making jewelry with surplus materials from projects. Over time these products have become increasingly popular and it's now the main focus of Priormade. In 2019 she opened Prior Shop, a homewares store that showcases 29 designers who also make sustainably crafted products and artworks.
Rebecca says: 'Attention to detail, skilled craftsmanship, and responsible fabrication is at the forefront of every design. My design focus has always been contemporary and high quality. In the past, sustainably made products have looked recycled and had an overly 'green' aesthetic about them. Recycled creations were seen as 'craft' and were not hugely welcome in the world of design.'
'I create products that are high quality and long-lasting; a collection that sits comfortably on the shelves of any luxury department store. I want to change common opinion and highlight that responsibly designed products can be more valuable, well made, and striking than those made irresponsibly.'
4. Three Arrows Collective – Dawn Michele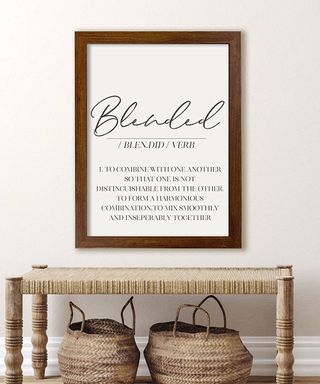 Dawn invites us all to capture the beauty of life with her stunning collection of adorable, handmade, and sustainable products.
Inspired by the ones closest to us, and created from materials nature provides us, Three Arrows Collective's memory-making collection for the home, includes personalized gorgeousness with birth and baby milestone markers; engraved special events decor; and striking personalized wall decor, among many other bespoke delights.
Shown here, take the love to the walls with the Blended definition framed canvas sign, by Three Arrows Collective at Amazon. This beautifully constructed, framed sign comes ready to hang and printed on stretched canvas with charcoal lettering.
5. The Dartmoor Artist – Sarah Smith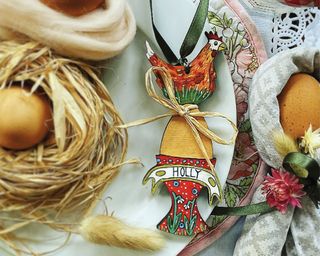 This gutsy country maid had us utterly charmed by her thoughtful, sustainably conscious art and hand-painted homeware, lovingly inspired by the great British countryside.
'I began my sustainable art and hand-painted homewares business during my recovery from spinal surgery. I taught myself to paint and created a business that celebrates the beauty of the great British countryside. I make hand-crafted thoughtful, joyful makes from my farm on Dartmoor.'
Shop everything enchanting and delightful at The Dartmoor Artist.
6. Southern Elegance Candle Co. – D'Shawn Russell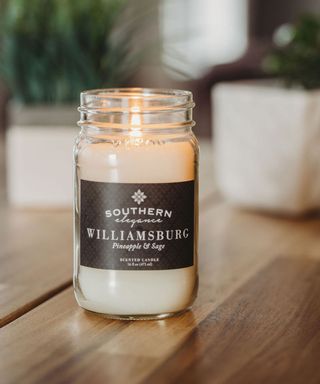 Founded by true Southern belle, D'Shawn Russel, Southern Elegance Candle Co. is a community-focused brand that works in partnership with other local businesses and suppliers in North Carolina, to produce all-natural scented soy candles, wax melts, diffusers, and room and linen sprays, that whisk you away to a special place of joy, love, and tranquility.
D'Shawn says, 'Every candle we make tells a story. Each one is purposefully named after a southern city, carefully hand-poured, and infused with luscious fragrances such as Sage & Sweetgrass and Honeysuckle & Jasmine. Although the heart of what we do is steeped in southern traditions, Southern Elegance products are for anyone who wants their personal space to feel comforting and inviting. Our customers come from all walks of life, and it is our hope that with each purchase they are reminded to see the good in others and celebrate the things we all have in common – no matter where we're from.'
Enjoy an experience of southern charm and hospitality whilst you shop for the best candles in Southern Elegance Candle Co.'s full range at Amazon.