Looking for your next cozy couch? If you are, I've got some amaze news for you. The perfect one is currently a super budget-friendly price. The gorgeous Steelside Ainsley couch is on sale for Way Day, which is a special event with amazing savings across the whole Wayfair website. Plus free shipping on EVERYTHING.

Right now, the Wayfair Ainsley couch is $309.99, down from $369.99. That's a whole 16% off, and a saving of $60. That's a lotta dollar, and there are loads more things that you could put that towards… like more furniture.

I love the fact that it's made out of vegan leather, which makes me very happy as a vegetarian. The material gives it a sophisticated vintage vibe, while the solid oak legs give it that touch of modernity. It's a really timeless style and is versatile AF, meaning you can style it easily with whatever your home's style currently is.

I have so many reasons why I'm obsessed with this couch, I could just go on. But if you're already picturing yourself chilling on it, you def need to get this in your cart ASAP before the sale ends.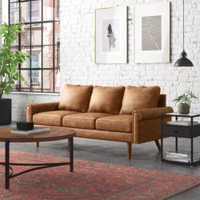 Ainsley Couch | Was $369.99, now $309.99 at Wayfair
Size (in.): H32.28 x W73.6 x L31.89
Made from: Faux leather and solid wood

This couch is such a Way Day bargain, with a whole 16% off. BTW, Wayfair has a whole lot of savings on its website as part of its Way Day event, which are def worth checking out. Savings are applied automatically, so no need to worry about a special code.
More reasons to buy the Wayfair Ainsley couch
It comes with all the assembly tools you need to build it, so you won't need to scramble around in your toolbag for the right-sized wrench. Once you've got it assembled, maintenance is really easy too — you just need a dry towel and a cleaning agent to clean it.

Inside it has flexible spring coils that add to its stability, as well as prolonging the durability of the couch. It's also got a foamy filling, round arms, and a cushioned back that make it so comfortable to relax on.

The couch is a three-seater which means it's lovely and spacious, whether you're lounging by yourself, snuggling up with your bae, or chilling with friends. Speaking of friends, doesn't it low-key look like a modern version of the Friends couch?

It also comes in two colors: brown and dark brown. In fact, the dark brown is ever so slightly cheaper, at $299.99 with 19% off. So if you're into that chocolatey goodness, that's an extra $10 back in your bank account.
What do reviewers say about the Wayfair Ainsley couch?
"I'm so in love with this sofa! It's super soft, comfortable, sturdy, was a breeze to assemble (took me about 15 minutes) and is gorgeous! Plus, it was so inexpensive and it arrived in about three days. Possibly my finest Wayfair purchase to date. Definitely recommend!" — Elizabeth

"This sofa is gorgeous!! More comfortable than I thought, and the color is beautiful. It fits our boho vibe perfectly!" — Ayleen

"Easiest assembly ever! Comfy cushions and perfect for my space." — Rachael

"I love this couch!! I put it together by myself is about 15 minutes!! Super comfy and what a value!!!" — Tamela

Up next: The best Wayfair couches, as rated by shoppers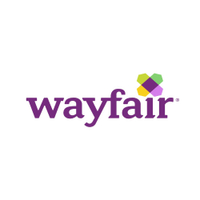 Way Day 2023 Sale | Up to 80% off at Wayfair
This is your only chance of the year to snap up a serious Wayfair bargain. Discounts include 80% off rugs and wall art, 70% off bedding, and even 60% off storage and organization. Plus, there are plenty of deals on furniture, indoors and out. Deals end tomorrow at midnight!