Okay, I'll be real: I'm a total sucker for a freebie. But this deal really is an incredible buy. As part of Wayfair's mega Way Day sale, you can bag a free patio umbrella worth over $50, when you buy selected patio furniture sets. If, like us, you're on a budget and looking to furnish a teeny outdoor space, then the Lark Manor Anna-Louise outdoor dining set is just perfect. Right now, this set is only $258 all thanks to the fact there's $192 off at Wayfair. Add on the Arlmont & Co Michaela market umbrella that normally retails at $52.99, and you've saved yourself $244.99. That's a hell of a lot of dollar.

When buying patio furniture, we know it can be a li'l bit of a splurge buying both the table set and the umbrella. But with this deal, you don't need to worry about that. The gray steel mesh dining set will fit in with loads of different outdoor space styles. Oh, and the umbrella is super easy to crank up and tilt, so you can protect yourself from those UV rays without too much effort.

I'm actually amazed at how good this patio furniture deal is, I could just go on. But if you're loving this deal as much as I am, I've popped all the deets below. It's a fab steal, so if you're wanting to put it in your basket, you've def got to act fast. To claim, just add both of the below to your cart and watch the discount apply — it's really that easy.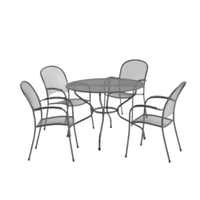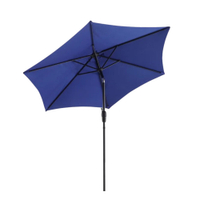 If you're not a big fan of this patio set, then you can browse all of the sets compatible with this offer.
More reasons to buy this Wayfair patio dining set and umbrella bundle
The Lark Manor Anna-Louise outdoor dining set comes with four chairs, which is just the right amount to host a small group of guests. I'm also actually a huge fan of circular tables, as they just look more sophisticated compared to a boxy square table IMO. Material wise, the steel is weather-resistant and rust-resistant, so you can trust it to stand up against the elements. Plus, the table also an umbrella hole within it, so you can put the umbrella in it for a bistro-style vibe in your backyard.

Meanwhile, the umbrella is made from water, mildew and rust-resistant fabric, so you can enjoy your cup of coffee outside whether it's sunny or rainy (hey, the latter can be a vibe). The umbrella itself has three different tilt settings, so you can stay shaded no matter where the sun moves to during your lounging time. The bold navy blue color is so beaut too — ocean shades are super in RN, and this is both trendy and timeless.

Oh, and just to reiterate, the savings on this bundle are massive. When they're not on sale, the total of the umbrella and the dining set is $502.99, whereas ATM you only have to pay $258 for the lot. Which is, like, pretty much half price. Way Day only lasts two days and there's no guarantee this bundle will stick around, so it's a smart idea to bag it while it's hot.
What reviewers say about the Wayfair patio dining set and umbrella buys
Lark Manor Anna-Louise Outdoor Dining Set

"Good product. Very study. Assembled fairly easily considering it was assembled by one person without any help." — Janet

"Great dark gray metal table. Very sturdy. Seats four comfortably." — Suzanne

Arlmont & Co. Michaela Market Umbrella

"Very nicely made. Crank works well. Bargain price!" — Gail

"This umbrella works great, was fast to assemble and looks good, too." — Edith

Up next: 12 patio furniture buys that are in the Way Day sale and are perfect for smaller spaces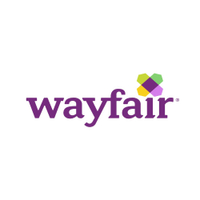 Way Day 2023 Sale | Up to 80% off at Wayfair
This is your only chance of the year to snap up a serious Wayfair bargain. Discounts include 80% off rugs and wall art, 70% off bedding, and 60% off storage and organization. Plus, there are plenty of deals on furniture, indoors and out. Deals end tomorrow at midnight!