There is nothing like getting the garden ready for those days spent gardening and those warm summer evenings. You don't have to be a DIY expert to make small changes, and they can instantly transform your space. Our garden designs can reflect our personalities and receive the same love and care we show our home interiors.
While there are plenty of landscaping ideas, summerhouses, and outdoor living room projects you can tackle, you also have the option of starting with something simpler. Exterior paint is one of the simplest and most effective ways to make your garden feel special. Here, we've rounded up five ways to use paint to make an impact.
Paint the fences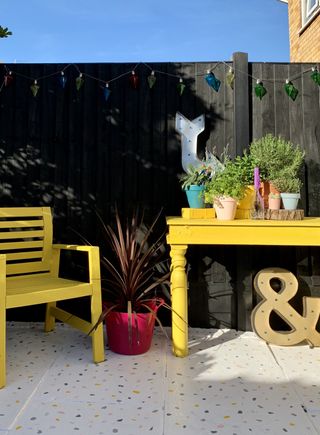 The fences we have around our gardens can sometimes feel a little restrictive, and without any care, quite neglected over time. You may also have different styles of fence on either side of your property. A great way to make your garden fences uniform and much more appealing, is to paint them.
One thing to ensure with outdoor projects is to source the right paint. The paint you choose will need to be specific for use outdoors and will need to protect your fences against rain, frost, snow and even UV damage. To give your fences an even longer lifespan, you may wish to use an undercoat or primer, this will further protect them from the elements.
Also, make sure your paint is suitable for 'rough sawn timber', this is usually the type of wood that garden fences are made from.
When it comes to picking a colour, well that's where your personal style comes in. You may want to go traditional, and choose a brown paint which resembles the wood. Or maybe you want to go for a chic modern look and go for black or a dark grey. If not those options, maybe a pastel colour to give you a whimsical secret garden vibe.
Paint your house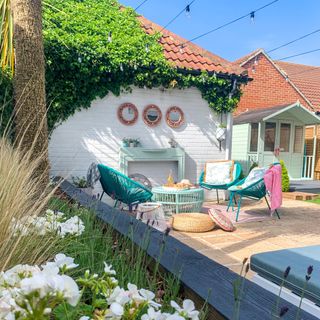 Whether your house walls are brick, pebbledash, or even rendered, a lick of paint may be just what is needed. You'll need more equipment (like a ladder) than you would for a garden fence, but the results are worth it.
Masonry paint is very durable and can be used to paint the outside of homes. Not only is it long-lasting, but you can find masonry paint in all sorts of wonderful colours, just take your pick.
White, black, green, pink, well the list goes on.
You don't even have to paint the whole outside of your house, you may choose to only paint the lower half as a bit of a contrast.
Paint your slabs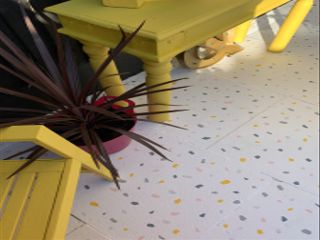 Painting your garden slabs is a budget-friendly alternative to completely replacing them. You can have a whole new look in just a day.
For an even better finish, always go for a patio primer. And once you've done a few coats of the paint, finish off with a sealant coat.
Most patio paints can be put on with a brush or a roller, but I suggest a roller for a large space.
You can go one step further by adding a stencil pattern or a freehand terrazzo (like in the photo above) to make it look even more unique. Whether you stencil the whole floor or just a border, it'll make a huge impact.
Paint your shed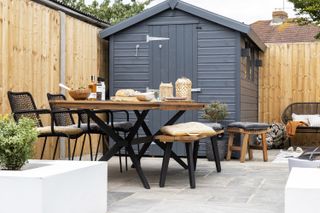 Garden sheds can be more than a place at the back of the garden to hide everything away, they can be beautiful.
Just like your garden fences, they can be brought to life with a bit of paint. After making sure you have the perfect outdoor and waterproof paint, why not plan a new design.
You can paint it all one colour, but you could be a little adventurous. Why not try stripes? Or have a different colour for the shed door? Maybe you'd even like a scalloped border?
Make yours be more than a shed, make it a piece of art.
Paint the pots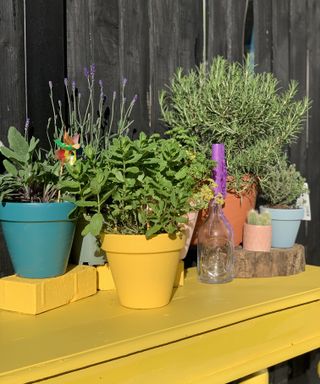 Last, but certainly not least, why not paint any drab looking plant pots you have lying around your garden.
You could paint them matte, gloss, add a pattern, apply a textured effect or even use a suitable spray paint. There are so many things you can do, and you can pop them all around the garden.