So we have gone on about how paint can transform your garden for most of the summer so far – we've told you to paint your furniture, paint your sheds, paint your walls, but one thing we have yet to advise you to do is paint you garden floors!
It wasn't something we had come across before until we got a tour of our Art Editor's garden during a highly exciting Zoom meeting! And, wow, it looks amazing! Emily has created a terrazzo effect floor to cover up her concrete patio tiles, genius, and painted old furniture with bright exterior paint to add a splash of bold colour. Love it.
Keep scrolling to find out how to recreate one of the most beautiful and clever patio ideas yourself. And, for more pics of Emily's garden project (and just gorgeous interiors in general) head over to her Instagram page @emilysmith30.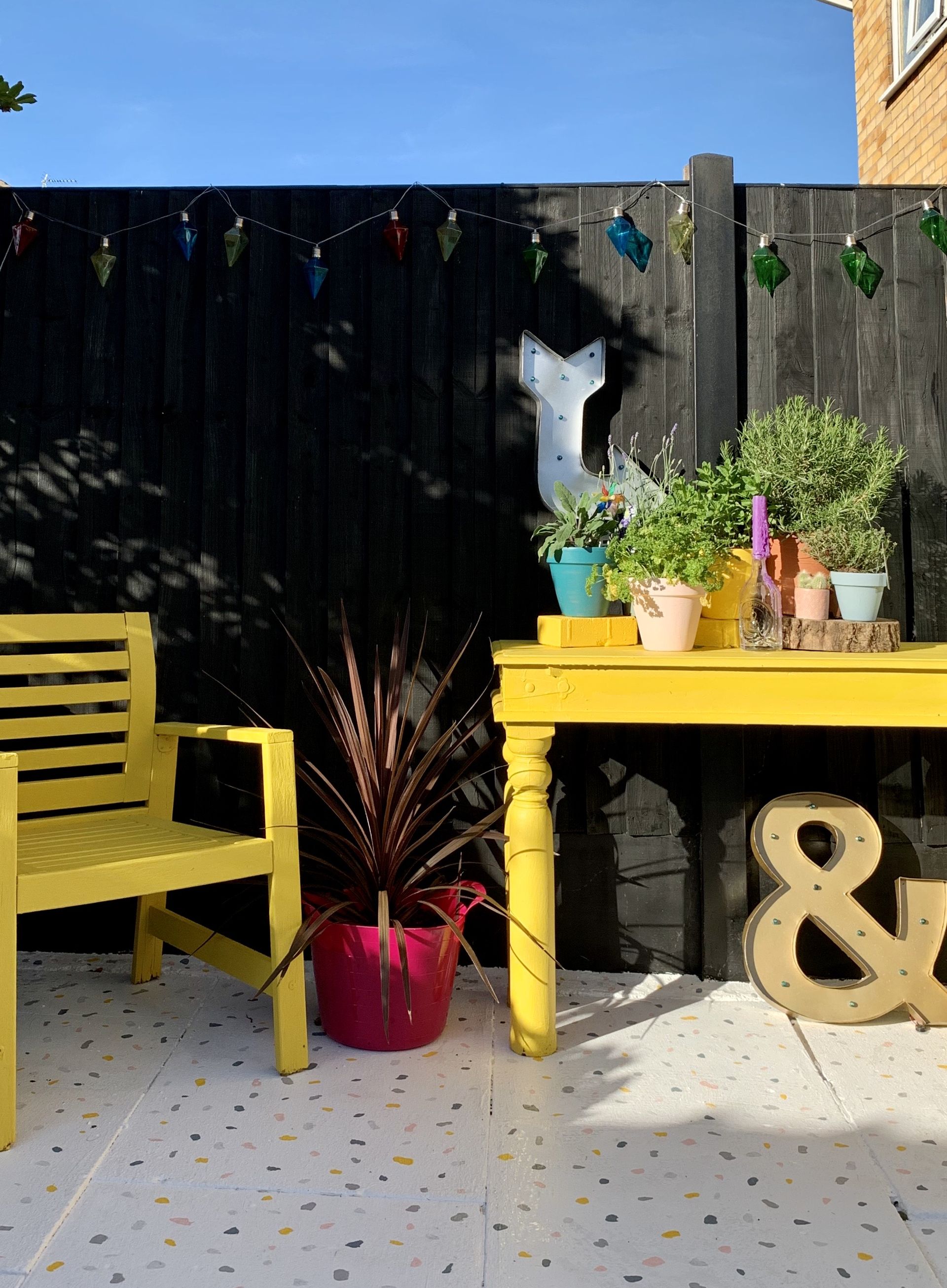 You will need:
Head over to our garden ideas hub page for loads more ways to spruce up your outdoor space.
Step one: jet wash your patio before painting
'I got the husband to do all the hard, boring work, jet washing the patio and giving the patio 3 coats of white masonry. We used GoodHomes Self-cleaning pure white.'
For the best patio cleaner, check out our buying guide.
Step two: pick your coloured paints
'You can get Valsper tester pots mixed in their masonry paint. The ones I picked are British Shorthair, Silver Bonnet, Bonjour, Eraser Pink and then I just mixed my own light grey with leftover paint. I still have loads left over, which I used on my plant pots.'
Step three: create your terrazzo pattern
'I bought a pack of four paint brushes with different sizes heads. Find a very comfortable pillow to kneel on (wow I ached after). Then I added different colour splodges of paint while changing the brush size up all the time to keep the shape and size different. I found rolling the brush head on the floor gave a great shape.'
Step four: seal your patio tiles
'Once it all dried I sealed the patio with Everbuild Water seal – Amazon could deliver it the next day!'
Step five: add finishing touches in co-ordinating colours
Got leftover paint? It's easy to give garden furniture and paint pots a bright new look with just a few coats.