Hands up if you did some kind of DIY/home improvement during lockdown? Painting a wall here, hanging a shelf there – we were all mad for DIY! So Dulux have done some research into its best sellers over lockdown to reveal just what we have all been doing to our homes – while we've been bored out of our minds. Turns out we have all been painting our rooms... green.
Yes, green (and blues actually). Not grey, not white, but green! The study by Dulux revealed that three greens (Tranquil Dawn, Fresh Sage and Willow Tree) and three blues (Sapphire Salute, Oxford Blue and Cornflower White) were in the top 20 colours sold by Dulux so far this year. The reasons why are also very much a sign of the times. One in five people said they feel more productive in a green room while four in five people say that blue walls give them a more confident feeling.
Well, go us for being a bit bolder with our paint colours! Keep reading for ways to style these newly popular hues in your living room and head to our living room ideas page for more ways to style your space.
1. Add pops of blue and green instantly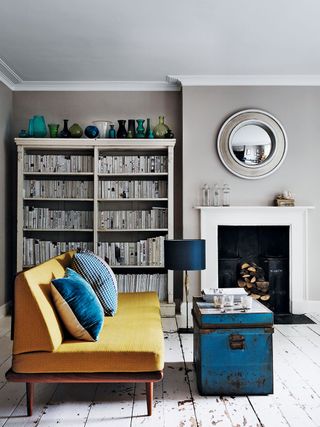 If you want to add some blues and greens to your home but not after anything too time consuming or permanent, you can do it with just decorations. Cushions, throws, prints, and just look at that really cool collection of bottles and vases on top of the bookcase. You could also of course paint some of the furniture you already have in your living room – just check out our guide to how to paint furniture.
2. Wallpaper your living room with a cute green print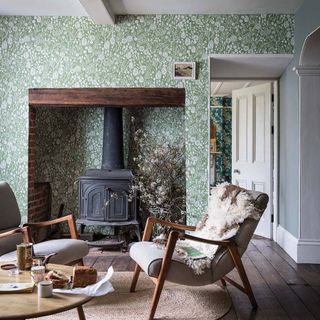 Want to use green in your living room and add pattern? Wallpaper people! If you don't want it to overwhelm the room just go for a feature wall and pick a cute ditsy small pattern. We love Farrow & Ball's Atacama print, it's a lovely muted green too so will work which most colour schemes.
For more floral wallpaper ideas check out our gallery.
3. Add a dark green wall to create atmosphere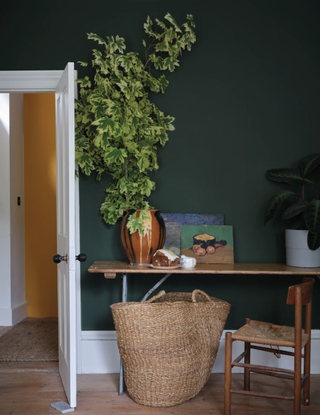 Want to add a bit of drama to your living room? Forget dark greys, it's all about the deepest of greens. If you ware worried it will make sure your space too dark, fear not, just keep all the wood work and nice crisp white and add plenty of light, natural materials to soften the look. Find the perfect shade at Dulux.
Check out more living room paint ideas in our gallery.
4. Create a beachy feel with a blue sofa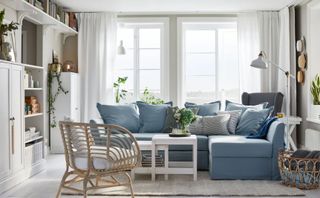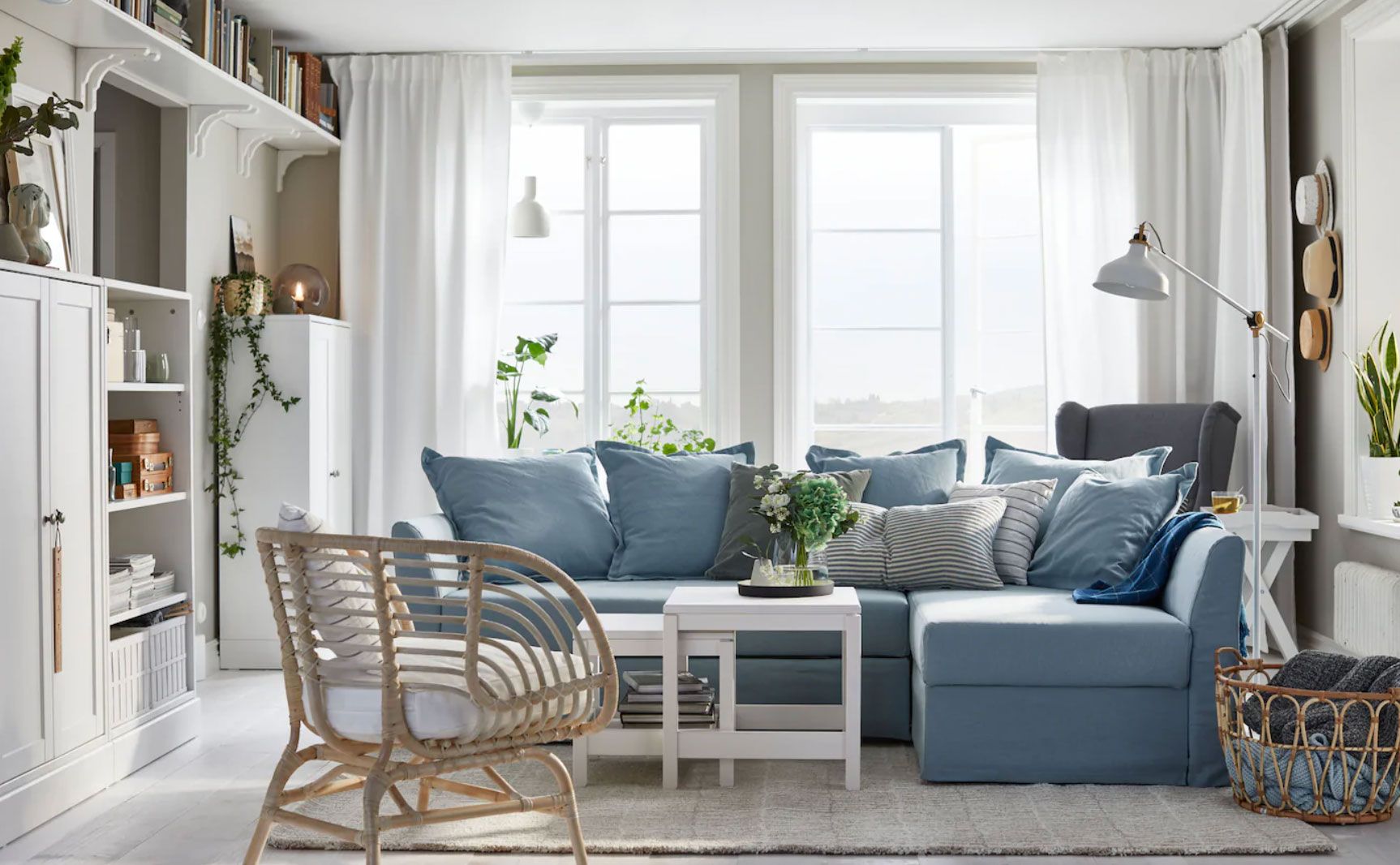 And at the opposite end of the spectrum... Blue and beachy interiors go hand in hand so add some of those coastal vibes with a splash of a steely blue. Obviously a sofa would do the trick, but if your current sofa is perfectly fine or if you are revamping on a budget you can pick out smaller furniture – an armchair, a coffee table, even a rug would do.
If you want more blue room ideas, we have a whole feature dedicated to them.
5. Pair green with blush pink for a luxurious vibe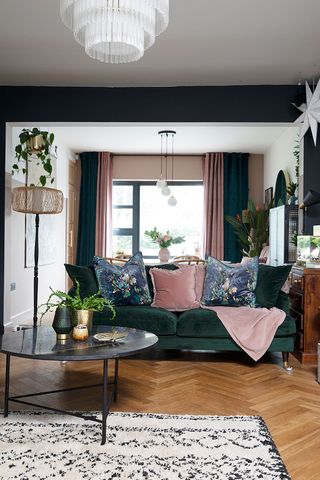 Pink and green must never be seen right? WRONG! They in fact look fab together, especially if you go for a blush pink and a really deep green, and they are made even more lovely if in luxurious velvet. Get some of this dreamy colour combo in your life quickly with just cushions, or curtains or if you are looking to invest treat yourself to a gorgeous velvet sofa (see our faves in our buying guide).
6. Paint a wall with the most popular green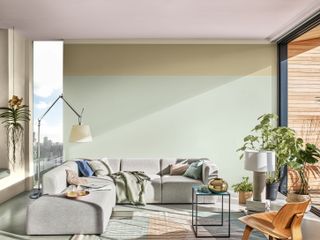 Dulux's Tranquil Dawn was their colour of the year 2020, and it's our fave in a while. Such a gorgeous subtle green that works so nicely in living rooms – it's really light and airy and just looks very relaxed. Pair with greys and blues plus some natural textures to warm it up.
Read more: