A great pillow is one of the best investments you can make for your home. Don't believe us? The average person spends about a third of their life in bed, so you might as well might it can cozy as it can be. Unlike a mattress or bed sheets, which have longer shelf lives, a pillow needs to be replaced every few years.
If you're looking to pick up some new pillows, Macy's has a bunch of great deals just waiting to be added to your e-cart right now. You can even score an extra 20 percent off some options when you enter the code "SHOP." With plenty of firmness levels, price points, and special design details to choose from, you're bound to find something for your bed.
Since we know you don't have all day to shop, we've shared a few of our favorite below. Whether you're looking for a sustainable style or a pillow that can help you keep your cool, you're just a few clicks away from a good night's sleep. Sweet dreams!
Not sure what to look for in your pillow purchase? Check out our guide to buying the best pillow.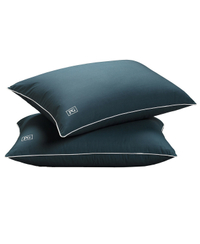 (opens in new tab)
Pillow Guy Down Alternative Side & Back Sleeper Overstuffed Pillows with MicronOne Technology Collection | Was $178-$358, now $61.99-$124.99 (opens in new tab)
Let's face it: Nobody wants to fight off pesky allergies all night. Anyone who is craving a smooth, sneeze-free night will find a lot to love about Pillow Guy's down alternative collection. With a poly gel fiber fill and an embossed cotton shell, this line is incredibly hypoallergenic. In fact, these pillows even feature Micron One Technology, which offers extra protection against dust, mites, and, yes, even bedbugs. Though Pillow Guy's collection will offer plenty of comfort for everyone, it's a particularly good match for side and back sleepers.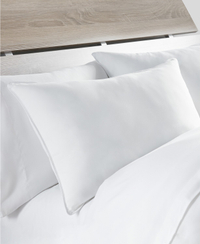 (opens in new tab)
DOWNLITE Jumbo planetWISE Blend Pillow |Was $70, now $33.59 (opens in new tab)
If you're looking for a pillow that will receive Mother Nature's seal of approval, check out this option from DOWNLITE. The magic of this pick is its planetWISE technology. The pillow features a super-soft, eco-friendly shell, while the fill is made with recyclable materials. Of course, this option has more to offer than sustainability. As the Goldilocks of firmness, this one will support your head and neck without being too stiff.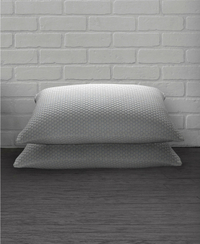 (opens in new tab)
Ella Jayne 2 Pack Cool N' Comfort Gel Fiber Pillow with CoolMax Technology | Was $126, now $43.99 (opens in new tab)
Whoever came up with the phrase "cool like the other side of the pillow" has clearly never heard of this Ella Jayne's tech-savvy style. Decked out with a poly gel fiber fill and Ella Jayne's CoolMax technology, this pillow is created to keep you cool and comfortable all-night long. (Read: It's great for anyone who runs hot when sleep.) Not only is it on sale, but this particular listing offers two pillows for the price of one.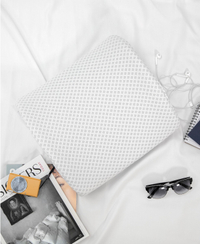 (opens in new tab)
SensorPEDIC On-The-Go Gel-Infused Memory Foam Lumbar Back Support Pillow | Was $48, now $22.39 (opens in new tab)
Chances are, you've answered several emails and taken a few Zoom meetings from the comfort of your bed. If you want to improve your WFH setup, SensorPEDIC is here to help. Made with a gel-infused memory foam, this lumbar pillow is designed to give your lower back some extra support. On sale for $22, this pillow is more affordable than a rolling chair or standing desk.
Read more: