You may have heard of bamboo sheets being the next best bedtime thing, but have you considered a bamboo pillow? No? Me neither, up until recently, and now IMO, a bamboo pillow is one of the best pillow types out there.
I'm always on the lookout for eco-friendly alternatives that won't cost me, or the earth. And after doing my research, and trying a few out, there's nowhere else I'd want to rest my head.
Having the job of testing pillows for a while now — and sleeping well — it sounds a little silly to switch up my current situ. But, believe me, these bamboo pillows have benefits that go beyond their *impressive* eco-credentials. Kind to the planet, and to your skin, bamboo is naturally temperature-regulating, hypoallergenic, moisture-wicking, odor-resistant, and ultra-breathable. What more could you want?
No more flipping your pillow over to the cool side, or buying expensive silk pillowcases, a plush pillow made with bamboo fibers (either inside or on the outer layer or cover) is the only nighttime upgrade you need.
6 of the best bamboo pillows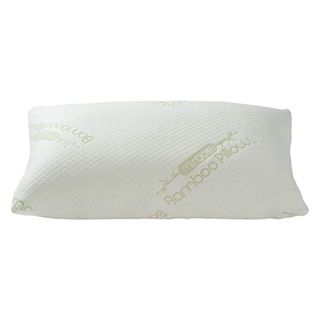 Most popular
1. Ontel Miracle Shredded Memory Foam Pillow
Filling: Memory foam
Cover: 40% Viscose from Bamboo and 60% Polyester
Firmness: Adjustable
Care: Machine wash and dry
+ All types of sleepers
+ Adjustable firmness
+ Great price
Yet to have your hands (or your head) on a much-loved miracle pillow? Now's your chance. This popular bamboo pillow has blown up online for its ability to stay cool all night long. We all know how good the fresh side of the pillow feels. It's adjustable too to suit even those that toss and turn, for only $30.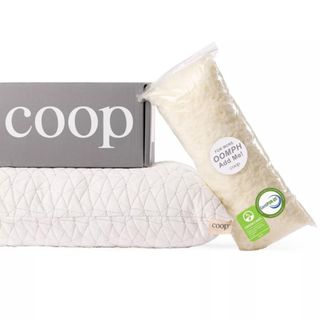 Adjustable
2. Coop Home Goods The Original Pillow
Filling: Memory foam
Cover: 80% Polyester, 20% Rayon From Bamboo
Firmness: Medium
Care: Machine wash and tumble dry
+ Adjustable
+ CertiPUR-US and GREENGUARD Gold Certified
- More expensive
For memory-foam lovers who want peace of mind, Coop Home's shredded foam-filled pillow is a fan favorite. Entirely adjustable to suit every sleep style and cased in a breathable bamboo-blend cover, you can't go wrong with this customizable cozy option. And if you can afford it, we applaud you.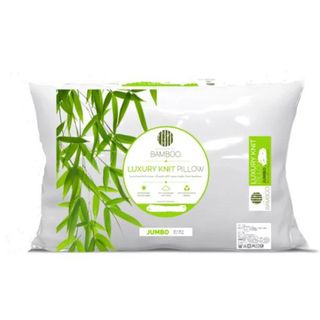 Affordable
3. Essence of bamboo Down Alternative Pillow
Cheapest bamboo pillow
Filling: Alternative down
Cover: 60% Bamboo Derived Viscose and 40% Polyester
Firmness: Medium
Care: Machine wash and tumble dry
+ Super affordable
+ Great for all sleep styles
- May flatten over time
Cheap and cheerful, the Essence of Bamboo pillow is a dream. Made from alternative down, you get the luxury feel, without the price tag to go with it. Of course, cased in a cooling bamboo-blend cover, you get everything you need for your best sleep yet, for less.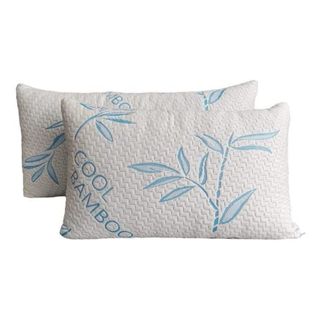 Amazon favorite
4. Comfysleep bamboo pillows
Filling: Memory foam
Cover: Bamboo, Rayon
Firmness: Adjustable
Care: Machine wash cover only
+ Cheap 2 pack
+ Great for all sleep styles
- Cover may bobble after a few washes
Yes, just like a lot of your bedding essentials, you can pick up a pair of bamboo pillows from Amazon. Highly rated for their ultra-cooling case these adjustable bed pillows are perfect for the summer months. Antibacterial too, they'll look (and feel) fresh, night after night.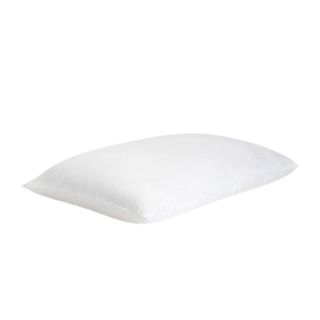 Luxury pick
5. Cozy Earth Silk pillow
Filling: 100% mulberry silk
Cover: 100% bamboo viscose
Firmness: Medium
Care: Spot clean or dry clean
+ Super sustainable brand
+ Luxurious feel
- An investment
Yes, bamboo fabric is known for feeling as soft as silk. But this pillow is actually filled with 100 percent Mulberry silk and covered in 100 percent premium viscose from bamboo fabric. Luxurious, I know. It does come with a premium price tag mind, but if you want spa-standard sleep, look no further.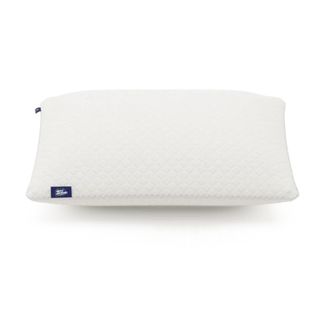 For side sleepers
6. Nolah Squishy Pillow, 2 pack
Filling: Shredded foam
Cover: Bamboo-blend
Firmness: Adjustable
Care: Spot clean or dry clean
+ Super breathable
+ Oeko-Tex® certified
- More expensive
Nolah's squishy pillow just sounds so comfy, even before trying it. Even if it is too firm for your liking to begin with, you can adjust the shredded foam to find the perfect plushness. It has a breathable bamboo cover too. It seems expensive, I know, but this is a pack of two.
FAQs
Are bamboo pillows any good?
If you've read our 5-step guide to choosing the perfect pillow, you'll know there are a few things to look out for: material, sleep style, filling, size, and of course, budget. But what if I told you bamboo pillows can offer pretty much everything the average sleeper needs to get a great night's sleep? Those who have tried sleeping on this silky surface will know.
They won't solve your insomnia, or stop your partner from fidgeting, but they are great at regulating your temperature for a sweat-free sleep, and more. If you have allergies, the good news is that bamboo is naturally hypoallergenic and antibacterial. But most importantly, they're better for the planet.
How we chose these bamboo pillows
In order to choose the products we featured in this guide, we researched, read reviews, and compared products that claimed to be great for the planet. For those we have tested, we've made sure to balance eco-credentials, sleep quality, and price, so you can find the best value pillow for your budget. We've called a few of these bamboo pillows in for example, one of which will feature in our best pillow guide.