Let's cut to the chase here. You are a person with many pairs of shoes. Everyone on the Real Homes team is putting their hands up to that one, too. But being the owner of many pairs of shoes could mean much clutter, which isn't good, is it? It's not ideal for the shoes either and you don't want all those lovely pairs compromised by being chucked in the bottom of the wardrobe...
Where can we all turn for ideas for better shoe organization? Why the inspiring duo who are The Home Edit, Clea Shearer and Joanna Teplin, of course. If anyone can show the way to fabulous shoe storage it's these two organizational geniuses.
The pair recently showed some very appealing shoe storage on Insta, and we've shared it below. Their arrangement is fabulously colourful as you might expect from the professionals, who love to use the order of the rainbow (that's ROYGBIV – red, orange, yellow, green, blue, indigo, violet – for those not yet in the swing) to organize.
Don't worry if your shoe collection lacks equal colour scope, though. The hack will work equally well for pairs in fewer shades. Take a look at the other fabulous shoe organization ideas we've found, and we have plenty of other bedroom storage ideas in our dedicated feature.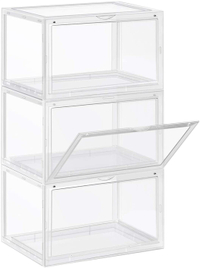 SONGMICS Shoe Boxes | £30.99
Keep heels or flats pristine in this set of three boxes, one of the finest shoe storage ideas which will still allow you to admire the loveliness of each pair. Bear in mind you will need to assemble the boxes when they arrive...

Dailyart 24 Pockets Over the Door Shoe Organizer | £7.49
Perfect for creating a rainbow display if your shoe collection stretches to it, this option is also a space saver. Hang it behind a wardrobe door and your shoes are easy to access.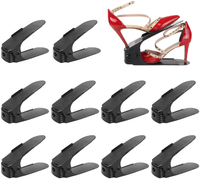 Femor Adjustable Plastic Shoe Holders | £13.99
If you want to keep your shoes in the bottom of the wardrobe, but are running out of space, this is a brilliant solution. With these clever little holders, you can double the number of pairs you can fit and keep every pair tidily in place. Neat. You'll get 10 in a pack.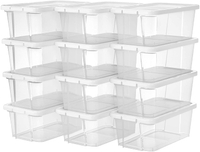 SONGMICS Set of 12 Shoe Boxes | £29.99
If you don't mind laying your heels on their sides, these transparent boxes will keep 12 pairs dust free and where you can see them for morning speed. They have ventilation holes in the lids to keep your footwear fresh.