Wayfair's always been one of our go-tos for everything from major home upgrades to smaller household refreshes. Plus, the massive retailer has one of the widest selections when it comes to serving a wide variety of tastes. But here's one that will suit everybody: the ability to shop sustainable furniture at Wayfair.
We noticed while shopping recently that you can now browse according to your favorite environmental standards with Wayfair's Shop Sustainably filter. And this feels like a major step in the right direction in a time when we seek transparency about the products we buy and make purchasing decisions with our values in mind. Now, it's never been easier to discover products that look good and are better for the planet at the same time.
"As part of our ongoing commitment to reduce the impacts of our products and supply chain, we're offering a new way for everyone to find and shop for more sustainable home products," explains Maggie Finnegan, Wayfair's Corporate Sustainability Manager. "With this feature, every Wayfair shopper can now access up to 14 sustainability-specific features that meet one or more of over 60 globally recognized sustainability certification and standards obtained by our suppliers."
To find the filter, when you're shopping a category, say sofas, you'll select the more filter options and scroll down to the Shop Sustainably tab to shop your own ethics, whether you prefer shopping ethically sourced, recycled, globally conscious, made clean, and various other filters. From there, be sure to check the product description, which will typically go into further detail about how it was made.
Shop our top sustainable and eco-friendly conscious picks from across Wayfair, then try the filter out for yourself. Note, the prices were accurate at the time of publishing, but are subject to change.
Directly shop eco-friendly and sustainable furniture at Wayfair
1. Splurge on this marigold velvet sofa to live greener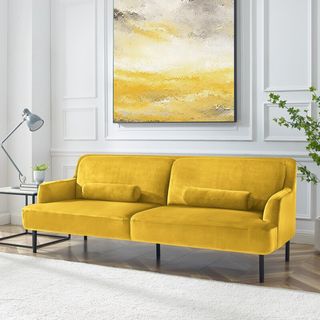 Corrigan Studio Marten 81.5" Wide Velvet Recessed Arm Sofa, $2,849.99 at Wayfair
This fantastically bold velvet sofa with two accent bolster pillows is rated as Sustainably Sourced, Green Living, and GreenGuard certified and it oozes mid-century appeal. It has a sturdy wood base made with eucalyptus wood, which makes this sofa an investment that's made to last.
2. Have sweet dreams under a canopy bed that's better for the environment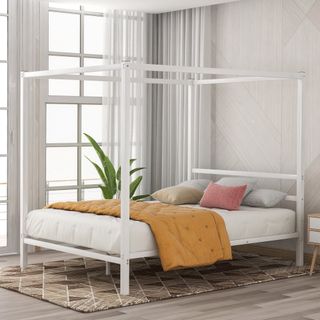 Latitude Run Ahlijah Canopy Bed, $359.99 for Queen-size at Wayfair
Canopy beds are having a comeback in popularity. We love the modern approach to this boxy-metal frame, available in white, black, or silver. From an environmental standpoint, its GreenGuard Certified, as well as Comprehensive Procurement Guideline (CPG and ) Environmentally Preferable Purchasing (EPP) compliant meaning that a product has been made with recovered materials, and that the procurement of goods and services have a reduced impact on human health and the environment compared to competing products, respectively.

3. Dine around a stylish dinner table that hits all the right eco-notes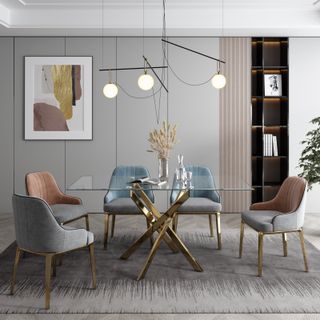 Mercer41 Meme Pedestal Dining Table, $1,179.99 at Wayfair
Recycled and rustic are definitely not mutually exclusive once we set our eyes on this glam glass table made with recycled materials. Though, if you love the reclaimed look, we found plenty of those options too. Meeting various environmental certifications this table with a sturdy stainless steel base and tempered glass top is noted as carbon neutral, recycled, Fair Trade, Reduced Harmful Chemicals Certified, and EPP compliant. Gather round for potlucks with space for up to six people to comfortably dine.
4. Snag a sofa made of clean materials... and it has storage pockets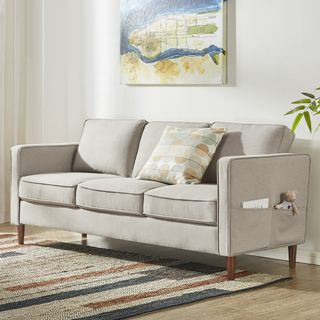 Mellow 73" Square Arm Sofa, was $678.30, now $419.99 at Wayfair
Mellow's commitment to good materials for the environment is seen in this unassuming, yet very comfortable sofa upholstered with lint-resistant linen for a modern and breezy look. Plus, The addition of side storage pockets conveniently makes it so you'll never have to wonder where the remote went. Wayfair's Made Clean category uses fewer chemicals during production with less impact on people and their environments as well as materials including CertiPUR-US Certified Foam and a Eucalyptus Wood frame and legs.

5. Deck out your patio with this sustainable seating area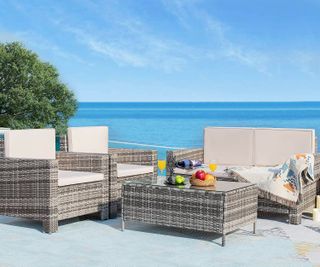 Rosecliff Heights Abasi 4 Piece Rattan Sofa Seating Group, $499.99 at Wayfair
As the weather gets nicer, and we head outdoors, make sure your patio is looking green. Not in that layer of pollen sort of way, more in your eco-conscious seating selection. Featuring a strong galvanized steel frame weather-resistant hand woven PE rattan and for longevity, the loveseat, coffee table, and accent chairs, will look great on decks bigs or small. Plus, you'll get to note during your next cookout that it's made with recycled content when your guests comment about how comfortable this contemporary set is.
6. Scoop up this stunning area rug made with recycled fibers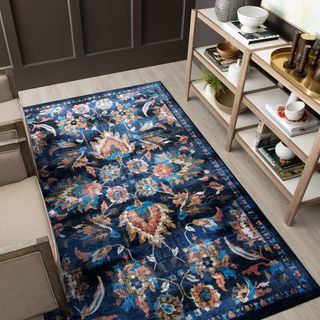 Bungalow Rose 4' x 6' Barkhampstead Floral Navy Area Rug, was $176.89, now $82.99 at Wayfair
Beyond being absolutely eye-catching, this dramatic Persian-inspired rug is woven with EverStrand, a premium polyester yarn crafted from recycled plastic bottles that offer a soft feel underfoot, radiant fade-proof color, and it even resists stains. Show it off in the most high-trafficked area of your home, this beauty can handle it.
7. Dress your bed in organic linens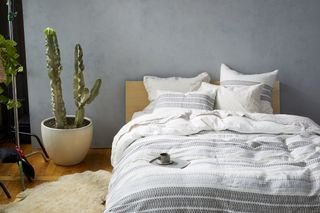 Coyuchi Lost Coast Organic Striped Cotton Duvet Cover | $348 at Wayfair
Wayfair's Shop Sustainably filter extends to more than just furniture, into bedding and decor too! Coyuchi is renown for their top-notch organic linens with a California cool flair, and this striped duvet cover is no exception.
8. Take this trendy chair designed to last through the years for a spin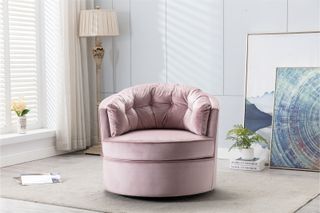 Rossdorf Park Metivier 33.5" Wide Tufted Velvet Swivel Barrel Chair, Was $1,769.99, now $599.99 at Wayfair
Move aside mid-century modern, our hearts are after a new design era, namely the curvaceous appeal of the 80s, as seen in this rich tufted velvet barrel chair, that surprise, swivels. We'll spin your world right round sharing that this pretty masterpiece hits the trifecta when it comes to shopping sustainably with its lower carbon footprint, organic and recycled materials that are made clean, sustainably sourced and empower local communities...and that's barely scratching the surface.
9. Choose a console table that makes a sustainable design statement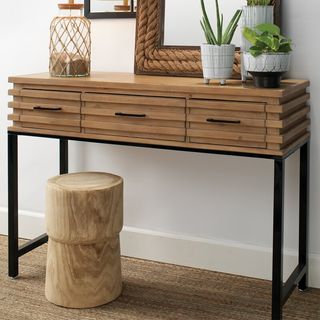 Jamie Young Company Logan 46.75'' Console Table, was $565, now $416 at Wayfair
It's no secret we're always looking for chic and modern statement pieces loaded with storage to offset smallish entryways. In addition to looking like a piece of functional art, this wooden console table is also loaded with eco-friendly specifications including a coveted spot under Wayfair's Made Clean and Green Living sections, as well as being labeled as sustainably sourced and GreenGuard Certified.
10. Add a lamp that's more than just energy efficient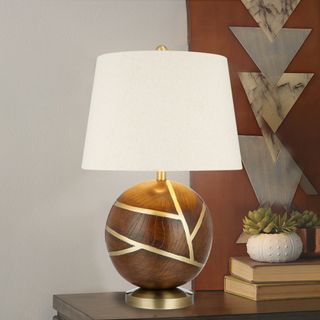 Wrought Studio Brazeal 26" Table Lamp, $73.99 at Wayfair
Who has time for boring lighting? Not us! Refresh your bedside or desk lighting with a bold table lamp that looks like its begging to share the story of its eco-friendly creation. This energy-efficient (of course) spherical lamp uses resin to mimic the look of wood and brass detailing for extra interest and meets Wayfair's Green Living qualifications
Discover more sustainable home products