Shea McGee's shower hack is a game-changer, and you can get everything you need for the bathroom idea while food shopping at Trader Joe's. In a recent episode of Dream Home Makeover, Shea shared a cost-effective way to totally elevate your bathroom experience. Working on a renovation for two busy parents, the author and interior designer decided to hang a bunch of eucalyptus behind the showerhead.
Greenery in the bathroom is always a good idea - as long as there's natural light, the best indoor plants will create a relaxing atmosphere. But eucalyptus comes into its own in the bathroom as the steam from a shower releases the plant's essential oils.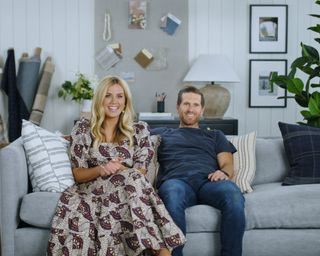 As well as creating a calming scent, these oils help to clear nasal congestion. If you have any sinus problems or find it hard to relax, the eucalyptus leaves could make a real difference. It's a great small bathroom idea as the scent will be more intense in a smaller room. For more cheap bathroom ideas to give your space an upgrade on a budget, check out our guide.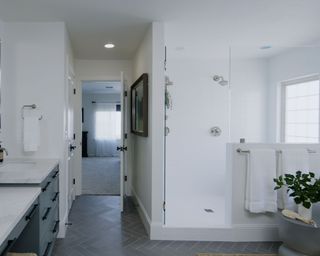 'Smell is a huge part of feeling the vibe of a space,' says Shea. 'We do that through plants, flowers, and candles. Anything to have a sensory experience.'
Looking around the bathroom midway through the transformation, she said, 'I just love the smell of eucalyptus, that reminds me of a spa,' says Shea. 'I was wondering if we could make a little bundle to make the shower smell good.'
'I want it to feel zen, spa-like, but I also want it to feel cozy, too,' she explained. Shea added a beige vintage rug on top of the grey stone floors to soften the overall feel.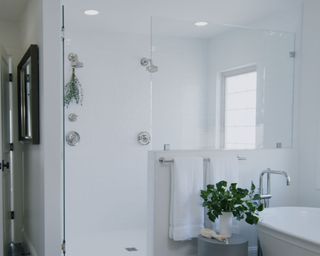 Try the clever hack at home by tying a handful of eucalyptus stems together with twine, ribbon or an elastic band. Simply tie it to your shower head and the scent should last for around a week. Larger stems will be more fragrant - just remember to crush the leaves slightly with a rolling pin or wine bottle before hanging, to release the scent.