If like us - and the 3 million other people that follow Studio McGee on Instagram - you love that modern yet traditional, boho-with-a-dash-of-coastal look, you're in the right place. One way to emulate the Studio McGee style in your own home is with carefully blended rugs.
Shea McGee has shared a simple trick for mixing rugs in such a way that they will look like they belong together - be it in an open-concept living space or a single room. After all, rugs don't come cheap, so you want to feel confident in your decision.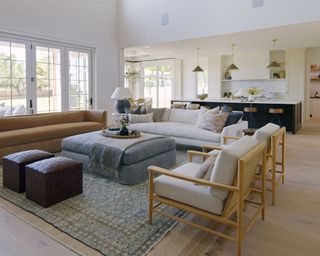 Writing on the Studio McGee website, Shea explains why she thinks a geometric rug and a jute rug are a marriage made in heaven. 'Jute rugs are a great neutralizer, and they pair well with pretty much anything,' she begins.
We love this jute rug from IKEA - it's a great budget piece and instantly softens a space without introducing any color or pattern. It also works to ground a piece of furniture, like a sofa or dining table, and covers any worn-out carpet or flooring.
'Something about rugs with geometric patterns like stripes or repeating lines paired with these textured beauties just works,' Shea adds. We can see what she means - the jute rug is a good first layer, and stripes are also a very classic design.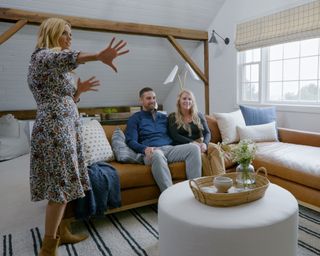 A little like your favorite Breton tee, stripes are a versatile option that works with other textures and materials, from linen to leather. For more modern living room ideas, read our guide.
Rugs are expensive, though, and as with any real investment pieces, taking the plunge and picking rugs for your space can be very daunting. You might love two rugs individually, but find that they don't quite work together.
So, Shea's fool-proof rug combination will help those of us struggling to commit to purchasing rugs for our homes.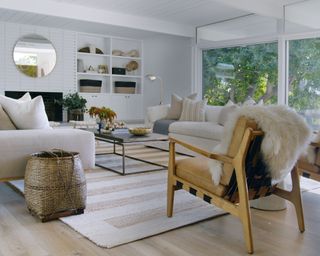 The Studio McGee look comes with a hefty price tag, but we can take signature elements, like the blended rugs, to create a similar scheme at home. Looking for the perfect kitchen rug? Take a look at our guide to ten killer rugs to jazz up your kitchen.
A Persian-style rug paired with a jute rug will help to bring in a more traditional feel, contrasting against other modern design features you may have at home.