Selling Sunset's Mary Fitzgerald is known for selling gorgeous houses — but her new home, as featured on the latest season of the show, is what I'm currently obsessed with. Its style is simple, chic, and super accessible.
Mary Fitzgerald's new home features on the first episode of Selling Sunset season seven, and it seriously stopped me in my tracks. I mean, she is an OG broker on the show, so this isn't a surprise, really — she's definitely got an eye for great home styling. Her living room in particular marries together lots of elements that are easy to copy in rentals and on a budget.
Love quiet luxury, and want to bring a bit of celeb style into your home? I've spoken to experts to find out what makes Mary's living room decor so chic, how to style it, plus picked out buys so you can get the look ASAP.
Why experts love Mary Fitzgerald's quiet luxury living room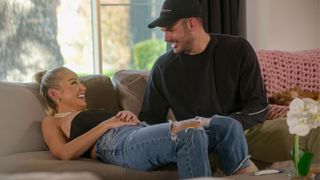 The real key to this living room look is in the timeless color palette. "Mary Fitzgerald's living room consists of calming neutrals with a mix of wood, light gray, and white accents," says Vivianne Chow, interior stylist and founder of Viv and Tim Home. These colors and textures look chic together without looking too glitzy. Light gray is an especially great choice for apartments and rentals, as it can make a small space look bigger.
Vivianne Chow is an interior stylist and founder of the home decor blog, VivandTimHome.com. She's passionate about sharing the best modern home decor to buy and recently built a dream custom home with her husband Tim. Together, they're tackling decorating room by room and sharing design tips and ideas along the way.
Of course, it wouldn't be a Selling Sunset home without a little bit of extra-ness, though. In the episode, a Hermes throw blanket can be seen on the couch, while on the side table a golden lamp can be seen. These add a touch of glamor, while still making the room feel cozy and inviting.
The quiet luxury is all about having items of the highest quality, but that don't scream expensive and are not over the top in your face. "This means no big designer logos or big bold items that show off how much money you paid for something," explains interior design expert Melony Huber, founder of La Peony.
Instead, like in Mary's living room, Huber says that you would focus on things like the quality of the fabrics, the simple textures of the pillows and blankets that match, and the overall neutral tones of the room.
Melony Huber is a fashion and interior design expert, co-founder, and design director of La Peony, which is an ethical women's luxury brand.
Mary's big statement pieces include the concrete coffee table and gray couch. "The modern, contemporary sofas bring so much style, while creating an inviting feel with textured throw pillows and blankets," Chow adds. This is also softened up with the olive tree in the corner. "An olive tree is an easy way to dress up the corner of your living room even on a small budget."
To get the look in your home, Huber says to stick to a few important points that Mary has nailed. "Do not over clutter the space by adding too many decor items which makes the space seem busy and cluttered," she explains. "Then, pick a color scheme and stick to it — neutrals are timeless, classic, and safe."
Finally, she says to invest in the materials if possible, as Mary's ceiling and flooring for her living room room are top tier and really make a statement.
Mary Fitzgerald's quiet luxury living room edit
Want to get the Selling Sunset star's look in your home? Here are six buys that will help you do that.
The prices below were correct at the time of publishing this article.
---
Now that you know how to make your living room look just like Mary Fitzgerald's, you might be wondering what other rooms in your house you can style like a celeb. Emma Watson's cozy pink bedroom is seriously dreamy and easy to copy.